The AUDNZD has busted higher and out of a major daily resistance level with a huge move higher. This resistance level has been tested and held on no less than FIVE times in recent months with price making strong attempts to break through, but then falling back lower with only then wicks pushing through and no closes above.
As often discussed in here before; for a level to break we need to see price make a strong close either below or like in this scenario above. It is even more important when looking for a breakout of a major daily level that you see a really pronounced and clear/obvious breakout with price making a strong close above/below.
If price was to now snap back and close lower below the level on the daily chart, then the daily level would still not be broken and we would still be looking for the close above the key daily level. I highly recommend you read my trading lesson on how to enter high probability setups here;
The First Test of Support or Resistance Price Action Trade Entry Strategy
In saying that; now that price has busted strongly higher, aggressive intraday price action traders can now move to their smaller time frame charts and start hunting for long trades. As soon as price starts to bust through and break really major levels such as these, the more aggressive price action traders can start to get onto their smaller intraday charts and start to look for long trades at the old breakout area.
These major daily areas will time and again act as major price flip levels. Price will flip from support to resistance or like we have here; resistance to support and once price breaks the major daily area we can move to the smaller time frames like the 4 hour, 1 hour or even smaller and look for price to make a quick retrace back into the old resistance and new support.
If price does rotate back into the new support we are then looking for price action to confirm that it is going to hold as a new price flip level and that the support is going to hold by price firing off a A+ bullish price action signal such as the ones we teach in the Lifetime Members Area.
Special Note: I have just released a brand new trading lesson that I have been asked for a lot in recent times. This lesson is on trade management and how you can increase your trading profits in the right markets, but then lock down and protect your capital when necessary. You can get this new lesson on trading management here;
How to Start Increasing Your Profits With Trade Management Planning
AUDNZD Daily Chart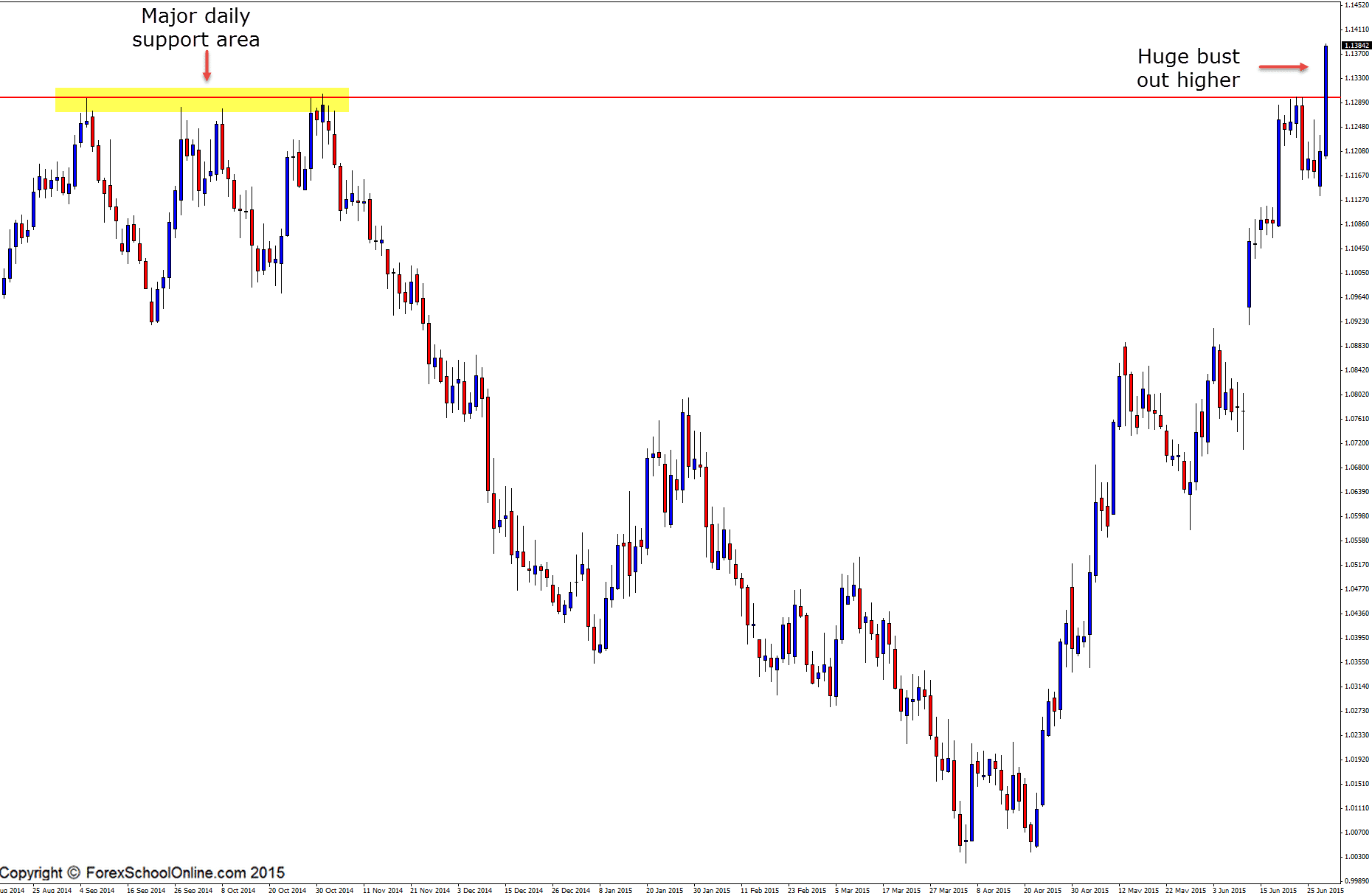 AUDNZD 4 Hour Chart
Related Forex Trading Education
– The Ultimate Guide to Marking Support and Resistance on Price Action Charts