The AUDUSD has finally broken out lower and out of the boxing that price has been contained in now for the past month. In our 23 Oct Daily Market Commentary we discussed the Aussie and how price was stuck in this sideways trading with price not being able to breakout either higher or lower of a 260 pip containment area.
Price has now broken lower and out that boxing area with the daily candle forming a large and commanding Bearish Engulfing Bar (BEEB). As the daily chart shows below; price smashed through the recent lows of the boxing area and closed well lower with the most important part being the close below the boxing support area. The test now will be watching to see if this old boxing support area acts as a new price flip and that price does not just pop straight back above and right back into the containment area.
At this stage price looks to have made a strong close and very bearish move lower with the breakout. Traders can watch to see if price does make a quick re-test back into the old breakout support area. If this does occur it will be critical to see how the price action behaves and to see if the level does hold as a new resistance level for price to make a new strong move lower. Price may also just continue on lower with this breakout as so often happens with the new strong momentum moves.
AUDUSD Daily Chart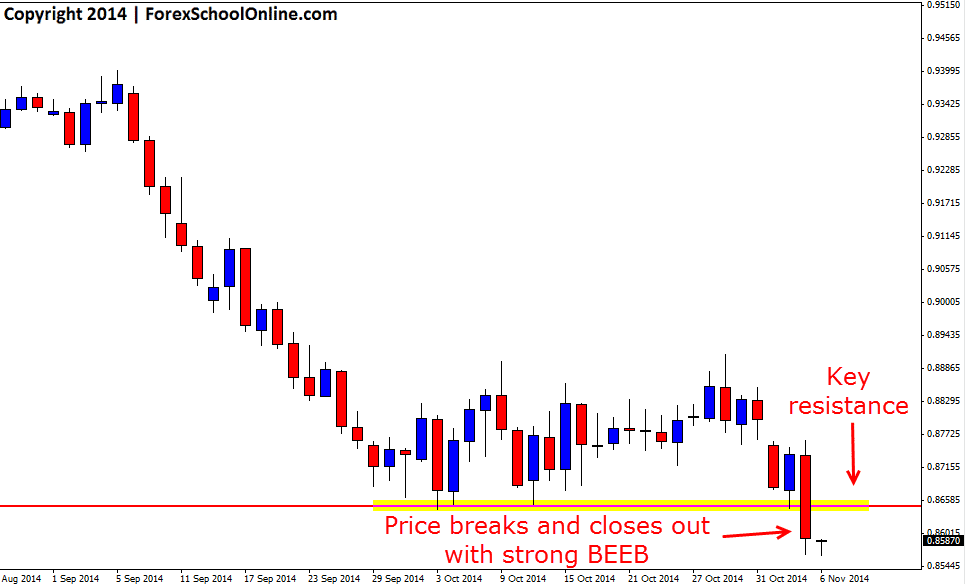 Related Forex Trading Education