One of the most valuable features used in forex trading is demo accounts.
They have become powerful tools for attracting traders due to the extreme advantage it gives them. For new market entrants, it is easy to wonder why the forex demo account is important. Let us help you answer that question.
3 Provider that match your filters Providers that match your filters
Funding Methods
Regulated by
FCACYSECASIC
CFDs are complex instruments and come with a high risk of losing money rapidly due to leverage. 67% of retail investor accounts lose money when trading CFDs with this provider. You should consider whether you understand how CFDs work and whether you can afford to take the high risk of losing your money.
Funding Methods
Regulated by
CYSECCFTCNFA
CFDs are complex instruments and come with a high risk of losing money rapidly due to leverage. 79% of retail investor accounts lose money when trading CFDs with this provider. You should consider whether you understand how CFDs work and whether you can afford to take the high risk of losing your money.
Funding Methods
Trading leveraged products such as CFDs involves substantial risk of loss and may not be suitable for all investors. 83% of retail investor accounts lose money when trading CFDs with this provider. Trading such products is risky and you may lose all of your invested capital.
Compare Forex Brokers Fees:
Use our side-by-side comparison table to compare Forex broker accounts, spreads and fees.

Additional characteristics
Best Demo Accounts: Shortlist 2022
Our best forex demo accounts have been decided after in-depth research to make it easier for you to use the best ones.
What is a Forex demo account?
It is a trading account funded with virtual money that allows the trader to get familiar with certain aspects of trading. Since the accounts are funded with virtual money by the broker, the trader can get familiar with trading strategies and the platforms without the risk of losing their funds.
A forex demo account is also called 'Paper Trading Account,' as it is used to practice trading or to try out a new trading strategy without any risk to the trader's actual money.
For beginners, the demo account serves as a way of helping them learn and get familiar with various aspects of forex trading.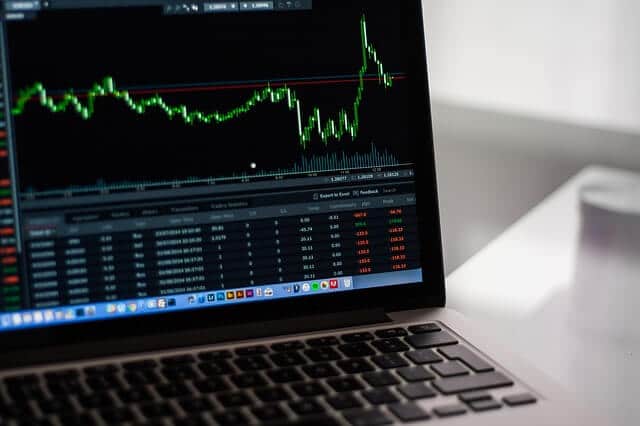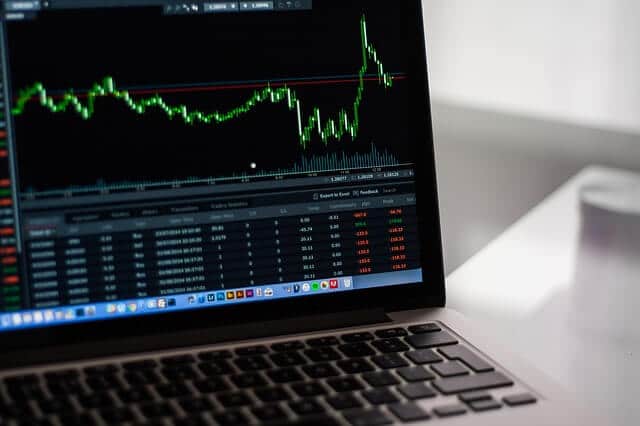 Thanks to the demo account, traders can quickly understand how to place orders, manage existing trading positions, and carry out other complex functions like fine-tuning a trading strategy or more.
If you are new to the trading space or an aspiring trader, then we highly recommend that you first get familiar with the process by using a demo account. Once you are comfortable and have learned a few things, you can start trading with real money.
Best Forex Demo Accounts 2022
Due to the large trading volume of the forex market, it is not surprising that we have hundreds or even thousands of companies offering brokerage services.
However, some brokers offer better services than others. When it comes to the best demo accounts, three brokers stand out as the best.
eToro – Best for Non-US Traders
This is perhaps the largest social trading platform in the world. eToro is home to thousands of traders. The broker funds its demo accounts with $100,000 in virtual money and provides traders access to various trading tools and features. They can also trade other assets like cryptos, stocks, and commodities.
Traders can also try out trading strategies in the demo account before doing them in the real one. Those that wish to start using the real trade account at any time can simply switch between the two accounts.
However, you'll need to deposit actual money before you can use the real account. Finally, combining the practice account with the copy trading and social trading tools is an advantage that only this broker offers.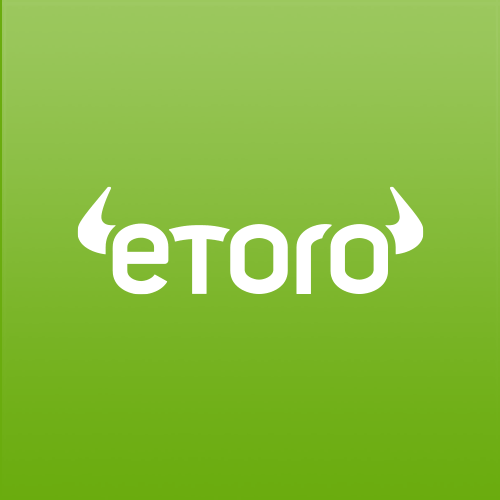 eToro Fees
| | |
| --- | --- |
| Type of fees | amount charged |
| Deposit fees | free |
| Withdrawal fee | $5 |
| Conversion fees | from 50 pips |
| Inactivity fee | $10/month |
Your capital is at risk.
Plus500 – Demo Broker for International Traders
The Plus500 demo account is designed to replicate the real market conditions as closely as possible. Traders get a chance to practice trading commodities, indices, currencies and stocks across some of the leading instruments, including currency pairs and shares.
With the Plus500 demo account, you are given virtual funds to practice and develop your trading strategies by buying and selling assets in real-time.
It also allows you to take advantage of the concept of leverage safe in the knowledge that your personal money isn't at risk. Anyone can use the Plus500 demo account without opening an actual trading account with the platform.
The platform has buttons that will allow you to easily switch between the demo and real accounts effortlessly.  Thus, allowing you to test out your ideas on the demo and easily switch to the live trading platform to implement them.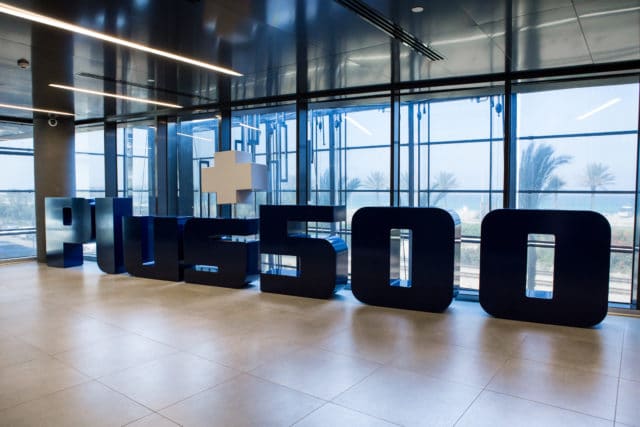 Plus 500 Fees
| | |
| --- | --- |
| Type of fees | amount charged |
| Deposit fees | free |
| Withdrawal fee | free |
| Conversion fees | 0.5% of the profit |
| Inactivity fee | $10/month |
Your capital is at risk.
Forex.com – Best for US Traders
Forex.com is an excellent broker, especially for traders living in the United States. As one of the leading brokerage platforms in the world, forex.com offers an excellent demo account to traders.
The trader can choose either a forex.com demo or a MetaTrader demo account. The demo account is available for 30 days, and it is risk-free.
The traders have access to all the trading tools and other features available to the live trading markets. The forex.com demo account comes with $10,000 virtual funds, allowing traders to access the forex market and trade the currency pairs.
With a forex.com demo account, you can trade risk-free since the money you are trading with is virtual. You can also access the various markets and practice trading under regular market conditions, experiment with various trading strategies to see which one works best and become familiar with the forex.com trading platform.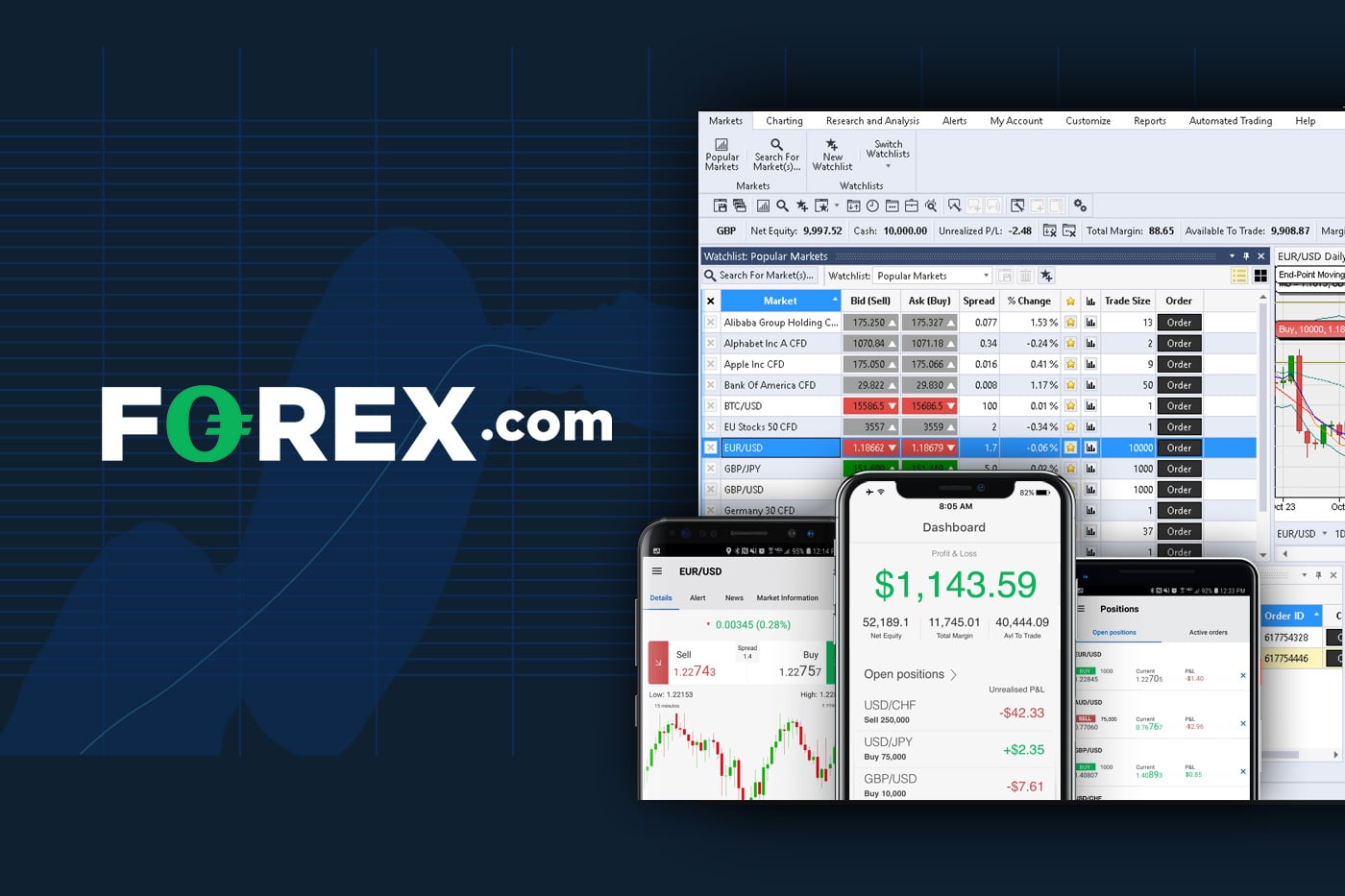 Forex.com Fees
| | |
| --- | --- |
| Type of fees | amount charged |
| Deposit fees | free |
| Withdrawal fee | $25 for local and $40 for international |
| Conversion fees | Based on transaction |
| Inactivity fee | $15/month |
Your capital is at risk.
Pepperstone – Best Demo Broker with Virtual Funds
Pepperstone is one of the leading Australian brokers that offer services to traders globally. They offer a 30-day practice trading account that comes with $50,000 in virtual funds.
The demo account on Pepperstone has similar features like the live trading account, including platforms like MT4 and MT5. It has other features like economic calendar, market analysis, market news, and access to other markets like cryptocurrencies, equities, USD index, commodities, and indices.
On a Pepperstone demo account, the leverage reaches up to 1:200 maximum (30:1 under FCA). The demo account itself is available for use for only a period of 30-days.
Those that desire to keep their account open longer can request another 30-day demo period or they can recreate another account.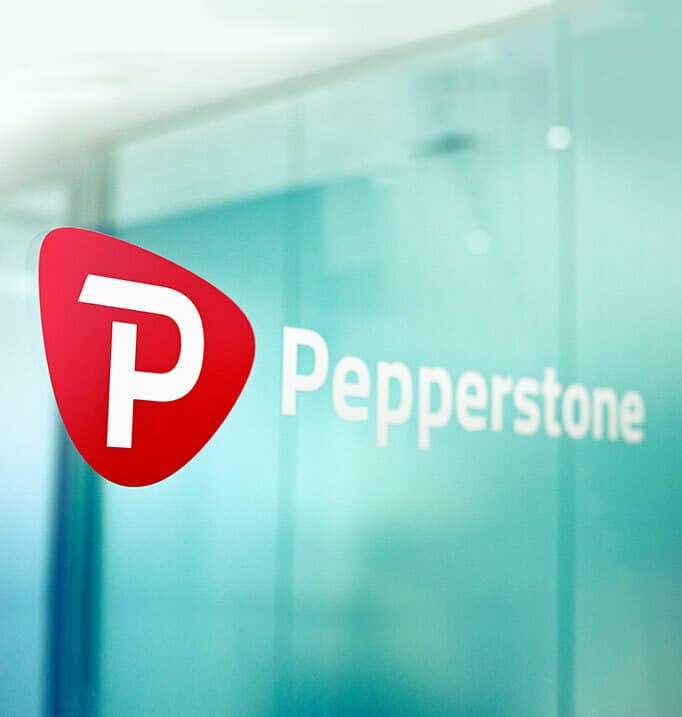 Pepperstone Fees
| | |
| --- | --- |
| Type of fees | amount charged |
| Deposit fees | free |
| Withdrawal fee | free |
| Conversion fees | $3.50 per $100,000 bought |
| Inactivity fee | None |
Your capital is at risk.
What are the Pros and Cons of Demo Accounts?
Pros:
Understand market dynamics: The forex demo account helps traders understand how the market works. With the demo account, you can learn how to open and close trades, monitor performances, use charts, and more.
Free and easy: Opening forex demo accounts are easy and free. When opening such accounts, all you need is your name, email address, and sometimes a valid phone number. The accounts are funded with virtual funds, which means you don't have to fund them.
Safety of personal funds: Thanks to forex demo accounts, you don't have to lose money during the learning or testing process. The accounts come with virtual money, which can be used for trading purposes. You can learn forex trading and test your trading strategies without using or losing money.
Understand real-life market scenarios: The demo accounts help you learn and understand the real-life market conditions. Since the scenarios are based on real-time forex trading situations, you will get a chance to learn how to reach constant market fluctuations. Thus, you will learn how to adapt more quickly to the volatile nature of the market.
Practice sound money management techniques: demo accounts allows you to practice good money management techniques as they are key to success in forex trading. You will learn how to money real exchange rate movements and see how the benefits accrue to become profits.
Learn to manage your emotions when trading: most people fail because they trade with emotions. Practicing with demo accounts will show you how to manage emotional responses in both winning and losing scenarios. You will learn how to control fear, greed, and hope as part of the trading process.
Try out a broker's trading platform: the demo account allows you to test the trading platform supported by a broker and determine if it suits your trading style.
Check for new features and services: Traders can use the demo account to check for and test new features and services provided by a broker.
Cons:
The fact that traders are using virtual money is a real drawback. Since the traders know that they don't stand to lose anything when using the demo accounts, they sometimes don't tend to be serious with the trading process. When using a real account with real money, a trader is forced to sit up and become serious since they could lose everything in an instant. That is not the feeling they get when using the demo account.
Limited duration and funds: most of the time, there are limits to the period you can use a demo account and the amount of funds available.
Trading conditions might differ: while demo accounts seem realistic, the reality of live-trading is different, especially when faced with fast markets and major economic data releases.
Success in real-live trading isn't assured: although you might be a successful trader using a demo account, that doesn't assure success in the real market.
Why are Practice Accounts so Important?
Practice accounts are important for traders because of the advantages they offer to them. Without practice accounts, traders won't be able to learn more about the market, trading platforms, tools, and more. Here are three crucial reasons why practice accounts are important.
Practice trading
The apparent reason why they are important is that practice accounts are primarily used to practice trading, allowing the traders to familiarize themselves with the trading conditions.
Most brokers offer the same data feed in both demo and live trading accounts. Thus, ensuring that even though you are using a demo account, the market conditions are similar to the live markets. Hence, you get to test your trading prowess in a safe and risk-free condition.
Test trading strategies
A demo account is the first place a trader would deploy trading strategies to see if they are favorable or not. It is best to test your trading strategies on a demo account to see how well they perform.
Since demo accounts have free-risk trading environments, traders can test and tweak the trading strategies without fear of losing real trading funds in the process.
Risk management
With the help of demo accounts, traders learn how to manage risk. Practicing accounts help them understand certain situations such as the number of positions to open units or lot sizes to trade and more.
Once they fully understand the risk management techniques, it becomes easier to deploy them in the live trading environment.
How to Open a Demo account
We will use the forex.com platform as an example of this situation.
Visit the broker's official website and navigate to open an account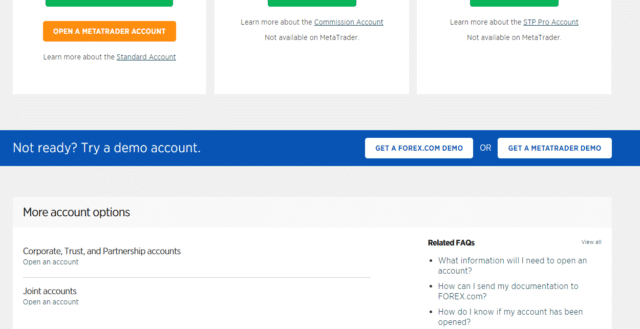 Select 'Get a Demo Account,' and you will be redirected to the signup page
Insert the required details like name, email address, and phone number.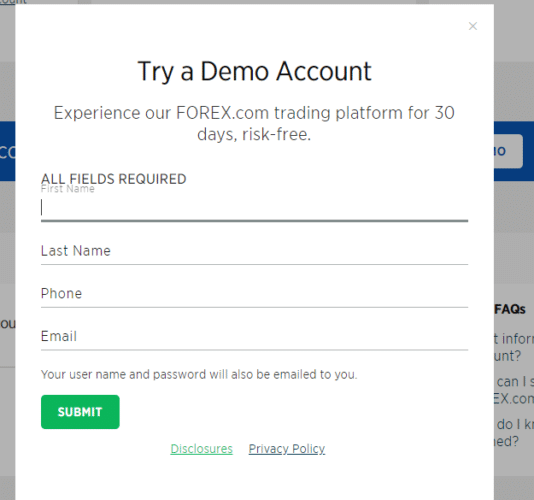 Submit your demo account application
The broker will assign you a username and password, and the demo account would be funded with the virtual money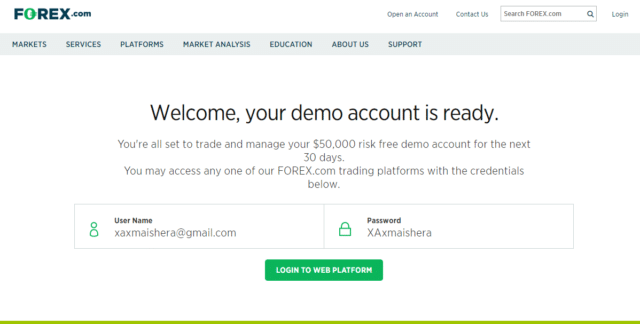 FAQs
Can I withdraw my earnings from a demo account?
No, you cannot. The money isn't real. The demo account is to help you get familiar with the trading environment.
Can I lose money trading with a demo account?
No, you won't. The money you use for trading is virtual, and all your trades are risk-free.
What is the use of the demo account?
The demo account is to help you learn the basics of forex trading, understand how the trading platforms work. It also allows you test various trading strategies to determine which one works best for you.
Can I open multiple demo accounts on a single site?
No, you can only open a single demo account per broker.
Can I renew the demo account?
Most demo accounts last for 30 days, and you won't be able to use them again. The broker will prompt you to switch to the live trading account afterward.
A Comparison of the Best Forex Demo Accounts
| | | | | |
| --- | --- | --- | --- | --- |
|   | eToro | Plus500 | Forex.com | Pepperstone |
| Feature | | | | |
| 24/7 customer support | Yes | Yes | Yes | Yes |
| Mobile app | Yes | Yes | Yes | Yes |
| Charting tools | Yes | Yes | Yes | Yes |
| Various markets | Yes | Yes | Yes | Yes |
| Free deposit and withdrawals | No | Yes | No | Yes |
| Price alerts | Yes | Yes | Yes | Yes |
| Real-time quotes | Yes | Yes | Yes | Yes |
| Copy-trading | Yes | No | Yes | Yes |
| Social trading | Yes | No | No | No |