Forex Market Size, Volume And Liquidity
The Forex market is by far the biggest market in the world averaging a turnover of $5.1 trillion dollars a day.
Because of the giant size of the market, it is a great market for traders who want to make swing trades, scalp trades and day trade.
You can enter the markets without delay, with very tight spreads, and good leverage.
This lesson looks at exactly how big the Forex market is, who exactly is making trades, and the countries that are trading Forex the most.
How Big is the Forex Market?
In 2016 the Bank for International Settlements (BIS) released their three yearly report.
This is a wide scoping report and we will use some of these figures for today's lesson.
In 2013 there was on average $5.4 trillion dollars per day being traded and in 2016 there was $5.1 trillion dollars being averaged.
What is most interesting about these statistics is that there are a few global powerhouses that account for the bulk of these figures.
The major currencies also account for by far the bulk of trades being made.
Who are the Biggest FX Players?
In the last Bank for International Settlements report the amounts that are being traded are divided into segments; 
– Institutional traders: these are the large banks, governments, hedge funds and other portfolio managers.
– Retail traders: these are the individual traders, home traders and other professional traders not running large organisations.
In the market we have large organisations, banks and investment banks on one side, and on the other side we have the retail traders speculating on the markets and trying to make profits.
What may or may not surprise you, is that institutional trading makes up 90% of the Forex market cap. Only 10% of trades are being carried out by individual retail traders.
These figures are pretty important to understand. It is clear why the 'big money' moves the markets. No matter how large a retail trader is, they are not moving markets.
As a retail trader you also have a lot different trading conditions with your broker to that of an institution. 
Thinking about these numbers when you are next identifying and managing trades will open your eyes to what is really happening.
When you see that next false break of a key support or resistance, or when price moves 'close', but not quite to a major supply or demand level you will look at it differently.
Forex Market Liquidity and Volume
With the Forex market available to trade 24 / 5, having a large amount of liquidity is incredibly important.
With large volumes of orders being placed creates a steady flow of high liquidity.
This allows you to enter and exit your trades with ease and speed.
Whilst in some markets you may be trapped and waiting for a buyer to enter, in the Forex market there is such an incredible amount of volume you will not have to wait to execute your trade.
The most heavily traded currency pairs in the world are the EURUSD and USDJPY. These two pairs alone account for 41% of all trades placed in the Forex market.
Another astounding statistic is that the US Dollar makes up 85% of all trading volume. The Euro comes in second, followed by the Japanese Yen.
What Countries Trade the Most Forex?
The last Bank for International Settlements report showed that the top three countries with the largest volume being traded in the Forex market are the United Kingdom, United States and Singapore.
See the graph below highlighting just how lopsided this is;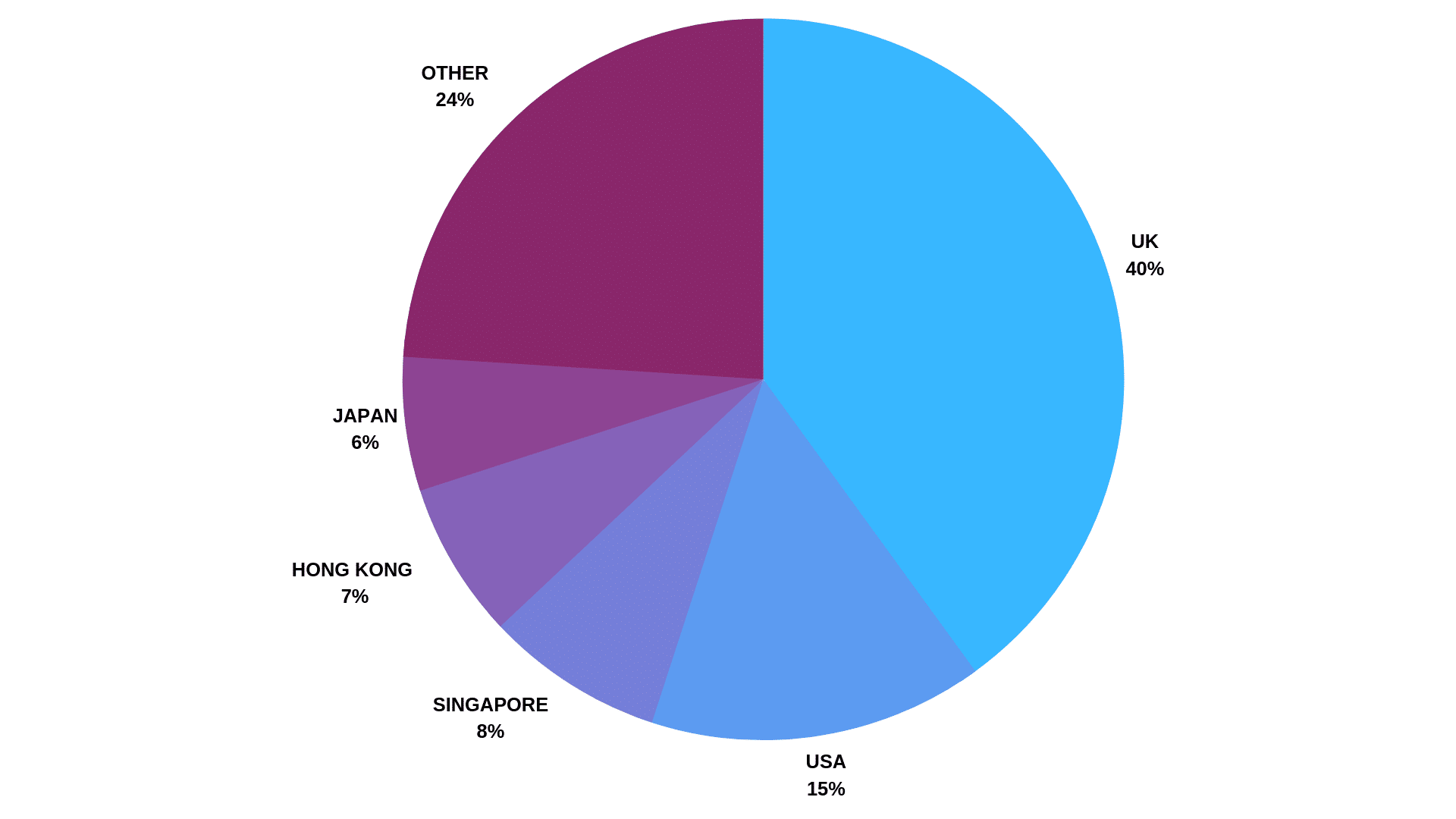 Because these three countries have such large volumes, it is a major reason why the markets look to each of their trading sessions; Asian, London and New York Sessions.
You will note that the largest amount of trading is carried out when the two big players are having their trading sessions overlap. When the London and New York trading sessions are trading at the same time a large proportion of the days volume is processed.
What are the Most Heavily Traded Currency Pairs?
Below I have listed in order the most traded currencies in the world.
US Dollar

Euro

Japanese Yen

British Pound

Australian Dollar

Swiss Franc

Canadian Dollar

Renminbi (Chinese Yuan)

Swedisk Krona

Other currencies.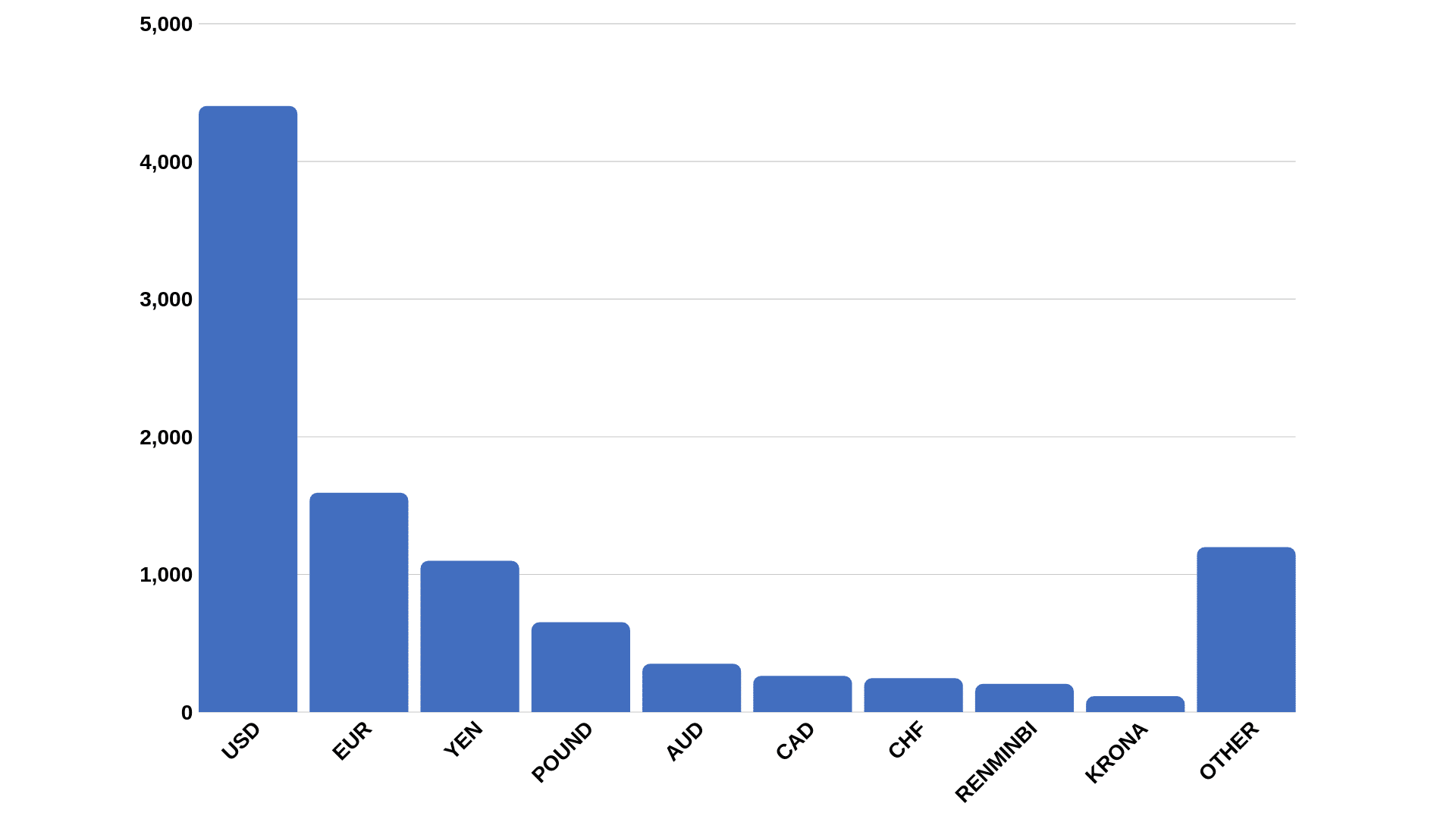 What's interesting to note is that the Chinese Yuan (Renminbi) has been steadily climbing and is now sitting in 8th place of most traded currencies.
Recap
The Forex market is the biggest market in the world by far.
Whilst it might be the biggest, the bulk of the trading is carried out by a handful of countries and on only a few major currencies.