Forex Trading Scams
Have you been trading for a few weeks or longer now?
The chances are that someone has tried to scam you, trick you, swindle you, blatantly spam you, or push something on you did not want.
Everyone thinks of scams as big elaborate sting operations happening in the boiler rooms, but they often take far more subtle and clever forms and chances are you have already run into, or seen one of them.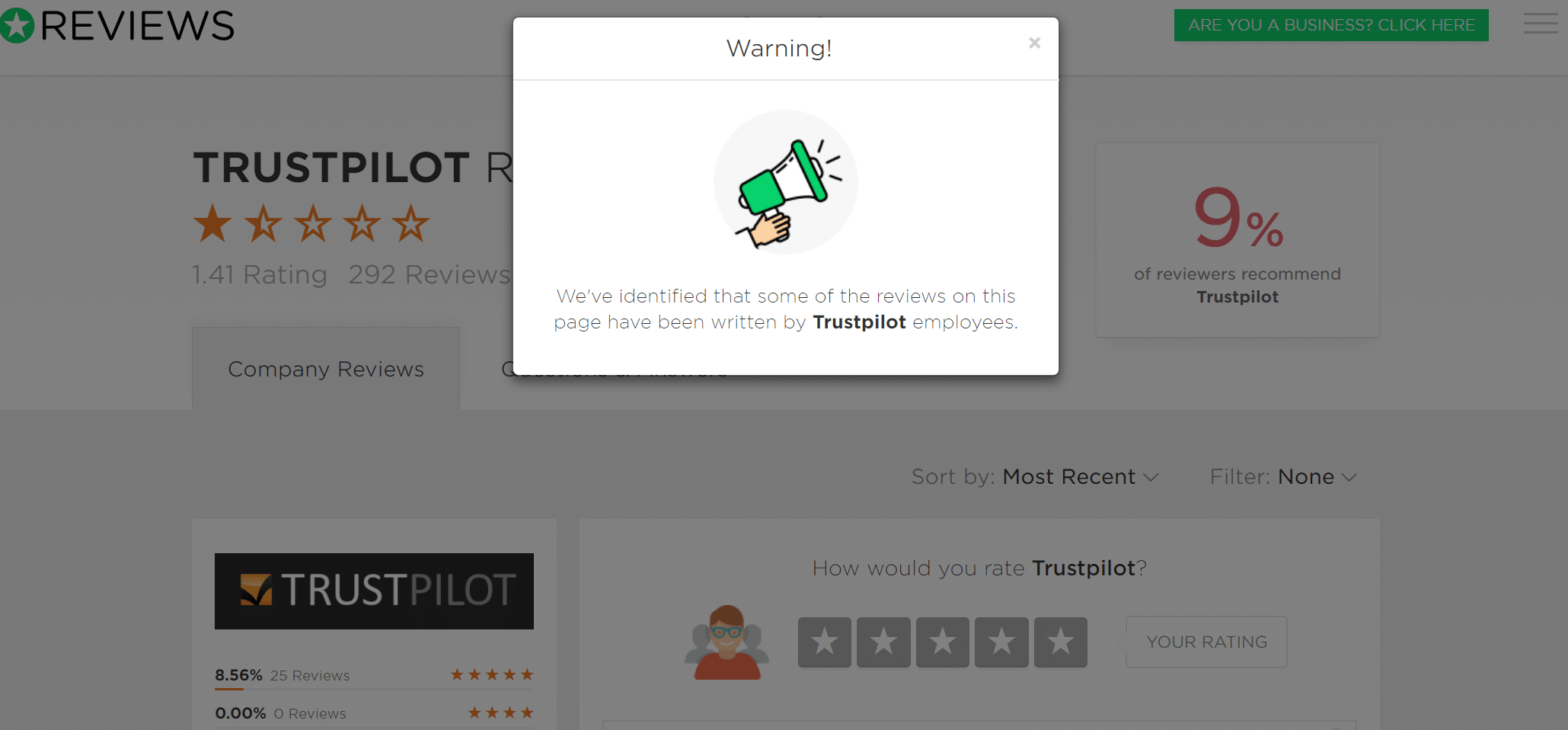 Fake Review Forex Trading Scams
This is probably one of the most common in the trading world and the best place to start.
Fake reviews take so many forms.
Think about how much you are swayed by a review and a review by someone who you know ABSOLUTELY nothing about!
Go into any trading forum today and you will find someone asking "Hey, I am thinking about XYZ, what do you think about it?" and you will see a bunch of people pop up saying oh yeah or nah rubbish get this instead.
Now of course, there are genuine, great and honest people.
What I am trying to say here is that; the people making fake reviews know that you will buy or NOT BUY an indicator or program, go with a broker, or face cream for that matter because they have just absolutely rubbished it, when they have probably never used it and just Googled the product page a moment ago.
It works though. We ALL looks at review when buying things. ALL OF US. And spammers know this.
[dropshadowbox align="center" effect="raised" width="auto" height="" background_color="#ffffff" border_width="1″ border_color="#dddddd" inside_shadow="false" ]Have you noticed in trading forums and review sites there are so many profiles with just one posts to their names and that one post happens to be a 5 start glowing and raving review? [/dropshadowbox]
What are the Most Common Fake Reviews?
When was the last time you woke up and thought… hey I am going to go and make a 5 star glowing review of a website or product for absolutely no benefit to myself at all?
When was the last time you were talking to someone and said "Hey, I love what you are doing and what you did with this XXX was great, and I got a huge amount of value out of XXX and XXX has helped me a huge amount"?
That last example is a lot more likely and is something that happens a lot and this is why you have REAL testimonial and you will see sites with customer images and testimonials and even videos.
They will be on call or talking through chat or over email and the student, client, brokers / indicator ect, customer will be on a high with the great service and will say hey; "thanks for a great job"!
Some people do make true real reviews, and these people are great, but 90% of Forex reviews are fake. Why? Because someone is always looking to do something or get something.
People get extremely emotional with money. Traders get upset when they lose and blame brokers. Others see the chance to game the system, with reviews and others know the slamming potential competitors will make you not look at them and turn to them.
Paid Reviews Scams
I am sure by now you have put something into Google whether for Forex or any sort of product and the search looked like this "XXX Review". Or "XXX Product Reviews" etc
Most industries will then give you results. People will say "Yeah I got given a jar of this cream today and I am writing this review" or this company gave a free trial as long as I wrote a review for them right? Sound familiar?
How about the Forex industry…
People try two ways in general.
Major Tactic to Watch!
Ever been to a website and been told how terrible everyone is and how you should avoid everything and everyone like the plague? You will be reading the lesson and thinking wow this program / ea / signal service / broker is terrible!!
…. But hold on!! amazingly… there is this other person or robot or EA and it is AMAZING!
And just for you they have a special deal! Just go to this special link and you can get this deal with this other amazing person / EA / robot or whatever the spammy deal it.
These people rubbish everyone and everything to try and make themselves look good because they have no ideas of their own and then they will spam you to try and make money from you going to a link they are recommending.
Don't fall for this old chestnut.
Sometimes these people will even have the brass to turn around and say "hey every other indicator or program is rubbish, but I am the best so you should buy my XYZ.
Take note: Here is your BIG CLUE to these people – Read these peoples reviews  of their signals services / EA's / Brokers / Programs. They will not make ANY sense, the reviews will be short and jumbled together as the only goal is a #1 – #2 . That is because they don't actually use the products or have their ever even seen what they do.
#1: Slam everything in the first part of lesson and #2 Then send you to the other rubbish product they get the most money from that you will be paying for!
Trustpilot Trading Scams
"Trust" pilot say they don't take down or even monitor their reviews. They even LET anyone have multiple 5 star reviews on the same products. Yet on their own page you can see people complaining about having their reviews removed time and again. 
On other pages spammers have posted 50 x times within minutes of each other with 1 x post profiles I discussed above.
That's trust for you right.
You can go to any product any make any review you like, and then make another one on the same product. This is odd right? And then another one.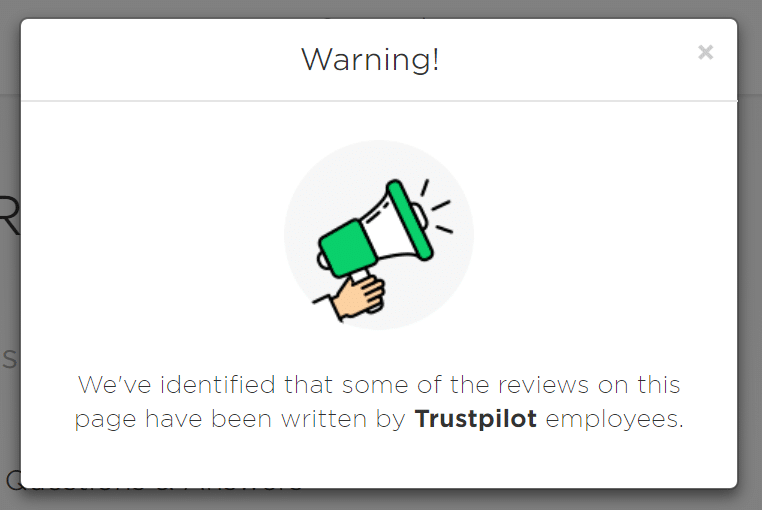 The same person can also just sign up, create different accounts, flip to the bottom, change their location and bam – another 5 star reviews.
100 x 5 star reviews anyone?
oxymoron
noun
a figure of speech in which apparently contradictory terms appear in conjunction
Forex Peace Army
Surely Forex Peace Army has no fake reviews?
No angry traders losing money and slamming brokers who want refund their lost money because they did not place stop losses.
Over JLTrader he does a good job of going through this and you can read his review right here;
Reviewing The Reviewers
Keep in mind something about Forex Peace Army, most of the companies and respected brokers who they call scammers pay no attention whatsoever or other traders or pay no part of their kangaroo court.
Forex Peace Army try to set themselves up as the judge, jury and executioner, but they are a large website where angry traders are able to be behind their keyboards and slam companies and the companies will never respond because they know what the site is like and instead of having a public fight where angry traders.
Put yourself in a large brokers position for example. If you had a retail trader who is furious at you, and they go onto FXpeacearmy and put in a complaint and start making all sort of accusations.
They have minimal knowledge of how the backend of trading / Forex broking goes on and trading books work.
As the broker in the situation… what do you do?
Are you going to bring this disagreement out into a public forum? I can tell you, arguing in public never looks great and even if you win the argument. Others will try and get involved and the broker would #1: have their hands tied behind their back as they could not discuss anything personal and #2: it would be them versus the whole forum.
This is why settings like this become a free for all and often run wild.
The Strangest Thing About This is That Anyone Can Post as a 'Guest'!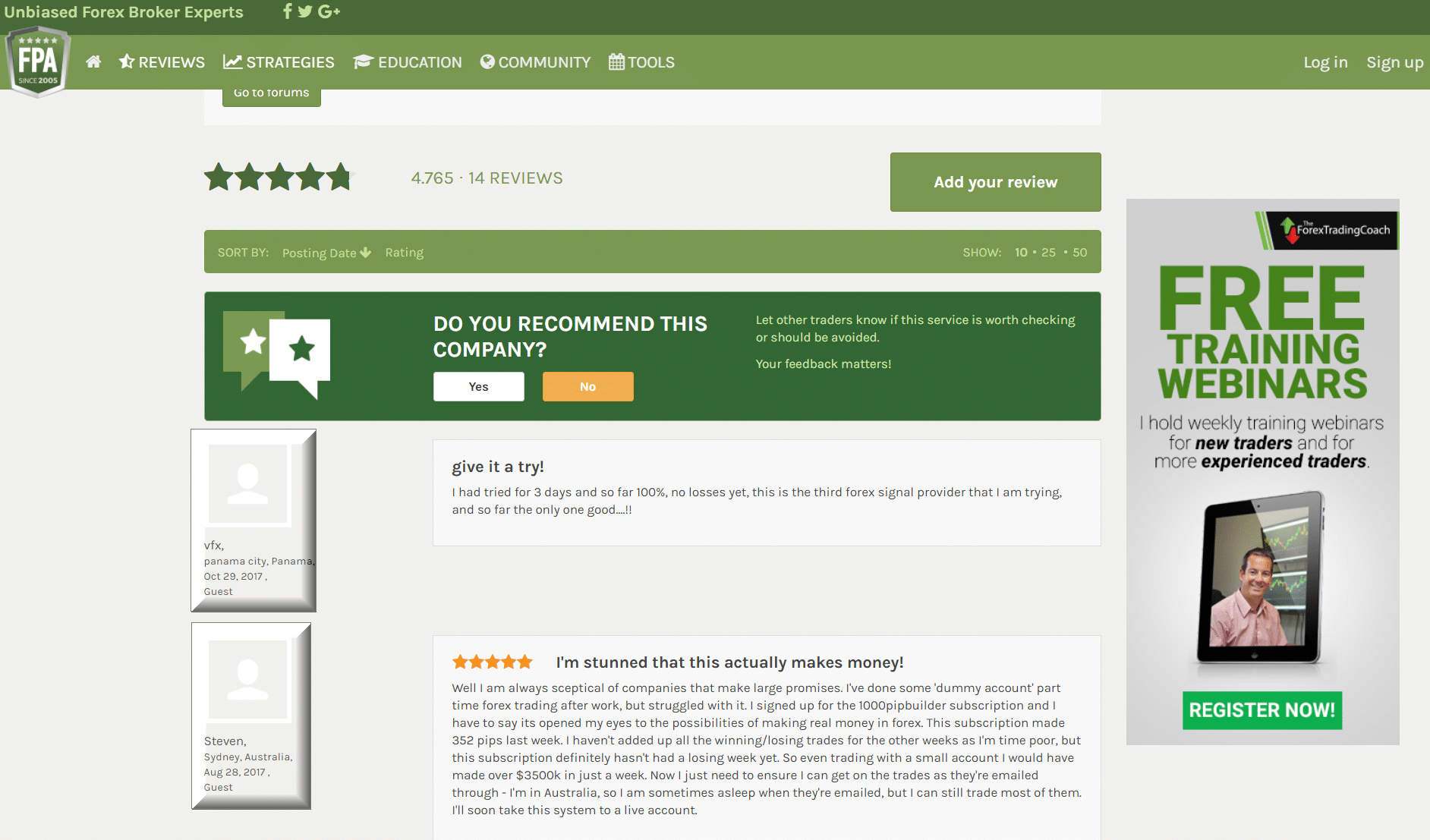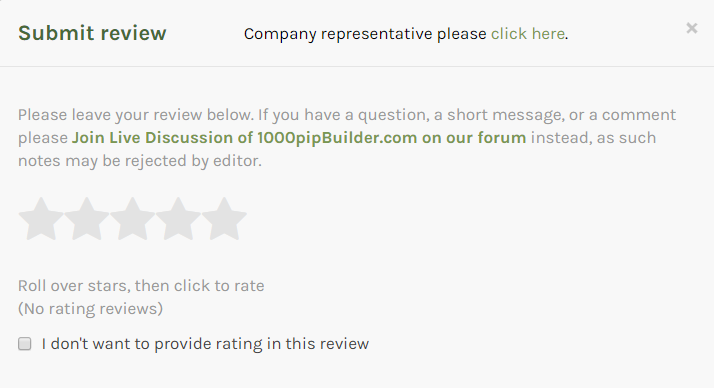 A broker in this situation best option is to pay and and jump from wherever they are in the cue to the front page. Their review links then become to their website and you cannot review them anymore from the review Forex brokers section
NOTE: This is NOT scam or spam in anyway, shape or form and there isn't any type or trickery going on here. It is even made pretty clear to you that you are about to click and ad with a big orange AD button. This is how it should be.
Forex Trading Spam Factories
Unfortunately they will suck in a lot of people.
When I talked to a few people for this lesson I stumbled upon a large post in a forum from someone who posted up they were looking into a particular 100% win rate system. This is the fist time I have been to another trading forum other than my own in many, many months, but unfortunately this is common.
A snippet of this post is here;
"I happen to come across a service by the name "XYZ", visited his website as he claims to have 100% profitable system, read reviews on "XYZ", most of which were in support of "XYZ" and then felt it would be worth asking him certain questions and do some research if it really is a good service. I sent this guy an e-mail regarding my questions".
Now you can tell already with this person in their post that something is not write and deep down they know they are getting scammed. They already know it is bullshit… but they want that big score. They want the easy, quick money they don't have to work for and the scammers know that people are coming to trading for a lot of money and to make it very quick.
Here this loudly; MAKING 100% is IMPOSSIBLE unless you know every market player – when they are entering – exiting – with how much – their EXACT orders and you would need to be guaranteed nothing was going to change – IMPOSSIBLE in a 5 trillion dollar a day market.
It is why we create an EDGE over the market with money management!
What do Theses Spammers do?
These sites will become pretty obvious after a little while, but when you are first new to trading, you are looking to make money fast and easily and this is what the spammer is preying on.
There is no value, help, support or really anything going on here. The aim is to take – from you and as much and often as possible. Often they will be trying to trick you and they will be clever.
They open with the intention of getting as much traffic as possible and to get you to click on their spammy links. They don't sell or create anything of value and they don't help you become better as a trader.
They are trying to get you to click their dirty links and go through to other sites like Robots, EA's, Ad's with those sites will send them back money.
They will often post as controversial rubbish as they can and they will try and use others who are ranking in Google because they know can tag along and use their name and people will find them (use their names to be found).
They will quickly spam out as much content as possible because the more they put out, the more clicks come in and the more chance for you to be sucked in before the noose drops and they have to start again.
ROBOTS / EA's
There is a great lesson on how scammers are creating fake results, and how they are fudging their backtest results to rip off traders to create Robots and EA's from one of the most respected EA' / Robot and indicator creators in the industry if not the most; Rimantas Petrauskas.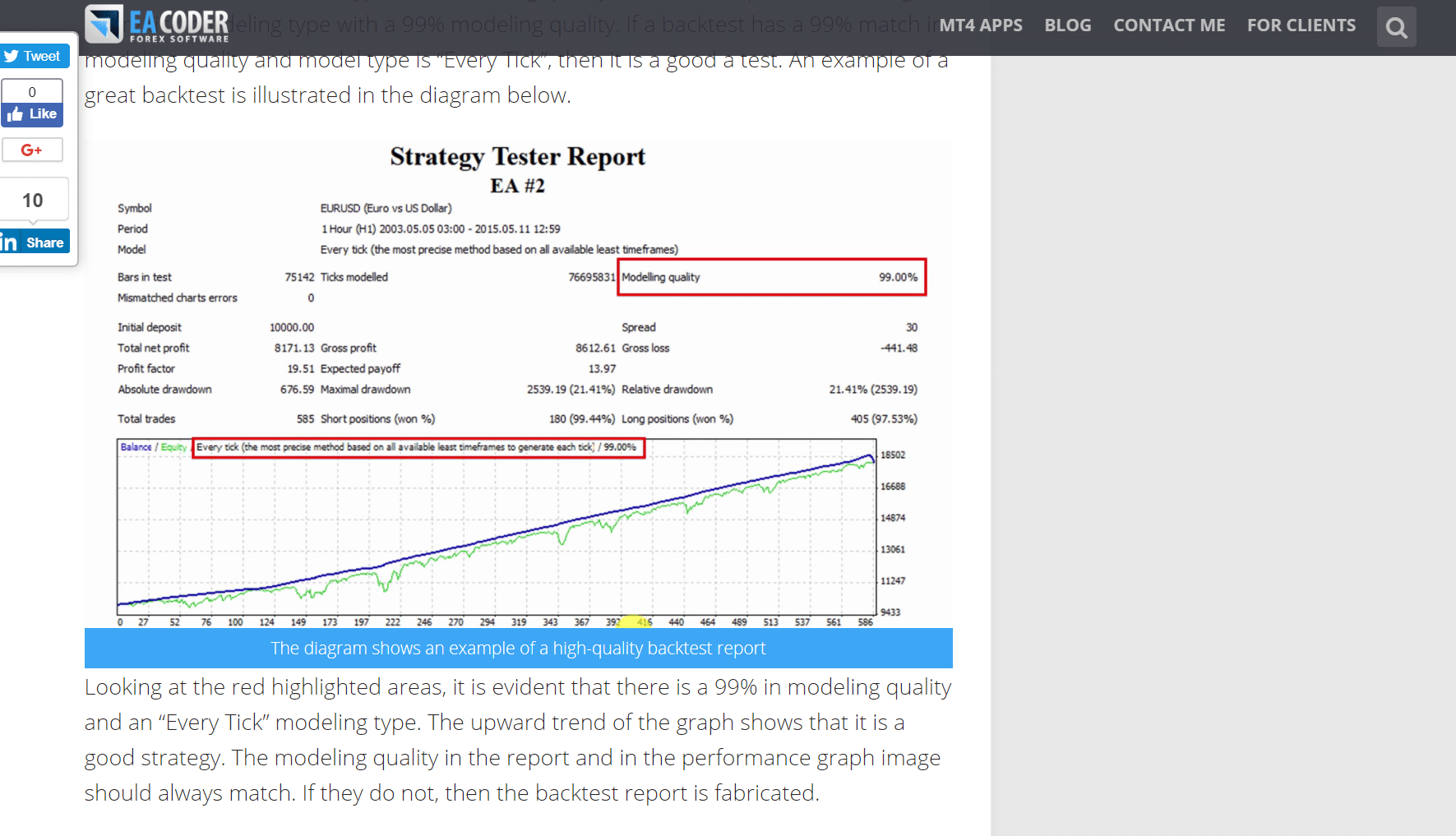 Let me make one thing clear – I am writing this lesson because I have become annoyed with how the industry is constantly. It is fair enough creating massive value and selling it to those who need and want it and then will get use from it, and traders will get where they will need to go and get major benefits.
.. but doing it in a way where traders are not getting tricked into clicking links they don't want to go and then becoming so distrustful and hating everyone to do with Forex because of the constant scams.
Rimantas at EA-Coder talks along the same lines and about the major scams he has been seeing here; what the heck is up with all these Forex scams?
Do you notice the same names, popping up and down and then up again with different sites and EA's/bot's? There is a reason for this. They have their scams killed off and they have to go quiet before… woolah!
Misleading Results and Win Rates
Is the scammer giving you a glowing review with amazing win rates and incredible pip returns?
It's rubbish. You can make 99% win rate and lose money and you can make thousands of pips and lose money.
Don't fall for the pips and win rate scams that the spammers pump out. It's all rubbish as they know the new trader is absolutely FIXATED on making
A) As big of win rate as they can as close to 100% as possible 
B) Trying to make millions of pips
As just discussed it is misleading you down the garden path of fantasy land. There are no prizes at the end of day/week/month if you make a gazillion pips or 99% win rate. No one cares. You will care if you have a huge win rate and make a lot of pips and are losing money though.
Making cold hard CASH is all that matters – profits and losses is the only way to work out success.
Read the lesson here on: Learn how to use money management with price action
I Recommend Great Products To Help You – So What is The Difference?
Time to time I recommend products.
So you will probably thinking, c'mon Johnathon what is the difference?
The difference with me and thousands of others like me who also have their users in / students in mind is in what you get sent.
Whilst I have the opportunity and means to send you literally hundreds of products and fill this site with products and links and make thousands of extra dollars, the proof is in the pudding.
I get offers every single days and my emails is full with Forex companies all over the world wanting me to send you offers for EA's, indicators, put ads all over the website, send you their emails and what do you see? I have have hundreds and hundreds of these emails.
Nothing has ever been recommended to you unless I have read/used/love it PERSONALLY and it will help YOU. This is a MAJOR difference.
The emphasis is on YOU and creating value for YOU.
With the products I recommend not only would I NEVER recommend a product that I have not used and have tested myself first, I also try and organise extra over and above deals for students and loyal visitors of this site.
This is different to some spammer jamming offers and bombarding you with offers you do not want, that will not help you and that the spammer has no interest whether you will get any use or value out of. They want you wallet and what is inside it and frankly they could not give a stuff how they get it.
Final Words
This is what it comes down to…
For a new trader you need to temper your expectations on what you results will be overnight and that is the last thing you want to hear from me, but it is the truth. This will help you straight away avoid 99% of the scams that are looking to prey on the "Make a million dollars overnight doing absolute nothing – click HERE".
You want me to tell you, that you are going to make a lot of money, and very fast.
That is why you came to trading, Everyone single one of us ALL trade to make a lot of money and if we didn't we would do something else. Trading offers us lifestyle and ability to make endless uncapped amop
There is one reason BOT's are so popular… people think a bot will make them more money and faster!
Here is the truth though; unless you are prepared to work your backside off, and put in the actual work it takes (there is a major difference), and learn the steps to go from A-Z  – you will keep going from strategy to strategy. Trading can be learned, but not overnight and you will need to commit to a strategy, method or system and master the heck out of it.
Safe trading and all the success,
Johnathon