Silver (XAGvUSD) has now broken and importantly closed lower below a key support level on the daily price action chart. Silver in recent times has been in a strong down trend on the daily chart and this move through the daily support level confirms the continuation of the trend lower with the new lower low being formed.
Those traders who have followed this blog for a while now will now that there is only one way to play clear and obvious trends and that is to trade with them and look for trades in the same direction. Many traders are burnt every single day looking to trade from the extreme highs and lows against obvious trends and whilst there can be the optimum times to take counter trend trades, when price is in an obvious trend, it gives us a great chance to increase our odds of making a winning trade just by trading with it and not against it.
As the daily chart shows below; this daily support level that price has now busted through could act as a very solid spot to look for price to retrace back higher into and to then look to hunt for short trades on intraday charts such as the 8 hour, 4 hour or even lower time frame charts. This old demand level that price has moved through could become a new price flip area and new resistance, but traders would need to watch the price action and how the price action behaves. For any potential trades at this new resistance level there would have to be a high probability bearish trigger signal such as the ones taught in the Forex School Online Price Action Courses.
As the second 15 minute chart shows below; this price flip level has already acted as a first test resistance level and held up. As so often happens when a key daily level breaks; price will break through the level and then make a quick re-test before rejecting and continuing on. In this case, price broke through lower, made a quick retrace back higher and then fired off a 15 minute pin bar rejecting the key daily resistance before then continuing back lower.
Daily Silver Chart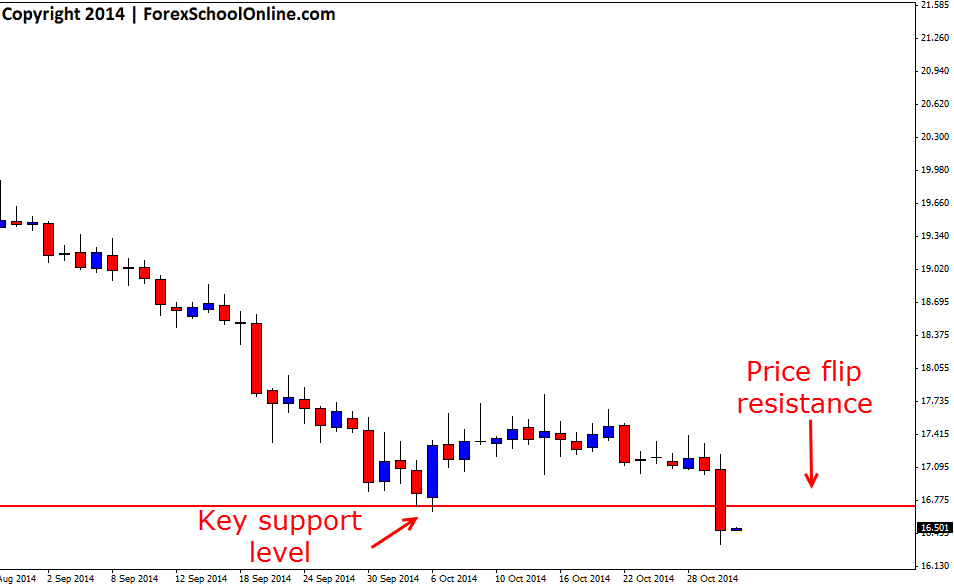 15 Minute Silver Chart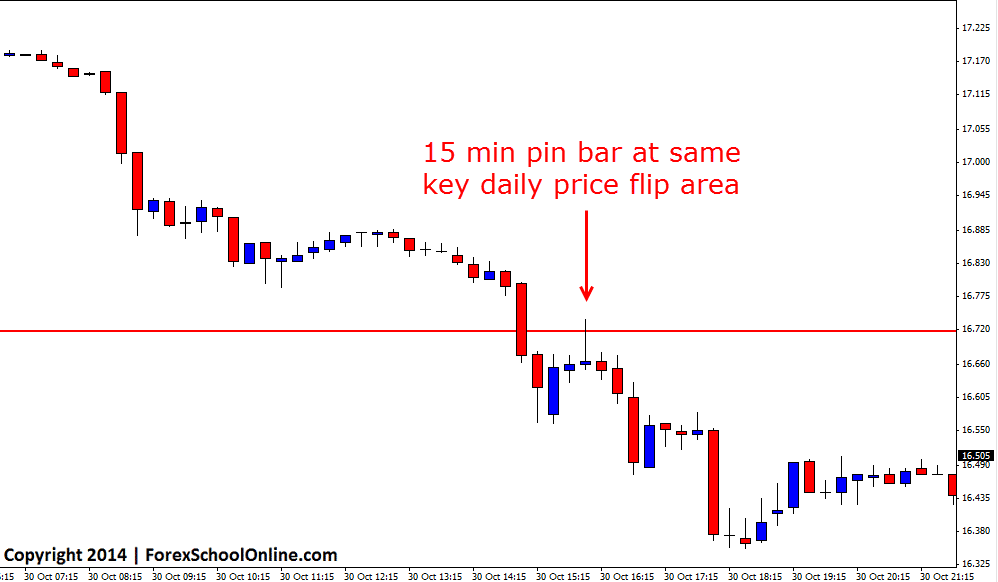 Related Forex Trading Education
– First Test Support/Resistance Price Action Trading Strategy