The daily chart of the NOKJPY has fired off a huge price action pin bar. This pin bar is a massive pin bar that is sticking out and away from all other price and is down at the swing low. Before forming this pin bar, price had started to wind up and had paused on the daily chart before price then exploded and formed the huge price action setup.
Price is now rejecting a longer term support level. In the recent few years on this pair price has been in a really choppy sideways trading market with price unable to work out which way it wants to make a sustained move. When this is the case traders need to manage their trades a little tighter and look to take their trades from the best spots as I discuss in the trading tutorial Trading Price Action in Ranges & Sideways Markets
If you are looking for a broker that covers this pair plus a wide range of other markets with good spreads then you can read the trading article Recommend Forex Broker & Charts For Price Action Traders. If price can now confirm the pin and break higher, the first resistance comes in around the 16.6490 area. The most recent momentum is lower, so if price does not confirm and break higher, there is then no major support for a long way below and price could make a major fall into the VBRN of 16.0000.
NOKJPY Daily Chart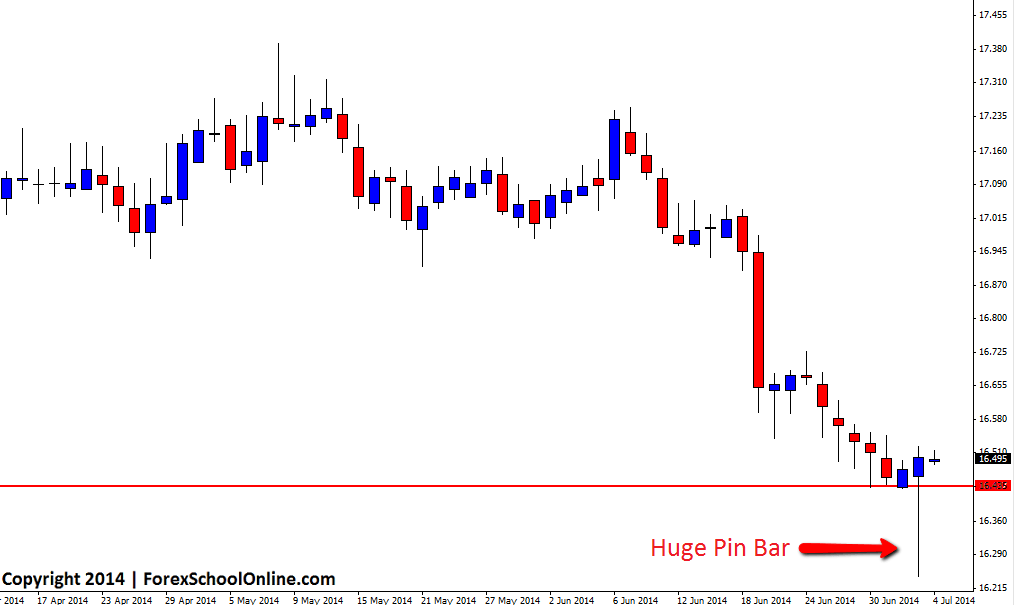 Related Forex Trading Articles & Videos