STEPN (GMTUSD) Price Forecast: May 26
GMTUSD price drops sharply to the $0.2779 low value, as it faces the negative side at the moment. The market price could turn positive if the buy traders should increase their buying pressure and close the daily chart above the $0.5438 supply value, then there is a high probability of the price going up to its recent swing high, which is the $0.6868 level.

Key Levels:
Resistance Levels: $0.5000, $0.6000, $0.7000
Support Levels: $0.3000, $0.2000, $0.1000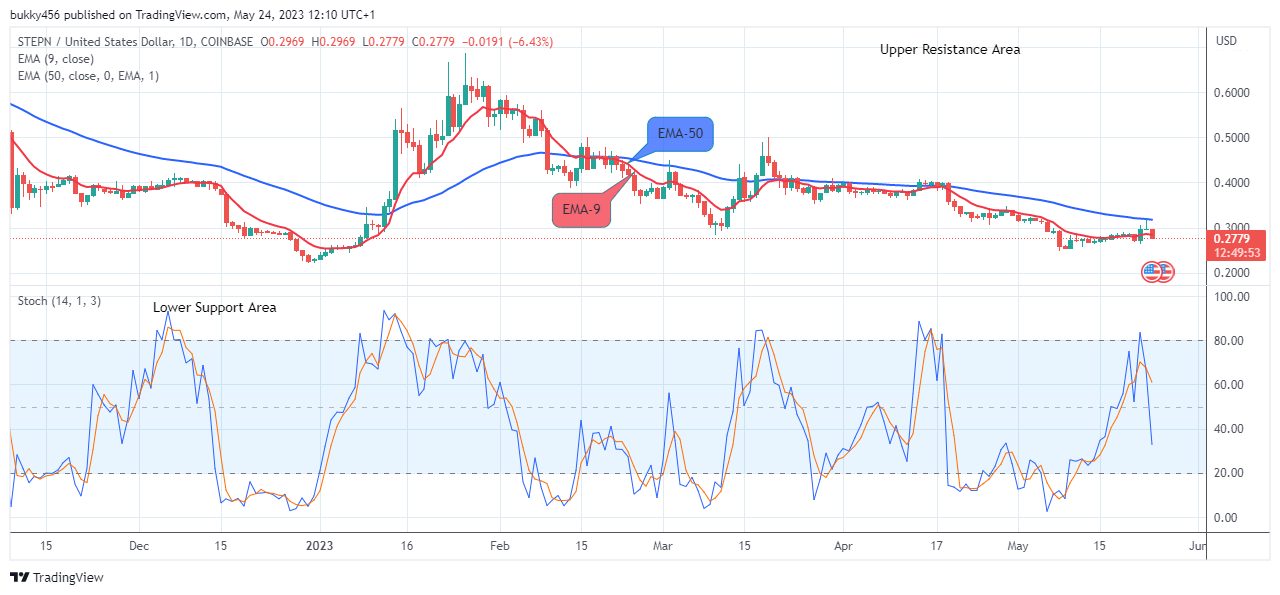 GMT (USD) Long-term Trend: Bearish (Daily Chart)
The STEPN pair is showing a bearish display in its long-term perspective. The price bars can be seen below the moving averages. This is due to the high inflow from the sell traders.

However, there is about to be a turnaround for the GMTUSD buy traders as the coin market now approaches the oversold region.

The high impact from the bears during the past few days has made and sustained the pairs' bearish momentum in its recent low.

The sell traders made their way into the market and dropped the price value of STEPN down to a $0.2779 low level as the daily chart opens today.

With this trend, a breakup is imminent; therefore, if the bulls could increase their buying motives and exchange hands with the sell traders at the mentioned support, the price might turn upside to retest its previous high of $0.6868 value which will probably invalidate the bearish thesis.

In addition to this, the price of GMTUSD now approaches the oversold region of the daily stochastic. This indicates that the selling momentum might end soon.

If this is achieved, we can now expect the buy traders to resume the upward runs, the $0.900 upper resistance trend level might be the target in the days ahead in its long-term outlook.

GMT (USD) Medium-term Trend: Bearish (4H Chart)
The market price of GMTUSD is currently trading in the bearish market zone. This is due to the inflows from the sell traders.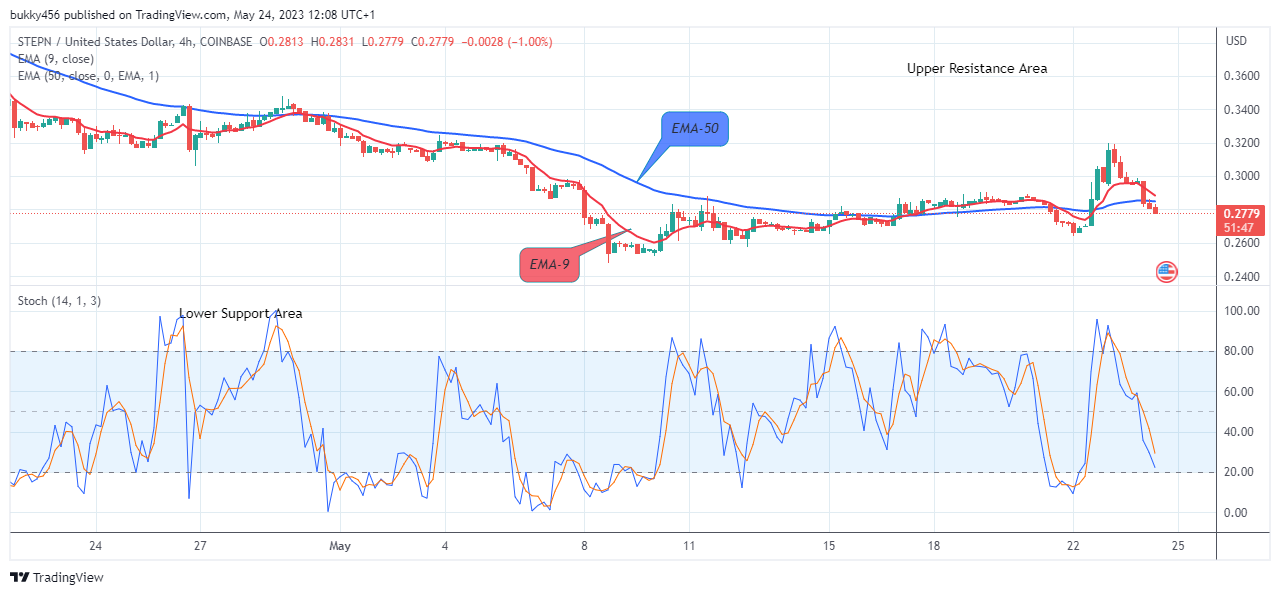 The sustained bearish pressure pushed the pair down to the $0.2957 support value during yesterday's session and has made the coin trade below the supply trend levels in its recent low.

Pressure from the bears further dropped the coin price down to the $0.2779 support level below the two EMAs as the 4-hourly chart resumes today. Should the coin price turn up from the $0.2779 support and jump above the $0.3485 supply mark, the bearish thesis would get invalidated.

Adding to this, the cryptocurrency is trading in the oversold region, under the influence of this market level, the coin should rise steadily soon and break up the previous high at $0.3485 level to reach the $0.7000 resistance level soon as we watch the crypto market turns bullish in the medium-term perspective.

Buy STEPN on eToro