Weekly Price Action Trade Ideas – 1st to 5th June 2020
Markets Discussed in This Week's Trade Ideas: EURUSD, USDCAD, USDSGD and SILVER.
Note: We Use Correct 'New York Close 5 Day Charts' – You can read about why we use these and how to download the correct free charts at Correct Free New York Close Demo Charts
EURUSD Daily Chart
Price Action Breakout
In last week's trade ideas we were looking at the pressure price was building in this market for a potential breakout higher.
After breaking through the resistance price made a fast and aggressive move higher as seen on the daily chart below.
When price has been contained for an extended period of time as it had been in this market, the breakout will often be fast and explosive.
We can now see price is testing the next resistance level. If price can pull back lower it could present for new potential long trades.
Daily Chart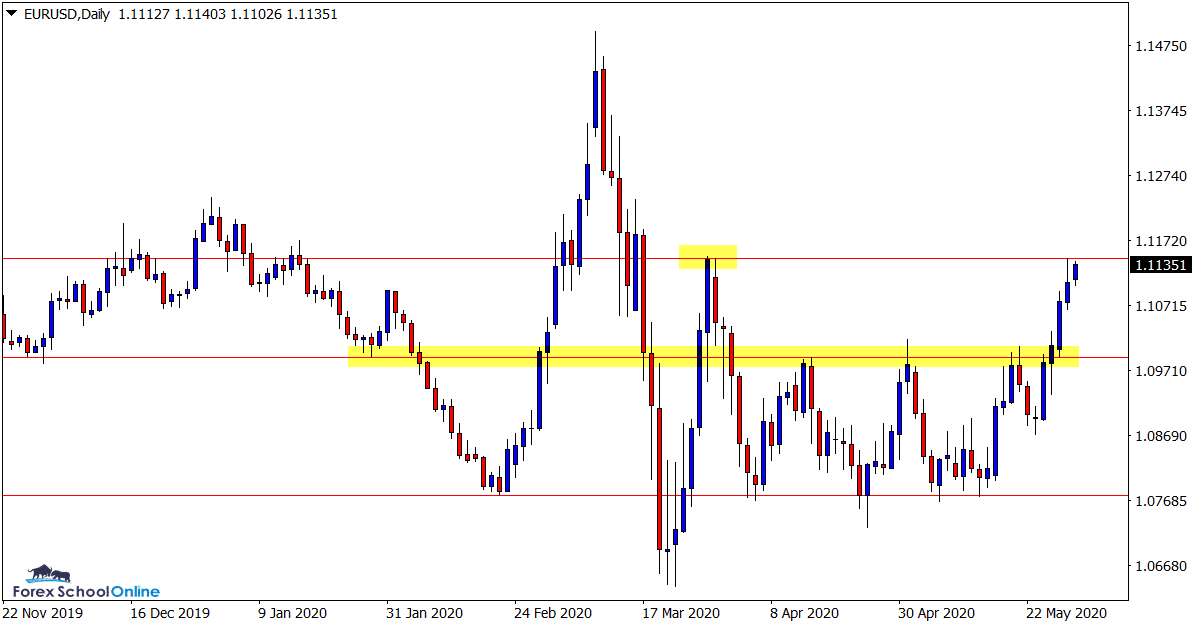 USDCAD Daily Chart
Watching for Retest
Last week we discussed the breakout that was happening at the time in this market and the potential for breakout and pullback trades.
Whilst we got a minor pullback on the daily chart it also showed signs of stalling and trading sideways.
If this sideways pattern can break lower it could signal a continuation and a new substantial leg lower.
Daily Chart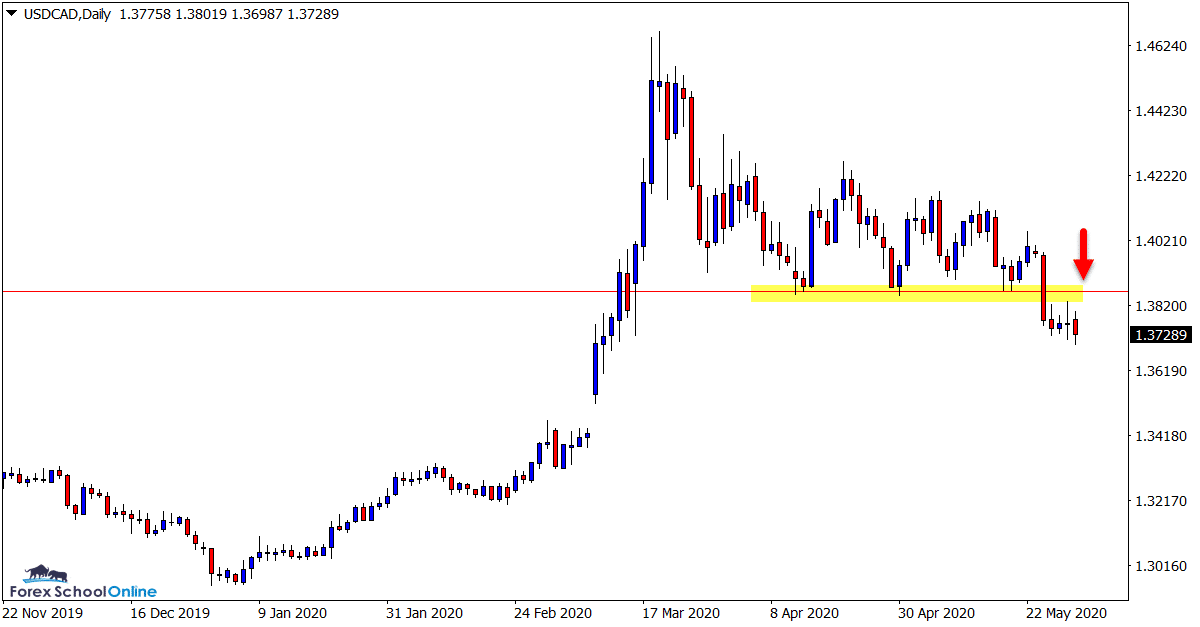 USDSGD Daily Chart
Key Support Test
As the daily chart of this pair shows below; price is now moving in to test a key support level.
This level has acted as both a key support and resistance level previously.
If price does manage a confirmed break lower it could pave the wave for many short trading opportunities. These could include breakout trades and breakout and retest trade setups.
Daily Chart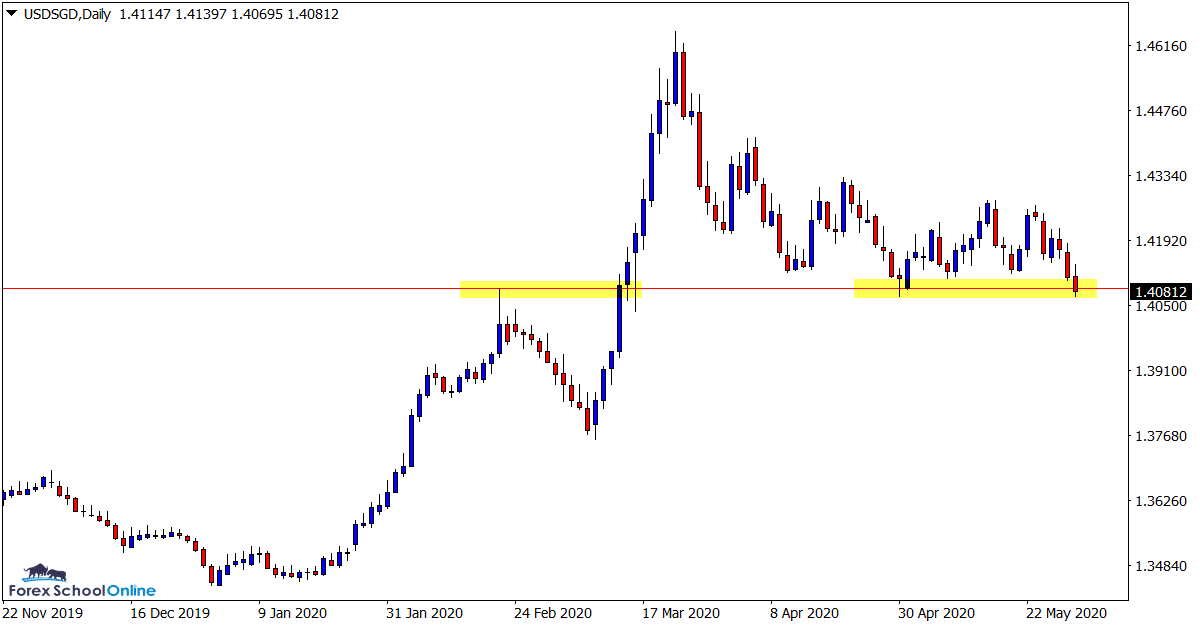 SILVER Daily Chart
Moving Into Resistance
This market has been in an aggressive move higher in recent weeks. This leg higher could be looking to continue into the overhead resistance level.
This resistance could prove an important watch over the coming sessions.
A clear break and the bulls would be in full control. However; if we get some solid bearish price action clues it could pave the way for a solid retrace back into the recent daily support zone.
Daily Chart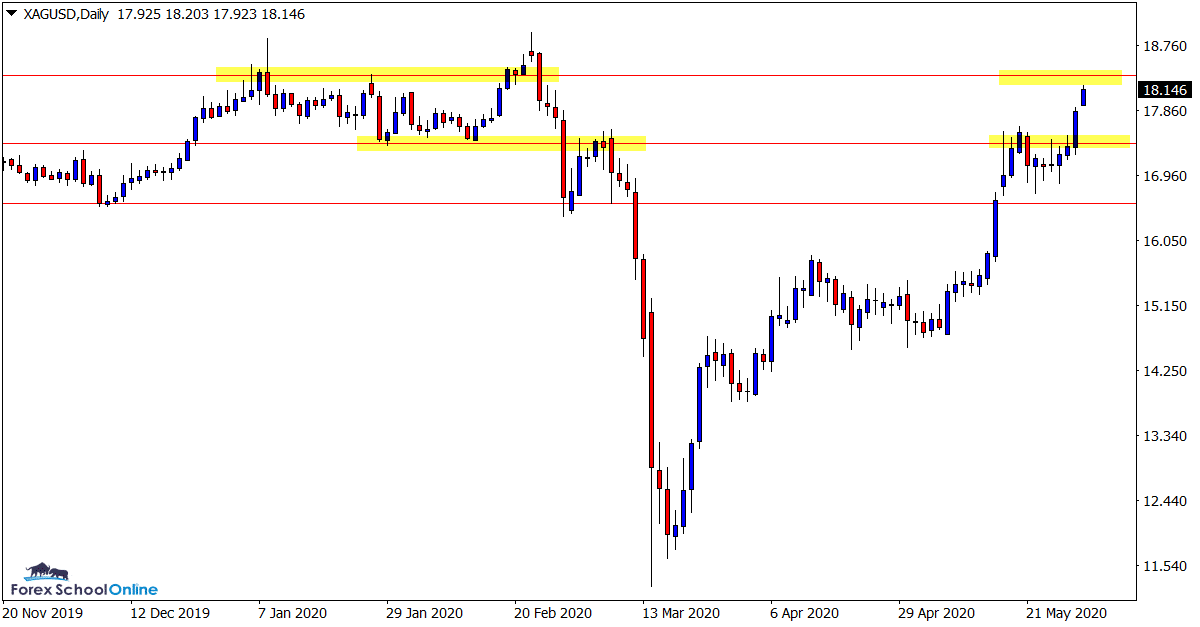 Trade Ideas Note: All views, discussions and posts in the 'charts in focus trade ideas' are the view of Forex School Online and are not recommendations or trading advice. All posts are general in nature and are not advice to buy or sell.
Note: We Use Correct 'New York Close 5 Day Charts' – You can read about why we use these and how to download the correct free charts at Correct Free New York Close Demo Charts
Please leave questions or comments in the comments section below;