Weekly Price Action Trade Ideas – 21st to 25th Oct 2019
Markets Discussed in This Week's Trade Ideas: GBPUSD, EURUSD, EURGBP and GOLD.
Note: We Use Correct 'New York Close 5 Day Charts' – You can read about why we use these and how to download the correct free charts at Correct Free New York Close Demo Charts
GBPUSD Daily and 2 Hour Charts
2 Hour Pin Bar Sends Price Higher
In last week's trade ideas we were watching this pair closely as it had just broken out higher with a strong move.
Similar to the EURGBP discussed just below; this pair had made an aggressive breakout and we were looking to see if the old level would hold as new price flip.
During the following sessions price made a quick rotation lower back into the old daily resistance level, formed a bullish pin bar and quickly continued on higher. 
Price is now testing the daily chart resistance and a pullback and rotation lower back into support would not surprise. 
For traders who did not catch any trades in the recent move higher, a move back into the support level could be a solid watch for potential bullish price action triggers.
Daily Chart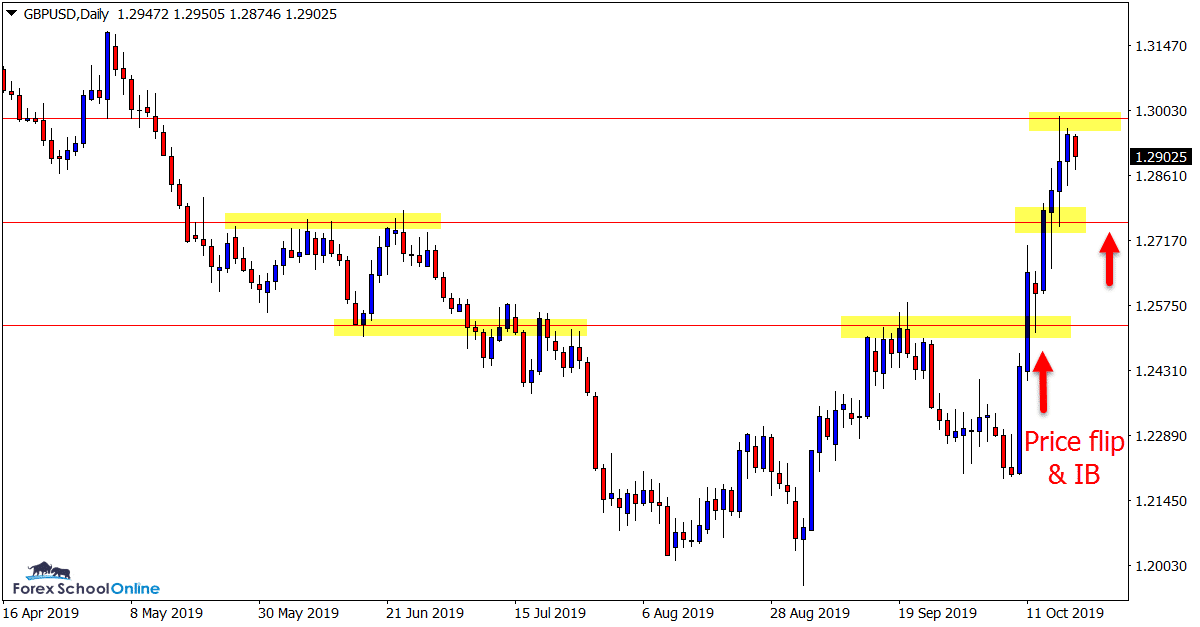 2 Hour Chart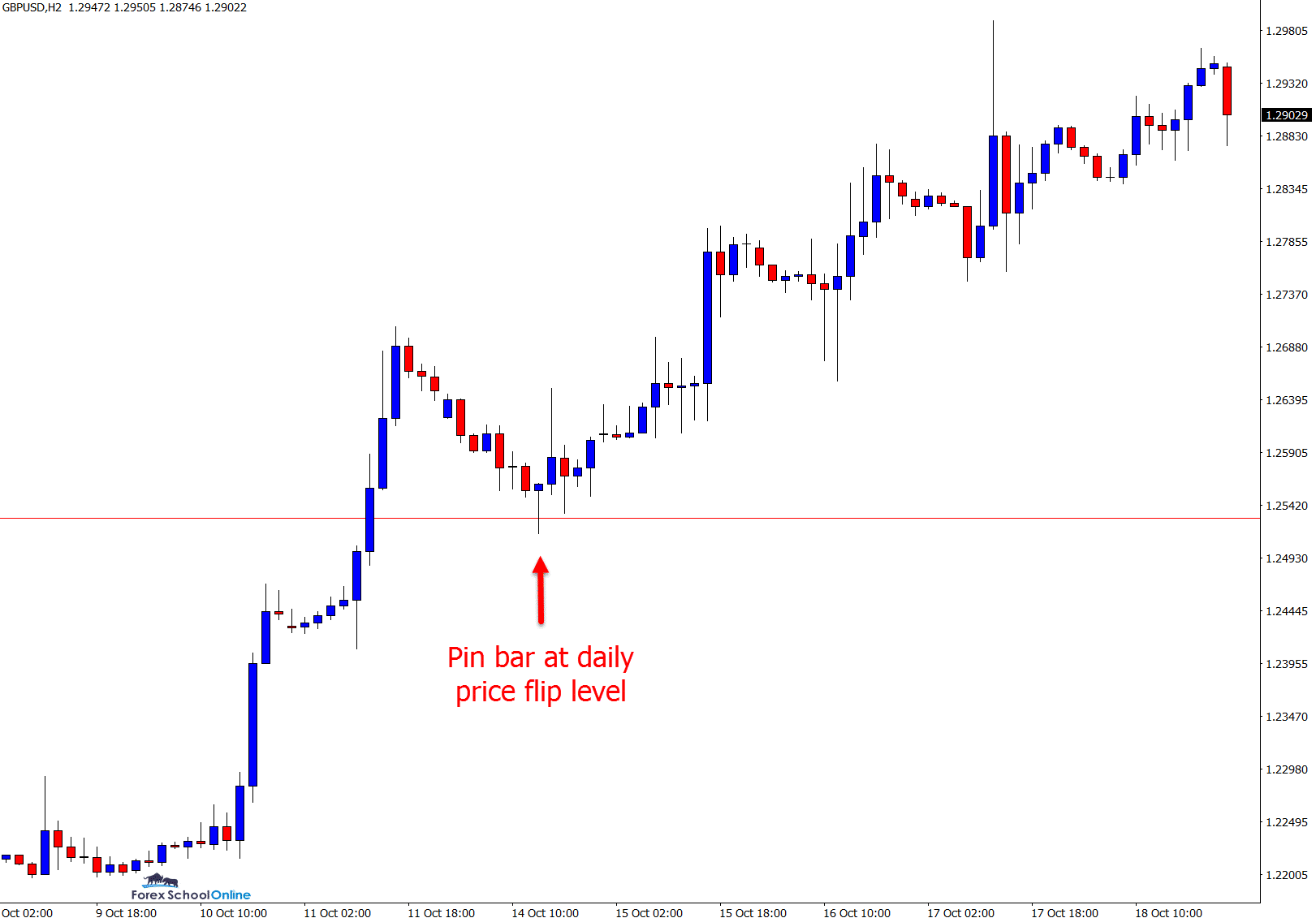 NOTE: If you want to create 2 hour charts (or any extra time frames) on your MT4 charts, get the free indicator at; Create Any Time Frames on MT4
EURUSD Daily Chart
Resistance Close Overhead
This has been a tricky market to track on the daily charts in recent times simply because it has chopped up and down and all over the place without really going anywhere.
A quick look at the daily chart will show that we are now back at pretty much the same level we started the year at. Whilst the bulls have been making a strong move in the recent few sessions, on the whole this pair has been a large pot of indecision.
Just overhead a daily resistance level comes in and this looks like an interesting level to watch for potential bearish triggers. Because this market is so up and down a lot more caution would be needed.
Daily Chart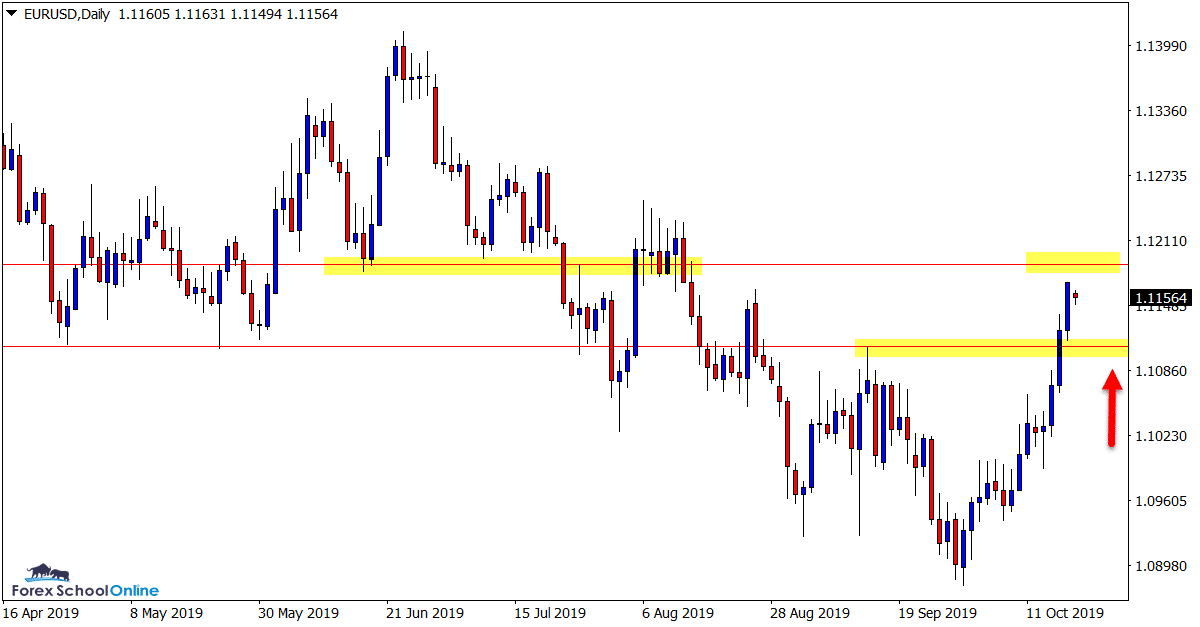 EURGBP Daily and 1 Hour Charts
Price Flip Holds With Engulfing Bar
Similar to the GBPUSD discussed above, the EURGBP formed a high quality intraday trade setup during the week to go short with the strong momentum and at a major daily level.
In last week's ideas we looked at the breakout and the old support that could potentially hold as a new resistance for short trades.
As the 1 hour chart shows below; price formed a 1 hour bearish engulfing bar that sent price lower.
Price is now consolidating after the heavy move to the downside. Until this intraday box breaks out (shown below on the 1 hour chart) it could provide for potential range plays.
Daily Chart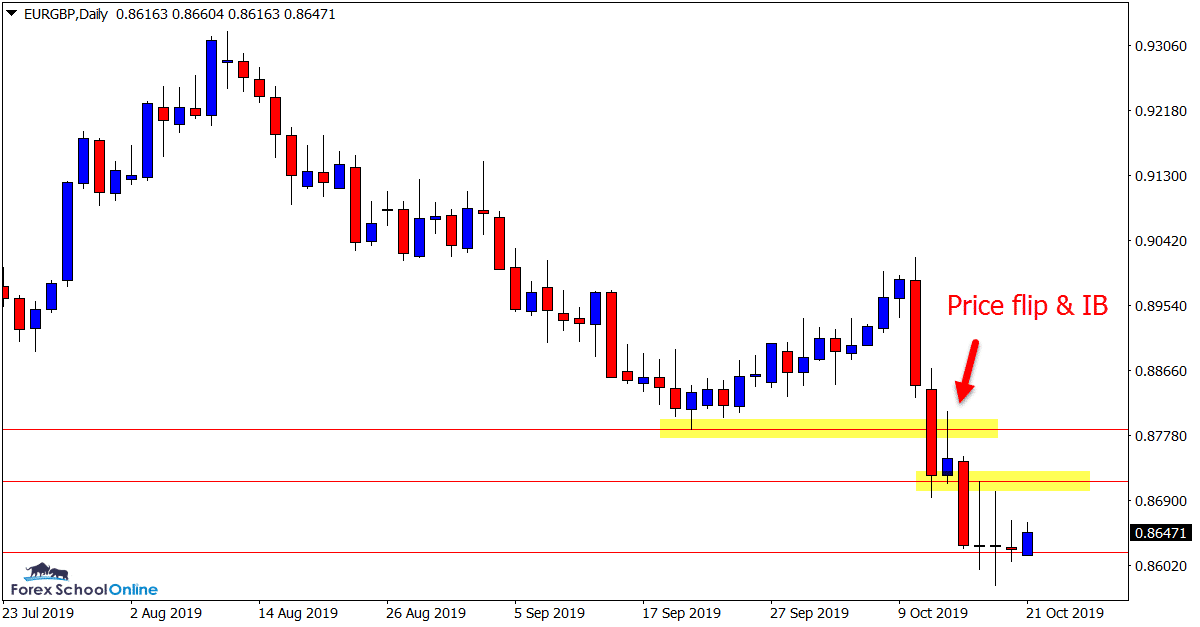 1 Hour Chart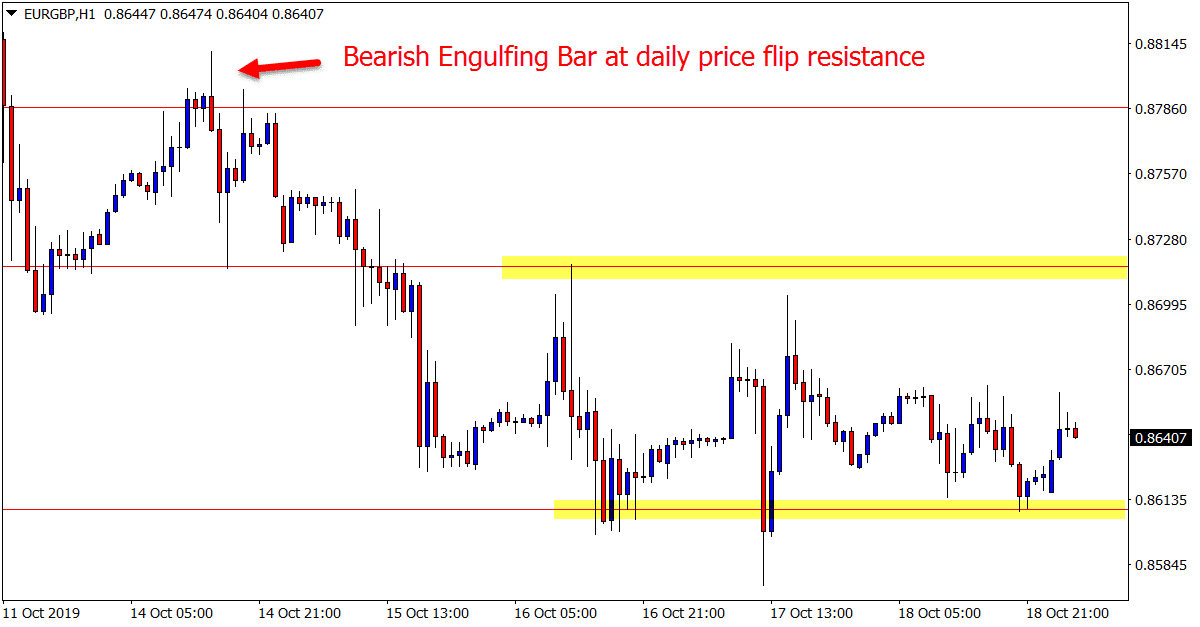 GOLD Daily Chart
Tight Lower Highs Forming
An interesting market that we have looked at closely in recent posts. In the 30th Sep trade ideas we looked at the new lower high that had formed on the daily chart.
Price has since formed another new lower high, but the support level continues to hold. 
We can also see indecision inside bars that have formed on the daily chart.
Normally when price action is holding at a level, but the rejections become weaker each time, we look for that level to break. For example; price is holding at support, but each bounce becomes weaker and weaker as is the case here.
Whilst this very may well also play out here, there could be opportunities to look to play this market both ways. If the support does hold, then price could make another strong move back to the extreme highs.
If the support gives way against the trend higher, a fast breakout could be on the cards.
Daily Chart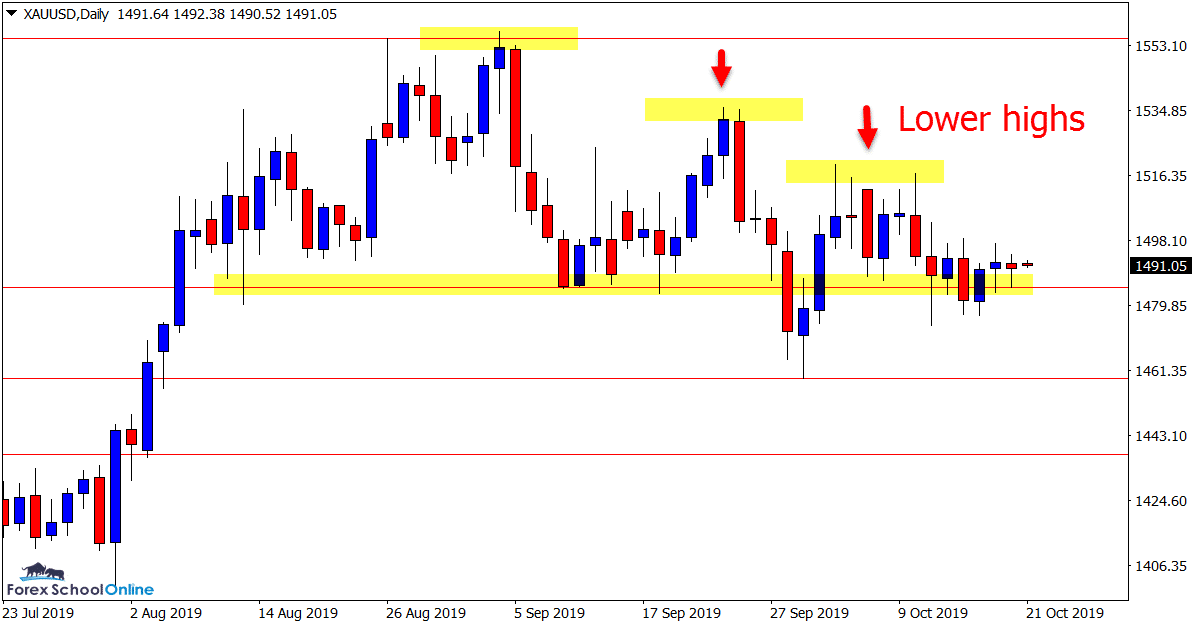 Trade Ideas Note: All views, discussions and posts in the 'charts in focus trade ideas' are the view of Forex School Online and are not recommendations or trading advice. All posts are general in nature and are not advice to buy or sell.
Note: We Use Correct 'New York Close 5 Day Charts' – You can read about why we use these and how to download the correct free charts at Correct Free New York Close Demo Charts
Please leave questions or comments in the comments section below;