Price on the AUDCHF is moving closer to the daily and 4 hour chart "Kill Zone" with price now (as I write this) making a retrace back higher. Over the last two sessions prior to today, price has sold off aggressively lower to break through and close below a major daily chart support level that, as the charts show below, is crucial to where it moves in the coming sessions.
Price is now moving back higher and looking to potentially make a re-test of this same level that it just broke out of only two days ago. The old support that price crashed through could now "flip" and look to become a new resistance level.
This potential new resistance level could be a really high probability level to hunt short trades on both the higher time frames such as the daily chart, and also, smaller intraday time frames such as the 8 hour, 4 hour, and potentially smaller if you are comfortable down on those smaller time frames such as the 1 hour, etc.
The level that price is now looking to move into is known as a "Kill Zone" and this is for two reasons:
This is a really high probability area to hunt for trades. We call this area the kill zone because you will be targeting your trades in the "Kill Zone", which is the super high probability area.
Snipers can wait for days before taking one shot. They are camouflaged and hidden. Compare this to the other person who stands in the middle of the field with a shotgun blasting shells everywhere. It is known as the kill zone because as traders, we want to be the sniper rather than the shotgun. We wait for price to move into the kill zone where we can take one shot, and then we execute.
You can read more about this where I have a detailed lesson here: Trade Like a Forex Sniper Entering a "Kill Zone"
If price does move higher and into the kill zone, you would need to see A+ high probability price action to confirm any potential trade setups just like the price action we teach in the Lifetime Membership Price Action Courses. When entering your trade setup, always keep in mind how you are going to manage the trade and the exit strategy.
If price does move higher and closes back above this resistance level, then the level would flip once again and you could quickly have to reassess and change tact.
MAJOR IMPORTANT NOTE: Become a FREE *VIP* Class Member and receive behind closed door teachings not shown to the public! Sign up to become a student here:

Daily Chart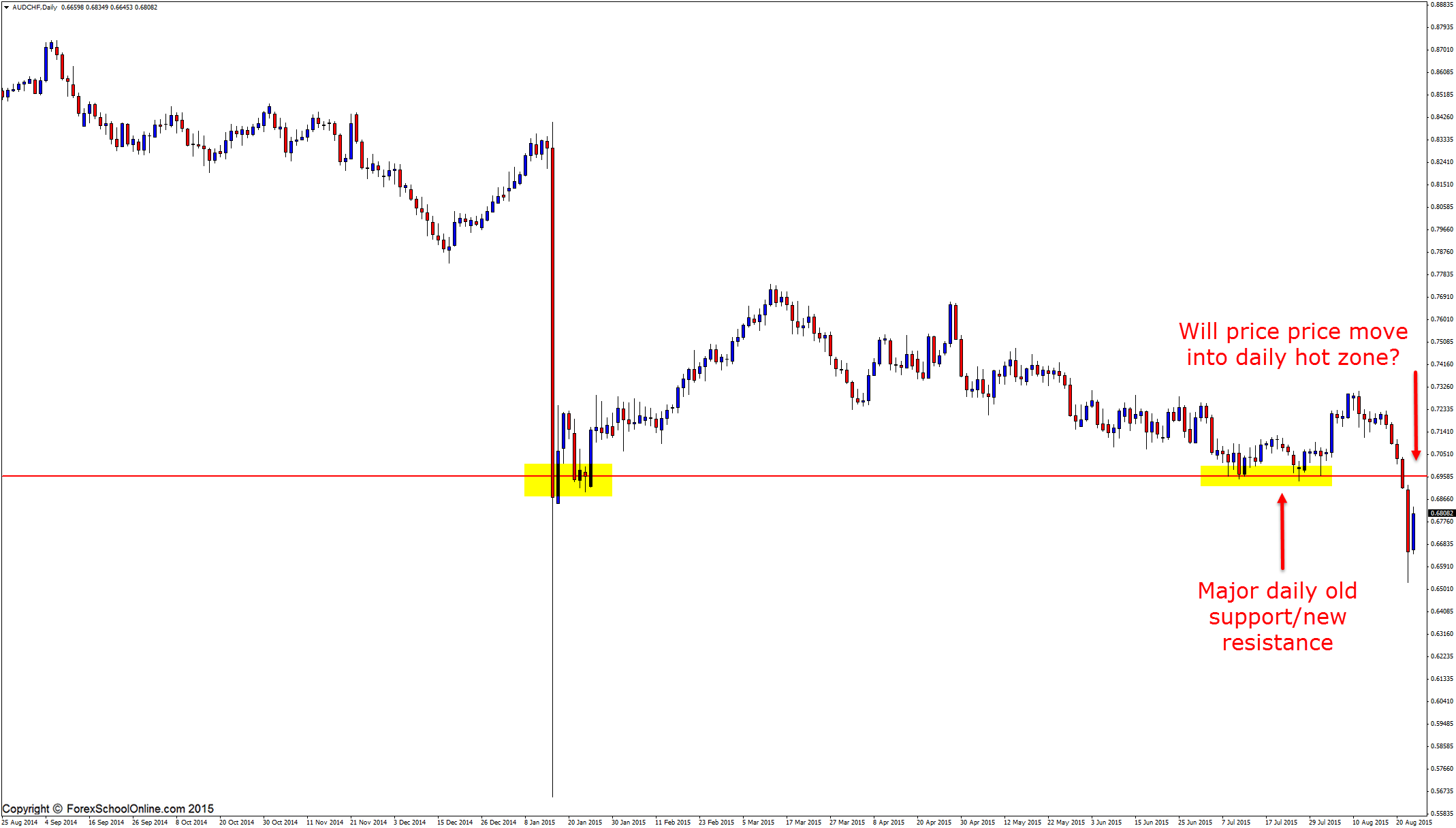 4 Hour Chart

Related Forex Trading Education