Today's Battle Infinity market is largely dominated by bullish activities. The bullish trend started towards the end of the last session as the buyers gain the upper hand in the market. The momentum at which the market moves in a bullish way is very high as the price breaks major resistance levels along its way. The support level for this massive bullish move is $0.0022. And by the time the price action reaches the $0.0026 resistance level, we see the price retracing a downward level because the market had moved into the overbought zone.
Key Levels
  

Resistance: 

$0.0027, $0.0028, $0.0029

  

Support:

 $0.0023, $0.0022 $0.0021
 IBAT/USD: The Indicators' Outlook 
  Before the market took up the bullish trend, the Bollinger bands contracted very quickly. This was a sign of a bullish breakout, but the price breakout came sooner than expected. The price of the market is well contested by both the buyers and sellers. This made the band expand very widely. Despite the volatility in the market, the bulls have the upper hand and can drive the price upward. This was well illustrated by the Bollinger indicator as the upper band, the lower band, and the moving average moved in an upward direction. But as the market attains $0.0026 resistance and the price retraces a lower level, the upper band quickly changes direction to a sideway or horizontal movement while the moving average and the lower band continue on their upward movement.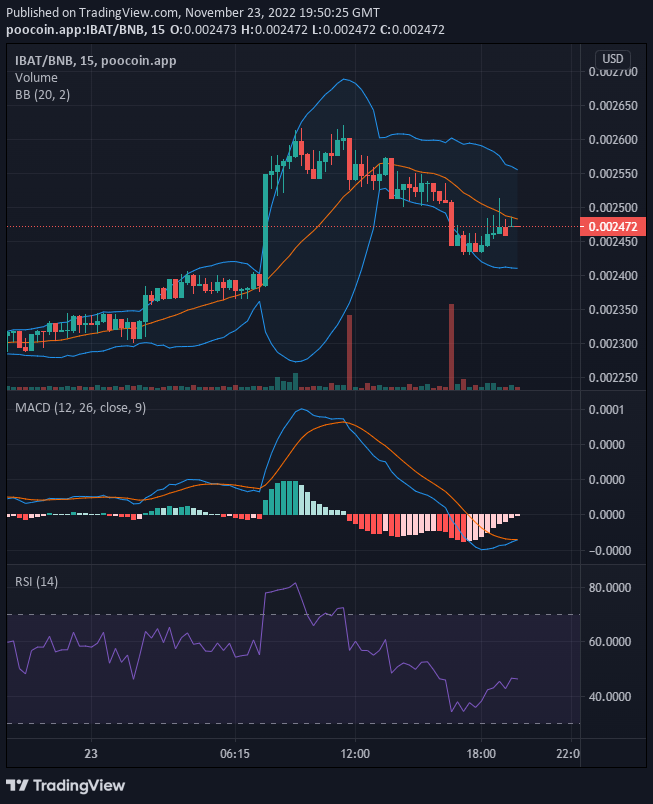 Battle Infinity Short-Term Outlook: Bullish Recovery (15-minute chart)
Usually, a strong bullish move like this should trigger a strong bearish move. But, in this case, the bulls are stronger than the bears. The bulls are already establishing a support level close to the $0.0024 price level. This will give them the advantage to push the price further to the upside. 
 Want a coin that has a huge potential for massive returns? That coin is Battle Infinity.
 Buy IBAT now.