Bitcoin (BTCUSD) Price Forecast: October 2
The Bitcoin (BTCUSD) price is growing and its upward move may reach the $30000 price level if the current support at $26682 value holds, and the daily chart closes above the $31378 resistance level, then there is a high probability of the price going up to its recent swing high, which is $31818 resistance trend which could further lead the largest crypto price to a $32000 upper high mark and beyond.

Key Levels:
Resistance Levels: $26000, $27000, $28000
Support Levels: $23000, $22000, $21000

BTC (USD) Long-term Trend: Bullish (Daily Chart)
Bitcoin price is in a bullish posture and also trades in an uptrend even though the short traders are involved in its long-term outlook. Hence, the coin is in an uptrend and its upward move may reach the $32000 price level.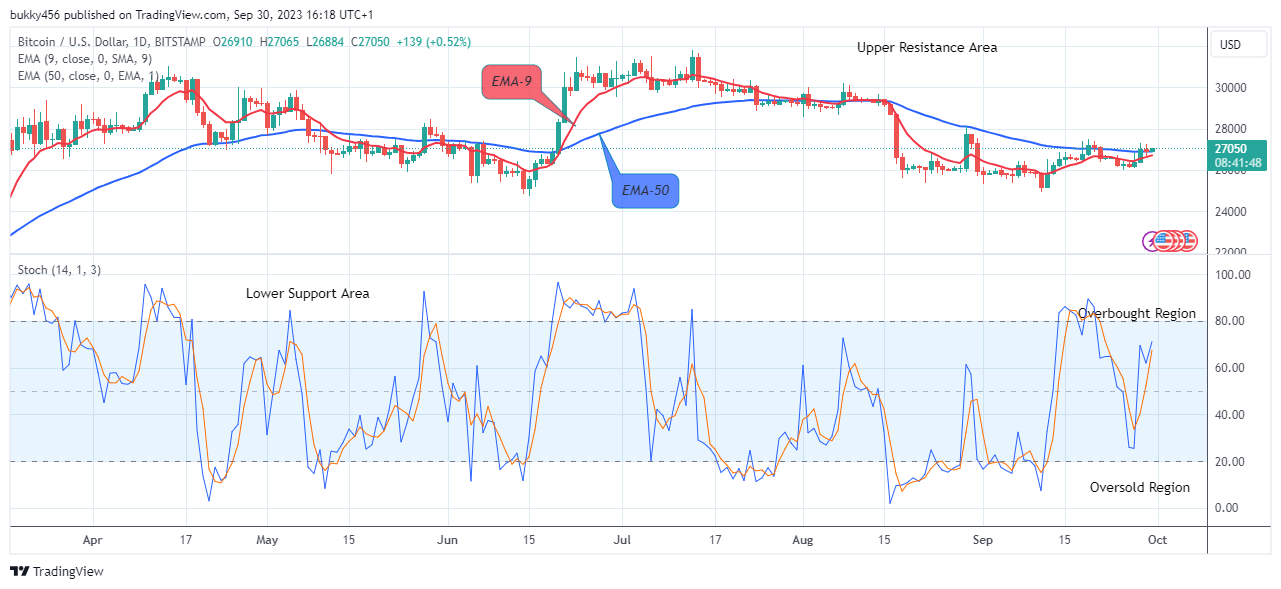 The sustained bullish pressure at the $27026 supply value in the past few days has made it possible for the coin to remain in an uptrend in its recent high.

The coin price finds resistance at the $27065 value above the EMAs as the daily session opens today. This suggests an uptrend in the context of the strength of the market and also shows that buyers are still in dominant the price actions at present.

If the current pattern follows through, buyers' push may likely break above the $31818 resistance neckline. This breakout would be a better signal of a bullish recovery and may push the prices to the upper resistance territory.

Additionally, the BTCUSD price is unlikely to fall again as the market is also showing an upward trend on the daily stochastic. As a result of this, the crypto price may reach the $32000 high level soon in the long-term perspective.

BTC (USD) Medium-term Trend: Bullish (4H Chart)
The BTCUSD pair remains in the bullish market zone in its medium-term view. The price staying above the EMAs confirms its bullishness and the upward move could lead the coin price to the $32000 high level.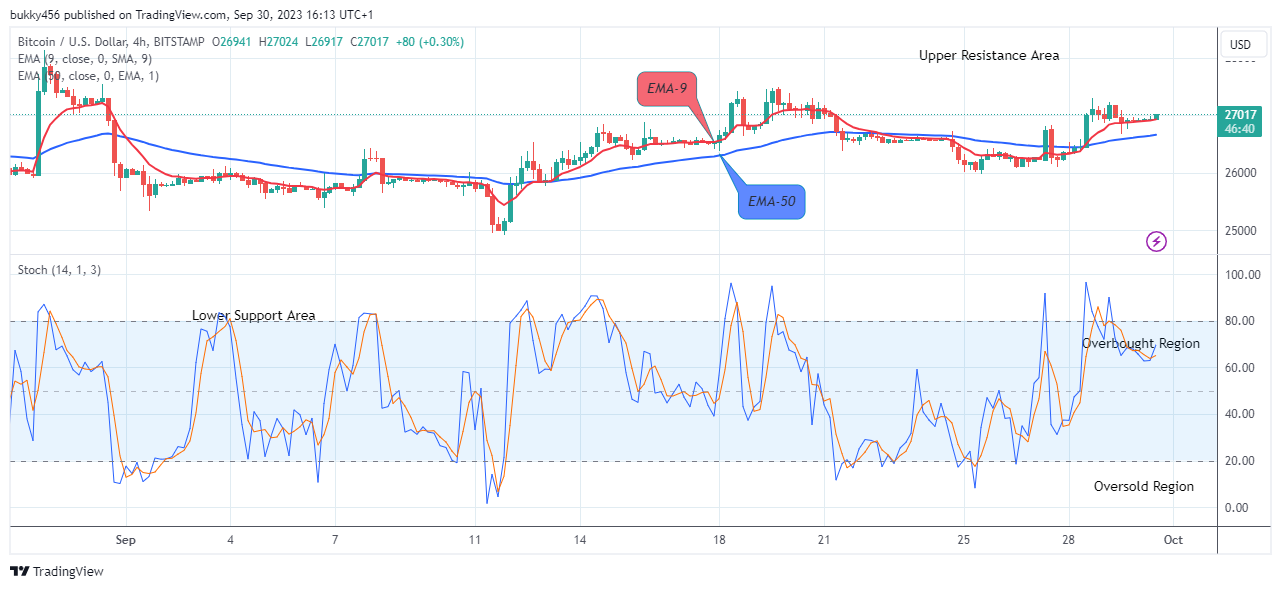 The coin has been making higher highs and higher lows in previous actions; this has made it possible for the price to maintain an uptrend in its recent high.

The Bitcoin market price at a $27024 supply level staying above the two EMAs as the daily chart opens today, is an indication that the coin is actually traded by the buy traders, this also connotes more intraday gains for the buy investors.

Similarly, the momentum indicator also shows that the market is going upward, this will enable the buy traders to increase the buying pressure and this may reach the $32000 upper high level soon in its medium-term perspective.

Buy Bitcoin on eToro