The price on the daily price action chart of Brent Oil has formed a huge false break price action pin bar. This pin bar has formed against a very solid recent move lower that has shown a very strong momentum in the recent few weeks. Since forming a bearish engulfing bar at the extreme high that we covered in our 24th June Daily Forex Market Commentary price sold off aggressively lower to move from a high of 115.68 to a low of 104.39 in the matter of only 19 days which goes to show the amount of pressure that was involved in the extreme selling of late for such a severe collapse lower.
In the heavy move lower, whilst price did pause and make indecision candles on the daily chart, there were no pull-backs or retracements back into value. This false break pin bar could be the first sign of a decent retracement back higher in the large move lower in the last three weeks of selling.
If price can confirm the pin bar and break higher, it does have to work through a minor area of congestion straight above the pin bar, but if this can break, the near term resistance then comes in around the 107.75 level. From there; traders may start to look for short trades again or look for the price action clues to see if price may be looking to continue and break the resistance and continue on higher. If price can continue and does make a break higher, a move into the major resistance of 110.55 could be on the cards. As discussed above, the pressure with this market of late has been lower, so if price fails and moves back lower, traders can continue to look for short trades with a potential breakout and retrace trade at the major support level that the pin bar is now rejecting.
Note: If you are looking for a broker that offers this market to trade along with a wide variety of other markets including all the Forex pairs needed and the major indices, then check out the Recommended Forex Broker & Charts Article as both brokers in that article for both traders inside and outside the US offer Brent Oil to trade plus a wide variety of other markets.
Daily Brent Oil Chart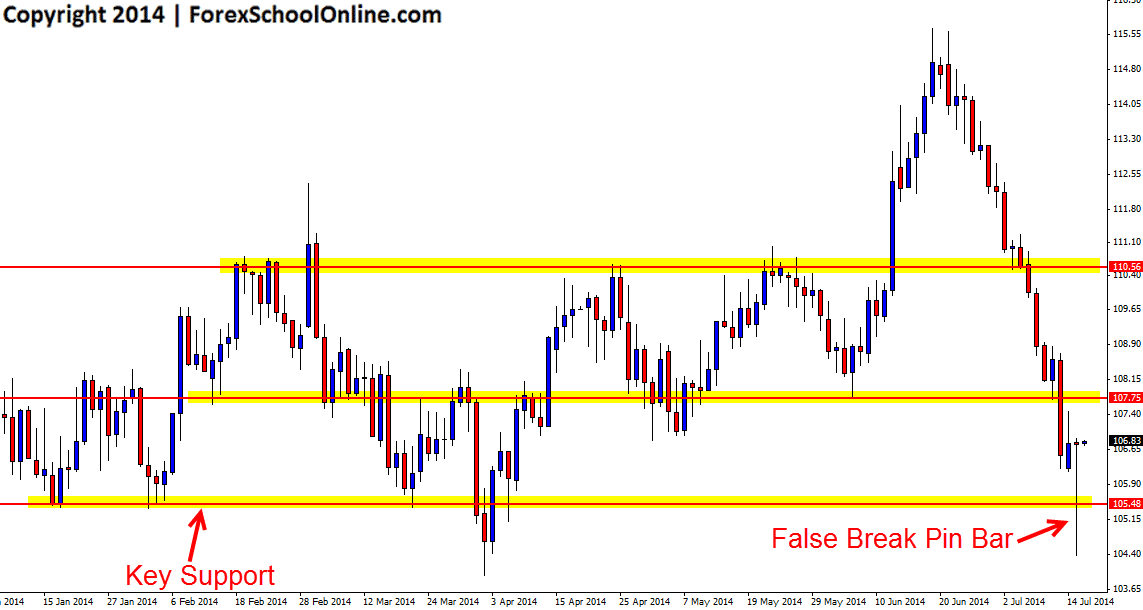 Related Forex Trading Articles & Videos