Price on the CHFJPY is looking to potentially break lower and make a move in line with the recent strong trend that has been in play on this pair.
As I write this summary for you, price is making an attempt at the lows of the recent Bearish Engulfing Bar (BEEB) + Inside Bar (IB) Combo price action setup that has formed, but has yet to break lower.
As you can see on the zoomed out chart I have attached for you below, after forming this most recent bearish engulfing bar, price formed the inside bar. What is super interesting to note is the high of the inside bar and the high of today's daily candle, still forming as I write, both moved higher to test the overhead resistance.
Price on both of these candles made another attempt at pushing higher where new bears/sellers came into the market and crashed price lower, both in line with the strong and large BEEB and the recent prevailing strong trend.
As you will notice on the zoomed out chart we have had a SUSTAINED run on the daily chart in this market of lower highs and lower lows before price moved into this mini period of consolidation and pausing.
These continual lower lows, followed by pull-backs into lower highs gives us as price action traders a really HIGH PROBABILITY chance to get into the strong trends. These are some of the best markets to trade in as not only are they obvious trends, but they have space with the pullbacks.
I discuss this along with how you can find high quality trends, how to spot trends and also when trends are reversing and how to make price action trigger signals in trending markets in the lesson;
How to Make High Probability Price Action Trigger Signals With the Trend
We can now watch price in this market to see if it can break lower and to see if the combo setup lows will give way. If price can break lower and gain momentum, then price could quickly gain further momentum and make a move into deep lows.
Daily Chart – Zoomed In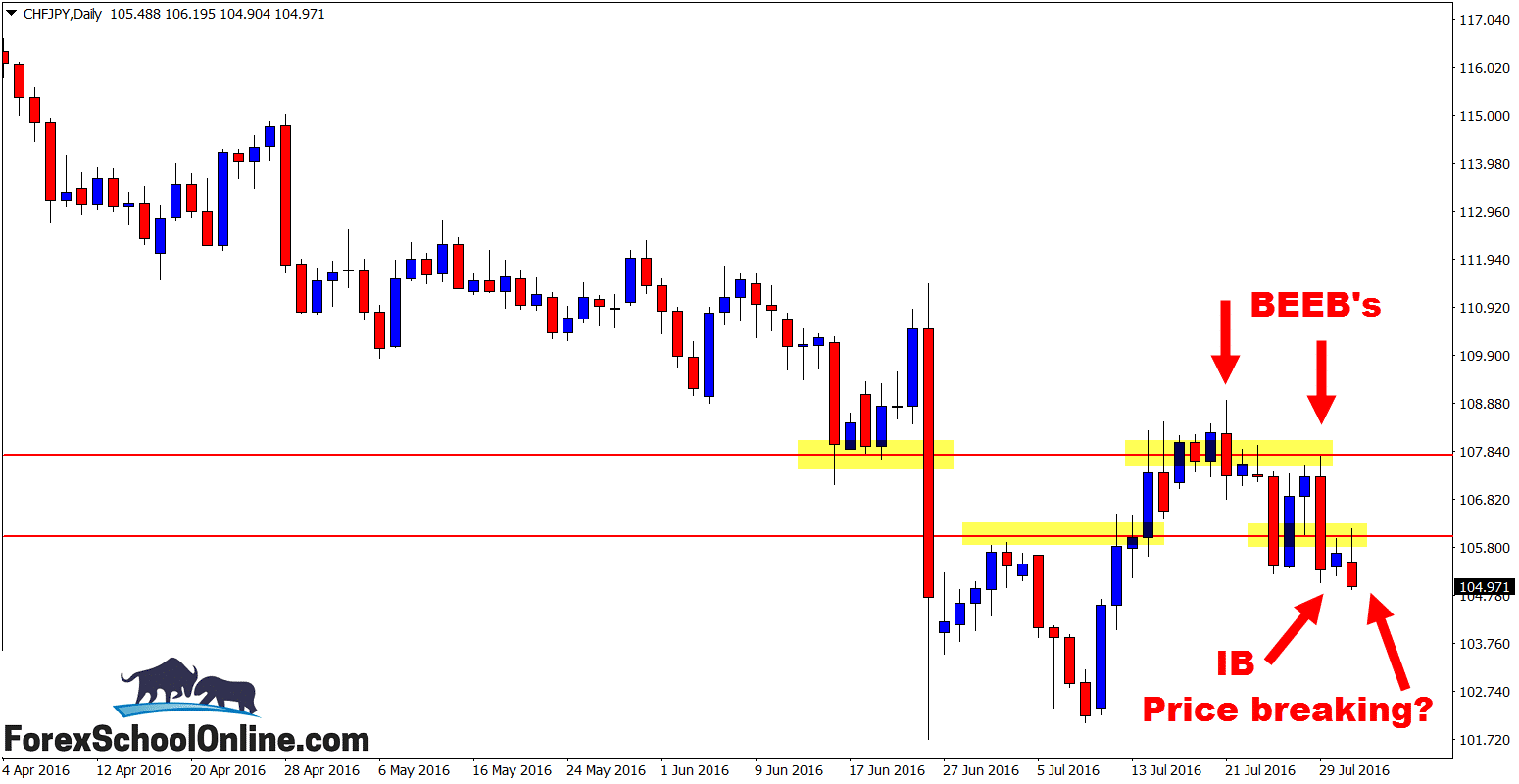 Daily Chart – Zoomed Out
Related Forex Trading Education