The current price pullback is the result of the strong bullish move that the market saw on May 22. However, the downtrend appears to be fading as it nears the $0.011624 price level. Long-term market holders may be responsible for this continuous sloppy market movement, as some of them are shorting their positions as they take their profit. Dash 2 Trade buyers might want to conserve the bullish price at $0.011624 and stage another price rebound from here.
Key Levels
Resistance: $0.035, $0.040, and $0.045

Support: $0.015, $0.014, and $0.013
Dash 2 Trade (D2TUSD) Price Analysis: The Indicators' Point of View
Bearish activities in the past few days are in response to the May 21 and May 22 bullish markets. This, in turn, resulted in a downturn in the level of Dash 2 Trade's market volatility. In response to this, the Bollinger Bands converge. If bulls can keep a firm grip on the $0.011624 price level, the market may consolidate along this level, and after the consolidation, we may see another bullish action. This time around, the uptrend may set the market up for the conquest of the $0.02 price level.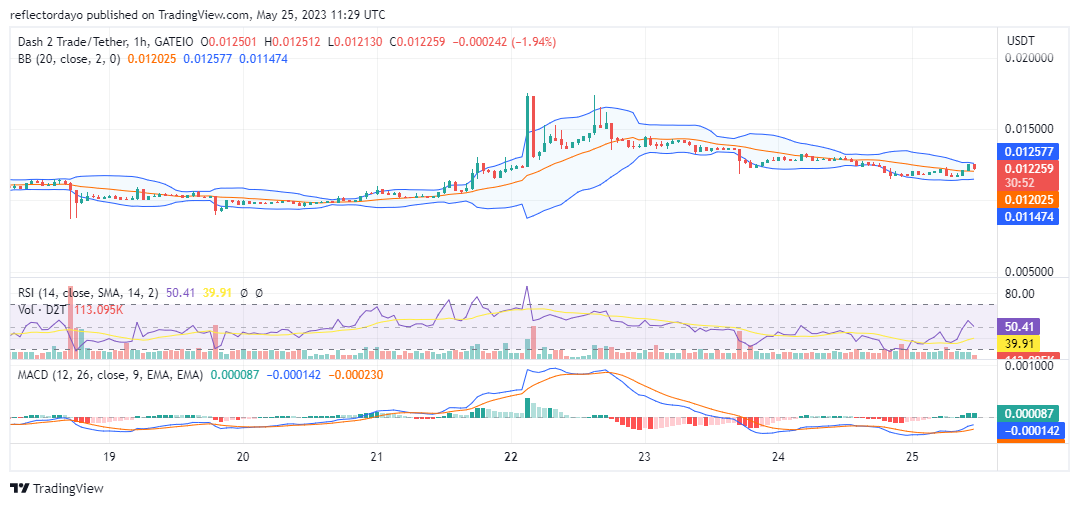 D2T/USD Short-Term Outlook: 1-Hour Chart
The downward-moving price channel narrows and slows down at $0.011624 due to bullish barriers. Although it may seem like more traders are bearishly biased, bulls are firmly holding to the key support level. Bulls staged a rebound, which was cut short too early at the $0.0126 price level, but the D2T buyers were able to keep the market above the 20-day moving average. If bulls can also secure support above the 20-day moving average, we may either see an uptrend or a price consolidation trend.
You can take your trading to a whole new level by drawing useful tips and resources from the Dash 2 Trade platform.
🔥 Ignite your #Cryptotrading journey and take it to the next level!

Unlock the secrets to profitable trades and avoid costly mistakes with our 5 guides. 💼

Supercharge your #Trading skills with #D2T's powerful features at https://t.co/flGiRezAx9🚀📈 pic.twitter.com/g694bVdFLc

— Dash 2 Trade (@dash2_trade) May 25, 2023
Do you want a coin with great potential for enormous returns? Dash 2 Trade (D2T) is that coin. Buy D2T now!