Although the Dash 2 Trade market has been trending sideways, the $0.012 resistance level is under bullish pressure. The bullish support has been in proximity to this price level for the past four days, and with each price rejection, bulls had a firm grip on the $0.0114 price level which is support price.
Key Levels
Resistance: $0.015, $0.016, and $0.017
Support: $0.010, $0.009, and $0.008
Dash 2 Trade (D2TUSD) Price Analysis: The Indicators' Point of View
Currently, in the market, we are looking at the possibility of a price breakout because, with the resilience of the Dash 2 Trade buyers at the $0.0114 price level, the $0.012 resistance level will eventually give way. In the Relative Strength Index (RSI), the market momentum is now slightly leaning in favor of the bulls. Traders appear to be buying massively in the fourth four-hour session (which is also the current trading session at the time of writing this analysis ); however, one could be concerned with the current volume of trade in the market, which seems not to agree with the current bullish candlestick.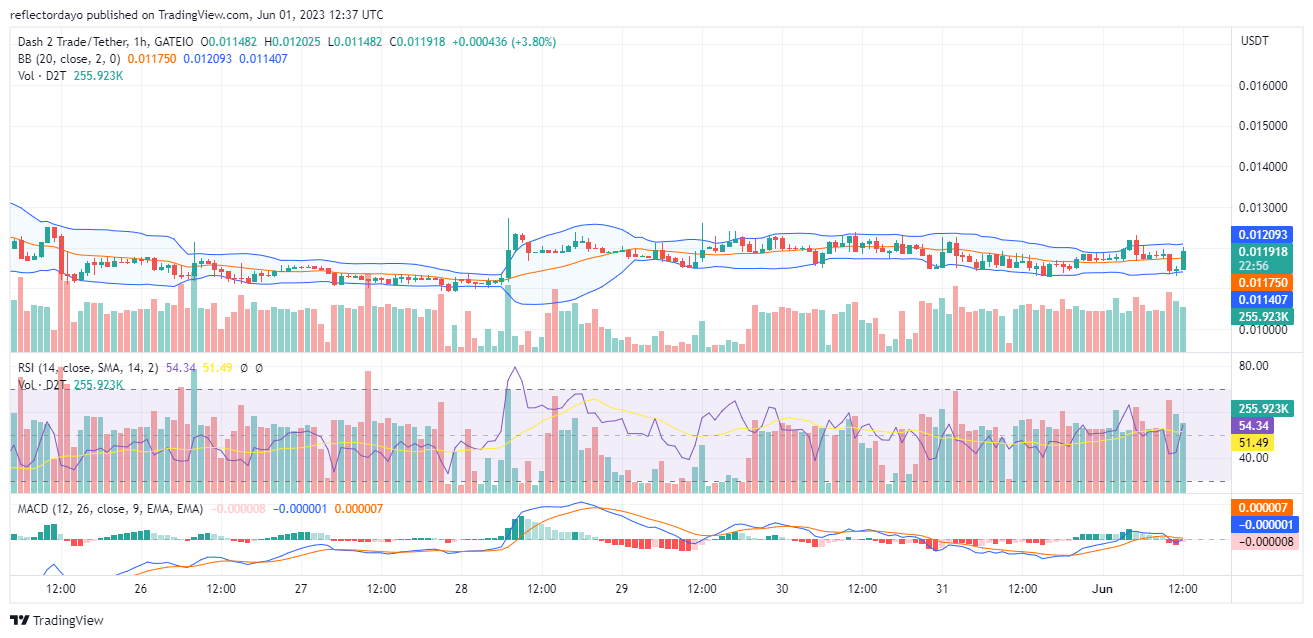 D2T/USD Short-Term Outlook: 1-Hour Chart
Unlike the 4-hour market timeframe, the 1-hour timeframe reflects that the volume of trade records commensurate activities along with the price action. Also, Bollinger Bands is beginning to respond to the bullish activities in the market. Traders might want to place a long trade as the indicators used for this analysis are becoming bullishly biased.
Expert analysts rate the D2T platform highly.
@Ego_Paysenger SOLID work on the D2T score! Our analysts reviewed your team, product, marketing, development and tokenomics. pic.twitter.com/36sEG5aDtO

— Dash 2 Trade (@dash2_trade) May 31, 2023
Do you want a coin with great potential for enormous returns? Dash 2 Trade (D2T) is that coin. Buy D2T now!