EURCHF Analysis – Bearish Slant Tendency Will Persist Below the 1.04700 Key Level
EURCHF slant tendency is likely to persist below the 1.04700 key level. Price flow has consistently progressed under a bearish influence as sellers maintain market perspectives. EURCHF is, therefore, prepared to continue making significant progress in the bearish era due to the lack of buyer participation in the price tendency as a result of bearish certainty.

EURCHF Significant Zones:
Resistance Zones: 1.09800, 1.08300
Support Zones:1.0700, 1.04700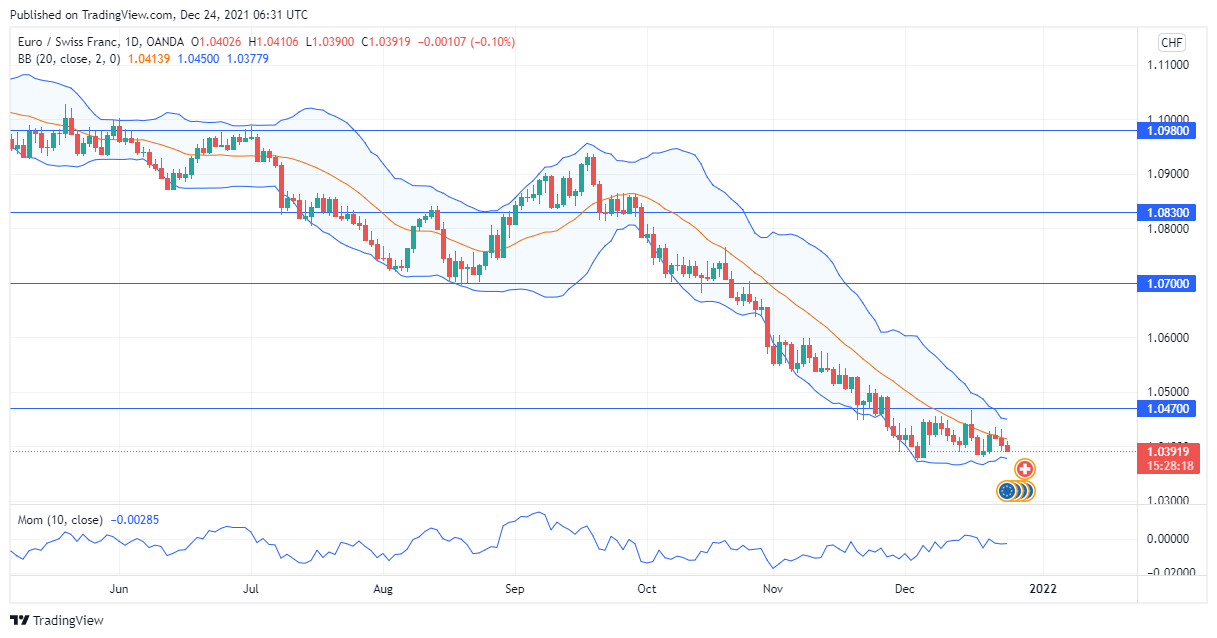 The bearish impact initially caused a major impact on the downtrend movement. The price advanced relatively from the 1.09800 key level, obeying the bearish movement. The bearish rush continues as EURCHF is seen to be making important lower lows and lower highs movement downward. As the price continues, the market will move beyond the 1.08300 and 1.0700 key levels before the bulls now add their contributions to the market. The buyers now pushed the price influence back to the 1.09800 price level as the Bollinger Band gives a solid indication of price movement.

The sellers eventually pushed the market back from the 1.09800 level of influence. The price movement now follows a slant form downward as different levels of market levels were broken. The EURCHF price level is currently below the 1.04700 price influence and the price action is set to flow downward after several retests at the key level of 1.04700. The Bollinger Band indicator displays how price movement continues to flow downward, and the middle band acts as a resistance band to the candlestick as the bearish influence prolongs.
Market Expectations
The 4-hour chart depicts the price movement in a downward slant direction. There seem to be several retests at the 1.04700 level as the bulls and bears are engaged in market tendencies. The momentum continues to increase as the market continues to consolidate. The bears are presently engaging in price movement downward after a rebound. EURCHF is therefore set to follow a downtrend below 1.04700 as prices continue to hold bearish levels in the market action.

Note: Forexschoolonline.com is not a financial advisor. Do your research before investing your funds in any financial asset or presented product or event. We are not responsible for your investing results.