Because MT4 was (and still is) so popular right around the world, Metaquotes released a new version of Metatrader, Metatrader 5 or MT5.
However, MT5 is not just an upgraded MT4 platform. Whilst Metatrader 5 can be used on many markets including Forex, it was designed with other markets in mind such as equity CFD's and futures. Basically, whilst a lot of traders use MT5 to trade Forex, it was actually created to fill a void that MT4 was not filling.
MT5 does have some advantages and benefits that MT4 does not offer. You have the option of extra time frames and you also have extra technical indicators built into the standard platform.

It is important to note that MT4 and MT5 are built and run on different software. This is important because a lot of traders use custom indicators and EA's. Custom indicators or EA's that are built for MT4 will not run on MT5, they will need to be coded to work specifically on Metatrader 5.
If you are looking to use the world class MT5 platform for your trading, then checkout the best brokers below that offer a free Metatrader 5 platform download.
4 Provider that match your filters Providers that match your filters
Compare Forex Brokers Fees:
Use our side-by-side comparison table to compare Forex broker accounts, spreads and fees.
Regulation
CYSEC
ASIC
CBFSAI
BVIFSC
FSCA
FSA
FFAJ
ADGM
FRSA
Conversion Fee
Variablespips
1.3pips
N/A
N/A
Additional characteristics
Best Brokers Who Offer MT5
Forex.com is the best broker for US traders. Is very tightly regulated within the US, has a wide offering of products and offers MT5 and other trading platforms.
AvaTrade have strong regulation, offer 30 different languages, have many different account types including Islamic and have small trading costs.
Pepperstone are regulated throughout the world including with ASIC and the FCA. They offer MT4, MT5 and cTrader platforms on desktop, mobile and also web.
OctaFX have a very small minimum deposit option which makes them attractive to test out for many traders. They also have a wide range of platforms including MT5.
FP Markets are an Australian company regulated with ASIC. They have a strong reputation in the broking business and do not charge fees on deposit or withdrawal.
Forex.com (for US)
| | | | | | |
| --- | --- | --- | --- | --- | --- |
| Forex.com | Regulation | Min Deposit | MT5 | MetaTrader 5 | |
| | NFA, CFTC + Others  | $100 | Yes | Trade Now | |
Pros:
Low FX fees.
Numerous trading pairs.
A wide range of research tools.
Offers MT4 and other trading platforms.
Cons:
Limited product portfolio.
High stock CFD fees.
Forex.com has established itself as one of the best brokers in the world.
This is our number one recommendation for traders in the US as they have strong regulation including being regulated with the CFTC.
With Forex.com you get access to spreads as low as 0.2, the ability to trade on over 80 currency pairs and a wide range of trading platforms.
The MT5 platform on Forex.com comes with 20 free, easy to install EAs and custom indicators. When opening an account with forex.com you also get access to the full suite of downloadable, web, and mobile apps.
Your capital is at risk.
AvaTrade
| | | | | | |
| --- | --- | --- | --- | --- | --- |
| AvaTrade | Regulation | Min Deposit | MT5 | MetaTrader 5 | |
| | ASIC, FSCA + Others | $100 | Yes | Trade Now | |
Pros:
They allow many different trading techniques.
Many assets.
30 different languages.
They offer Islamic accounts.
Cons:
Minimum deposits sizes.
Inactivity and overnight fees.
US and Belgian customers are not accepted.
AvaTrade was established in 2006. They are highly reputable and are regulated by 7 jurisdictions.
This strong regulation allows AvaTrade to reach offer products to most parts of the world including the UK, Singapore, Australia, and the Middle East. Note: clients from the US or Belgium are not accepted.
AvaTrade offers a variety of assets and it is one of the best brokers for forex trading because it has 50 currency pairs that range from major, minor and exotic.
Along with being able to trade a huge range of Forex pairs you can also trade options, ETFs, bonds and commodities.
AvaTrade offers many different account types, and the availability will vary depending on the jurisdictions. The options are retail, professional, options, spread betting, and standard. A demo account, and Islamic accounts are also a possibility.
Another large bonus of AvaTrade is that they offer their services in 30 x different languages.
Your capital is at risk.
Pepperstone
| | | | | | |
| --- | --- | --- | --- | --- | --- |
| | Regulation | Min Deposit | MT5 | MetaTrader 5 | |
| | ASIC, FCA + Others | $200 | Yes | Trade Now | |
Pros:
It is regulated by ASIC and FCA.
Offers various trading platforms.
Low FX, equity, and indices fees.
Excellent customer service.
Free deposit and withdrawal.
Cons:
No investor protection for non-EU traders.
No fundamental data analysis.
Pepperstone is an Australian based broker and is widely regarded as one of the best Forex brokers in the world.
With Pepperstone you have the ability to trade on Forex, gold, indices, equities, and more. One of the biggest benefits to Pepperstone is the availability of not just MT5, but also other different trading platforms. You can choose any of the MT4, MT5, and cTrader that come on desktop, mobile and web trading.
Pepperstone offer very comprehensive education and analysis that ranges from market news, analysis, an economic calendar, guides, webinars, and more.
Another large benefit to Pepperstone is their small trading costs. Pepperstone offer very small spreads and charge low commissions per round trade.
Your capital is at risk.
OctaFX
| | | | | | |
| --- | --- | --- | --- | --- | --- |
| OctaFX | Regulation | Min Deposit | MT5 | MetaTrader 5 | |
| | CySec | $5 | Yes | Trade Now | |
Pros:
Small minimum deposit.
STP style broker.
A demo account is offered.
Wide range of platforms.
Cons:
Lacking in tier one regulation.
Some countries not accepted.
OctaFX is a STP style broker that has opened more than 1.5 million trading accounts.
OctaFX covers 100 countries and they have won 28 different industy. Along with their MT5 platform you also get access to MT4 and cTrader platforms.
OctaFX offer a large range of free education and market analysis and you also gain access to their copy trading platform. This allows you to copy other professional traders and make money from their winning trades.
Your capital is at risk.
FP Markets
| | | | | | |
| --- | --- | --- | --- | --- | --- |
| FP Markets | Regulation | Min Deposit | MT5 | MetaTrader 5 | |
| | ASIC, CySec.  | $100 | Yes | Trade Now | |
Pros:
No withdrawal or deposit fees.
Customer support through whatsapp messages.
A demo account is offered.
Cons:
Inactivity fee after three months.
They do not have a very complete educational section.
FP Markets is also an Australian based broker that is regulated by ASIC.
This broker has been around a long time as it was founded in 2005. With FP Markets you have many different deposit and withdrawal options including all the major cards and Paypal.
FP markets offer a large range of education and market analysis and along with their MT5 charts, they also offer other trading platforms to suit your individual needs including IRESS.
Your capital is at risk.
How to Choose a Good MT5 Forex Broker?
When looking for a quality MT5 broker, there are certain features  you will need. There are thousands of brokers and they have have widely different offering. You need to make sure that you are getting the best deal and that the broker you are trading with is the best fit for you.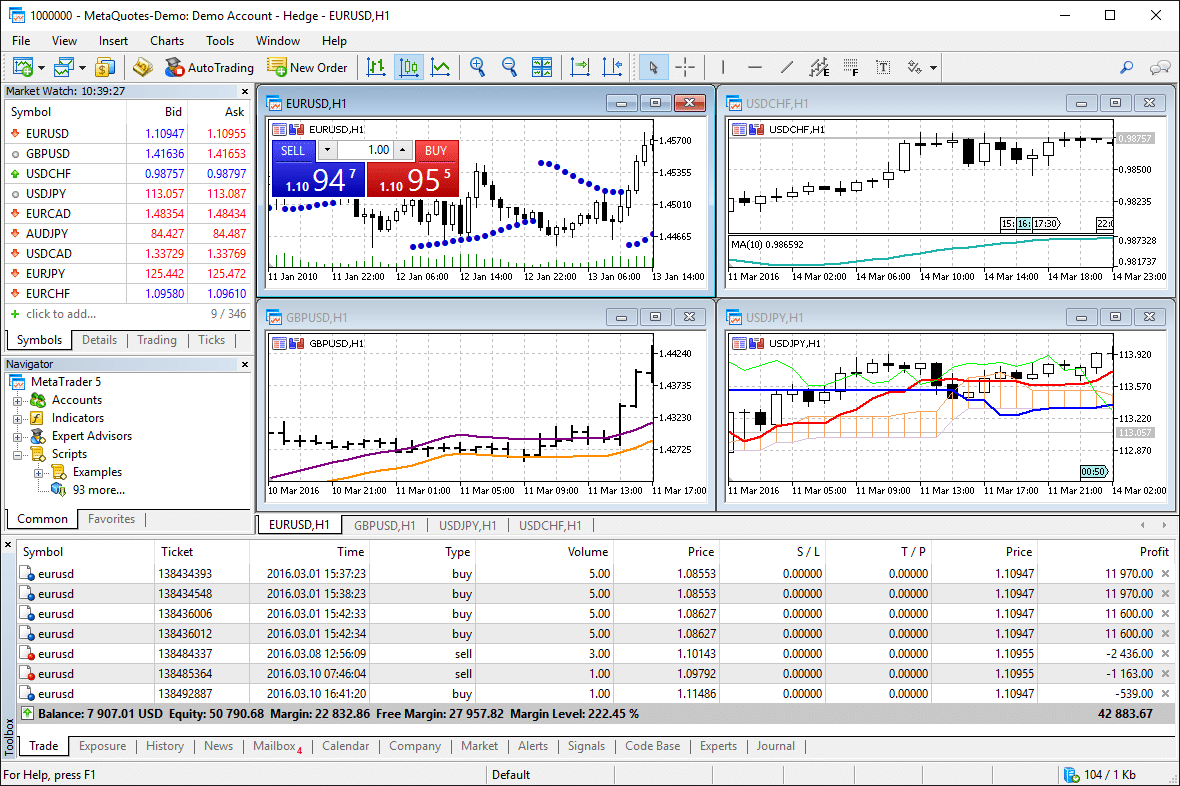 Low Spreads and Trading Costs
This is often the silent account killer. Most traders don't take much notice to the spreads or commisions they are paying each trade, however, it can quickly eat into your profit.
You need to look closely at the spread that your broker is offering compared. The spread is the charge placed on your trades by the broker, which is the difference between the bid and the ask price. The best brokers have low spreads, ensuring that their customers make a profit from their trades.
It is highly recommended that you choose a broker that offers the lowest or one of the lowest spreads.
Security of Your Trading Funds
The very best brokers have a high level of security. The tier one regulators ensure that a broker not only has strict finance control, but that client funds are securely segregated. What does this mean? In simple terms; your money is not being held in the same account as the brokers. If they go bust, your money is not with theirs.
This is a huge reason why brokers that are regulated by regulators such as ASIC, CFTC and the FCA are so popular. These regulators require far tighter controls.
Lower Transaction Fees
There is no way around paying for your trades unfortunately. However, you do not have to be ripped off in the process.
Most brokers offer accounts that have smaller spreads, but you will pay commissions. You should make sure you are only paying the smaller commissions where possible.
Pro Tip: check what your broker is charging you in roll over fees. Brokers will often sting you hard without you even realising this is happening.
Payment methods
Being able to both deposit and withdraw your money quickly and easily is crucial.
You don't want to be waiting days or weeks to get your money. You also don't want to be using a payment method that is not secure or that you are not comfortable with.
Make sure to choose a broker that has many different deposit and withdrawal methods and the methods that suit you the best.
If you like PayPal, then look for PayPal. If you like debit / credit cards, then look for that with your broker.
Trade Execution Times
This can vary widely and this can be a real game changer depending on your trading strategy.
Trade execution or what is also known as 'fill times' is how long it takes for the trade to be entered from the time you place your order.
The biggest and most reputable brokers are normally the best at this as they have the biggest liquidity providers and the best software. If you are dealing with a broker that has slow fill times, then it is going to hurt your trading.
Customer Service
What happens when you need to ask a question about your withdrawal, or opening a new account? You need to use customer service.
This is also something that can vary widely. Some brokers have excellent customer service. They offer around the clock live chat and phone service and more than that; their customer service agents actually know about the markets.
Other brokers skim on this badly and it shows. Their customer service agents are just that. They have a very limitied knowledge of how the markets operate and it can be extemely hard to ever get a good outcome.
FAQs
What is Metatrader 5 (MT5)?
Metatrader 5 is the upgraded version to Metatrader 4. MT5 comes with aditional features that MT4 does not offer such as extra inbuilt time frames and indicators. MT5 was deisgned to fill the gap that MT4 was not filling in particular for markets on stock CFD's and futures.
Why Should I Use Metatrader?
Along with being the most popular trading platform in the world, Metatrader is incredibly lightweight and have many benefits. You can trade almost all markets types and alsu use many different custom indicators and EA's.
What is Better MT4 or MT5?
MT4 and MT5 each have their positives and negative. MT4 was designed for the Forex market. MT5 was designed for other market types such as stock and Futures, although you can also trade Forex on MT5.
Which Brokers Use MT5?
Some of the best brokers that offer the Metatrader 5 platform include; #1: Forex.com (Best for US Traders). #2: Avatrade #3: Pepperstone #4: OctaFX #5: FP Markets.