Both the Gold and Silver markets have been in heavy down-trends of late and traders who look to trade with the trend on their side should be sitting up and taking note. Friday proved to be a brutal day for both these markets as price was crushed lower with major falls.
For traders looking to make short trades in either of these markets, identifying the key levels is crucial to making high probability trades. When looking to enter with the trend, traders don't just want to be entering at the extreme high or in this case with Gold and Silver, the extreme low. To ensure a high probability and low risk trade, traders need to be looking to get into trades from areas of value. Detailed tutorials of how to enter from value and with the trend can be found here: Entering High Probability Trades From Value Areas & How to Trade Forex With the Trend
The first chart below is the daily chart of Gold. The first thing of note on this chart is the massive sell off price experienced during the last session on Friday. If price is to rotate higher over the next week, the next resistance zone comes in around 1540.00. This resistance level could act as a solid area  on both the 4hr and daily charts for price to return back lower and continue the down-trend.
The second chart is the daily chart of Silver. This chart is in a very similar situation as the Gold daily chart in that it is a down-trend and has a resistance level overhead that could prove critical for what price does in the near future on the 4hr and daily charts.
GOLD DAILY CHART | 14TH APRIL 2013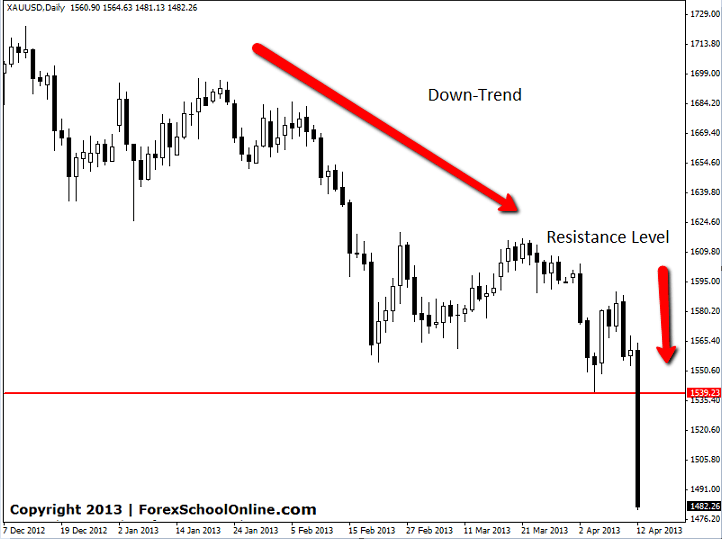 SILVER DAILY CHART | 14TH APRIL 2013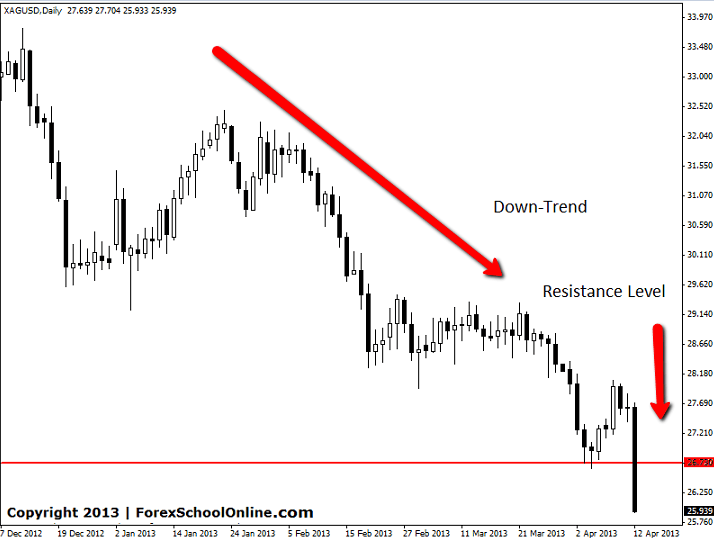 This week I will be releasing a Forex trading tutorial that traders will be able to learn a lot from. This tutorial is going to cover exactly how the Forex market works from an order flow perspective and how traders can start taking advantage from the patterns and moves that repeat over and over again. To be the first to see this post and never miss a post like it, make sure you like us on Facebook and Twitter.
– Forex School Online on Facebook
– Forex School Online on Twitter
Make Sure You Hit the Like and Share Buttons Below!