Lucky Block Price Prediction – November 18
LBLOCKUSD is presently facing an increase in buying pressure and the price could rise above the $0.0001602 accumulated supply if it breaks the $0.0001297 resistance level. Should the current support level be at a $0.000266 low-value hold, the coin price could definitely increase and possibly reach a high of $0.001000 level, amidst a market surge.

Key Levels:
Resistance levels: $0.0000900, $0.0001000, $0.0001100
Support levels: $0.0000500, $0.0000400, $0.0000300

LBLOCKUSD Long-term Trend: Bearish (Daily Chart)
LBLOCKUSD has just begun its rising pattern and price could rise above the supply level soon amidst the market surge in its higher time frame. This implies that the crypto is in a bearish trend in its long-term outlook.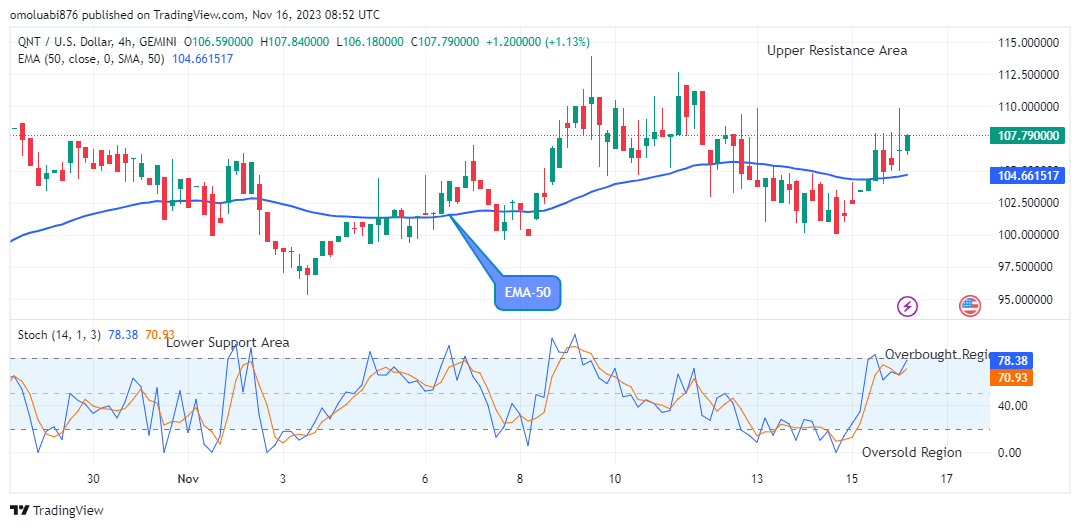 The crypto price has been below the supply trend levels since its most recent low due to the persistent bearish pressure over the last few days.

The Lucky Block market at the time of writing has been able to ride up to a $0.0000306 supply level as the daily chart opens today. However, trading below a $0.0000326 low level could be a warning sign for the bulls.

Therefore, if the bulls should redouble their efforts in the market, the price could rise above the $0.0001602 previous high level which would provide a higher footing to push the bull rally forward.

Further, the market is now pointing up on the daily stochastic. Hence, the bulls are expected to turn around the price of LBLOCKSD and the price could rise to a $0.001000 upper resistance amidst a market surge in the days ahead in its higher time frame.

LBLOCKUSD Medium-term Trend: Bullish (4H Chart)
Lucky Block registered a positive market in its medium-term perspective. The price currently trades strongly above the EMA-50 and the price could rise above the current trend amidst a market surge. This confirmed its bullish trend. This means that the coin is in an uptrend.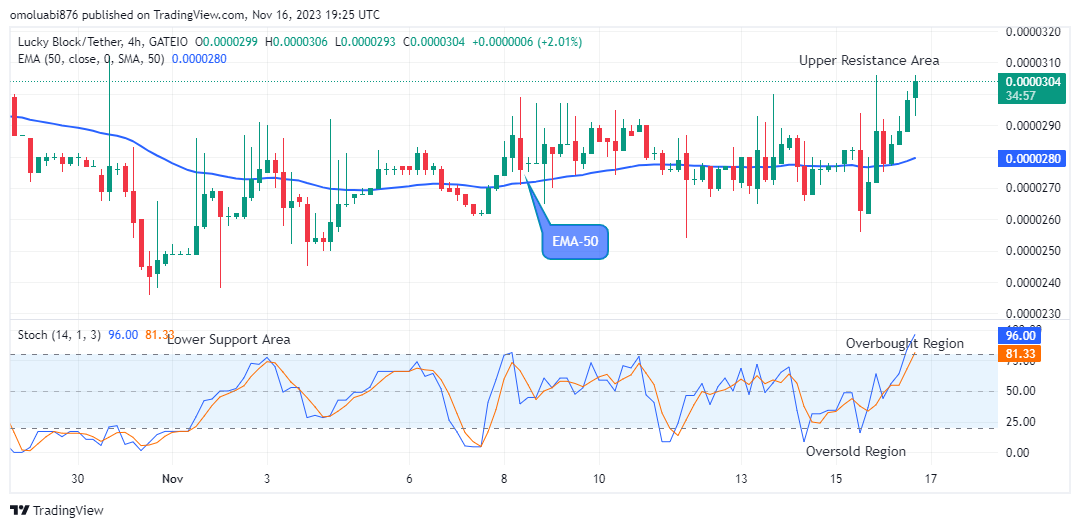 The pair made it to the $0.0000280 resistance level during the previous action and has sustained the coin price above the supply trend lines in its recent high.

The current price of Lucky Block now trades at the $0.0000306 supply level above the EMA-50. This is an indication of upward momentum in the context of the strength of the market and also affirms that the coin is actively traded by long investors at the moment.

Thus, a possible breakout from the $0.0000306 neckline will accelerate the buying momentum and push the prices higher to hit the 0.0000312 previous resistance levels.

Additionally, the pair has a target price of $0.0010000 supply level amidst the market surge as it continues its uptrend movement to the upper resistance as indicated by the daily stochastic pointing upwards. Hence, the mentioned target might be reached in the coming days from a medium-term perspective.

You can purchase Lucky Block here. Buy LBLOCK