Lucky Block Price Prediction- May 25
Lucky Block pair reaches the buying time again as it faces an increase in buying pressure from the bulls at the moment. Conversely, if the coin prices sustain above the level of $0.0003429, the bulls' trend would continue upward and might possibly hit the $0.02000 upper high level and beyond, resulting in a big opportunity for the coin buyers.

Levels:
Resistance levels: $0.0002300, $0.0002400, $0.0002500
Support levels: $0.0001200, $0.0001100, $0.0001000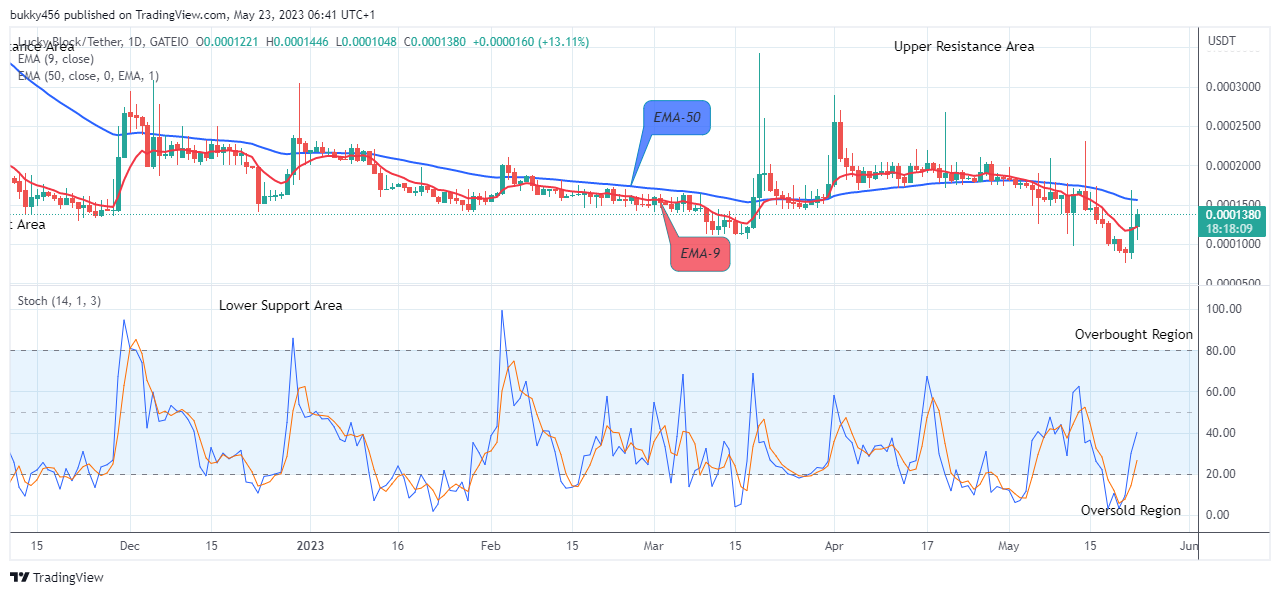 LBLOCKUSD Long-term Trend: Bullish (Daily Chart)
Lucky Block turns positive today. The price is strongly trading in a bullish momentum in its higher time frame. This looks nice for the buying trader and signifies a buy signal.

Price is trading above the EMA-9 approaching the overhead resistance level. This however confirms the presence of more bulls' impact on the coin.

The bulls' pressure on the currency pair at the $0.0001690 supply value during the last session has made it possible for the price to remain in an upward trend zone in its recent high.

Today, the bulls recorded an increase in buying action from the $0.0001380 level to the $0.0001446 supply level above the moving average lines on the daily chart as the bulls took to their stand in the market.

This bullish correction, however, indicates a gradual improvement in market sentiment and leads to more intraday gains in assets to higher prices. So, should you avoid buying this hike?

Next, the underlying sentiment suggests an uptrend continuation in the coming days as indicated by the daily stochastic. It is therefore expected of buyers to push the price of LBLOCKUSD further up to a significant level and in this case, the target might be the $0.02000 supply level in the higher time frame.

LBLOCKUSD Medium-term Trend: Bullish (4H Chart)
On the 4-hourly chart, prices are above the moving averages and have confirmed a bullish momentum breaking the previous high. The pair is in a smooth uptrend as can be seen from the chart below.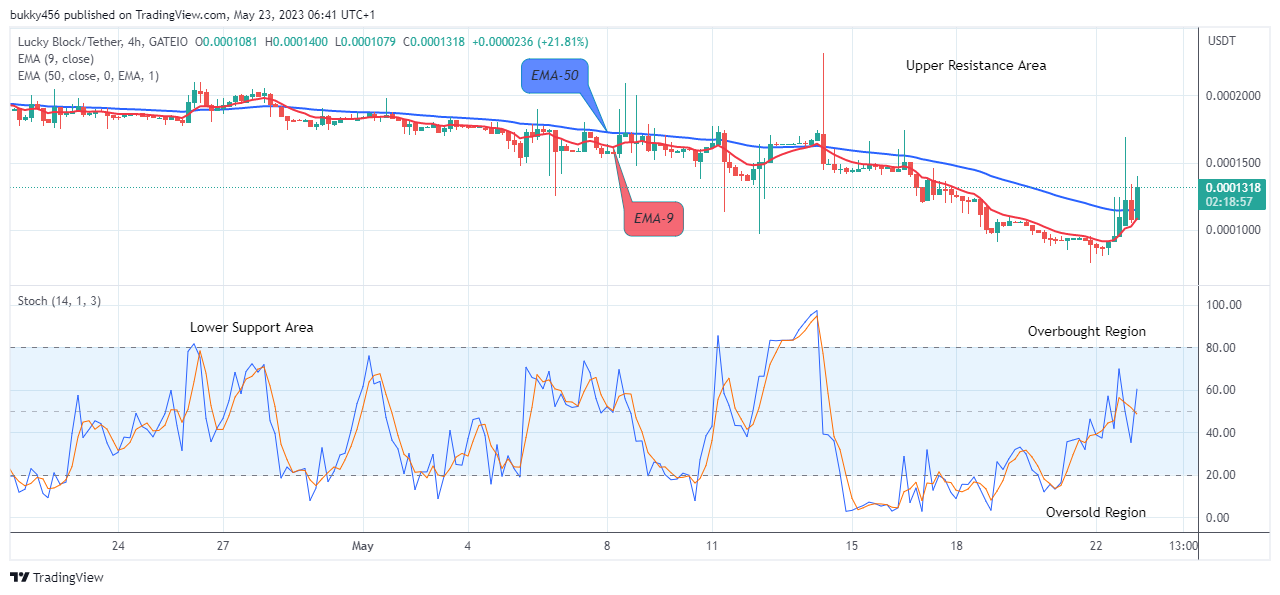 Pressure from the bulls at the $0.0001690 high value in the previous action has sustained its upward stability in its recent high.

LBLOCKUSD is losing bearish momentum as it rises to a $0.0001400 high level above the moving averages as the 4-hourly chart begins today. This is due to a high bullish impact on the market price.

Thus, the recent market structure has favored the bulls and a buying time for the coin investors.

Hence, the Lucky Block pair is showing more upside possibility as indicated by the momentum indicator pointing upwards in the oversold region of the market; we can certainly expect more gains and strength from the coin. The pair may likely reach the $0.02000 resistance level in the days ahead in its medium-term time frame.

You can purchase Lucky Block here. Buy LBLOCK