How to Manually Backtest a Trading Strategy on MT4 and MT5
Have you ever been frustrated when practicing on your demo or live account that you cannot make as many trades as you would like, as fast as you would like?
Obviously to become better at any skill we need to practice it over and over again. Take a golfer for example. A golfer does not just hit one drive or one put and then call it quits. They go to the driving range, they practice their putting time and again and they do this with all of their shots repeatedly.
This can be hard for a trader in real-time markets. You are at the mercy of the markets. You cannot force the markets to produce trades and taking bad trades for the sake of trading is the same as a golfer practicing to hit the ball into the water.
To fix this you can backtest your trading strategy on MT4 or MT5. 
Whilst the strategy tester in MT4 and MT5 is mainly set up to test indicator and EA strategies, there is a way you can manually backtest a trading strategy that will allow you to practice on far more trades in a far smaller space of time.
How to Download and Install History Into MT4
The first thing you need to do if looking to backtest in MT4 or MT5 using a manual strategy such as price action or technical analysis is make sure your charts have enough history.
If you have a new Metatrader download you possibly won't have enough history for you to operate with. This is easily fixed with the following steps.
Important Note: Make sure you are using the correct New York Close 5 Day Charts. If you are unsure what these are or if you need to download a free demo platform see here; Using the Correct New York Close 5 Day MT4 / MT5 Charts
When inside your Metatrader 4 / 5 open your brokers chart options by going to >> "Tools" >> "Options" >> "Charts".
This will open a window showing the maximum bars allowed in the charts history. Expand this as shown in the image below;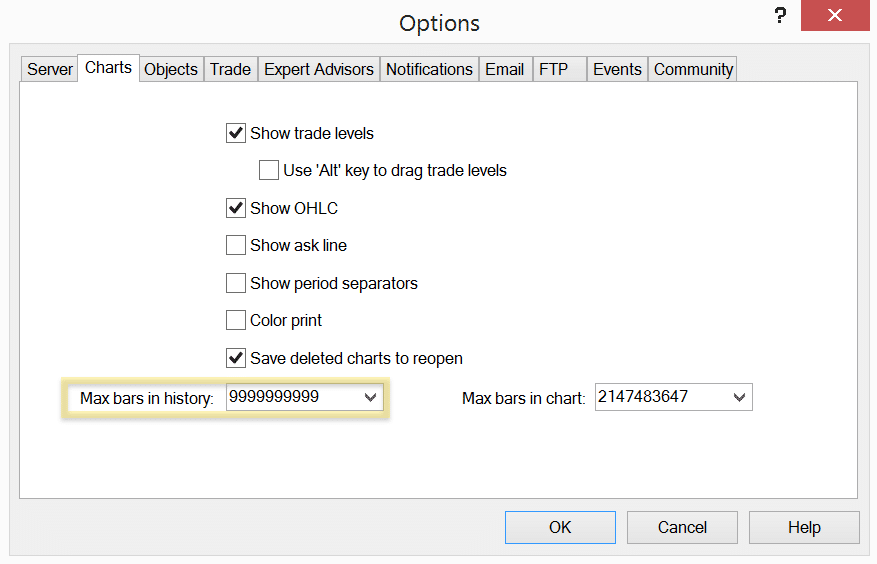 Next select "Tools" >> "History Center" – you can also use hotkey F2.
This will bring up a list of Forex pairs and markets you have available. You can select the market and the time frame you want more history for. After you have done that select "Import".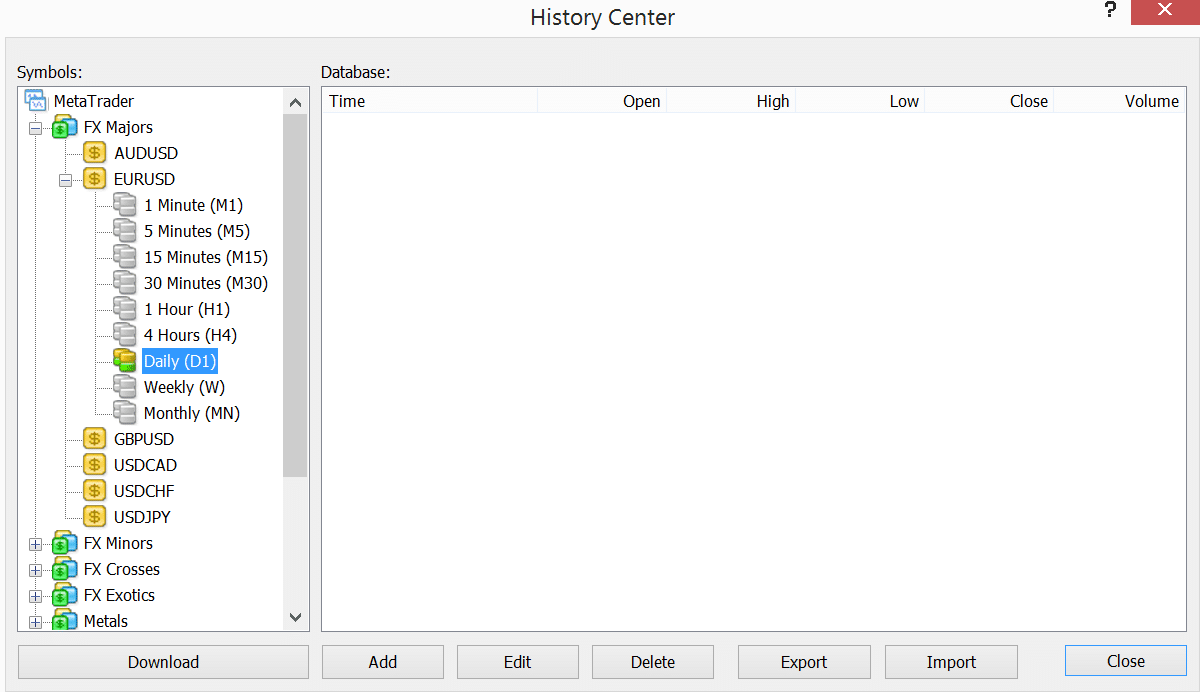 How to Manually Backtest on MT4 and MT5
Once you have downloaded and set up your charts, the process of backtesting is easy once you know how. There are a few variations on how you can do it depending on what you are trying to achieve.
First of all make sure that the "Scroll the chart to the end" button is switched to off on your Metatrader charts otherwise price will continually roll back to live prices.

The hotkey you will need to know to manually backtest your strategy is F12. This is the key that is going to help you either go forward or back as you need.
The first step to manually backtesting is finding the market or pair you first want to test your strategy.
Once you have found the market, select your time frame and scroll back far enough in history to give you plenty of chances to test your strategy.
To move the charts forward one candle at a time you can use the F12 hotkey. If you hold this key price will begin to roll forward. If you hold F12 and Shift price will move backwards.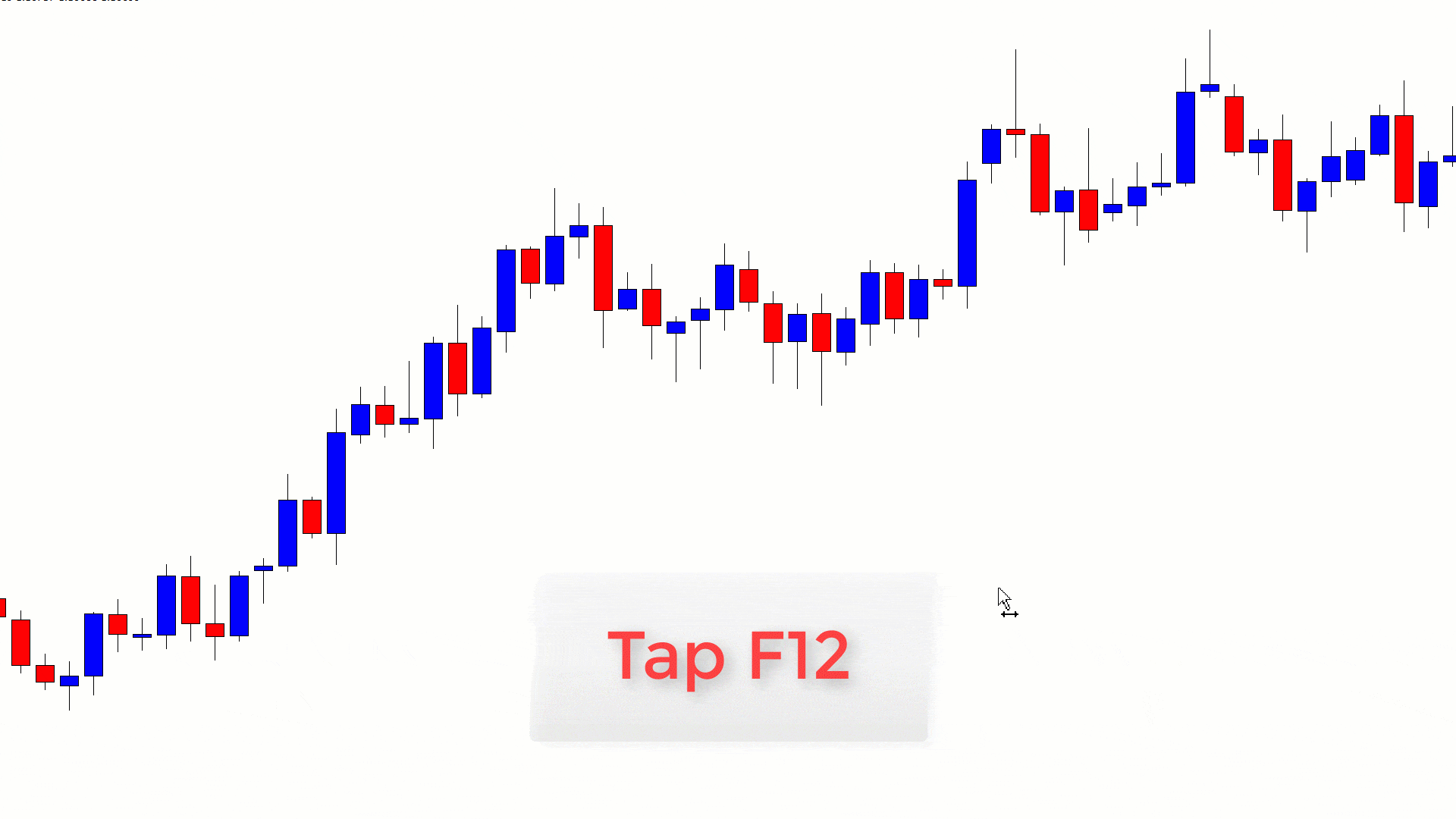 As you move forward using F12 you can begin using your strategy to look for trade setups. Once you find a trade that meets your rules you can plot your entry, target levels and stop loss.
You can then scroll forward to see how the trade works out quickly, rather than waiting like we have to in real market time. 
How to Backtest a Trading Strategy
The best way to get the most out backtesting is with your trading journal. As you find, make and manage your trades you can keep a quick tally of how your trades are playing out, your stats and what you are picking up on.
You can get a free PDF and Excel Journal here.
Backtesting like this is super simple and can quickly help you place hundreds of trades. As soon as you find a trade you can use a horizontal line to mark your target and your stop loss.
As you scroll forward it will become immediately clear whether the trade was a winner or a loser. You can write this in your journal and then move to the next trade.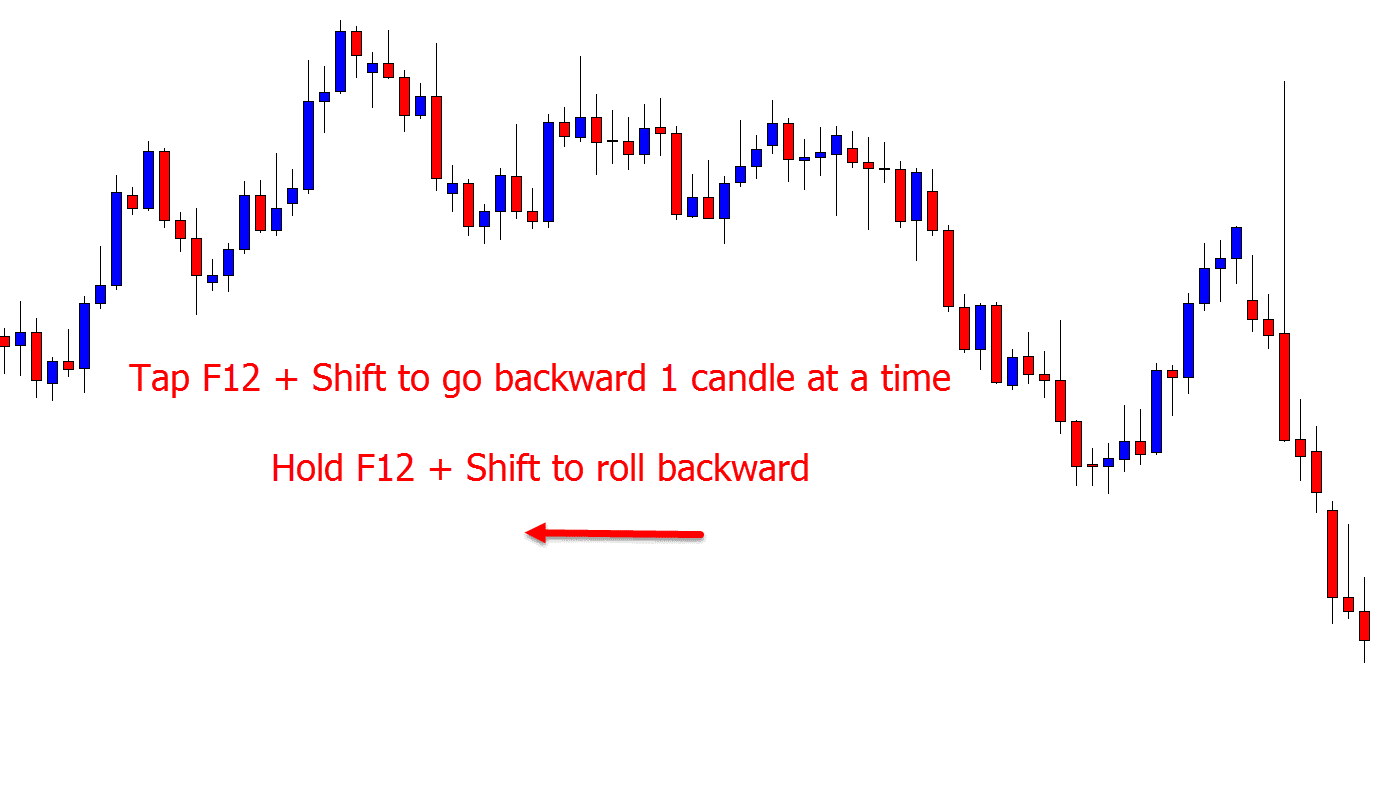 Whilst setting manual profit targets with a set and forget strategy is popular, you may choose to use this style of backtesting to work on many other strategies such as using breakeven, trailing your stop loss for more profits, using multiple profit target points, or even manually managing your trade as price moves.
Using Other Tools to Backtest
The method I have just outlined to backtest is super easy and does not need any other addons.
There are many other backtesters out there like Forex Tester 4 and there are also some interesting addons for MT4 to help with your backtesting.
If you are looking for more capabilities with your manual backtesting, FX Blue has a free indicator addon that will allow more advanced capabilities such as; set trailing stops, change s/l and t/p with click of chart and allow quick close of all open orders.
Lastly
Whilst backtesting is important and can be incredibly helpful when you want to make a lot of trades in a short amount of time, it does not replace forward testing your trading strategy in real market conditions. 
Nothing compares with having to wait for a trade to workout and having to stick to your rules in real-time.
Backtesting however, can help you quickly filter out strategies that simply do not work.
It is also important that you test your strategy on multiple markets and time frames. Trader statistics have shown that some markets are more likely to be profitable than others and this can vary for you depending on how you trade and your method.
Safe trading,
Johnathon