Hi there and welcome!
Here is an EPIC step-by-step start here guide. This guide will help you get started and learn price action trading with Forex School Online. It will show you how you can start right now and exactly what you have to do.
It is going to keep you busy for a long time with lots to learn 😁!
The Fastest Way to Start Learning
This site was created to help you go from where you are now, whether that is a beginner trader and need to start with our FREE Online Beginner Forex Course, or you are more advanced trader and you are looking for a method to create a profitable edge over the market.
The reason price action trading is so popular is simple; it works and it can be used on many different markets and time frames.
Price action has worked for hundreds of years and was first traded on the rice markets. It will continue to work for many years to come.
The best trading methods are simple, logical, and can be repeated time and time again.
They can have rule sets created around them and strict plans can be created to be followed to create a high probability trading edges. To do this we need to know the mechanics of making profits.
How do we do this?
Learn the #7 steps to trading price action which are;
#1: Setting up and using the correct New York close & Recommended Broking Charts
#2: Learning how to mark and use support/resistance, price flips, reversals and all other parts of a price action story
#3: Learning how to trade with a trend and range – and exactly the keys of each
#4: Major triggers that should be used for entry, how to use them, how to enter and exit and use stops
#5: How to manage money – set and work out correct position size
#6: Successfully manage stops, targets and profits over long periods
#7: Set up a personal routine, trade plan and strict rules that can be followed for every single trade
#1: Setting up and using the Correct New York Close & Recommended Broking Charts
The charts you use, the broker use, the pairs you use and when you trade are absolutely crucial.
These things are massive and need to be sorted before you make a single demo trade.
We don't have many costs as traders. Depending on your office, internet and electricity set up, your broking costs and commissions are going to be your biggest costs by far!
There are still to this day very expensive brokers compared to the rest of the market and there are still brokers that traders need to be extremely cautious of.
I discuss what you need to look for, the safety measures like client funds segregation, making sure the broker is licensed correctly etc, in the lesson that you can also get a Free New York Close 5 Day Charts Demo
If you are not familiar with MT4, then I HIGHLY recommend going through our introduction guide to MT4 and using this to get familiar with exactly how it works whilst you are trading demo and working out where everything is.
#2: Learning how to mark and use support/resistance, price flips, reversals and all other parts of a price action story
Possibly the most important section to the whole 'Start Here Guide'… because learning how to place and put the price action story together will help with the other crucial elements like trade management, placing trade trigger entries and stops and profits.
But; if a trader has not locked down the major support/resistance, key price flips, momentum, major reversals, space/traffic, breakouts etc, then placing high probability triggers will be a very difficult job.
Often traders do things in the completely wrong order when they come to price action trading which is why they have so little success and struggle for so long.
They see and read about pin bars, false breaks, and they go after them and start entering them, but this is a little like putting the cart before the horse.
If we start making triggers before we have learned how to use or put the price action story into place, we are going to be 'pattern trading'. Making patterns and then trying to jam whatever levels or support/resistance we think we can find to agree with ourselves that we have found a good trade.
Learn How to Mark Major Support / Resistance Levels
First Test of Support & Resistance Price Action Trading Strategy
Using Price Action Price Flip Level to Hunt Trigger Signals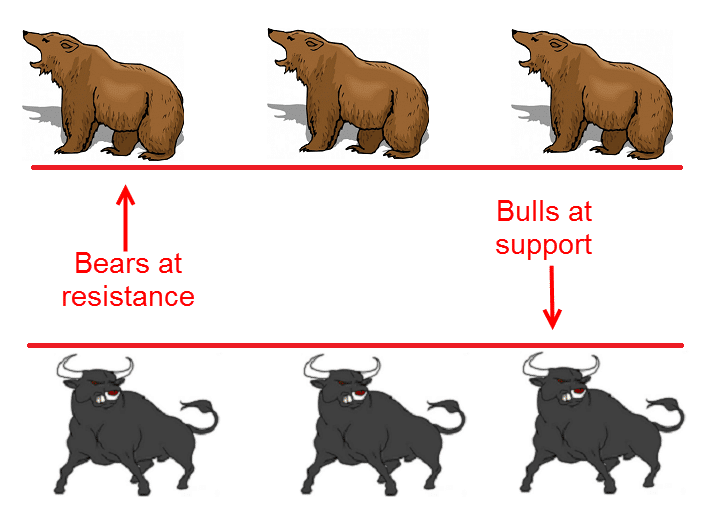 #3: Learning how to trade with / in against a trend and range – and the keys of each
One of the ways traders can start to increase their odds quickly and pretty easily after they learn how is by trading with the obvious trend.
The majority of traders (even knew traders) know this to be true; however, when it comes time to look for trades time and time again traders will either trade against a very obvious trend or make a trade in a very messy market.
Why? A few reasons…
The first is; obvious trending markets are a lot less common than what the ranging and sideways markets are, and the triggers that traders are often looking for like pin bars or 2 bars etc, will often form at the high or low of a strong trend.
For example; price moves higher in a strong trend. All the professional traders have pushed price higher and they continue buying price higher, as they then look to cash out some of their profits price starts to sell off a little bit lower and price creates a smallish rejection pin bar at the very top.
It is these small counter-trend triggers at extreme highs and low against trends picking against market moves that you need to show major caution for. Instead; look for obvious market moves and trade WITH them.
Read Lesson on How to Avoid the Counter-trend Sucker Pin Bar
[Video & Lesson] How to Trade the Price Action Trend
#4: Major triggers that should be used for entry, how to use them, how to enter and exit and use stops
Once you have locked down major levels, you understand what a reversal is, you have a fair idea what a swing point is, you can then begin to think about looking to hunt for trigger signals.
The best example of this is the pin bar reversal.
Whilst reversals are a one candle trigger, it is where you play them in the price action story and how you manage them that will decide your trading fate and success. I highly recommend you follow our "Charts in Focus" summary setups.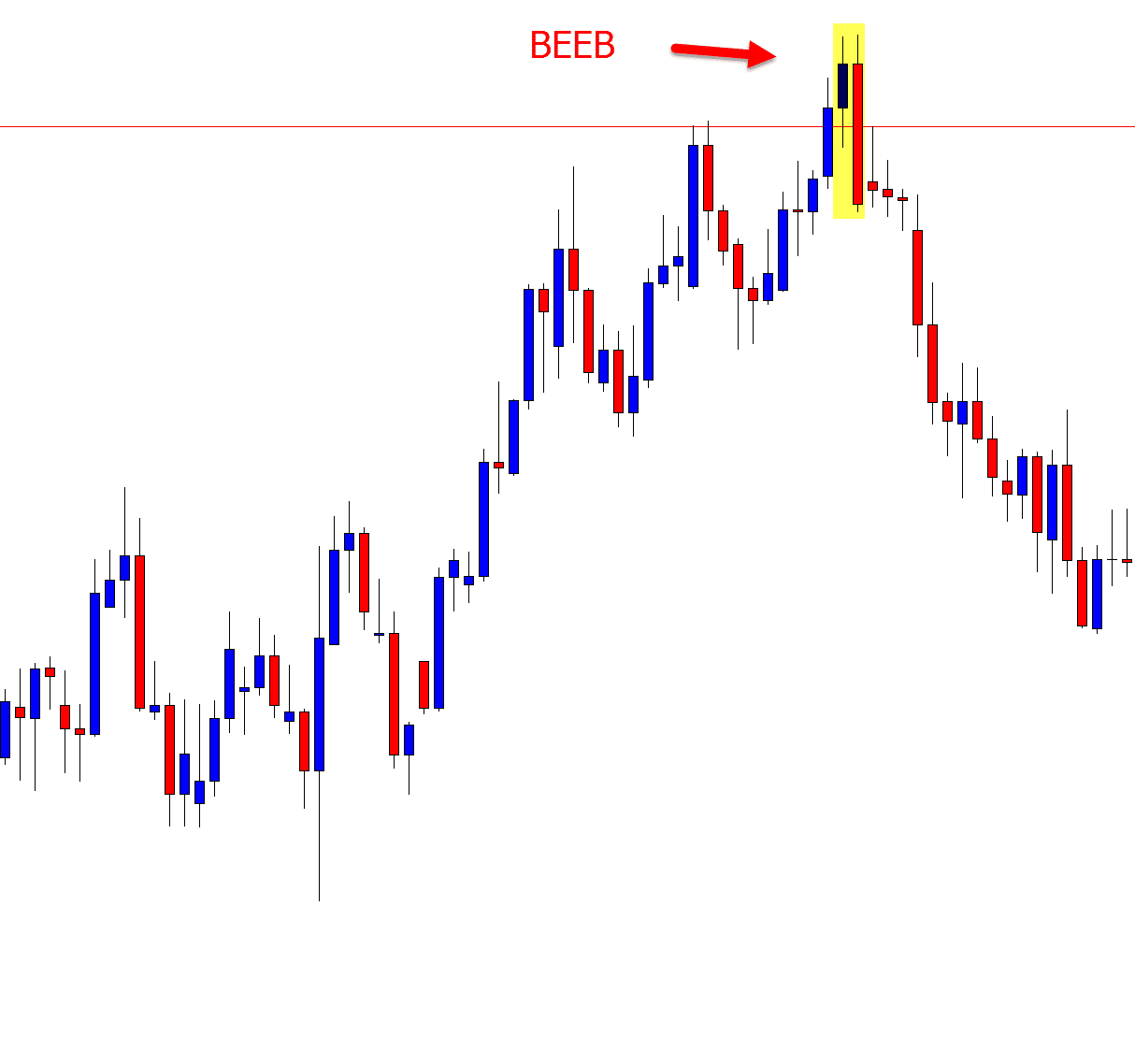 #5: How to manage money and work out correct position size
If you are not working out your position size every single trade and you are not covering your risk, then you are running the risk of blowing your account.
This is surprisingly very, very common. There are multiple methods for managing your money and preparing to enter your trade, but that is not for this lesson.
[dropshadowbox align="center" effect="raised" width="auto" height="" background_color="#ffffff" border_width="1″ border_color="#dddddd" inside_shadow="false" ]I want to hammer home that you must always be thinking about your risk and covering your downside at all times.[/dropshadowbox]
Forex Money Management That Actually Works
The Big Myth Taught About Risk Reward
#6: Successfully manage stops, targets and profits over long periods
The skill to making consistent profits time after time is not in where the trades are entered, but after the entry has been made and how the trades are managed, ie; the decisions that are made when the trade is on.
For example; if you cut your trade too soon through fear, if you let a loser run too long, cut a winner too short or don't stick to the plan you had set before you entered and a swag of other errors.
A quick glance in any forum will show that the bulk of traders are in the "trading systems" or "Holy Grail" sections, looking for the best entry system that will show them exactly how to enter the market. These systems are designed to show and tell traders exactly when to enter the markets and hopefully put them on the right side of the market more often than not.
The problem is not the system. The problem is that if the trader does not understand how to correctly manage a trade, then they can use any system or method in the world and it doesn't matter how many times they are going to be on the correct side of the market, they will still lose money in the long-term.
Markets move up and markets move down and it's this movement that allows traders to make money and it also allows traders to lose money.
This movement is why it's possible for two traders to enter at the exactly the same position, entry point / time and for one trader to make a profit and for the other trader to walk away with a loss.
This is also how over time one trader will be able to manage their trades and make consistent profits and the other consistent losses – good or bad trade management.
#7: Set up a personal routine, trade plan and strict rules that can be followed for every single trade
There is a lot to think about with your personal routine. Below I have linked up my daily trading routine example for you.
My routine has changed over time as my son gets older, things like school and homework change the timings, and this will happen for you too the longer you trade. 
My timings will probably be completely different to yours depending on where you are in the world, but you NEED to create it now and then be flexible.
Trading will affect your WHOLE LIFE and everything you do. If you are going to trade, then don't think you can isolate it.
Trading is not just a few stocks you will check at the end of the month in the paper.
We have students and traders from countries ALL over the world who have to create their own personal routines.
They cannot follow mine and set to me. Everyone will be up at different times and watching different charts for work/sleep/kids etc, and this is what you need to think about for you.
How to Create Your Own Routine – My Example Included!
The Forex Markets & Pairs to Trade
EXTRA TOOLS TO SPEED UP LEARNING:
There are a few super handy tools I use that you really may like to use as well…
MT4 Time Frame Creator
MT4 offers a fantastic platform that is both easy to use and quick to pick up and learn, but whilst there are many time frames in-built to the standard MT4 standard platform, one of the drawbacks is that some of the other time frames that traders would really like to trade are not easily available.
Time frames such as 2hr, 8hr or 2 day which are really quality time frames, especially for price action traders are not available and having these time frames as an option would make a big bonus and open up a lot more potential trading opportunities in the same markets already being traded.
To fix this problem traders can use an indicator that is super easy to install and use in their MT4 platform which allows traders to change the time frame into anything they would like.
You can read the full tutorial on how to install and change your MT4 time frames HERE.
MT4/MT5 Position Size Calculator
This MT4/MT5 indicator is super convenient because it takes into account all of the information already contained in your trading platform such as your account balance and base trading currency and once you add in the extra details that the indicator asks for such as your entry and stop loss placement for the trade you want to make, then it will take all the information into account and automatically give you your risk information and continually update it as price is moving and changing.
You can read the full tutorial on how to install and use this position size indicator HERE.
I have grouped together both of these indicators in the one spot so you can get at the same time below:
Lastly…
Questions?… Comments or anything else? Post them below in the comments!