Pepe (PEPEUSD) Price Forecast: October 3
The PEPEUSD is positive today and has also hinted at an uptrend continuation. The coin is currently running a bullish race at the moment and this may continue. The price is going up and an opportunity for the coin buyers to invest. Hence, the coin price will move higher above the current resistance level, if buyers should exert more force into the price action in the market, the $0.000000874 high trend line might be retested which might possibly lead the Pepe price to the $0.00000100 upper supply trend level and beyond. Thus a turnaround and a clear buy signal for the coin buyers.

Key Levels:
Resistance Levels: $0.00000100 $0.00000110, $0.00000120
Support Levels: $0.000000800,$0.000000700, $0.000000600

PEPE (USD) Long-term Trend: Bullish (4H Chart)
PEPEUSD is in a bullish trend market in its long-term view. The prices are traded above the moving averages which has made it hints at an uptrend continuation and also confirms its bullish trend.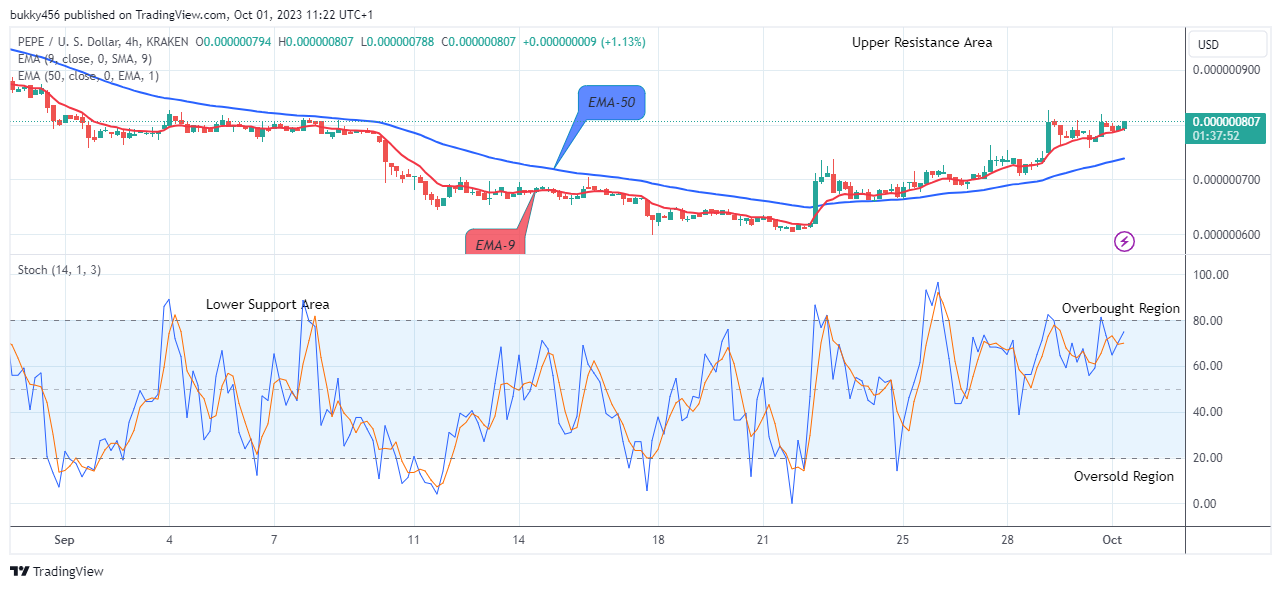 The coin made it to a $0.000000805 high level during the previous action and has made the price remain in green above the supply trend level in its recent high.

The bulls are not relenting, an increase in the price of Pepe to the $0.000000807 supply value above the two EMAs as the 4-hour session opens today, indicates that the traders are actively buying at this level. Hence, should the bulls increase their buying motives, the previous high of $0.000000874 value might be retested soon.

In addition, continuation to the upside is likely as the market is pointing up on the daily stochastic; this will quicken the emergence of more buyers to move the price up to a significant level at the upside and this upward continuation might hit the $0.00000100 supply trend mark as the Pepe market continues and remain in a bullish direction in its higher time frame.

PEPE (USD) Short-term Trend: Bullish (1H Chart)
The Pepe price also trades in a bullish trend market in the short-term outlook. This is due to the high impact of the long-term traders in the price flow as the coin hints at an uptrend continuation.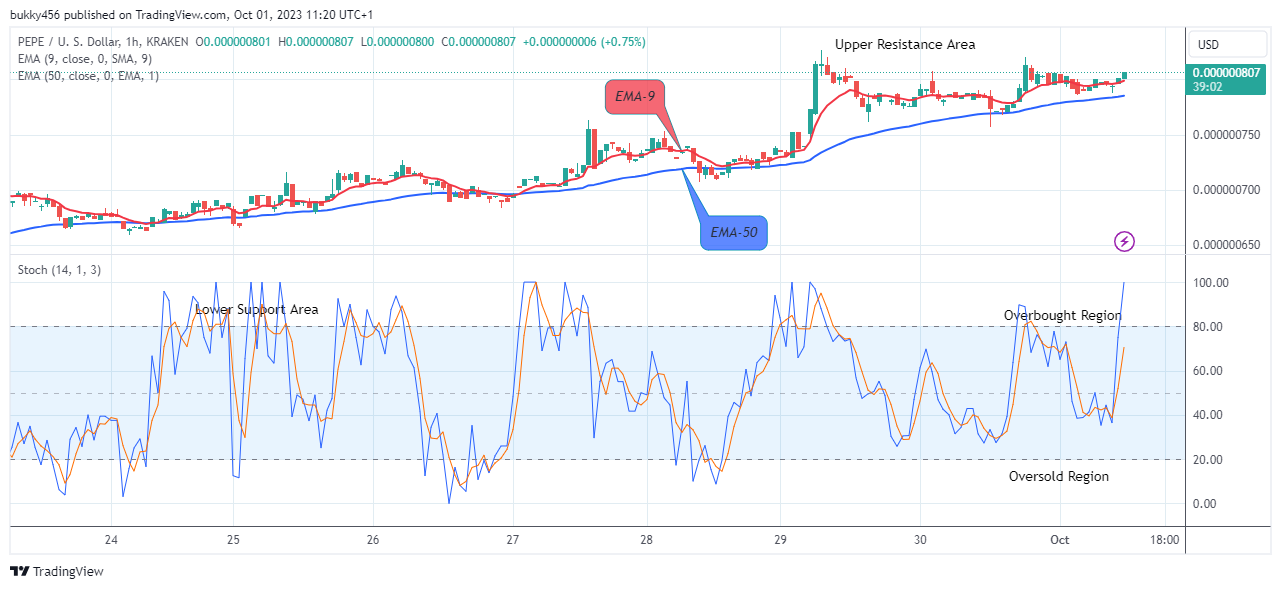 The bulls' pressure on the coin to the $0.000000806 supply value during the past session has sustained the coin price above the resistance trend levels in its recent price level.

The journey up north continues today with an increase to a $0.000000807 high mark above the two EMAs shortly after the 1-hour chart opens today. This indicates that the buy investors are actually dealing in the coin investment. Therefore, if the bulls could increase their tension in the market, the price tendency will move above the key levels.

Adding to that, the PEPEUSD price is also pointing upwards, this suggests that the coin price may likely continue in an upward direction and head toward the $0.00000100 supply trend line in the days ahead in its short-term time frame.

Buy Pepe on eToro