Price Action Guide to How the Forex Market Moves
Special Note: This Forex trading tutorial is in-depth and very important for price action traders to read. The strategies covered in this article are going to help you understand exactly how the markets work and their key rules. Make sure you are in a comfortable place away from distractions and have 10 minutes set aside to fully engage in the lessons.
In our previous few articles and tutorials we have covered key strategies such as how to spot and trade with the trend and how to trade reversals. After these Forex trading lessons we have been asked by traders to go in-depth into exactly how the markets work and the key patterns that repeat time and time again.
On any chart of any Forex pair you will notice the same patterns and movements repeating. This is because no matter what the chart or time frame, there are some key rules that markets have to adhere to. These are the same strategies we use in our weekly trade idea posts that you can read at; Weekly Price Action Trade Ideas.
In this article we are going to cover exactly how the markets move and what you need to start looking for in your own trading. Armed with this knowledge you will be able to start identifying better areas to get into trades and what to expect from the market before it has even happened.
Markets Never Move In Straight Lines for Long
Whilst this point may seem pretty straightforward, many people trade looking for the market to keep moving straight up or straight down. This can be dangerous as the markets do not move straight up or down. Even in the strongest trends price rotates both higher and lower.
To highlight this point I have attached a chart of the USDJPY daily. Traders with an eye on the Forex markets of late would be well-aware that the USDJPY has been in a very aggressive up-trend, with price in recent times rocketing higher.
On the chart below you will note that even though price has been moving higher in a clear up-trend, price has paused and moved lower at stages. Price has not moved straight higher without at least pausing or giving a rotation back lower. The blue boxes and arrows on the chart below show how even though price is moving higher it has rotated and pull-backs lower before continuing higher.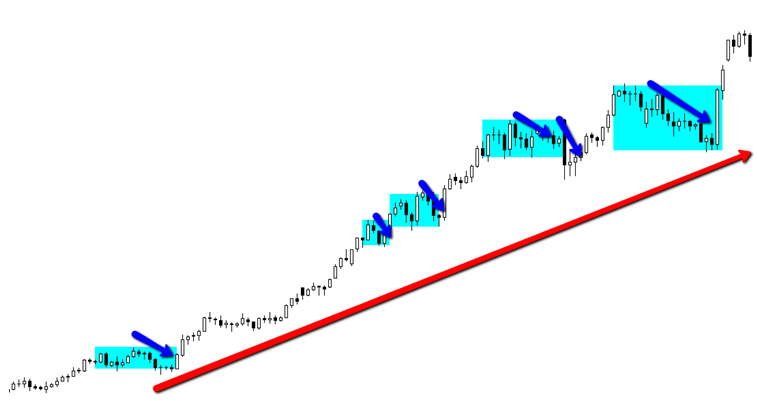 To make profit a trader has to close the trade out. Until a trader has closed their trade, any profit or loss is only a paper profit/loss. This need to close a trade to crystallise a profit is a major reason that markets never move in straight lines higher or lower.
No matter how strong a trend is, this need to close a trade will always ensure that price rotates back into a value area. When price makes a major run higher or lower there are always a lot of traders sitting on decent paper profits.
For these traders to crystallise their profits they have to close their trades out. When these traders start closing part of or all of their trades it can tip the order flow balance.
For example if price is moving higher the bulls are in control or in other words the orders to buy are stronger than the orders to sell. If all of a sudden a flood of sell orders come into the market, the bears are going to take control and turn price back lower. If price has been in an up-trend, then the bulls are in control.
When traders start to take their profit, they start to push sell orders into the market. If these sell orders are strong enough they are going to turn the market back lower against the up-trend. As you can see from this example, even in the strong up-trend price has to rotate.
Looking to Enter Trades
Smart traders can take advantage of this rotation by targeting pull-back areas to get into their trades. Often with a market that is trending higher we will get a strong move followed by a rotation back lower. After this rotation the trend will oftentimes then continue. We now know that the rotation is often caused by the sell orders pushed into the market.
Once all these sell orders from people leaving the market and taking their profits have been fulfilled, often the buy orders or bulls will once again prevail and push price back higher. This is why so often after a pull-back against the trend, the trend will continue and push onto a new high or low.
In the chart below you will note how price moves higher with the up-trend before rotating back lower and finding support. Eventually all the sell orders are fulfilled and the bulls take back control and push price back higher to continue with the trend.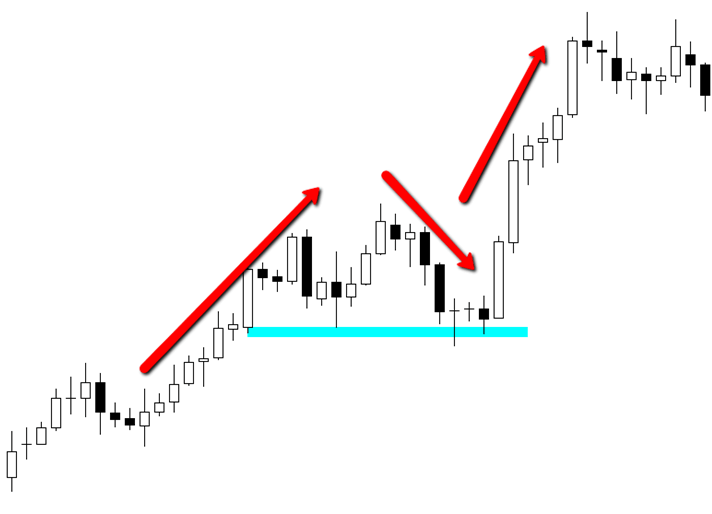 Consolidation to Continuation
A key pattern that all markets follow is; Consolidation to Continuation.
Basically what this means is price will often make a major move higher or lower before it will pause or "consolidate". This consolidation can go for lengthy periods of time, but eventually it will break out and more often than not the break out will be in the same direction as price was moving before going into consolidation.
The chart below shows this pattern in action.  On this chart we have a move higher, then price moves into consolidation before breaking out and continuing.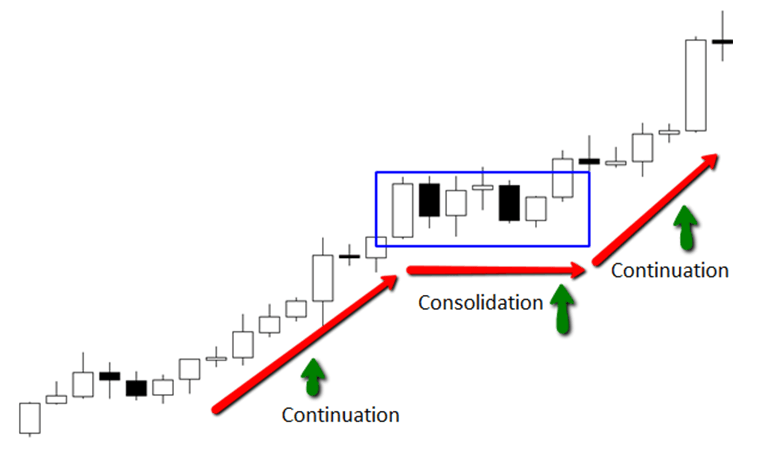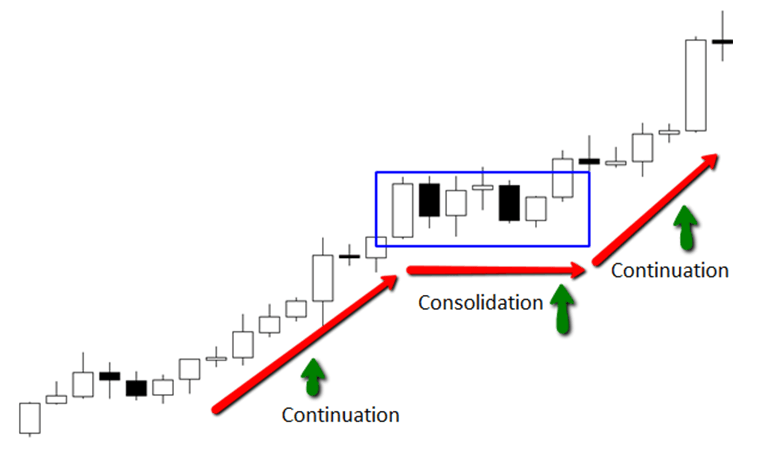 This consolidation to continuation is part of how the market works and you can look at any chart and see this taking place. Being able to read this pattern before it happens will help you read the price action story and manage your trades without having to guess what possibly may happen.
Whilst nothing is ever certain in trading, knowing where the high probability play is can tip the advantage in your favor. Using this pattern you will also be able to protect your capital by moving stops higher or lower to take advantage of the markets movements.
Market Reversals
We cover reversals a lot throughout this website because they can be a real money spinner if played correctly. A reversal signal is basically just a price action signal that is hinting the market is about to change directions.
A classical example of a price action reversal signal is the Pin Bar. A Pin Bar is a one candle signal that is hinting at a possible change in the direction price is moving. For example, if price is moving higher and the market produces a bearish pin bar, this is hinting at price getting ready to reverse and move back lower.
One incorrect belief that many traders have with reversals is that the market often turns around and reverses with just one attempt.
Often with reversals the market will go through consolidation and testing before it eventually changes direction and reverses. This is why so often after a Pin Bar has formed, instead of price moving in the other direction straight away, price will hang around building up momentum before exploding.
An example of this with the Pin Bar is below.
The major reason price rarely changes directions at the first attempt is because the ever-changing battle between the bulls and bears that takes place in all markets. If price is moving higher it is doing so because the bulls are in control or in other words the orders to buy are stronger than the orders to sell.
For price to change directions, this control has to be tipped to the other side. For price to change directions from moving up to down the bears have to take control and the sell orders need to overwhelm the orders to buy. This change in control often takes time and why the market often builds up before changing directions.
Often after a reversal signal such as the Pin Bar, a few indecision or inside candles will form. This is quite often the last attempt before changing directions and once the remaining orders to buy are sucked out of the market, the bears can take control and reverse price lower.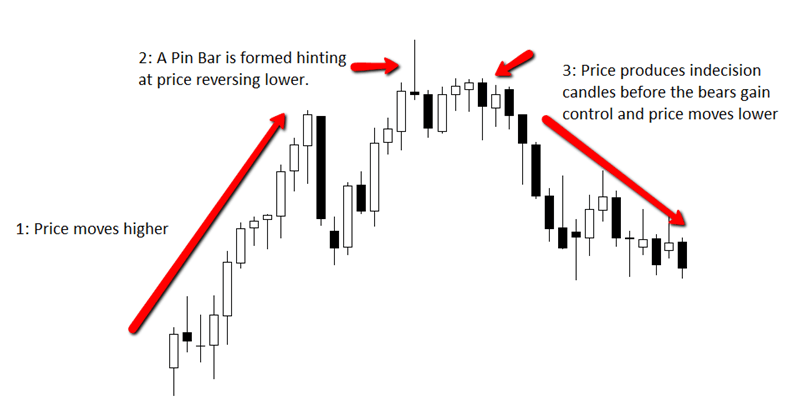 Recap
In this tutorial we have discussed some of the most powerful patterns the markets create and the reasons behind them. After reading this Forex trading lesson, go to your charts and start practicing spotting these patterns in real-time and using them to read the market.
Learning to read a chart and the price action story takes time and experience and the quickest way to gain this experience is to open a demo account and start trading.
I would love to hear your comments and any questions in the comments below.
Safe trading,
Johnathon