Quant Price Forecast: November 20
The Quant price holds a recovery opportunity and the price may increase further if the bulls should defend the selling pressure at a $95.77 low value. An increase in the bulls' momentum may break the resistance level at $112.43 and this may increase the Quant price further to a $116.00 upper resistance trend line.

Key Levels:
Resistance Levels: $105.00, $106.00, $107.00
Support Levels: $98.00, $97.00, $96.00

QNTUSD Long-term Trend: Bullish (Daily chart)
The QNTUSD pair is currently trading in the bullish trend market in its long-term outlook. The price may increase further if the bulls could add more aggression to their buying motives.


The bulls have sustained the crypto market at the $105.40 supply value in the past few days which has made it possible for the coin to stay above the trend line and remain stronger at the moment.

The drop in the price of Quant to the $95.77 low value as the daily chart commenced today has no serious effect on the market as the price remains in an uptrend. Thus, staying above the moving average will make it possible for the crypto to increase further.

Further, if the Quant buyers could hold and close the daily chart above the $112.43 previous high mark, a potential BUY signal will be attained.

Additionally, the coin price signaled that the market is oversold by the daily stochastic. This implies that the bullish correction pattern may likely emerge soon and as a result, the coin price may increase further to hit the $116.00 upper resistance trend line sooner in its long-term outlook.

QNTUSD Medium-term Trend: Bearish (4H chart)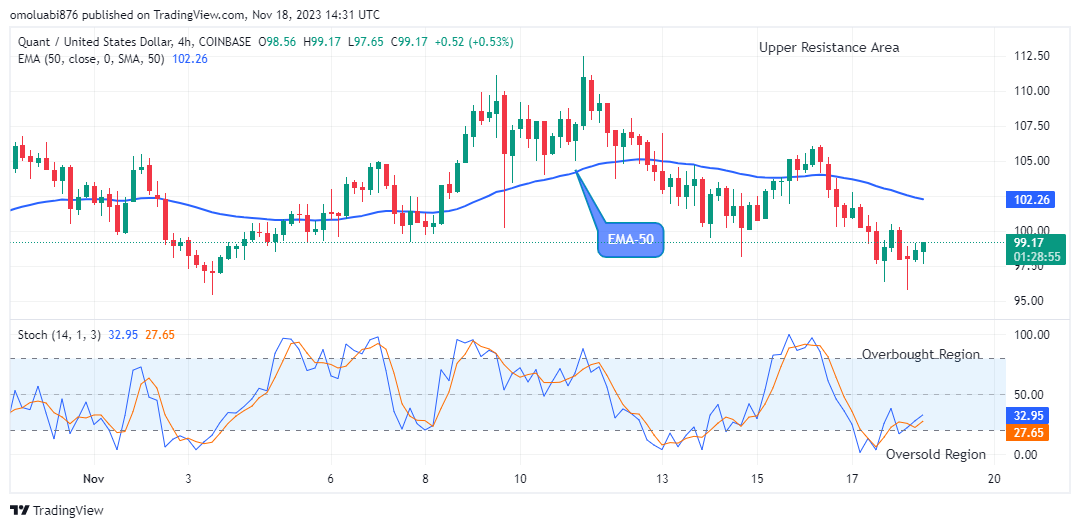 QNTUSD Price to Increase Further
The Quant price can be seen below the moving averages indicating a bearish trend in its medium-term outlook. However, the price may increase further as the bulls have just begun the rising pattern below the supply levels.

A rise to a $99.17 high level by the bulls shortly after the 4-hour chart opens today affirms the returns of the long traders into the market. Thus, the price of Lucky Block may increase further if the bulls can redouble their efforts and push above the current supply level.

Therefore, a potential breakout from the immediate resistance of the $112.46 level will give additional confirmation for a bullish recovery, if the bulls could increase their efforts in the market.

However, the bullish correction at the mentioned resistance level is an indication that the bulls are planning to strongly move the price of QNTUSD to a high level at the upsides and the $116.00 supply trend line might be the target also in the future in its medium-term outlook.

Place winning Quant trades with us. Get QNT here