Sponge will increase fast
SPONGEUSDT Price Analysis – 15 September
The $0.000196 and $0.000330 levels, which are expected to appear after the market decline, are the next upward goals for the Sponge if it is successful in breaking over the $0.000136 level of resistance
Key Levels:
Supply level: $0.000136, $0.000196, $0.000330
Demand level: $0.000087, $0.000004, $0.000006
SPONGEUSDT Long-term Trend: Bullish
The long-term forecast for the SPONGEUSDT is promising. A few weeks ago, when the price of Sponge reached $0.000087, it found support. However, sellers continued to drive the SPONGEUSDT market lower throughout the past week. Recently, the coin's value exceeded $0.000136. Daily candles were beginning to develop that were more bullish than bearish, and the level of $0.000196 was about to be crossed. On September 6, the price briefly rose to the height of $0.000196 before dropping. The price will return to its previous peak fast.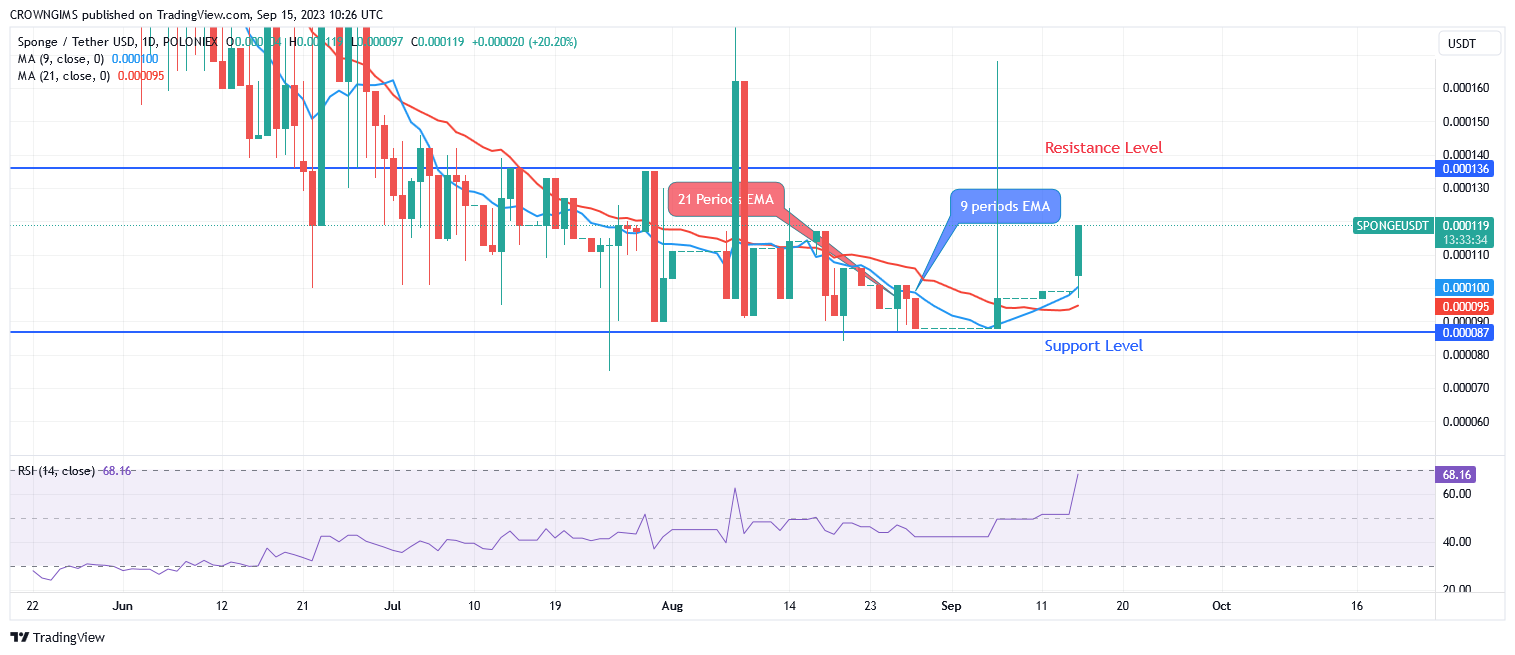 The bullish trend is accelerating, according to the rising crossover of the sponge and the two EMAs. The 9-period EMA's 21-period milestone is also getting closer. The $0.000196 and $0.000330 levels, which are expected to appear after the market decline, are the next upward goals for the Sponge if it is successful in breaking over the $0.000136 level of resistance. If the bears are successful in holding the resistance level of $0.000136, the price may go below the support levels of $0.000067. The relative strength index period 14 signal lines, which are pointing upward, are providing a buy signal at level 86.
SPONGEUSDT Medium-term Trend: Bullish
SPONGEUSDT predicts a healthy medium-term outlook. Since bulls are beginning to reappear, the market is rising strongly. Buyers outnumbered sellers during the four weeks before to August 8th, when the resistance level of $0.000136 was breached. The price returns to the previous high level as long as the bulls' momentum remains.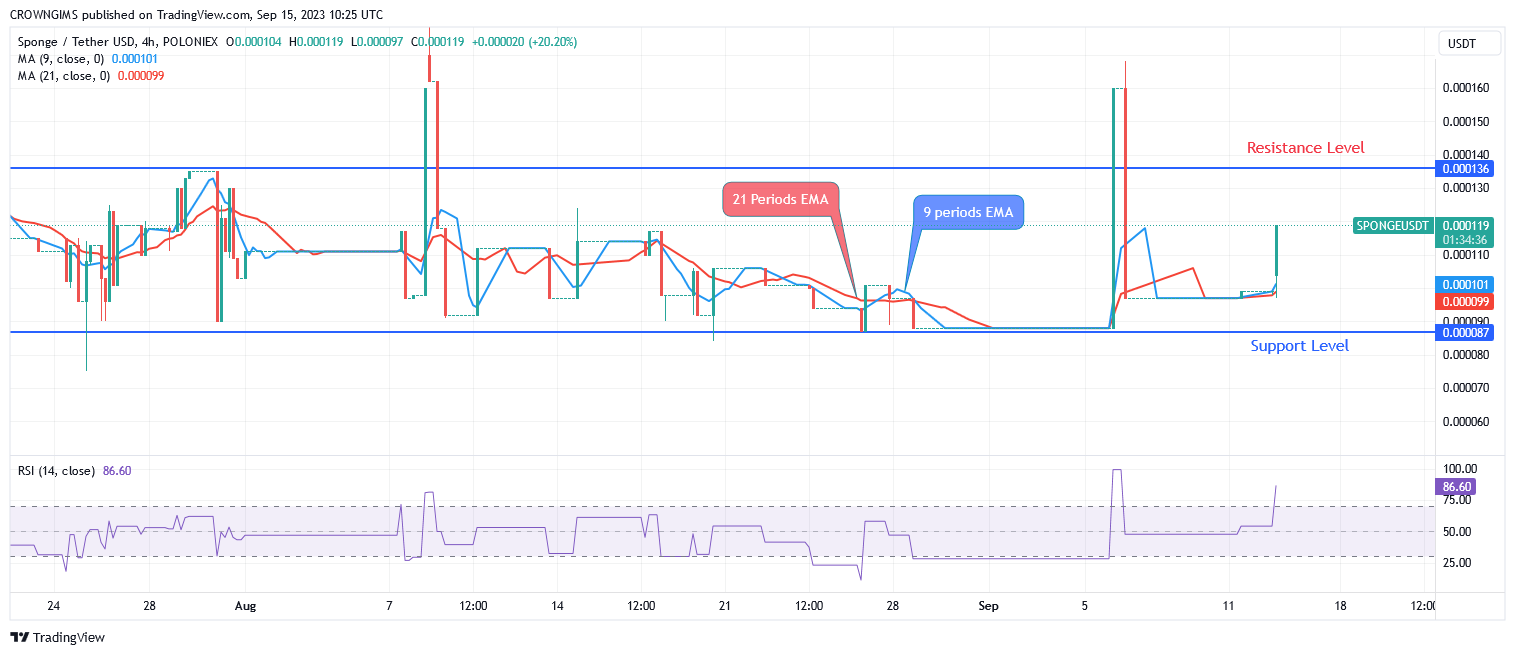 The price is above the 21-period and 9-period exponential moving averages, respectively. The Relative Strength Index period 14 is at 68 levels, the signal line is pointing up, and buying is advised.
Visit this link to learn about the trading journey: https://app.uniswap.org/#/swap?outputC
🧽 Take the plunge with $SPONGE and dive into the excitement! 💦

🧽 Begin trading #SPONGE on @Uniswap now! 🔄🚀💼

🧽Discover the trading journey: https://t.co/bAQyuWo66w pic.twitter.com/32zoTLeyfs

— $SPONGE (@spongeoneth) September 13, 2023
Invest in the hottest and best meme coin? Buy Sponge ($SPONGE) today!