Weekly Price Action Trade Ideas – 21st to 26th June 2020
Markets Discussed in This Week's Trade Ideas: EURUSD, EURGBP, GBPUSD and GOLD.
Note: We Use Correct 'New York Close 5 Day Charts' – You can read about why we use these and how to download the correct free charts at Correct Free New York Close Demo Charts
EURUSD Daily Chart
Watching the Pullback
After breaking higher through the range resistance area, this market exploded higher.
This is common when price has been strangled within a tight consolidation zone.
After smashing higher, price is now looking to retrace back lower.
The most recent resistance level that price broke higher through could look to be a potential new price flip support area.
This could also be a solid area to watch for potential long bullish trades.
Daily Chart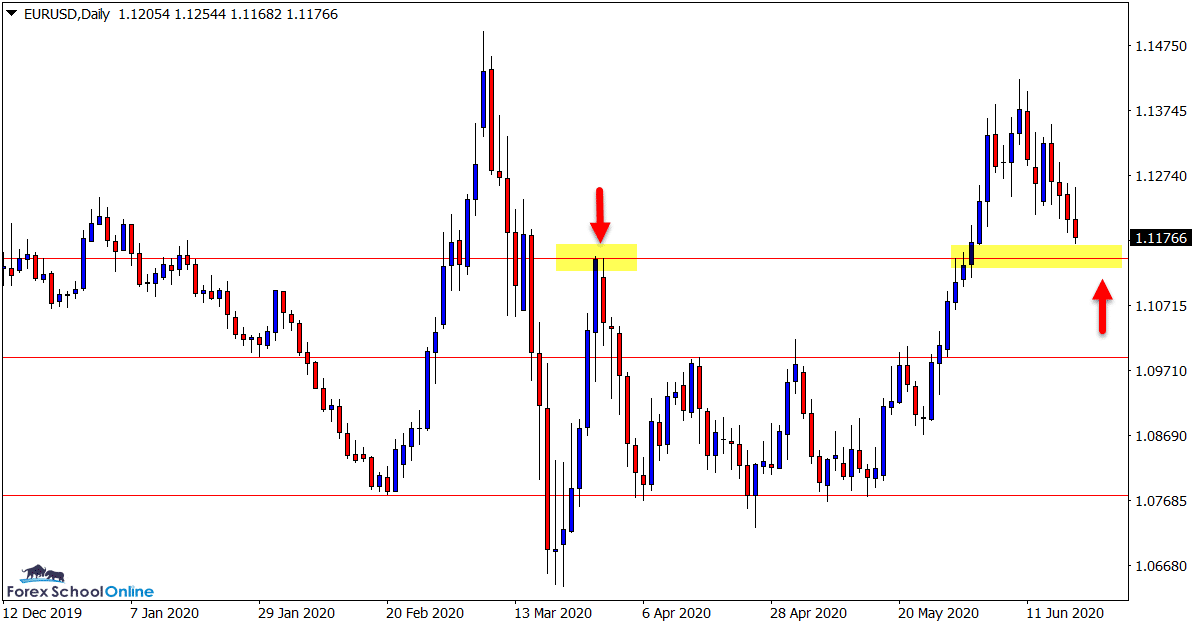 GBPUSD Daily Chart
Close Eye on Daily Support
After attempting to break the major daily resistance zone, price failed and formed a false break on the daily chart of this pair.
As the chart shows below; price is now losing ground and it could make a move back into the old range low and key support level.
Range traders could watch this support level for potential bullish clues for long trades.
Daily Chart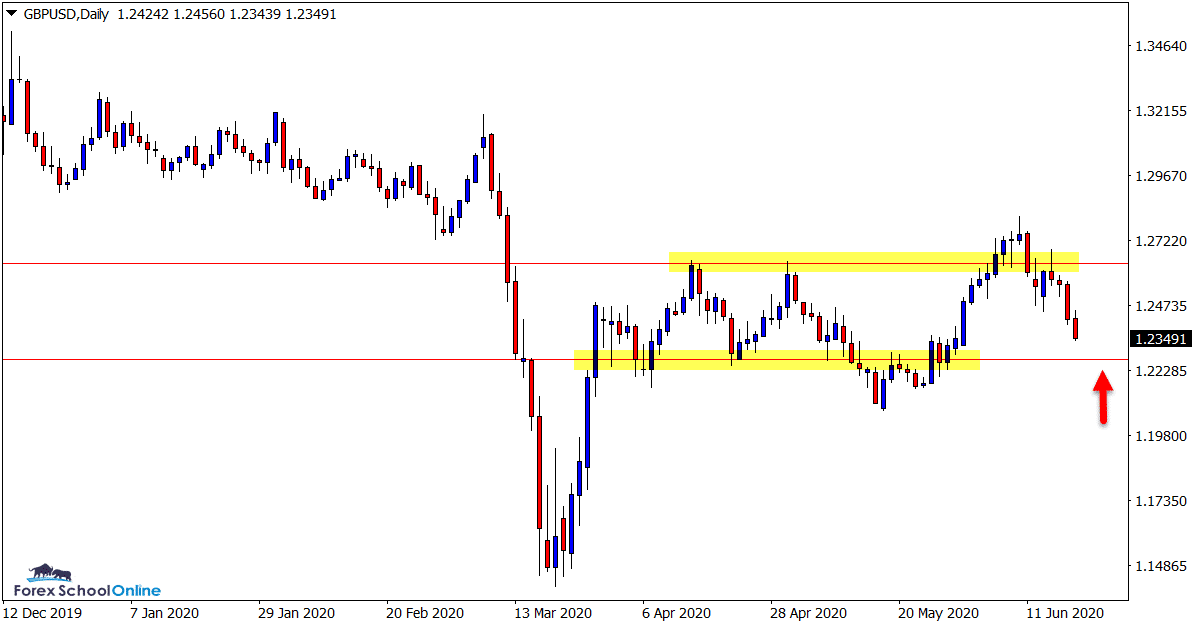 EURGBP Daily Chart
Will Breakout Hold
In last week's trade ideas we were watching this pair for a potential break higher after momentum had been building.
Now price has made the breakout the major watch is on the old resistance holding as a new support area.
If this level can hold as a new price flip support it could pave the way for some solid legs higher.
Daily Chart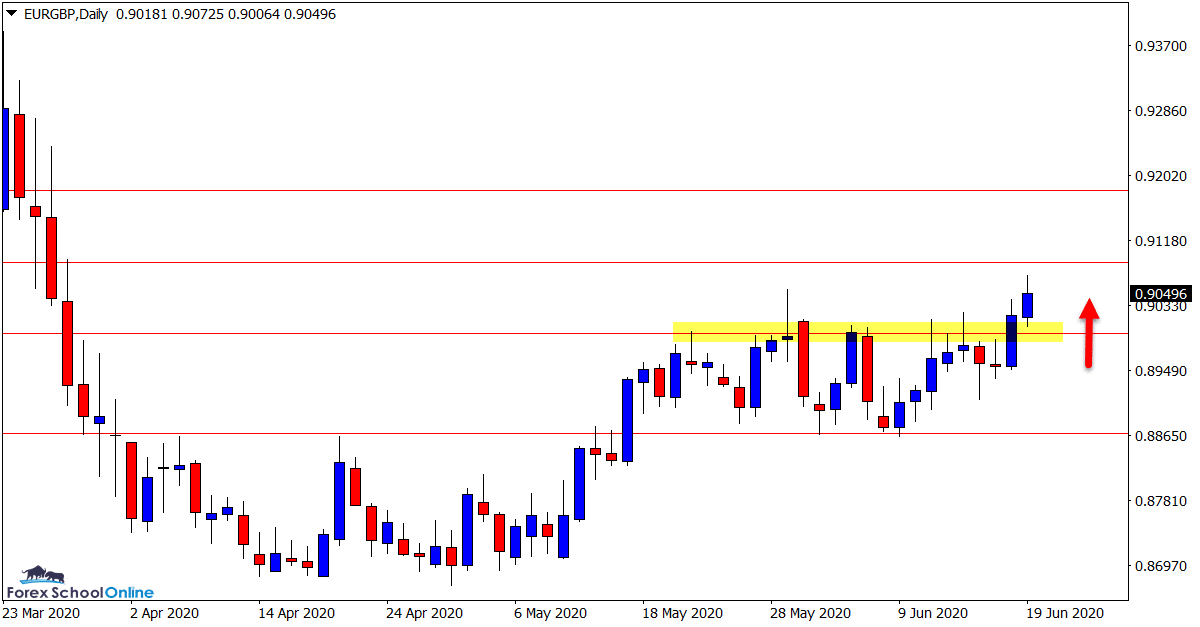 GOLD Daily Chart
Can Price Finally Breakout?
Similar to the Silver market we looked at in last week's trade ideas, the Gold market is currently trading in a tight consolidation pattern.
As the daily chart shows below; price has been unable to break higher or lower for the past few months.
These consolidation and range areas can often be solid areas to watch for explosive breakout trades when they finally break. This could be especially so if price can make a strong breakout higher.
Daily Chart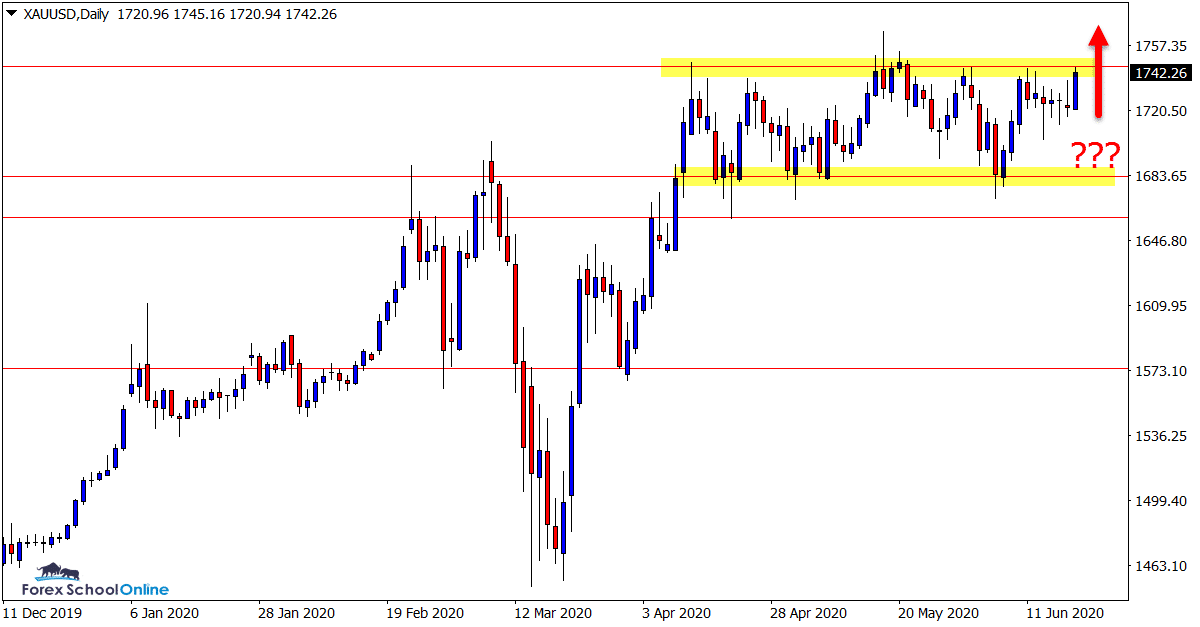 Trade Ideas Note: All views, discussions and posts in the 'charts in focus trade ideas' are the view of Forex School Online and are not recommendations or trading advice. All posts are general in nature and are not advice to buy or sell.
Note: We Use Correct 'New York Close 5 Day Charts' – You can read about why we use these and how to download the correct free charts at Correct Free New York Close Demo Charts
Please leave questions or comments in the comments section below;