When trading the Forex market you will be making trade entries using 'lots'.
A Forex lot refers to the amount or quantity you are looking to buy or sell of a particular Forex pair.
There are different lot quantities and in this guide we look at the different lot amounts and how to use them to make trades.
What is a Standard, Mini, Micro, and Nano Lot?
The commonly used lot amounts you will need to know are;
Standard Lot – 100,000

Mini Lot – 10,000

Micro Lot – 1,000

Nano Lot – 100
When entering using one standard lot you are buying or selling 100,000 of the particular Forex pair you are trading.
When using a micro lot you are buying or selling 1,000 of the particular Forex pair you are trading.
An example of using one standard lot to make an entry is as follows, if you are looking to trade the Forex pair ABC/XYZ you could open an order for one standard lot. That would mean you are looking to trade 100,000.
If you were looking to open a trade worth 60,000, then you could use six mini lots; 6 x 10,000 = 60,000.
Using the different lots and entering the correct order amounts is quite easy with your broker as they will normally ask you the amount you want to trade. 
This will often be represented in the volume tab. 1.0 normally represents one standard lot and you can customize for your needs. For example, if you are wanting to make a 50,000 trade you could set the volume to 0.50
How to Calculate Your Forex Lot Size for Entry
Calculating your lot size before each trade is crucial.
This can ensure that you don't risk more than you want to in any one trade and that you never risk too much of your account.
Calculating your lot size will also mean you are entering the correct amount for each and every trade as each trade's parameters change i.e, the stop loss.
The Forex School Online calculator can help you calculate the lot size you need to be using before entering. It will also give you your results in units and lots.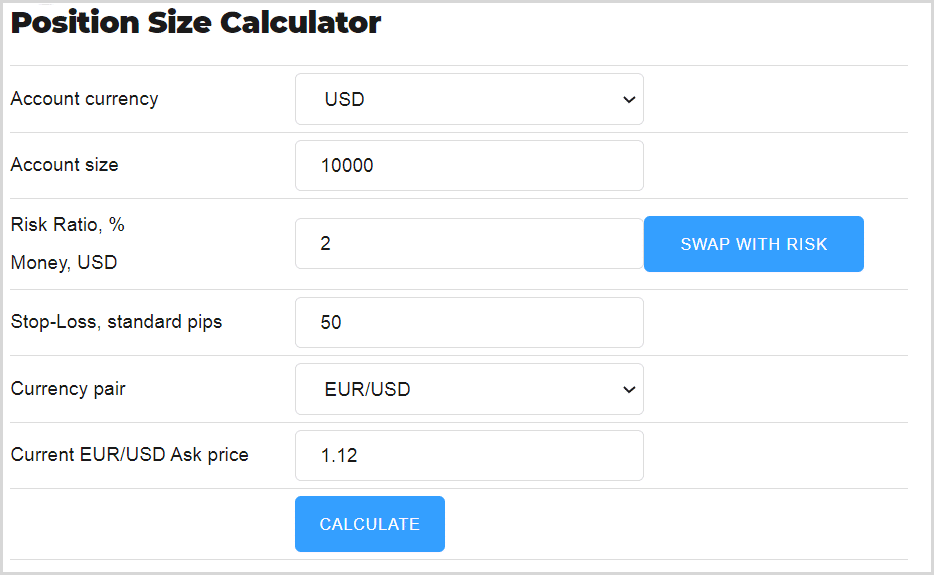 You can also adjust it so you can see the amount of money or the percentage of your account you are risking. You will also then be given the quantity that you need to enter your trade.
You can use the Forex School Online Calculator Here.
How to Use a Lot Size Calculator Indicator
Many traders enjoy having the ability to workout their trade size right in their MT4 or MT5 charts.
One very handy indicator allows you to do just that. It takes all the information already in your account such as your current account size and margin level and allows you to find your lot size.
This indicator is very useful because unlike many lot size calculators you can use it on any Forex pair or instrument you are trading.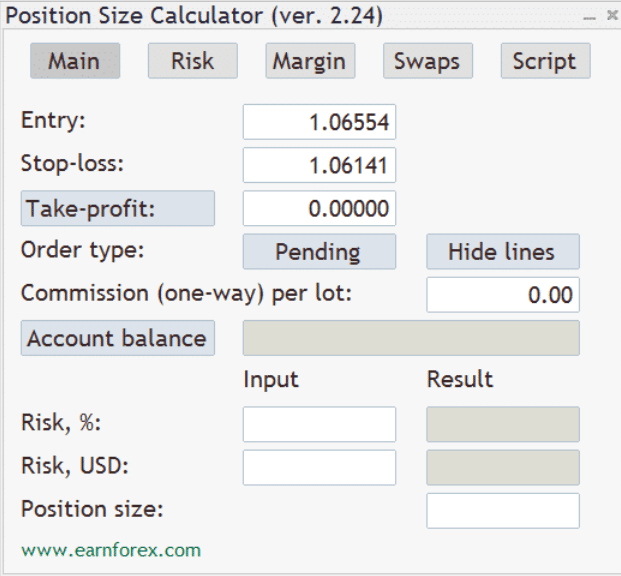 You can drag and drop your stop loss orders right on your chart and this will then update the calculation allowing you to see potential risk and also reward.
You can read more about the MT4 / MT5 Position Size Indicator Here