The MetaTrader 4 is the most used trading platform by forex traders globally. Due to its popularity, a large percentage of brokers offer the trading platform. With virtually hundreds of brokers offering the MT4 platform, finding the best ones remain a challenge.
In this guide, we'll help you choose the best MT4 forex brokers currently available to you.
4 Provider that match your filters Providers that match your filters
Compare Forex Brokers Fees:
Use our side-by-side comparison table to compare Forex broker accounts, spreads and fees.

Regulation
CYSEC
ASIC
CBFSAI
BVIFSC
FSCA
FSA
FFAJ
ADGM
FRSA
Conversion Fee
Variablespips
1.3pips
N/A
N/A
Additional characteristics
Top 5 MT4 Brokers 2022
The top MT4 brokers were chosen after an insightful research by our team to present you with the best available options.
Forex.com – Best MT4 Broker for U.S Traders
Forex.com is one of the leading MT4 brokers in the United States. It offers various platforms, including the MT4 to its traders. The users of forex.com benefit from the reliability of the platform, ultra-tight spreads, exceptional trade executions, and unique trader tools. The MT4 platform on Forex.com grants users accesses to fully integrated Reuters news, AutoChartist, research analysis, account management tools, and Trading Central analysis. The MT4 platform is available on various operating systems, including Windows, iOS, macOS, and Android.
Unlike the other platforms, the MT4 platform on forex.com access to real-time account data, with no third-party bridges and no syncs. The EA optimized environment, free VPS hosting, and mobile solutions are some of the other features that make the MT4 an exciting on forex.com

Pros:
Optimized to support all Expert Advisors (EAs)
Easy to integrate trading robots
Free VPS hosting service available
Receive up to 18% cashback on charges
One-on-one customer support
Available on mobile devices
Cons:
Limited product portfolio
High stock CFD fees
Forex.com fees
| | |
| --- | --- |
| Type of fees | amount charged |
| Deposit fees | free |
| Withdrawal fee | $25 for local and $40 for international |
| Conversion fees | Based on transaction |
| Inactivity fee | $15/month |
Your capital is at risk.
Pepperstone – Best International MT4 Platform
The MT4 platform on Pepperstone is designed to give traders a competitive edge in the trading market. The platform comes with various features like live quotes, real-time charts, in-depth news and analytics, several order management tools, indicators, and EAs. The MT4 platform on Pepperstone is available to users on various operating systems, including Mac, Windows, mobile, tablet, and WebTrader. Pepperstone is a highly regulated platform in Australia and provides services to clients in all parts of the world
The other features of MT4 available on Pepperstone include; customizing the platform to suit your trading style, develop and operate your EAs with the help of MetaQuotes Language 4 (MQL4), use the Autochartist to identify statistically significant market movements, and gain access to 28 indicators and EAs via the Smart Trader Tools.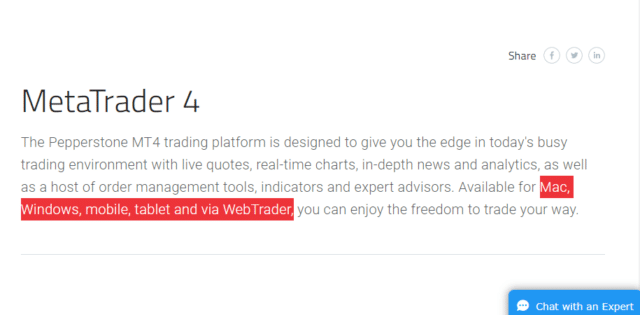 Pros:
Real-time quotes and other features
Available on multiple OS
Ability to run EAs on MetaQuotes
28 indicators and EAs
Platform customization
Cons:
Basic news flow, no fundamental analysis
Pepperstone fees
| | |
| --- | --- |
| Type of fees | amount charged |
| Deposit fees | free |
| Withdrawal fee | free |
| Conversion fees | $3.50 per $100,000 bought |
| Inactivity fee | None |
Your capital is at risk.
IG Markets – Most Accurate MT4 Platform
IG Markets is one of the leading brokers in the world that offer the MetaTrader 4 platform to its users. The MT4 platform on IG Markets gives traders access to a broad range of tools and features to help them conduct trading analysis and customize their trading experience. With the MT4 tools, traders can easily build and use trading algorithms that can automate the trading process. The server uptime on IG Markets' MT4 platform is 99%, which means that access to the platform is always available for the traders. Traders can also create the MT4 demo account on IG Markets
In addition to the MT4 indicators offered by IG, traders will have access to 12 of the most widely used MT4 add-ons. These add-ons make it possible to customize the MT4 platform to better suit your individual trading style. Each MT4 add-on has a specific purpose and you can combine a few of them to implement the ideal strategy you wish to deploy.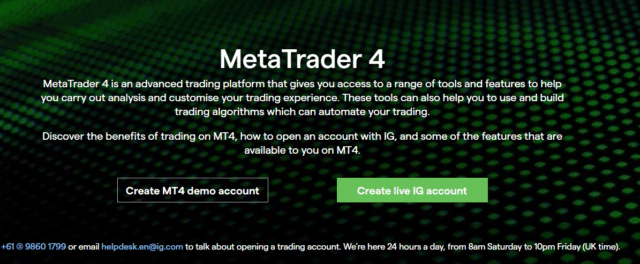 Pros:
Offers numerous trading indicators
Automated trading features
Customizable charts
Minimum spreads on the MT4 platform
IG Markets fees
| | |
| --- | --- |
| Type of fees | Amount charged |
| Deposit fees | 1% for Visa and 0.5% for MasterCard |
| Withdrawal fees | $15 for wire withdrawals |
| Conversion fees | 0.5% |
| Inactivity fees | $12 per month |
Your capital is at risk.
FXPro – Most Advanced MT4 Broker
FX Pro has been one of the leading international brokerage companies for a while now. The broker offers a high-end MT4 platform that combines an intuitive user interface with a customizable feature-rich environment. The MT4 platform on FX Pro provides a trader with everything they need to chart assets, place orders, and manage their investment portfolio. Users also get to enjoy advanced trading infrastructure, competitive pricing, and swift order execution.
The MT4 platform on FXPro is designed to enable a smooth and efficient trading experience. Traders who use it will gain access to three different chart types, nine time frames, fifty technical indicators and a fully customizable interface. Other features of the FXPro MT4 platform include competitive pricing, with no dealing desk intervention, and an advanced trading infrastructure.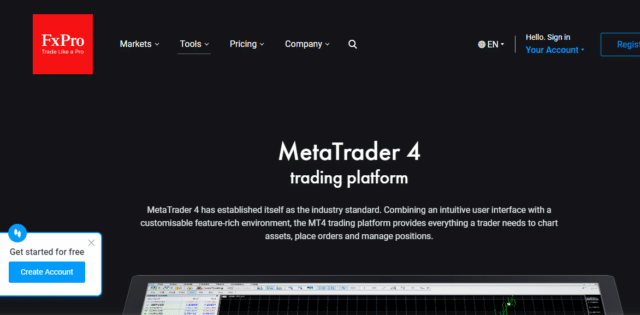 Pros:
Smooth and effective trading experience
Intuitive user interface
Numerous charting indicators
Swift order execution
Micro lots available
Cons:
No in-depth research tool
FXPro fees
| | |
| --- | --- |
| Type of fees | Amount charged |
| Deposit fees | free |
| Withdrawal fees | free |
| Conversion fees | Based on Tomorrow Next Deposit Rates(TNDR) |
| Inactivity fees | None |
Your capital is at risk.
Admiral Markets- MT4 Broker for Beginners
Admiral Markets has been a top-notch broker for 19 years and offers an excellent MT4 platform. The platform allows traders to use advanced charting and analysis tools to trade the financial markets. Thanks to this platform, traders gain access to advanced trading operations in a fast, secure, and reliable environment.
MetaTrader 4 on Admiral Markets offers traders access to advanced trading operations in a fast, secure and reliable environment. The other features of the MT4 on Admiral Markets include; flexibility, security, fast and responsive, multi-language support, automated trading, advanced charting capabilities, and customization options.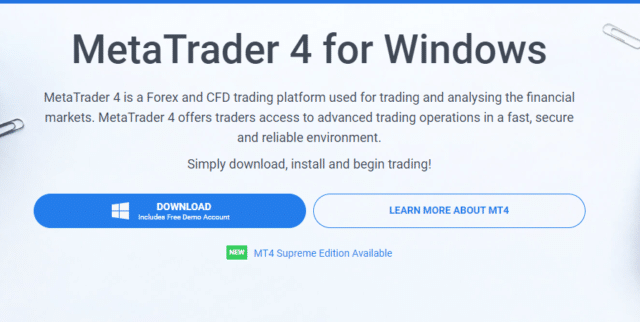 Pros:
Multi-language support
Intuitive trading platform
Automated trading and full customization
Advanced charting capabilities
Fast and responsive order executio
Cons:
High minimum deposit
No fixed spread accounts
Admiral Market fees
| | |
| --- | --- |
| Type of fees | Amount charged |
| Deposit fees | Free |
| Withdrawal fees | Free |
| Conversion fees | 1% |
| Inactivity fees | 10 EUR per month |
Your capital is at risk.
How to Choose a Good MT4 Broker
Most brokers offer the MT4 platform. Hence, you have to look at the services they offer.
Customer service
The best brokers usually have a top-notch customer support team. Their customer support is available all trading days of the week, providing solutions to traders and answering any of their questions. The platforms that offer multi-language support are better, especially for international clients.
Liquidity
The liquidity level of a broker should also be considered. It is best to go with brokers that trade hundreds of millions or billions per day. The high liquidity makes it easy to deposit and withdraw funds on the platforms with ease.
Trading pairs
To enjoy the MT4 platform, you need a broker that offers numerous trading pairs. They are not limited to only the major trading pairs, making it possible for traders to access a broader market and increased the chances of making money.
Regulatory stance
For the safety of your funds and personal information, choosing an MT4 broker that is regulated by regulatory agencies is a plus. The regulated brokers provide services within the purview of the law and take the necessary steps to ensure the safety of your money and other personal data.
Demo MT4 Account
The leading MT4 brokers offer MT4 demo accounts for their users. This allows the traders to test and learn how the MT4 platform works, and the various features it offers.
How to Open an MT4 Account
Opening an MT4 account is a simple process. Follow these steps to open your MT4 account:
Visit your broker's site and access the account section. If you don't have an account with them, start by opening one.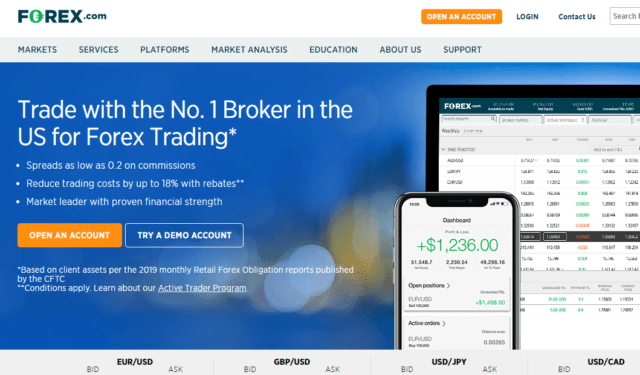 Go to the live trading section and select the MetaTrader 4 platform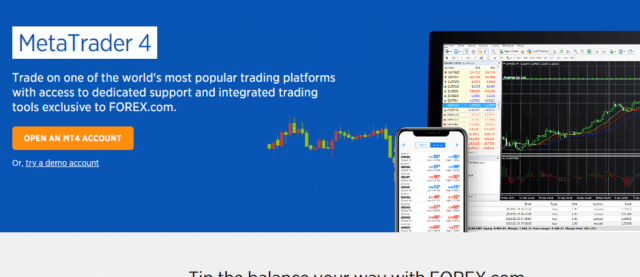 Provide the necessary information and your account type
After completing these steps, your broker will confirm your registration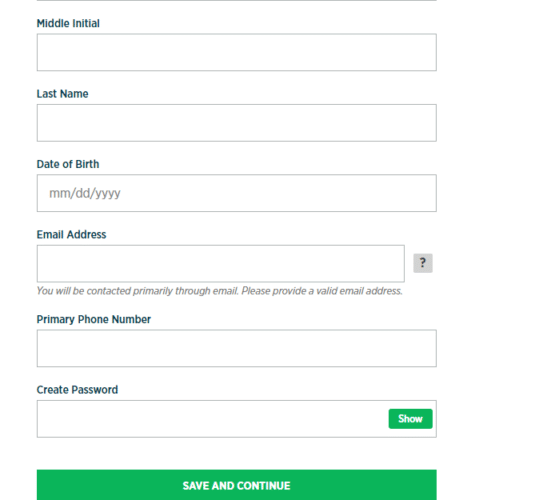 Download the MT4 platform on your preferred device. It could be on your computer or mobile device.
Fund your MT4 account and start trading the assets available. You also have the option of a demo MT4 account available to help you navigate the platform before you start trading with real money.
Why MT4 is the best and most widely used
The MT4 is the most used trading platform in the forex space because of its various features. It is deployed by hundreds of brokers and used by thousands of traders around the world. It offers traders a safe and secure trading environment. It is popular because of the following reasons:
User-Friendly Interface
The interface of the MT4 trading platform is designed excellently, enabling traders to trade the dynamic foreign exchange market with little stress. Regardless of the trading experience, the MT4 is an excellent platform that satisfies the requirements of both experienced and newbie traders.
Advanced Charting Package
The charting tools are the key to properly analyzing the forex market and its price movement. Using the MT4 platform's advanced charting package, traders can easily analyze and trade the market with ease. The charting package also provides other technical indicators that traders can use for their price charts.
Support Multiple Languages
The MT4 platform is widely used because it supports over a dozen languages. Thus, effectively making it useful to traders all over the world as they have no difficulties in operating the platform.
Expert Advisors (EAs)
One of the best features of the MT4 is the ability to support auto trading via the use of expert advisors. The expert advisors are software scripts written with the MQL 4 language and can be integrated into the MT4 platform to execute trades automatically. The trades are executed based on the pre-established parameters set by the trader. The MT4 is popular because of this feature.
Low Resources platform
The MT4 is an excellent platform because it is not heavy on computer resources, which means that they won't disrupt your computer's activities. Traders can easily respond to changes in the market better due to its low resource usage.
In-built Communication Tool
The MT4 comes with an advanced communication tool, allowing forex brokers to send messages to traders in real-time.
Highly Secured
The MT4 has become a trader-favorite because of the tough security it provides to traders, ensuring the safety of their personal data and information. The 128-bit security key of the MT4 ensures that traders' a highly secure trading environment that is free from attacks from hackers.
Highly Customizable
The MT4 platform is highly customizable, allowing traders to change the looks of the trading screens to match their individual preferences.
FAQs
How do I insert a chart indicator on my MT4?
To do that, go to the insert section on your platform and select indicators. Choose the indicator you wish to insert.
Which time zone is MT4?
The platform time zone is set at GMT+2 during Normal Time or GMT+3 during Daylight Saving Time (Greenwich Mean Time).
How can I change user language in MT4?
To change the user language, click on View, select Languages, and choose the preferred language. Restart your software, and the user language will automatically load to the new one.
How do I access my MT4 account?
To login to your MT4 account, access your broker's site, and sign in. Navigate to the platform section and choose the MT4. Proceed to login to your account using the approved credentials. You can start trading the forex assets immediately you log in to your MT4 account.
A comparison of the best demo account forex brokers
| | | | | | |
| --- | --- | --- | --- | --- | --- |
|   | Forex.com | Pepperstone | IG Markets | FXPro | Admiral Markets |
| Features | | | | | |
| Demo account | Yes | Yes | Yes | Yes | Yes |
| 24/7 customer support | Yes | Yes | Yes | No | No |
| Mobile app | Yes | Yes | Yes | Yes | Yes |
| Charting tools | Yes | Yes | Yes | Yes | Yes |
| Real-time quotes | Yes | Yes | Yes | Yes | Yes |
| Price alerts | Yes | Yes | Yes | Yes | Yes |
| Numerous markets | Yes | Yes | Yes | Yes | Yes |
| Social trading | No | No | Yes | No | No |
| Copy-trading | No | Yes | Yes | Yes | No |
| Free deposit and withdrawal | Yes | Yes | No | Yes | Yes |