STP brokers have become popular in the forex trading space due to the need for traders to have their orders processed instantly. However, with several brokers now operating as STP providers, it is a challenge for traders to determine the best ones.
In this article, we review some of the best STP brokers and what they have to offer to traders.
3 Provider that match your filters Providers that match your filters
Funding Methods
Regulated by
CYSECASICCBFSAIBVIFSCFSCAFSAFFAJADGMFRSA
71% of retail investor accounts lose money when trading CFDs with this provider.
Funding Methods
Regulated by
CYSECCFTCNFA
CFDs are complex instruments and come with a high risk of losing money rapidly due to leverage. 79% of retail investor accounts lose money when trading CFDs with this provider. You should consider whether you understand how CFDs work and whether you can afford to take the high risk of losing your money.
Funding Methods
Trading leveraged products such as CFDs involves substantial risk of loss and may not be suitable for all investors. 83% of retail investor accounts lose money when trading CFDs with this provider. Trading such products is risky and you may lose all of your invested capital.
Compare Forex Brokers Fees:
Use our side-by-side comparison table to compare Forex broker accounts, spreads and fees.

Regulation
CYSEC
ASIC
CBFSAI
BVIFSC
FSCA
FSA
FFAJ
ADGM
FRSA
Additional characteristics
Top 5 STP Brokers 2022
The leading STP brokers were chosen after an in-depth research from our team to enable us to present you with the vest options available.
Pepperstone – Australia's finest STP broker
Pepperstone is one of the best STP brokers in the world. Founded in 2010, Pepperstone is one of the best brokers based in Australia, but it offers its services to traders all over the world. Traders on the platform get access to multiple liquidity providers and external pricing sources, allowing them to get the best prices and competitive, low spreads when they trade forex and other financial assets. The deep liquidity ensures that the traders also enjoy low spreads, with as much as 0.0 pips on Razor accounts.
Since Pepperstone is an STP broker, it doesn't hedge each and every position with its external liquidity providers since they want to provide the traders with a better product by giving them price certainty and speed.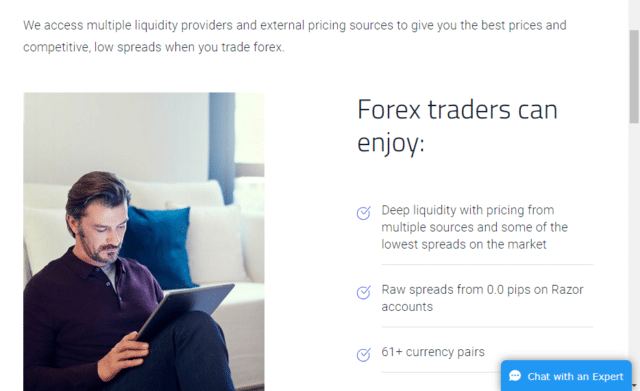 Pepperstone fees
| | |
| --- | --- |
| Type of fees | amount charged |
| Deposit fees | free |
| Withdrawal fee | free |
| Conversion fees | $3.50 per $100,000 bought |
| Inactivity fee | None |
Your capital is at risk.
Trading 212- Leading International STP broker
Trading212 is a London-based broker that offers people access to the forex and other financial markets. Similar to the other brokers on this list, Trading 212 offers users deep liquidity as they work with several financial institutions. The deep liquidity pool ensures that traders on this platform enjoy best market prices and low spreads.
As an STP broker, Trading 212 has competitive fees and offers some of the tightest spreads in the forex trading sector. This broker offers access to numerous markets with virtually all the trading instruments being commission-free. It even has zero spread trading on certain currency pairs from one account per customer.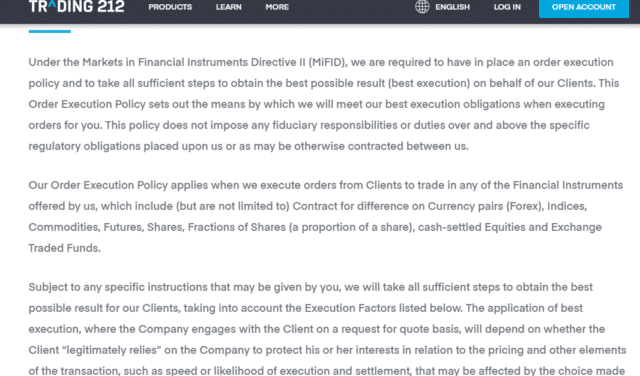 Trading 212 fees
| | |
| --- | --- |
| Type of fees | Amount charged |
| Deposit fees | Free |
| Withdrawal fees | Free |
| Conversion fees | Free |
| Inactivity fees | None |
Your capital is at risk.
FXCM- Leading STP broker in Africa
This South African broker is one of the leading STP brokers in Africa and, in fact, the world. FXCM is committed to offering traders competitive spreads and Enhanced Execution, with zero re-quotes. Nearly all the orders executed on FXCM are executed at the requested price or better. As an STP broker, FXCM works with some of the leading financial institutions in the world, such as Barclays Bank, Citibank, Citadel Securities, Deutsche Bank AG, Morgan Stanley & Co., XTX Markets Limited, FASTMATCH, UBS AG, and more. Partnering with these financial institutions boosts the liquidity availability on FXCM and allows traders to get the best possible pricing for the assets.
The social trading service offered by FXCM makes its STP brokerage function even more important for traders. Via the social trading features, FXCM traders can easily enhance their chances of becoming profitable, and getting the best market prices and low spreads makes it even better.

FXCM fees
| | |
| --- | --- |
| Type of fees | Amount charged |
| Deposit fees | Free |
| Withdrawal fees | Free |
| Conversion fees | – |
| Inactivity fees | $50 per year |
Your capital is at risk.
Forex.com – Best U.S STP broker
For traders in the United States, Forex.com is one of the best STP brokers available to you. The broker offers an STP Pro account for traders who wish to enjoy deep liquidity and the control to leverage rapid price opportunities. They allow traders to trade on prices obtained from global banks and top tier liquidity providers with zero mark-ups. Traders can also view multiple levels of real-time pricing when trading with an STP account, and they also get to enjoy spread splitting services.
Traders are usually attracted to this forex STP broker because of the availability of fixed spreads. Other features that lure traders to this broker include a low minimum deposit of $50 to start trading in over 90 forex currency pairs, with all of their starting spreads from 0.1 pips.
Forex.com fees
| | |
| --- | --- |
| Type of fees | amount charged |
| Deposit fees | free |
| Withdrawal fee | $25 for local and $40 for international |
| Conversion fees | Based on transaction |
| Inactivity fee | $15/month |
Your capital is at risk.
Who is an STP Broker? And how do they work?
An STP broker or straight-through process broker is a forex broker that passes a client's orders directly to its liquidity providers. Liquidity providers may include institutions such as banks, hedge funds, or investment corporations. A key feature of the STP broker is that it doesn't process traders' orders via a deal desk. Thus, ensuring that all orders are processed instantly and without delays.
Once the orders are routed directly to the liquidity providers, they, in turn, have access to the interbank market. Most of the time, STP brokers have numerous liquidity providers, with each of them quoting its bid and ask price.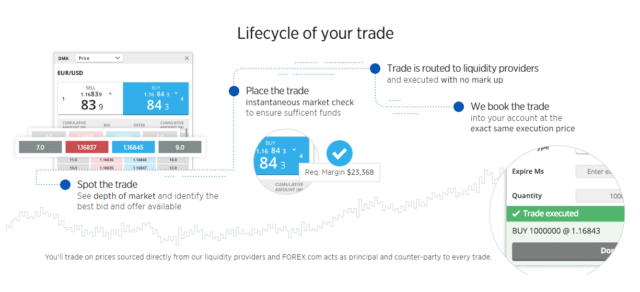 For instance, if an STP broker has four different liquidity providers, they will see the four different pairs of the bid and ask quotes, each one for a liquidity provider. The broker's system will sort the bid and ask quotes, starting from the best to the worst. The broker will go-ahead to add a small price to the quotes of each liquidity provider. The pip they added to the quotes would serve as their compensation for sourcing the liquidity and quotes for the traders. Thus, after a trader places an order to purchase a certain unit of a trading pair, the broker sends the order to the liquidity provider. Once the order is acknowledged, the liquidity provider will see the units at their original quotes while the broker will keep the remaining pip as their revenue.
The changing bid and ask quotes is the reason why STP brokers usually have variable spreads. When the spreads of their liquidity providers increases, the STP brokers have no choice but to widen their spreads also.
Although some STP brokers offer fixed spreads, most of them offer variable spreads.
What to consider when choosing an STP broker
Commissions and fees
Before choosing an STP broker, ensure that they are transparent with their fees and commissions. The leading STP brokers offer competitive fees and commissions when trading CFDs on their platforms. Some of them don't charge a dime for depositing and withdrawing your funds with them. Regardless, make sure that the broker doesn't have any hidden fees or extra commissions for its services.
24/7 customer support
Customer service is crucial when dealing with STP brokers. When trading or investing in financial assets, customer service should be readily available. Some of the customer services to be offered include assisting the trader in making correct and cost-effective use of the trading platform. Choose a broker that offers round the clock services like upgrading, troubleshooting, cancelation of service, and more. Also, STP brokers that allow users to contact them via various channels are better. If they offer multi-lingual customer service, then it is an added advantage for the traders.
Funding and withdrawal methods
When dealing with an STP broker, having numerous funding and withdrawal methods makes it more convenient for you. The best brokers offer numerous payment methods, including bank transfer, credit/debit cards, PayPal, and some other electronic wallets. Regardless of your payment preference, you will have a method that suits your needs.
Global platforms
When we say global platforms, we mean brokers that are at the forefront of innovation and are regarded as the industry leaders. The leading STP brokers usually segregate customer funds from that of the company. This way, customer funds remain safe and secure at all times. They also offer access to hundreds of financial instruments. Thus, you can trade forex, stocks, commodities, and a wide range of other assets on those platforms.
By leading the way, these brokers usually offer both web and mobile trading solutions. Clients can gain easy access to the markets when using any of the trading platforms made available by trading. Swift order execution and other features are also excellent things to consider in an STP broker.
Regulated and trusted
While it is not a necessity, it is recommended to choose a regulated STP broker. They have a good track record/longevity in the market, which means they are always concerned about making the traders happy and rolling out features to support them.
The regulated brokers operate within the purview of the law. They segregate customer funds, are covered by insurance, and have tight security measures to protect customer money and their personal data.
Comprehensive trader resources
Ensure that your STP broker offers comprehensive trading resources like education and risk management tools, trading analysis, economic calendar, market news, and more. It is best to choose a broker that offers several resources that would make the trading process easier for you.
Reasons why traders choose an STP broker
Brokers aren't the only ones that enjoy the straight-through processing systems. The STP trading model also offers numerous advantages for traders. Here are the major benefits of trading with an STP broker.
No conflict of interest: STP brokers don't operate like market makers, which means they don't have to resort to taking the opposite position against their clients. STP brokers don't benefit from the losses of their customers. Rather, they generate revenue via the small commissions (mark-up) they charge per trade.
Anonymity: STP trading requires a higher level of anonymity since it directly connects the traders with the liquidity providers the brokers' partner with. This gives customers instant and access to more liquidity and better interbank rates. This is a good thing, especially for scalpers who don't have to deal with issues like re-quotes and slippage.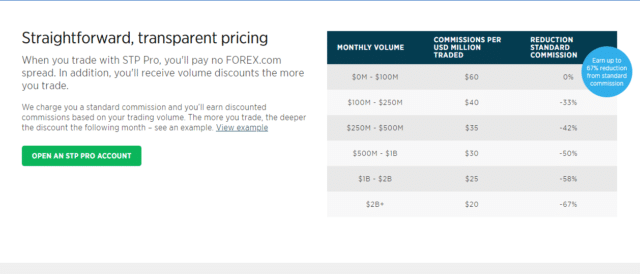 Good for new traders: new traders benefit from STP trading because they don't have to go through the challenges of a market maker increasing rates after an important news release, which might lead to the orders of some customers being rejected.
Wider access to the market: STP brokers provide forex traders with wider access to the markets. Brokers that use this model aggregate prices from multiple liquidity providers. This leads to more transparency, better trade execution, and an increase in competitive pricing for the traders.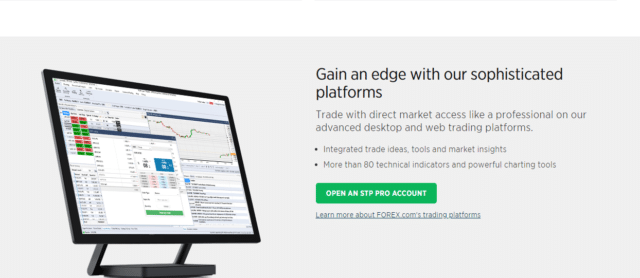 Faster order execution: with STP trading, orders are executed faster since they are not processed via a dealing desk. The trading process is handled automatically by the system, which does away with delays and the need to carry out re-quotes.
FAQs
Do I get the best pricing when trading with an STP broker?
Yes, you do. The STP brokers partner with several liquidity providers who provide various prices. The trader is given access to the pricing by various financial institutions, allowing them to choose the best amongst them.
Are STP brokers faster?
Yes, they are. Since they route a trader's order directly to the liquidity providers, they don't waste time in handling anything by themselves. Thus, ensuring faster order execution.
Do I get prices in real-time?
STP brokers display the prices of the assets in real-time to the traders, giving them the option to choose and trade with those prices instantly.
A comparison of the best STP brokers
| | | | | | |
| --- | --- | --- | --- | --- | --- |
|   | | Pepperstone | Trading 212 | FXCM | Forex.com |
| Feature | | | | | |
| 24/7 customer support | | Yes | Yes | No | Yes |
| Mobile app | | Yes | Yes | Yes | Yes |
| Charting tools | | Yes | Yes | Yes | Yes |
| Various markets | | Yes | Yes | Yes | Yes |
| Free deposit and withdrawals | | Yes | Yes | Yes | No |
| Price alerts | | Yes | Yes | Yes | Yes |
| Real-time quotes | | Yes | Yes | Yes | Yes |
| Copy-trading | | Yes | Yes | Yes | Yes |
| Social trading | | No | Yes | Yes | No |