Arbitrum Price Forecast: September 14
ARBUSD's price is currently running a bullish race and remains stable at the moment. The price is going up and an opportunity for the coin buyers to invest. Hence, the coin price will move higher above the current resistance level, provided buyers don't give up and increase their momentum pressure in the market. The coin might increase to a $1.300 high level and beyond, resulting in an intraday gain for interested traders.

Key Levels:
Resistance Levels: $1.050, $1.100, $1.150
Support Levels: $0.800, $0.700, $0.600

ARBUSD Long-term Trend: Bearish (4H Chart)
ARBUSD has a bearish posture trading below the moving averages in its long-term outlook, which means that it's in a bearish trend zone. However, the crypto may increase to a $1.300 supply value as the bulls are about to take over and push us higher.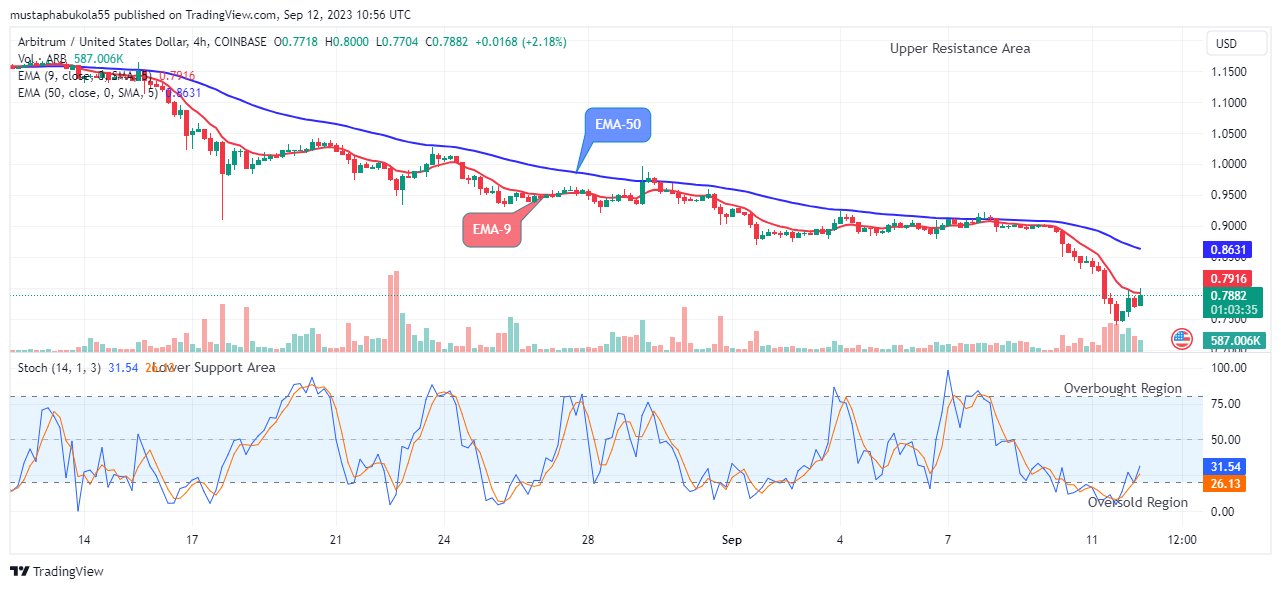 The coin made it to the $0.763 high level during the previous action and has made the price remain in green ready for a bullish action in recent times.

Buyers made an aggressive move up to the $0.800 resistance level below the EMAs shortly after the 4-hourly chart opened today. This level is critical for the resumption of the uptrend and, therefore, must be defended at all costs.

Thus, if the long-term traders could add more aggression to their buying motives, the price of Arbitrum might rise to retest the high accumulation zone of $1.165 level leading to a strong buy signal for interested traders.

Hence, there is a tendency for the coin to rise further, if the support level holds, this will enable buyers to increase the price up to a high of $1.300 soon in its long-term perspective.

ARBUSD Short-term Trend: Bullish (1H chart)
ARBUSD is showing a more bullish impact in its lower time frame. The bulls have the market at their disposal at the moment and this might increase to the $1.300 supply mark.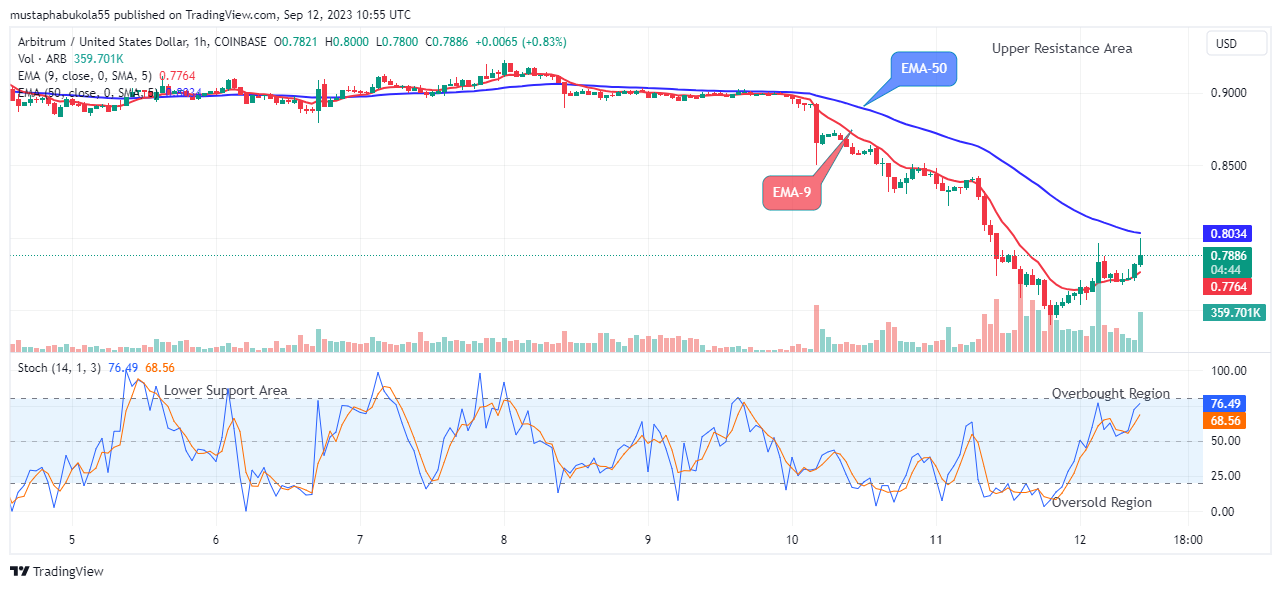 The bulls' pressure on the coin to the $0.762 supply value during the past session has sustained the coin price above the resistance trend levels in its recent price level.

The current price of Arbitrum at a $0.800 high level above the EMA-9 as the 1-hourly session opens today indicates an uptrend in the context of the strength of the market. This however makes it possible for the coin to rise further and also gives room for a more bullish impact in the market at the moment.

Thus, a sharp breakout and closure above the current correction phase at a $0.800 high value will invalidate any bearish thesis and focus on the ultimate breakout to the overhead resistance territory.

Additionally, the price of ARBUSD indicates an uptrend; therefore, if the bulls should add more aggression to their activities in the market, the $1.300 resistance level might be reached soon in its lower time frame.

Place winning Arbitrum trades with us. Get ARB here