Bitcoin (BTCUSD) Price Forecast: March 27
The BTCUSD pair now trades at the upper resistance area at the $27818.78 level and remains a buy signal for the coin holders. The cryptocurrency might continue in that direction if the bulls could add more effort and the price closes above the current price, the coin might further extend to a $30000.00 upper resistance value and beyond.

Key Levels:
Resistance Levels: $25000.00 $26000.00, $27000.00
Support Levels: $20000.00, $19000.00, $18000.00

BTC (USD) Long-term Trend: Bullish (Daily Chart)
BTCUSD remains bullish on the higher time frames. This is clear as we can see the prices trading at the upper resistance area indicating a strong bullish trend. However, the recent market has favored the bulls.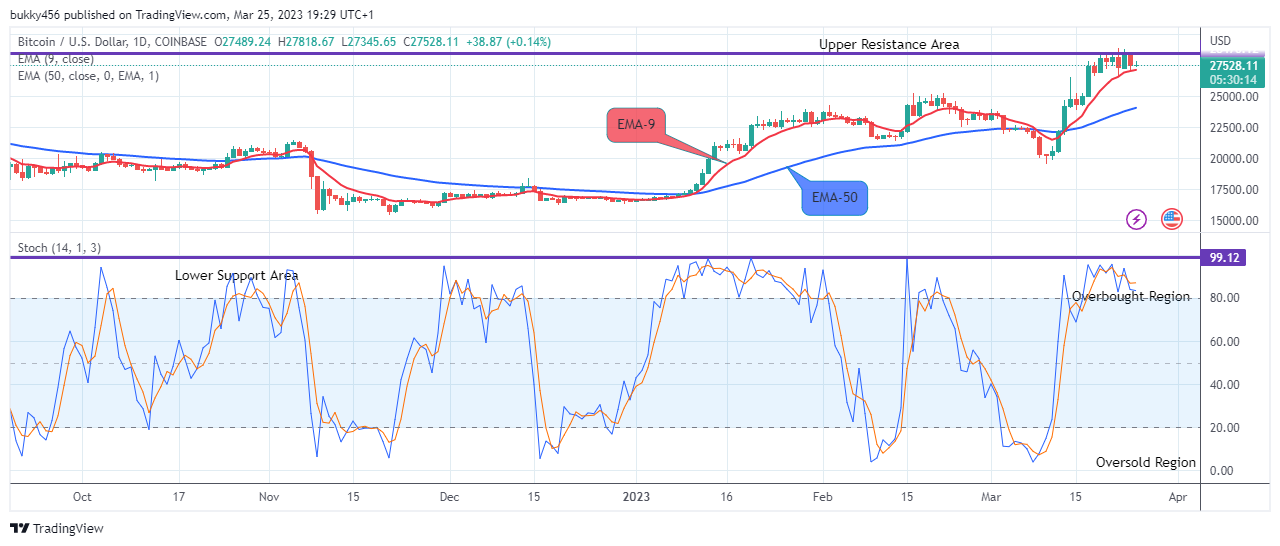 The drop in the coin price to the $27027.88 low value during yesterday's session has no serious effect on the market as the price remains in an uptrend in its recent high.

The coin price finds a reliable resistance at around $27818.67 level above the two EMAs, resulting in intraday gains. Hence, staying above the resistance trend lines indicates a strong possibility for a bullish correction.

The Bitcoin market however shows the continuation of bullish sentiment. After testing the lows of $27027.88 in the previous action, sellers look exhausted while the price of BTCUSD remains above the $27345.65 value as the price continues to sustain an upward move as indicated by the momentum indicator. But the downside risk remained uncertain. Thus, the next bulls' target might be the $30000.00 high level in the days ahead in its long-term outlook.

BTC (USD) Medium-term Trend: Bullish (4H Chart)
Despite the interference of short-term traders in the price flow, the medium-term time frame market shows a bullish race. The price of BTCUSD can be seen above the EMA-50. This shows that buyers are currently gaining more strength in the market.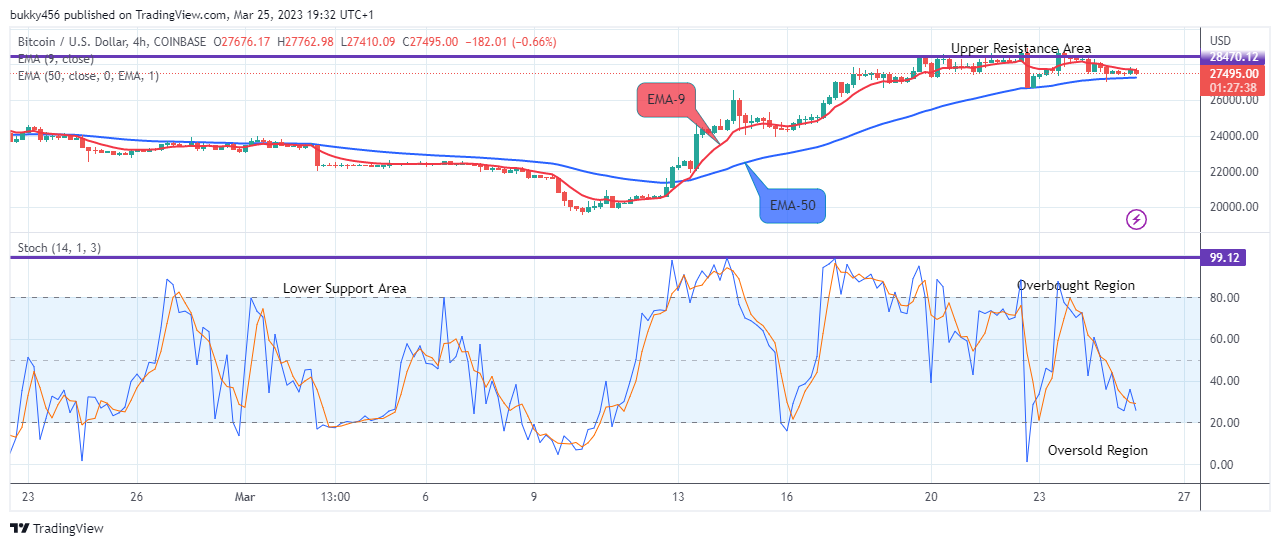 However, the previous action at the $28299.99 high level during the last session has really sustained the coin price to remain above the trend line.

The price drop to the $27410.09 support value above the EMA-9 as the 4-hourly session resumes today has not stale the market. Traders can also invest in the coin at this level and make more gains as the crypto remains in an uptrend.

Additionally, the daily stochastic now approaches the oversold region of the daily stochastic. This means that the selling pressure will soon be hibernated. If this is attained, the coin buyers might push the price of Bitcoin further to the $30000.00 supply trend line in the days ahead in its medium-term time frame.

Buy Bitcoin on eToro