The D2T/USD market has been consolidating within the $0.005 price range for a period. A sudden influx of traders into the bear market prompted a move closer to the $0.0040 price level. Initially, the market encountered resistance around the $0.0046 price point, but this support ultimately succumbed to bearish pressure. However, at the $0.0040 price level, there is potential for a rebound.
Key Levels
Resistance: $0.010, $0.011, and $0.012.
Support: $0.005, $0.004, and $0.003.
Dash 2 Trade (D2T/USD) Price Analysis: The Indicators' Point of View
In the current D2T/USD market scenario, we find ourselves at the year's lowest point, which presents a favorable opportunity for investors seeking optimal value for their investments. This is an opportune time to consider buying into the market.
Upon examining key indicators, the market demonstrates a notable presence in the oversold region, aligning with expectations of a bullish reversal. The Bollinger Bands signal a bull market pushing through prior bearish resistance, while the Relative Strength Index (RSI) indicates a recovery from oversold conditions. Additionally, the Moving Average Convergence and Divergence (MACD) indicator reveals a shift with negative histograms fading and heights diminishing, all indicative of an ongoing bullish recovery.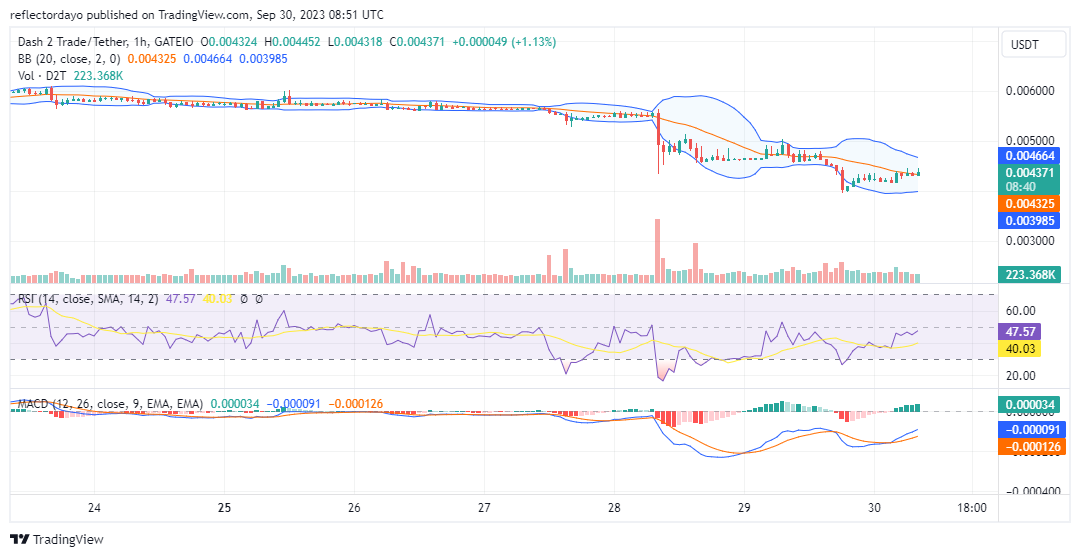 D2T/USD Short-Term Outlook: 1-Hour Chart
In the 1-hour timeframe, the market currently appears to be in a state of equilibrium. The D2T/USD price action has aligned closely with the 20-day moving average, while the Bollinger Bands indicator indicates convergence within this market dynamic. This suggests the potential for an upward price breakout in the near term, although it's important to note that the market may encounter resistance from prevailing bearish sentiment, as evidenced by the recent appearance of an inverted hammer candlestick on the chart, which suggests significant bearish pressure.
With Dash 2 Trade, you have access to helpful and educational commentaries that can keep you on top of your game.
🚀 POV: You're given $1,000 to invest in just one cryptocurrency. 🌐💰

Which coin gets your trust and why?#Bitcoin $BTC#Ethereum $ETH#Cardano $ADA#Solana $SOL#Polkadot $DOT#Ripple $XRP#Chainlink $LINK#Litecoin $LTC#BinanceCoin $BNB#Dogecoin $DOGE pic.twitter.com/azHRicUN9G

— Dash 2 Trade (@dash2_trade) September 28, 2023
Do you want a coin with great potential for enormous returns? Dash 2 Trade (D2T) is that coin. Buy D2T now!