The $0.010 was anticipated to be the Dash 2 Trade buyers' last line of defense, a point at which a price rebound is expected. As a matter of fact, we had a rebound. Bullish activities issuing around the $0.010 price level turned the market upside in today's trading session, but unfortunately, the bearish sentiment behind the trend is still strong, and as a result, bulls could only achieve a lower high. However, the chances of a rebound at the $0.010 price level are still there. Bear market venturing below the key support implies that the market is going into an oversold region. The downtrend is nearing its end.
Key Levels
Resistance: $0.035, $0.040, and $0.045

Support: $0.010, $0.009, and $0.008
Dash 2 Trade (D2TUSD) Price Analysis: The Indicators' Point of View—Market Ventures Beyond the Price Mark
With the continuous appearance of lower highs, it is clear that Dash 2 Trade is having a downtime. However, this is a good time for traders to make a good buy, as they would be buying at a cheaper price. The market has hit the January 29 low. At this point in the market, a new bullish cycle should start. The stochastic RSI, which is a fast indicator and also very useful to spot new trends ahead of other indicators, has nothing to offer other than to support a bearish sentiment, just like the other indicators. However, the stochastic curve is recoiling after a slight venture into the oversold region; therefore, it is possible that the expectation of a price rebound at the $0.010 price level still remains valid.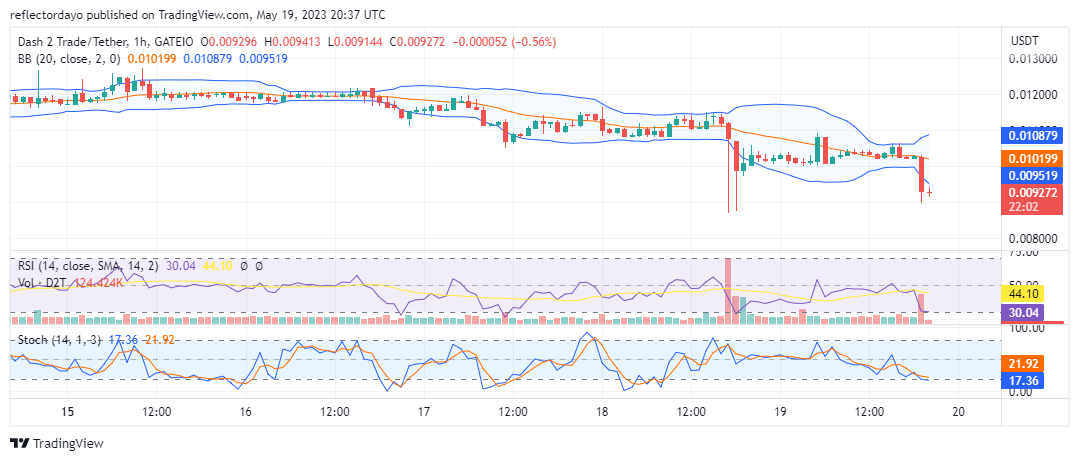 D2T/USD Short-Term Outlook: 1-Hour Chart – A Source of Main Concern
The outlook of the market from a 1-hour point of view arouses a bit of concern as the candlestick representing the current 1-hour session appears as a plus sign doji. This candle suggests an intense tug-of-war in bulls' territory. For the time being, both buyers and sellers could not influence the price. And according to the volume indicator, it reflected low volume. Therefore, the low volume of trade in the market at the moment is a contributing factor.
Dash 2 Trade prepares you ahead of a major trend. With this platform, you will never miss a major event.
5⃣ Get ready for the next phase of the Bull Market! 5/5📈🐂

🔄 Smart Money's strategic moves hint at the start of a new market phase.
💰 #Memecoins may have played a role in accumulating capital for the future.
🔍 Embrace the uncertainty and stay vigilant for upcoming… pic.twitter.com/FMl74lg5n1

— Dash 2 Trade (@dash2_trade) May 19, 2023
Do you want a coin with great potential for enormous returns? Dash 2 Trade (D2T) is that coin. Buy D2T now!