Defi Coin Price Forecast: June 18
DEFCUSD may head towards a $0.1576 high level if the buyers increase their forces in the market, further rise is certain to reach a significant bullish level.
DEFC Price Statistics Data:
DEFC price now: $0.1190
DEFC market cap: $11.303M
DEFC circulating supply: N/A
DEFC total supply: $100.00M
DEFC Coinmarketcap ranking: #4732

Key Levels:
Resistance Levels: $0.1570, $0.1670, $0.1870
Support Levels:    $0.1190, $0.1090, $0.0990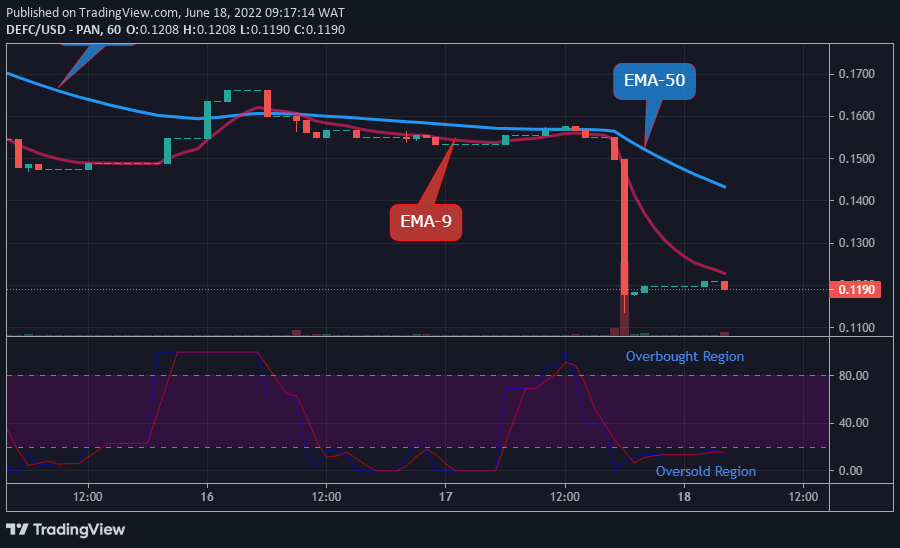 DEFCUSD Long-term Trend: Ranging (1-hour chart)
The coin is in a ranging market in its long-term (1H) outlook. The bulls and the bears are warring with each other.
DeFi Coin price is in consolidation and trading between $0.1576 in the resistance area and at $0.1190 in the support area of the range. A breakout at the upper resistance area or breakdown at the lower support area followed by a retest may occur hence patience is required to allow this to happen before a position is taken.

In case the bulls try to increase their pressure, the resistance level of $0.1576 may be tested which may be a broken upside, and the price increases to $0.1661 and $0.1680 high levels.

The stochastic oscillator also shows that the market price of the coin is oversold, therefore buyers are expected to push the price of DEFCUSD up to $0.1576 and beyond in the latter days of its higher time frame.

DEFCUSD Medium-term Trend: Ranging (15-Minute Chart)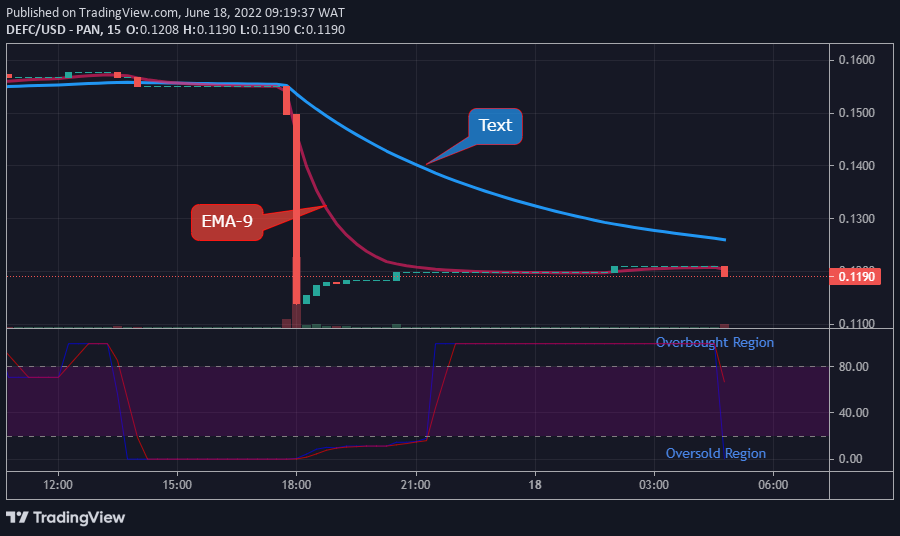 DEFCUSD May likely Retest $0.1576 High Level Soon
The market value of DeFi Coin on the lower time frame (15 minutes) is in a ranging move. The market value of the pair at a $0.1190 low level can be seen below the moving averages.

Meanwhile, the momentum indicator shows that the price is in the oversold region, meaning that a breakout by the bulls is imminent and in no long time the price might likely retest the $0.1576 resistance level in its lower time frame.

You can purchase DeFi Coin here. Buy DEFC