The EURCAD has now moved higher after the 8hr price action chart printed a very clear pin bar reversal. This pin bar was a textbook pin bar that was right down at the swing low and sticking well out and away from all other price, rejecting the key support that was also a major daily support level. The best pin bars as I go through in the trading lesson Where Traders Go Wrong With the Pin Bar Reversal are at swing points or reversals and often stick out like a sore thumb on a price action chart. The best pins stick well away from all other price and are not stuck back in with the rest of the price or the rest of the candlesticks.
The 8hr chart is a great time frame for traders to hunt price action setups on because it is not a fast paced intraday time frame and has a lot of data or time built into it. For traders to play the 8hr chart on their MT4 charts they will need to learn how to change their MT4 time frames with an indicator and traders can do that through this lesson here; Change MT4 Time Frame Indicator EA
Price has now broken higher and confirmed this pin bar, but as I discussed in the 22 Aug 2014 Daily Forex Charts In Focus Post; a lot of Forex pairs are currently experiencing very low volatility. Because of this traders need to be on the ball and ready to pounce when the high probability trades come along so that they can make their profits on the really good trades when they are there to be made, rather than over trading on trades they should not be playing.
When the market does get slow like it is at the moment, it can be a perfect time to practice your trading and take time out to become a better trader, rather than force the market and over trade. Back testing is perfect for this and can speed up a traders learning curve and help a trader when they need to practice away from the markets. You can read about back testing here; How to Use Forex Tester 2 | Complete Back Testing Guide
EURCAD 8hr Chart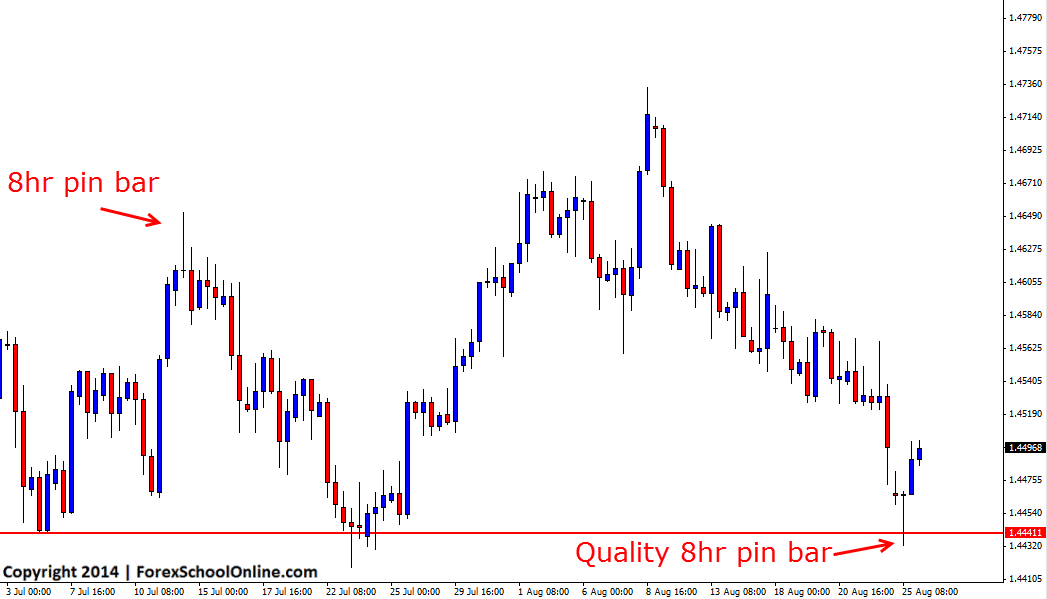 Related Forex Trading Education