How to Use a Lot Size Calculator in MT4 and MT5
We are always on the lookout for tools that will help make trading easier, quicker and more efficient. In this post we look at how you can use a lot size calculator in MT4 and MT5 to quickly calculate the size of your trading position based on the information already in your Metatrader platform.
This free position size calculator will help you quickly work out your position size based on your current account balance, where you set your entry and stop and the price of the currency being traded.
This can be incredibly handy when looking to make a quick trade and you don't want to open a manual position size calculator, go back to your MT4 charts, find prices and then have to enter all the required information.
NOTE: Not sure what position sizing is or how to do it? Checkout the guide at; Forex Money Management Guide
What is the Metatrader Lot Size Calculator
The lot size indicator we are discussing today is from EarnForex. It is free, regularly updated and comes with some incredibly helpful tools.
The main uses and benefits of this MT4 and MT5 indicator are;
– You can use the indicator with all trading instruments and Forex pairs. This is super useful as many position size calculators don't include markets like Gold or stock indices.
– The calculations are simple to use and you can see them directly on your chart with a panel over your MT4 or MT5.
– You can run your calculations and work out risk with either pending orders or market orders.
– The indicator plots stop loss, take profit and entry levels on your chart and you can drag these to show risk and trade size.
– You can use the take profit level to see what your potential risk reward ratio may be on a profitable trade.
– You are given the margin requirements for each position.
– You have a separate tab that shows you information on your rollover costs depending on the pair you are trading.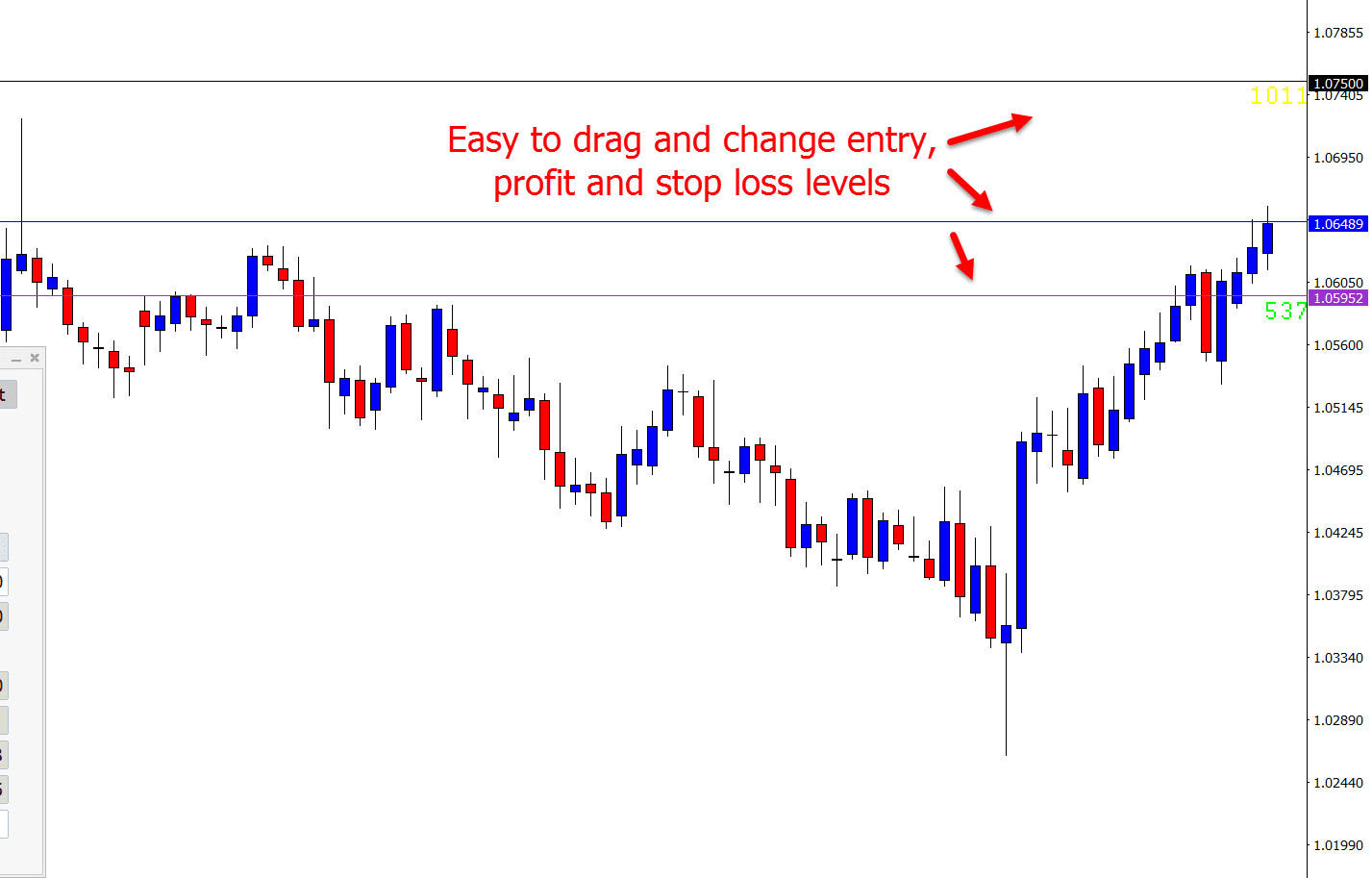 Why Use a Forex Lot Size Calculator?
As with everything we do in trading, the quicker and more efficient we can do it, the better it will be for our trading.
After finding a potential trade entry, there is a heck of a lot to consider and take into account. We are looking at potential stop loss levels, where a suitable profit target could be and other factors like margin and potential trading costs, among other things.
Using a lot size indicator that is already in our trading platform that we can use to quickly weigh up a potential risk reward ratio, the margin required and how large our trade should be is going to help this trading process.
How to Install and Run the Lot Size Calculator in MT4 and MT5
#1: You can download Free New York close MT4 / MT5 charts to use the indicator with here.
#2: If you are not familiar with how to download, install and run indicators, then you can take a moment to read the lesson at; How to Download and Install Indicators
#3: You can download the indicator at;
Download Lot Size Indicator for Metatrader
#4: Once you have installed the indicator and restarted your Metatrader, click into "Insert" >> "Indicators" >> "Custom" to find and add the position size calculator to your chart.
The EarnForex lot size calculator has five main tabs;
– Main
– Risk
– Margin
– Swaps
– Script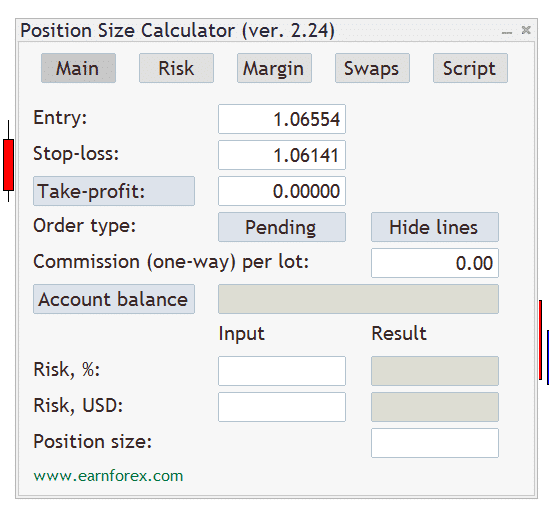 Main
This tab is where you have the major control over most of your calculations. Inside the main tab you can decide if the entry is pending or at market, your stop loss, risk and reward as well as entering commissions.
You will also be shown your account balances along with your trade size calculations.
Risk
This is where you can take a quick look at your account risk profile.
The indicator takes into account your current trading positions, any trades you may be looking to enter and your stop loss levels. You will then be shown your account's current risk level.
Margin
Under the margin tab you will be able to quickly assess your current positions margin and how much margin you currently have remaining for other trades. This is also where you can set your account leverage.
Swaps
This is quite a handy tab especially for traders who might incur overnight rollover costs.
A lot of traders don't know that they may be going to pay (or receive) these rollover amounts and this tab will quickly show you what costs you could be in-line to pay for your current position.
Script
Many will not use this tab and it can be skipped if you are not looking to use a script to open trades in the same or another platform using the calculated position size with a given entry, SL, and TP level.
How to Use the Position Size Calculator
Using the lot size calculator is quite simple once downloaded and installed.
When you want to use it to calculate a potential trade you can open it from the indicators tab inside your Metatrader. 
When first opened you will be presented with your input options that will allow you to choose things like the colors of your take profit and stop loss levels.
Once you have selected these and hit "Ok" the panel will be opened on your chart.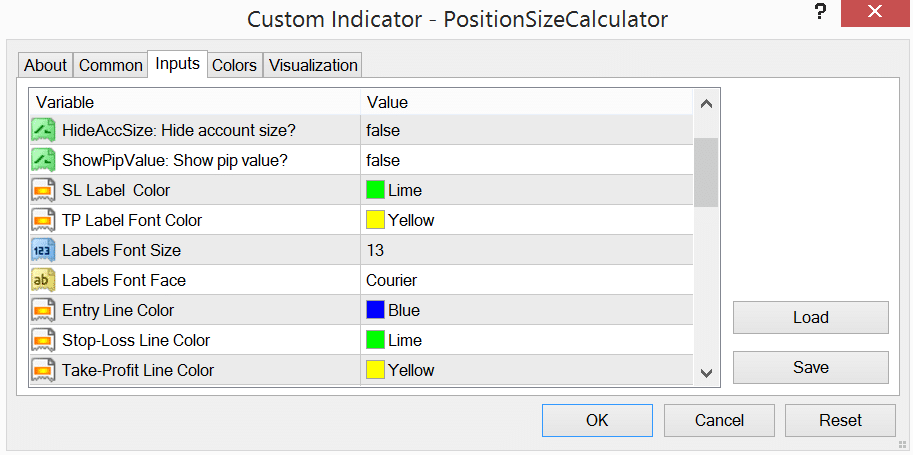 NOTE: If you open the indicator on one pair or market it will not be open on all of your charts. You will have to open it on each chart you would like to use it.
One handy tip that EarnForex added about using the indicator is; "the easiest way to add PSC to multiple charts is to save a chart template with this indicator attached to a chart and then load the template on all charts you want it applied to".
Most traders will use this indicator for its primary use, which is calculating a trade size, potential risk reward and checking margin levels.
This can be done easily by opening the indicator, moving to the main tab, setting your trade entry type and then either manually entering in your stop loss or moving the levels on the chart that are automatically output.
Lastly
This is a super handy indicator, but as with all new indicators and tools make sure you first practice with it on your demo and become comfortable with using it before using it on a live account.
If you are using this indicator and you want to find a little more information on it, you will find a quick video at the EarnForex site that goes through how to use this indicator, along with the recent updates.
Safe trading,
Johnathon
Please leave any questions or comments in the section below;