Lucky Block Price Prediction- May 23
LBLOCKUSD pair has decided to put a stop to the selling pressure to face the positive side as usual. The coin is set to resume the uphill trend at the $0.0000931 value as the market selling pressure looks exhausted at the moment. Therefore; if buyers should accelerate their price actions in the market, the $0.000349 previous high may be retested which might possibly extend to the $0.02000 upper resistance trend level and beyond.

Key Levels:
Resistance levels: $0.0001800, $0.0001900, $0.0002000
Support levels: $0.0000900, $0.0000800, $0.0000700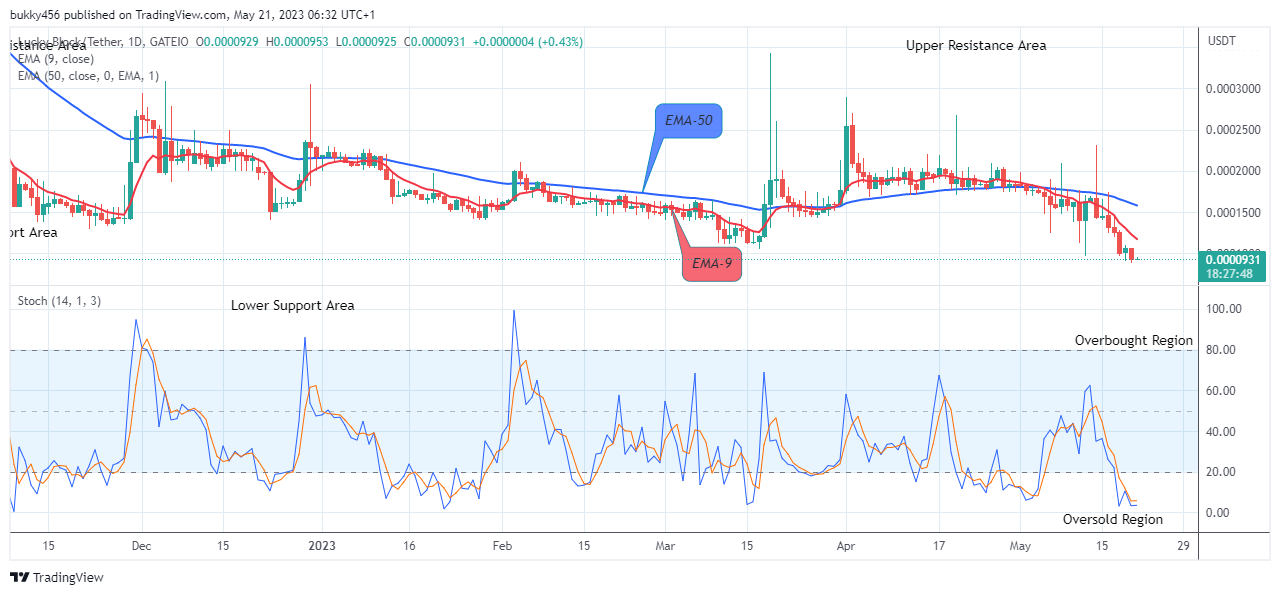 LBLOCKUSD Long-term Trend: Bearish (Daily Chart)
As an outcome of low volume from the bulls, the LBLOCKUSD pair is in a bearish trend in its long-.term outlook. The price currently trades below the moving average lines confirming a downtrend.

However, the current trend will soon be nullified as the selling pressure seems exhausted at the moment and a turnaround now awaits the LBLOCKUSD buy traders soon.

The sustained bearish pressure at the $0.0000880 support value during yesterday's session has made the crypto price drop below the supply levels in its recent low.

Commitment from the bulls now retraced the price of Lucky Block from the mentioned support to a $0.0000934 high mark as the daily chart resumes today. This shows that the bulls are buying at this level and are also set to push the coin price further up.

However, long traders can join the market or invest in the crypto with the current trend and buy at a lower rate for more gains in the future. This will reflect an increase in the trend momentum.

Adding to that, the cryptocurrency is pointing upwards in the oversold region of the daily stochastic, under the influence of this market level, the coin should rise steadily soon and break up the previous high at $0.0003429 level to reach the $0.02000 upper resistance level in the days ahead as we watch the crypto market turns bullish soon in the long-term perspective.

LBLOCKUSD Medium-term Trend: Bearish (4H Chart)
The LBLOCKUSD pair is trading in a bearish market in its medium-term outlook. This is due to the high influence of the sell traders. However, this will soon be invalidated as the trend now faces the resistance zone.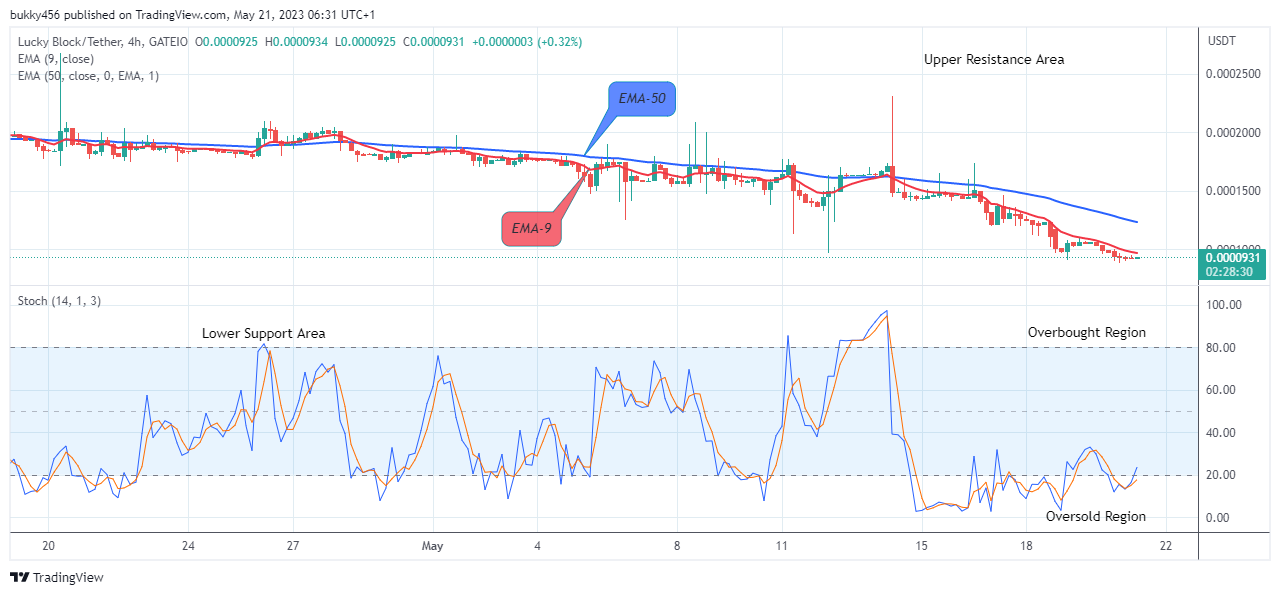 The bearish pressure on the crypto market at the $0.0000897 support value below the moving averages in the previous action has retained the coin price in the bearish trend in its recent price level.

The price responded to the shift in the market structure and is currently below the moving averages at the $0.0000934 supply level as the 4-hourly session resumes today to stop any further bearish thesis and resume the uphill rally. Meanwhile, traders who buy the coin during the bearish market will also make gains in the future.

However, the market indicates an uptrend on the daily signal, and there is a possibility of a further increase in the price of Lucky Block, if the buy traders should increase their price actions and all the current support level holds, a psychologically key level of $0.02000 at the upside might be reached soon in its medium-term time frame.

You can purchase Lucky Block here. Buy LBLOCK