Metatrader Position Size Indicator 
In the recent Forex trading Tutorial Forex Position Sizing I discussed at length both the different money management options you have available to you to manage your money in your trading and also how you can work out your trade sizes and risk before entering any trades.
Whilst this previous article taught you how to manually work out your position sizes with a position size calculator, in today's trading lesson I will be teaching you how can use an indicator in either MT4 or MT5 that automatically calculates your trade sizes for you, this way making it easier for you to keep an eye on you risk.
Automatic Trade Risk / Percentage Indicator
With this indicator all of your trade details such as how much money you currently have at risk or the percentage of your account at stake are shown to you right on your metatrader chart screen and they are continually changing and updating with the price.
This MT4/MT5 indicator is super convenient because it takes into account all of the information already contained in your trading platform such as your account balance and base trading currency and once you add in the extra details that the indicator asks for such as your entry and stop loss placement for the trade you want to make, then it will take all the information into account and automatically give you your risk information and continually update it as price is moving and changing.
NOTE: Don't have correct New York Close MT4 / MT5 Price Action Charts? Download free demo charts from the recommended broker: Recommended Forex Broker and Charts 
Metatrader Forex Position Size Indicator
Below is a picture of the metatrader position size indicator on a chart that shows how the indicator works in action.
You will see on this chart that the indicator is showing the current trade information such as the trade entry, stop loss, take profit and how much money and percentage that the trader is risking on the trade;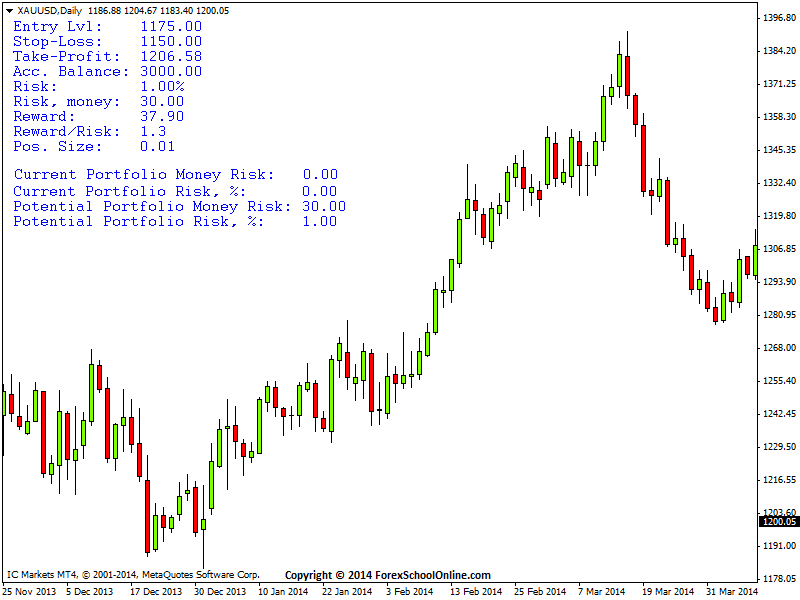 The first thing you need to do to use this indicator is download it correctly and put it into the correct spot in your MT4 or MT5 indicator files.
This process has changed recently for downloading/saving indicator files into metatrader. Where indicators are stored in MT4 was updated with build 600 so it is important that indicators are saved in the correct location.
To save the indicator into your MT4/MT5 files, please follow the instructions below carefully and if you have any questions afterwards please put them in the comments section below, making sure you select the tick box agreeing to be notified when there is a new reply so that when your question is answered you will get a new email letting you know.
Also; please make sure you enter a correct email address because sometimes I will email you out the answer if I think it will help or if the answer will be longer than a general comment, but all emails addresses are never published on this website.
Instructions to Download/Save Metatrader Position Size Indicator
1: First; you need to save the Metatrader Position Size Indicator to your computer.
When you click to download the indicator it will prompt and ask you where you want to save it and you need to save it somewhere on your computer that is easy to access.
I have grouped together both of these indicators in the one spot so you can get them both at the same time below:
2: As the picture shows below; you now need to open your MT4/MT5 charts and hit the "File" -> "Open Data Folder" button. Doing this will open your computers metatrader files.
Next click on the "MQL4" folder and then on the "Indicators" folder (some brokers will not have an indicators folder and will only have an MQL4 folder). In this indicator file is where you will see all your metatrader charts indicators stored and where you are going to also save the Metatrader Position Size Indicator. Leave this folder open as you will come back to it.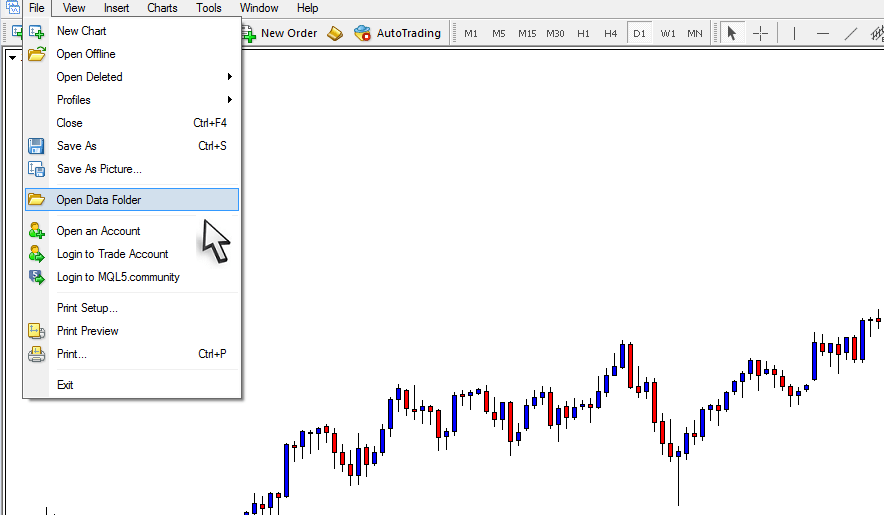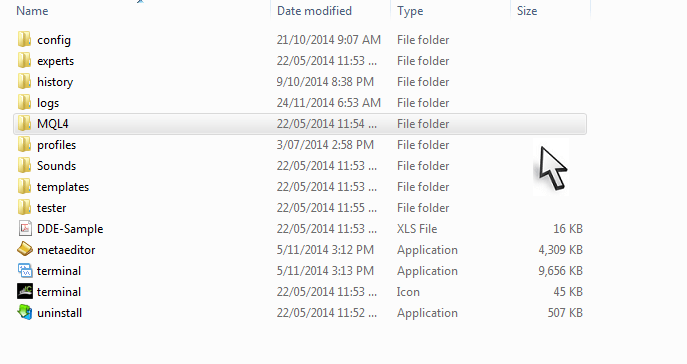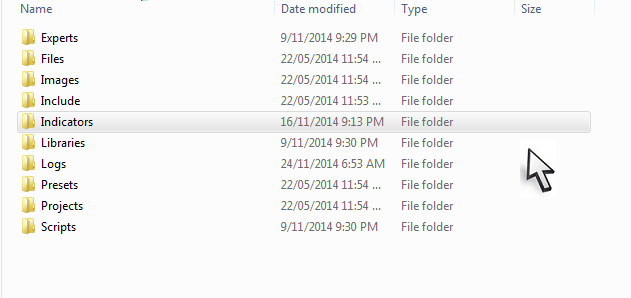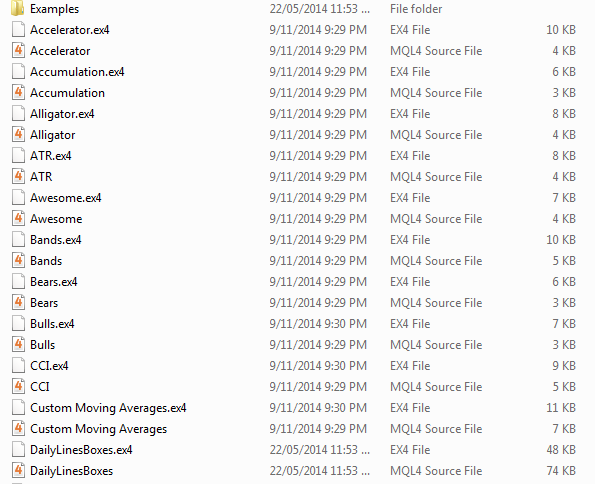 3: Now go back to where you saved the indicator in the easy to get to spot on your computer. Using your mouse; right click on the indicator file and select "Copy". Now head back to the metrader – indicators folder.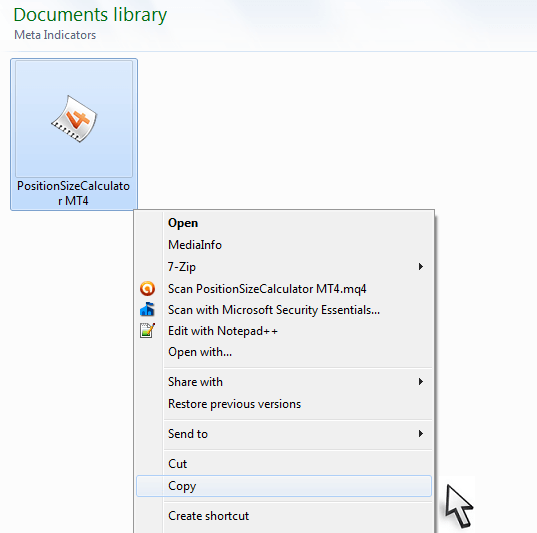 4: Once inside the metatrader – indicators folder, using your mouse; right click anywhere in the space and then select "Paste". You have now pasted the new Metatrader Position Size indicator into your MT4 or MT5 indicators.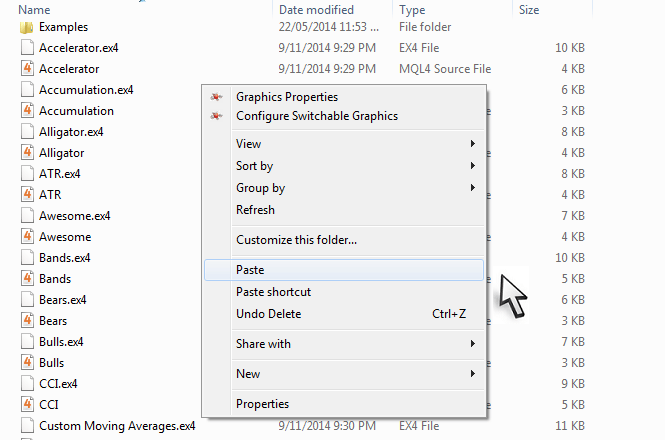 5: You can now close all of these folders. Please now go back to your MT4 or MT5 charts and re-start them (turn off and turn back on) because for the indicator to work the charts will need to be rebooted.
Using the Metatrader Position Size Indicator
You have now downloaded and saved the Metrader Position Size Indicator indicator into your indicators files. For future reference this is how you can save any new indicator you wish to use in you MT4/MT5 charts.
Now you need to learn how to load the indicator onto your charts and how to get the best out of it so that you can use this indicator to the best of its ability and have the really handy benefit of always knowing where your risk is sitting automatically.
1: To load this indicator onto your chart click on the "Insert" –> "Indicators" –> "Custom" and then "Position Size Calculator". This will then load the indicator onto your charts which will bring up a box full of options.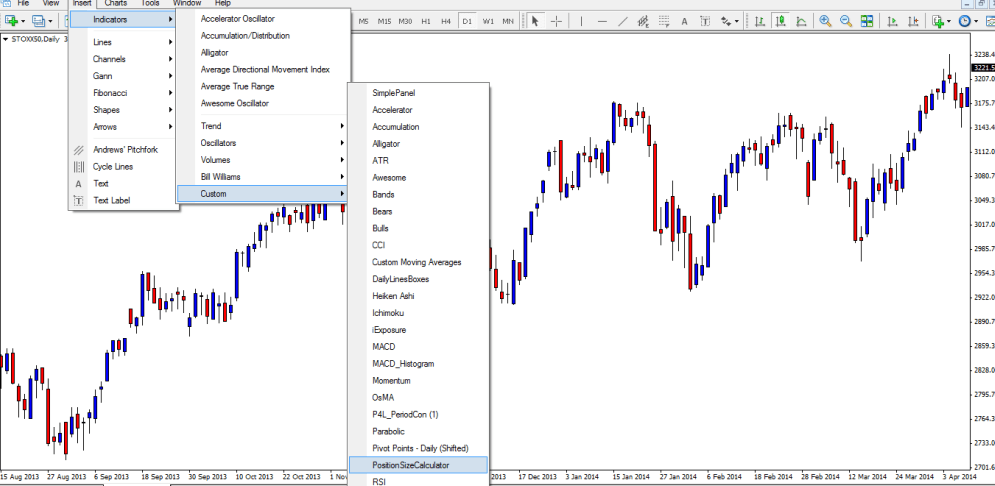 2: As the picture shows below; there are five options running up the top of the box including; "About", "Common", "Inputs", "Colours" and "Visualisation".  The option you need to select is "Input". In here is where you are going to enter all the important trade details that are going to help your indicator and metatrader platform work out your risk values.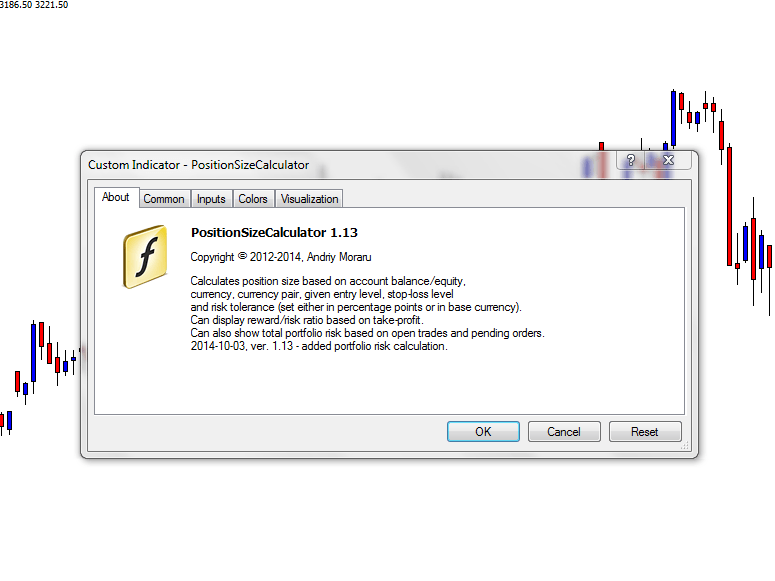 Note: Your metatrader platform already has stored a lot of important information such as your account balance, the base currency you are using to trade with and this is why unlike the manual Forex Position Size Calculator you do not have to add this other information. This metatrader indicator automatically takes this information to formulate the risk answers for you.
3: The most important "Inputs" you need to either change or enter a figure for are as follows:
Entry Level – The price of your entry
Stop Loss Level – The price of your stop loss
Take Profit Level – The price of your take profit
Risk – How much you want to risk in percentage
Money Risk – How much you want to risk in money (you don't have to put both money and percentage. See next input below).
Use Money Instead of Percentage / True or False – You can choose to pick an amount you want to risk in percentage or you can also choose to pick an amount you want to risk in money. If you want to pick an amount in money, then you need to clear the amount in the percentages input so that it says 0.0 and in this input you need to select "True" so that you are now using money as you choice of risk management.
Show Portfolio Risk – This is automatically set to true and you should just leave it that way. This setting shows you both your current portfolio money/percentage at risk and the potential portfolio money/percentage at risk. This is a really great way to keep tabs on your risk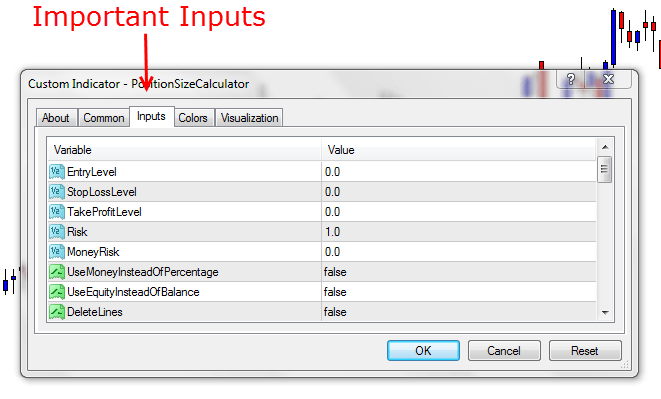 NOTE: You can change the colour of the words that the indicator puts onto your charts two ways.
You may need to do this because you may have a black chart or a white chart and the colours of the words may not be easy to read for you and may need changing (obviously you need to be able to read these words because they are telling you your risk information).
You can either change them by going into the "Inputs" section of the indicator and then editing each colour. The other way is to just double click on each individual word/line on the chart you want to change and then selecting the colour you want to change it to.
Please also note that the words move so that if you want to move them to a more convenient spot on your chart just double click on therm and move them to where you would like them to be. You can then right click on them and make them "un-selected".
The metatrder indicator will put lines up for entry, take profit and stop loss levels. You can also change these horizontal line colours the same ways as mentioned above, but often these lines are just annoying and are better off being deleted.
This won't suit everyone and it is up to the individual trader, but Metatrader puts up its own entry/profit/stop levels and so to have other coloured lines go directly on top of these is not needed. You may prefer to have the indicator levels instead and not show the MT4 entry/stop/profit levels and in that case you can go into your MT4 settings and change the colours so that they no longer show for your trades. This is your personal choice.
Recap
This is a very handy tool to help you with your trading and automatically keeping an eye on your risk, but it is only as good as the trader that is using it.
A special mention must go to EarnForex.com who designed this indicator and have allowed us to help you with their very cool indicator. If you have any questions about anything to do with this indicator or your trading money management, then just post them in the comments section below. I always get back to your comments or questions promptly.
Make sure you leave a valid email address and tick the check box to be notified when a reply is made to your comment.
– If you know any one that would find this new indicator helpful with their trading risk management, then please pass it onto them so that they can also gain the benefits of better money management techniques in their trading.
I really hope you enjoy this indicator and put it to good use in your trading. Make sure you keep an eye out over the coming weeks and months as we continue to bring you new trading tools and new ideas that you can use in your trading to become a better trader.
We are always trying to bring you new tools and tricks to make your trading better so keep an eye out.
Safe trading and all the success,
Johnathon