PancakeSwap (CAKEUSD) Price Forecast: March 25
CAKEUSD price may likely reverse at the $3.389 level to resume its uptrend soon if buyers should increase their price action further in the market and break up the $4.981 resistance level, the price may turn upsides and retest a $5.086 high level.

Key Levels:
Resistance Levels: $4.000, $4.500, $5.000
Support Levels: $3.300, $3.200, $3.100

CAKE (USD) Long-term Trend: Bearish (Daily Chart)
Due to the interference of sellers in the market at the moment, PancakeSwap is in a bearish trend move. The coin is trading below the two EMAs, which confirms its bearishness.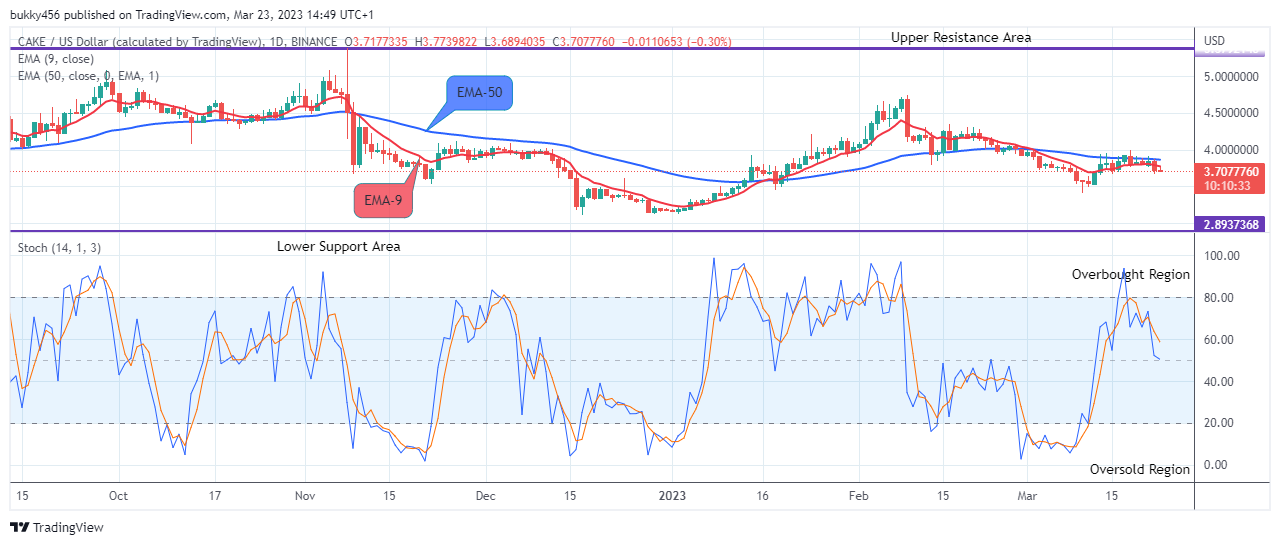 The price drop to the $3.668 low value by the short traders during yesterday's session has made the coin price trade below the supply levels.

The price responded to the shift in the market structure and is currently below the moving averages at the $3.689 support value as the daily chart resumes today. Therefore if the current support holds and the bulls should increase their activities in the market, CAKEUSD price may likely reverse and face the upside more in its long-term view.

Meanwhile, the current price at a $3.668 low value below the supply trend lines has not stale the market condition of the crypto. Thus, traders who buy the coin during the bearish market will also make gains in the future.

Furthermore, the coin now approaches the oversold region of the daily stochastic. It implies that the selling pressure is likely to end soon and a possible reversal will most likely occur at the mentioned support. If this is achieved, the price of PancakeSwap might possibly rise to hit the $8.000 upper resistance level in the days ahead in the long-term perspective.

CAKE (USD) Medium-term Trend: Bearish (4H Chart)
Here on the medium-term outlook, CAKEUSDis showing a downward movement. The price bar is also showing below the two moving averages, indicating a bearish trend.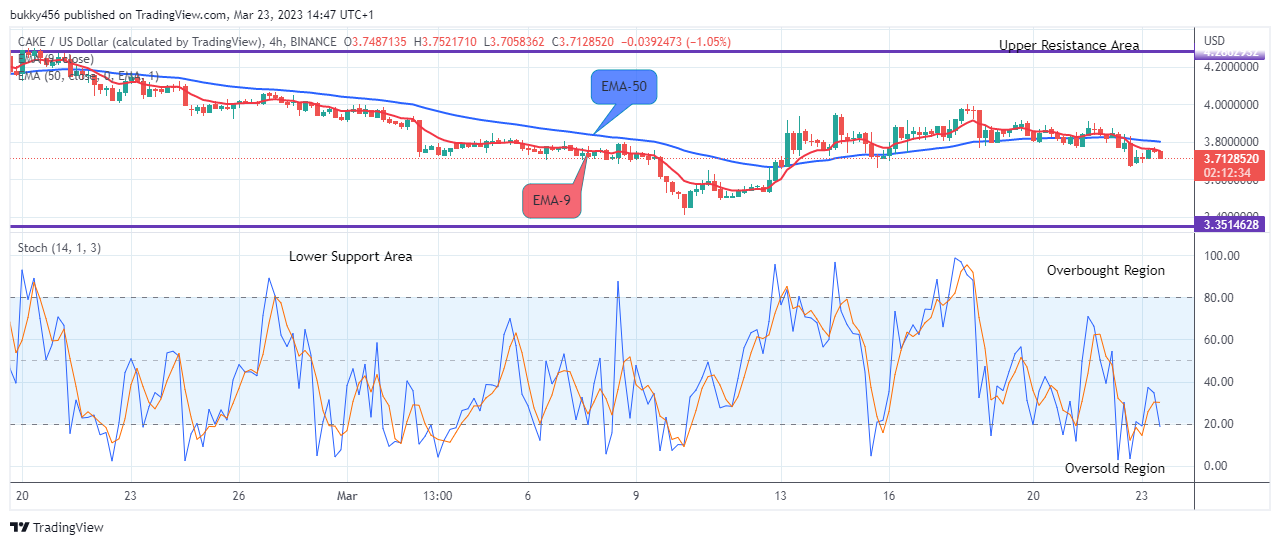 The bears' high pressure on the crypto in the past few hours has dropped the price below the supply levels at its recent low.

The price drop to the $3.705 support value below the two moving averages as the 4-hourly chart resumes today is a result of low bullish momentum. However, traders can join the buying train at a lower rate and also make more gains in the future.

Hence, a possible reversal at the mentioned support is imminent as the market is oversold already, this will compel the bulls to resume the bullish trend and this may extend the price of PancakeSwap to the $8.000 upper high value in the coming days in its medium-term outlook.

Buy PancakeSwap on eToro