Pin Bar Reversal
The Pin Bar reversal is without a doubt one of the most powerful and reliable price action trading signals that can be traded across many different markets and time frames.
It is very simple to identify and most new traders can very quickly learn how to spot this two candle formation.
NOTE: Not sure what the pin bar is or how to trade it? Watch two pin bar trading videos here;
False Break Pin Bar on the Daily Chart Time Frame
How to Trend Trade Using the Pin Bar (trade example)
The Pin Bar can be a super high probability trading signal once the trader has perfected and learned under which circumstances they should be trading it and MORE importantly; the other pin bars they should be avoiding and NOT trading which is what we will take a look at and help you learn today!
Pin Bar Pitfalls
I receive a lot of emails from traders discussing Pin Bar reversals or what they term Pin Bar reversals that are leading them to get into trouble.
There are major common problems with the Pin Bars they are entering which I have now realised is a really common pattern among traders trading Pin Bars in the trading community which has led to me make this article today to hopefully help some traders back on track with this super high probability price action signal.
The Three Major Problems I am Noticing:
Trading Pin Bars that don't meet the basic Pin Bar criteria.
Trading Pin Bars from incorrect areas on the chart which is getting traders into trouble
The Pin Bars are not sticking out and away from all other price and have no room to move
The best A+ high probability Pin Bar's all have the same criteria, but to first qualify as a Pin Bar they must meet some very basic key points and form on New York close 5 day trading charts.
A Pin Bar must have:
–  Open and close within previous candle
–  Candle wick minimum 3 times the length of the candle body
–  Long nose protruding from all other candles (must stick out from all other candles)
Bullish Pin Bar Example: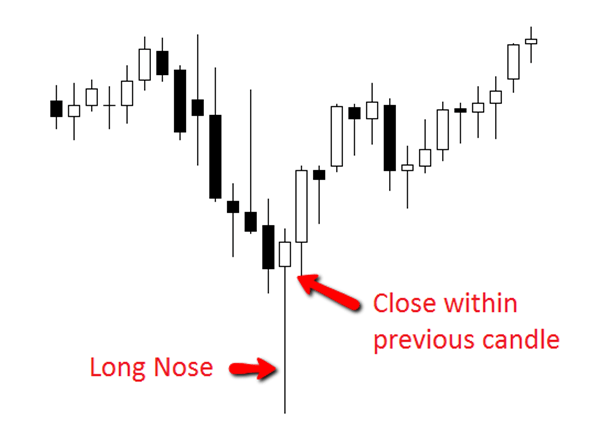 Trading Pin Bars When They Don't Meet Basic Pin Bar Criteria
The criteria that the Pin Bar must meet is pretty simple, but what I am finding is people are trading what they are thinking are Pin Bars because they are unaware of what the true criteria for a pin bar is (hence my article). This is getting them into huge trouble time and again as it put them into super awkward positions in the price action story.
They have either been taught that way or they have watched other traders in forums do it that way or they have just picked it up along the way. They are then placing losing trades because of these false Pin Bars and wondering what the problem is.
The rules for a Pin Bar are clear-cut and they cannot be fudged. These are the types of rules your write down in your plan and follow and are very clear.
They either meet the criteria or they do not. For example; the price either opens or closes within the previous candle or it does not. There are no if's or butts and this is exactly what traders need for their trading.
All traders need a clearly defined trading method that they can go into the markets with so they can clearly define whether it is or is not a signal that meets or does not meet their trading criteria.
Trading Pin Bars from Incorrect Areas on the Chart, Which is Getting Traders into Trouble
This is the most common and also the most misunderstood. This is also the major issue that gets traders into trouble the most and what costs traders the most losing trades.
If traders don't fully understand this, they will continue go on struggling with the pin bar until they fully have a firm understanding of it. The first major point traders have to understand is;
–          The Pin Bar is a reversal signal and NOT a continuation!
What this basically means is that the Pin Bar has to be used ONLY to pick price to reverse. It is a reversal signal, hence it's full name is the "Pin Bar Reversal".
This is CRUCIAL:
[dropshadowbox align="center" effect="raised" width="auto" height="" background_color="#ffffff" border_width="1″ border_color="#dddddd" rounded_corners="false" inside_shadow="false" ]A major reason why traders get themselves into all sorts of pickles over and over again is because they try to play the pin bar as a continuation signal and it is not.[/dropshadowbox]
To play the pin bar as a reversal it means we have to pick price to reverse and from swing points. If we are to play a bearish pin bar and pick price to move lower we first need to have seen price moved higher so we can pick price to reverse.
We can't play a bearish pin bar reversal signal if price has not first moved higher. An example of this scenario is below. You will notice how price first moves higher and then after this price forms a bearish Pin Bar. This pin bar is picking price to reverse lower.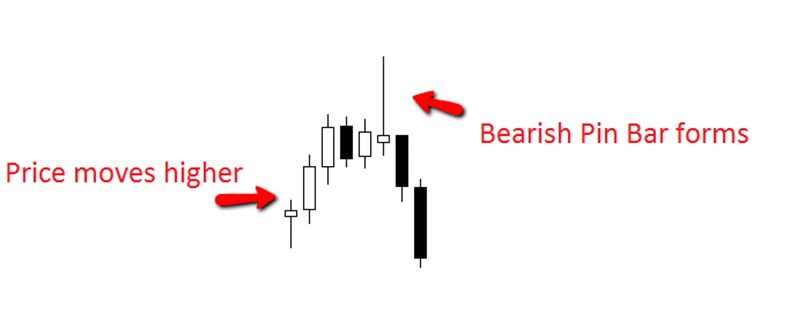 An example of what not to do and what I see a lot of is below. On this chart below the pin bar is traded as a continuation rather than as a reversal as all pin bars should be.
This pin bar is a bearish pin bar the same as the pin bar above, but unlike the pin bar above, this pin has not been played after price has made a move higher and picked to reverse price.
This pin bar has been played to see if price can continue to move lower. The trader who plays this pin bar will be selling low and hoping to buy back lower.
Forex is the same as in any business in life. To make money you must buy cheap and sell expensive or buy low and sell high and it is the same on the charts with Forex pairs.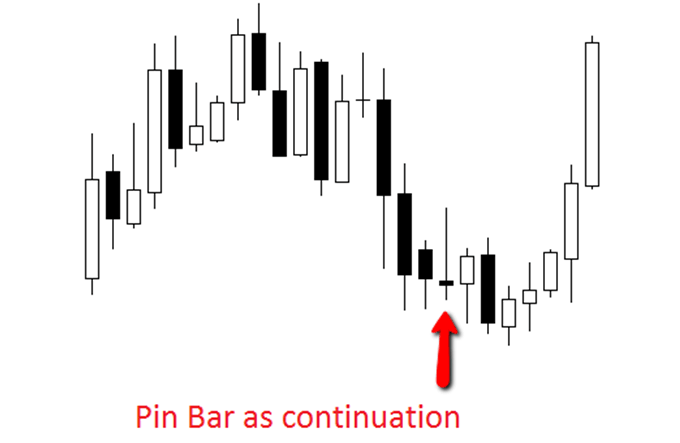 Below is another example of what not to do, but this time with a bullish Pin Bar. The other problem that traders will encounter when they trade pin bars as continuations rather than as reversals is that they will nearly always be trading straight back into the recent support or resistance area and that is never a smart play.
Traders want to be trading away from support and resistance and not into them.
No Space / Traffic!
You will notice with this chart below that it had three pin bars that were all continuations rather than reversals.
Because they were continuations they had the major problem of trading straight back into the recent highs which were the near term resistance that is nearly always a problem when trading pin bars as continuations. As you can see on the chart; this resistance held and pushed price lower.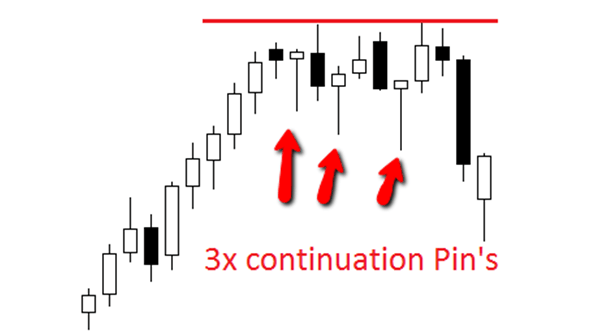 The Pin Bars Are Not Sticking Out and Away From All Other Price and Have no Room to Move
The very best pin bars stick out and away from all other price. They are not hidden away and back in traffic. A large myth with new traders are they want to find the smallest pin bars as they can because then it will give them the smallest stop and the biggest risk reward.
What this fails to acknowledge is that the bigger the rejection and the bigger the pin bar the more powerful the signal. The best pin bars are the large and obvious candles that as soon as you flick over to your chart you notice them.
These are the pin bars that stick out like a sore thumb right there on the screen screaming at you to trade them. They stick right out and away from all other price with their large noses protruding well away from all other price.
All good pins need to have to have their noses sticking out and away from all other price and if they don't, then they do not fit the basic first three criteria.
The chart below is a great example of a Pin Bar that sticks out and away from all other price. Firstly, notice how it opens and closes within the previous candle and then notice how price has moved higher before forming the pin bar.
This pin bar is being played as a reversal which means it has space and is a pin bar valid trade. Lastly, notice how the nose of the pin protrudes right up and away from all other price and sticks right out.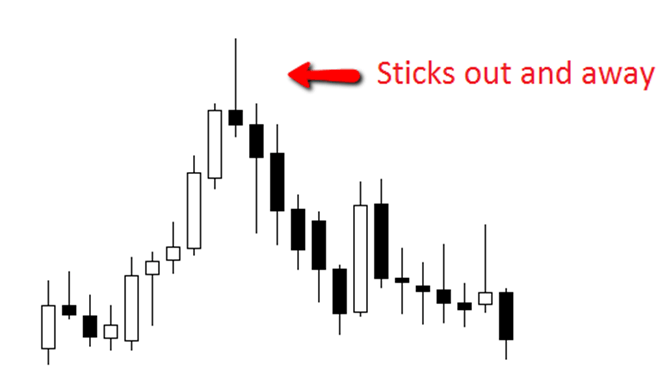 The chart below is a common chart of a pin bar that I often see traders playing.
Notice the difference between the pin bar above and the pin bar below. The pin bar above is large and obvious. It sticks out and away from all other price and has room to move.
The pin bar below is small and in the middle of price. It is a bit of an indecision candle and does not stick out from price at all. There is a clear difference between the two setups.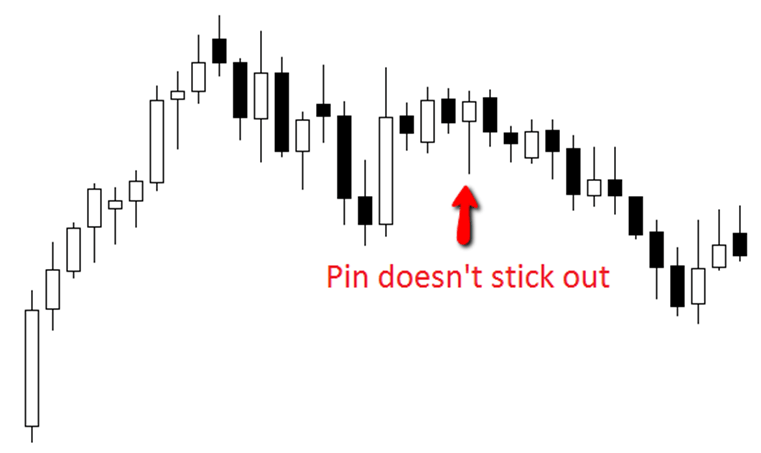 Discipline, Sticking to the Rules & Not Bending Candles to See What You Want to See
Learning how to do something is not always the hardest part to becoming successful at it. The pin bar can be a great trading setup for a price action trader to have in their arsenal, but if the trader is going to use it in the long-term they are going to have to have set some strict guidelines.
As mentioned above for a trader to succeed long-term they need a clearly defined trading strategy so that they can go into the market and know exactly what is and is not a valid trading setup under their trading criteria. As discussed in this article there are some pretty simple and clear-cut rules with the pin bar.
Once most people understand these rules it is not the understanding they struggle with, it is having the discipline to follow the rules and only trade when the trading criteria is met.
Whereas, the professional trader will sit and wait for the market to come to them and produce exactly the signal that they are waiting for, the amateur will go running off into the market like a headless chook pleading for the market to give them signals because they just want to be in any trade the market will give them.
This is the time that instead of waiting for the market to give them the valid pin bar, the amateur trader will instead start to "bend" and "twist" all sorts of different candles to make a pin bar.
Before you know it, the amateur trader is in a bunch of different trades of what they are calling "Pin Bar" trades that are nothing even close to pin bar trades and this is where it gets back to having the discipline to follow the plan and rule set.
We talk more about the keys to price action trading including support & resistance, using trends and setting up trades in our Free Price Action PDF Guide you can get get below.
Recap
Anyone who has ever traded the Pin Bar will know that it can be a really powerful and reliable price action trading signal. Of course not all pin bars are created equal and of course we do not trade the pin bar by itself. The pin bar is just one candle on a chart full of many candles and we need to take into account the whole price action story when trading the pin bar.
If you you have any questions, post them below along with your comments about this lesson or anything else!
Safe trading,
Johnathon
Related Forex Trading Articles & Videos
– Introduction to Trading The Pin Bar