The Pin Bar Reversal
The Pin Bar is a Price Action formation that can be found on any timeframe in any market.
The Pin Bar or full name Pinocchio Bar, is given its name because the signal is lying to the market or tricking traders that price is going one way when in fact it is reversing back the other way. The Pin Bar is laying a trap and for traders that are aware of this trade they can make a lot of money when price snaps back the other way.
The Pin Bar and in particular the better Pin Bars are the bars that stick out and are very obvious. The less well defined Pin bars and smaller Pin Bars are generally the trades we don't want to be trading. The very large and obvious Pin Bars can be very powerful and high probability trading signals when they are traded from the correct areas in the market. These types of signals can be high probability signals for price action traders.
A Pin Bar must have:
–  Open and close within previous bar
–  Candle wick minimum 3 times the length of the candle body
–  Long nose protruding from all other bars (must stick out from all other candles)
Bearish Pin Bar Example
Pin Bars can be traded in all sorts of markets. Pin Bar formations are reversal signals. Often you will find Pin Bars are the signals that are produced when an existing trend is changed.
Bullish Pin Bar Changes the Trend

Bullish Pin Bars at Support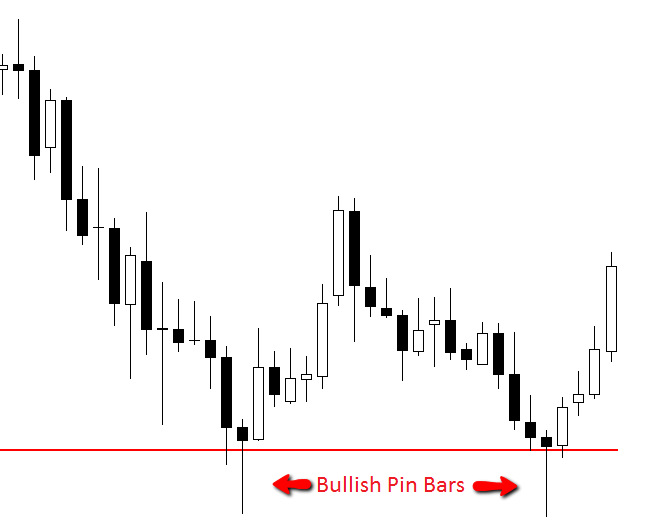 Bearish Pin Bar at Key Resistance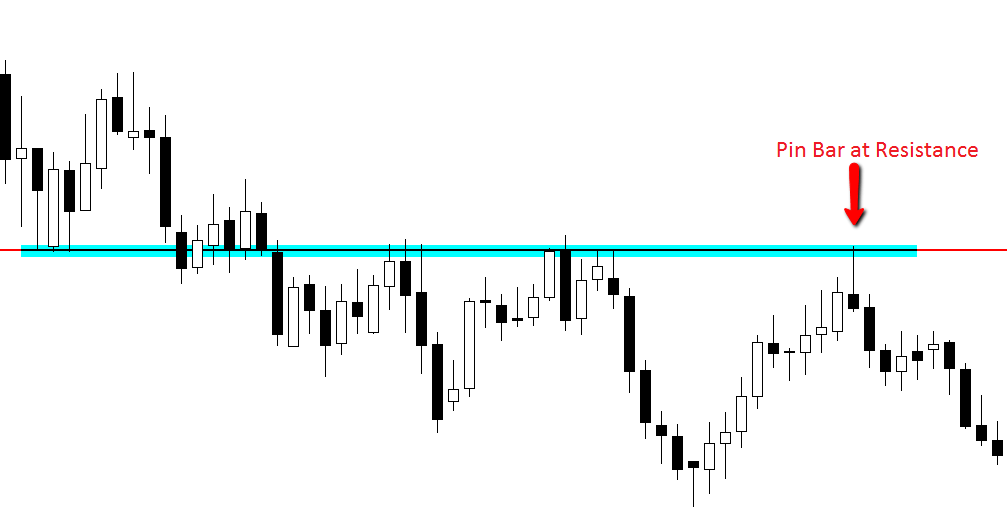 Bullish Pin Bar Making False Break of Support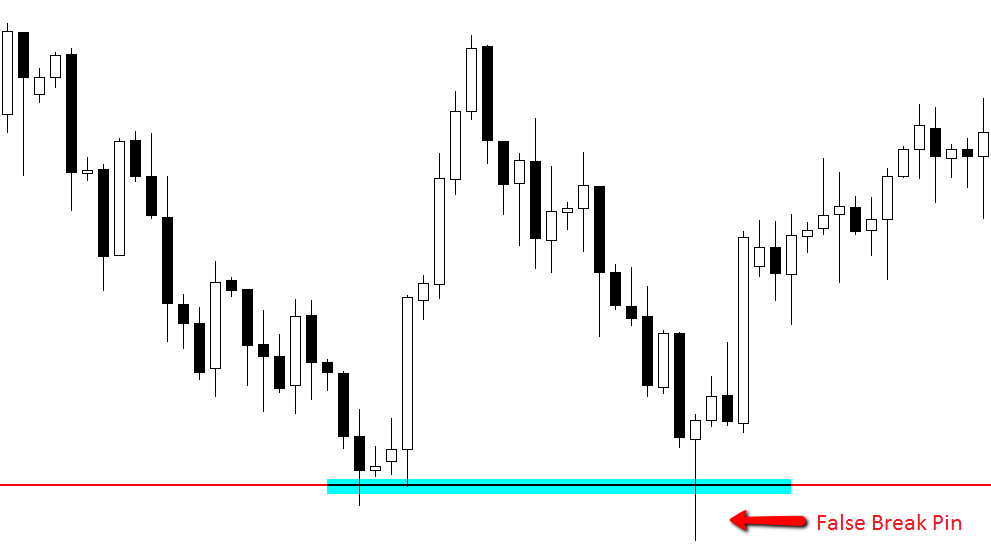 Traders will be able to spot this very easily identifiable Price Action formation all over their charts. Just because a Pin Bar has been produced in the markets does not mean that it is a tradeable setup.
Traders also need to learn:
–         Where to trade Pin Bars from in the market
–         How to manage the stops on Pin Bars
–         What are the best Pin Bar to trade
–         How to enter Pin Bars
–         How to manage the trade that allows as minimum risk as possible
–         When to take profit
–         When not to take a Pin Bar setup
–         The best type of market to trade Pin Bars
All this information and more can be found inside the Members Only Advanced Price Action Course. 
Inside the members course you will be taught advanced techniques not covered on the public site such as continuation and break-out trading plus a heap more.
You can also read about how these setups should be played in live time in our markets trade setups & commentary, that we release each day after each New York close. You can find that here: Forex trade Setups & Market Commentary
I hope you enjoyed this article and look forward to talking to you soon in the member's forum. Comments on all articles are always welcome.
Safe trading and all the success,
Johnathon Fox
 Related Forex Trading Articles & Videos
– Where Traders Go Wrong With The Pin Bar