Quick Price Action Scalping Strategy
I am often asked if price action can be used to scalp the Forex markets and trade the lower time frames.
Price action is simply the movement of price on a chart for me and you as a trader to see and interpret. Price action can be seen on all of the different time frames, high and low.
There is no difference in "price action", i.e. what I see on my chart is what you see on your chart. The only difference is in how traders use that price action to formulate and then trade within a system or strategy.
Price action can be read on all time frames. The smaller the time frame the faster price will move and the quicker you will have to react and adjust to its movements.
What is Scalping?
When scalping you are looking to make smaller pip target profits, but in a far quicker amount of time.
As a scalper you are jumping in and out of trades quickly looking to capitalize on the volatility of the markets by making profitable trades quickly.
Where a swing trader may be looking to enter the 4 hour or daily charts and hold trades from hours to potentially days on end, a scalper is generally only holding trades for minutes at a time, depending on the time frames used.
Some traders far prefer to use a scalping strategy as they can be in and out of the markets quickly, they can look for more trading opportunities and the smaller quicker moves that the markets makes are more frequent than the larger moves.
Should You be a Scalper?
Scalping the Forex markets is most definitely not for everyone and as we will go through below there are some major considerations to take into account.
Whilst a lot of traders enjoy the fast-paced movements and making more trades, the goal of trading is to make money, not make more trades.
Scalping can be incredibly fast-paced and can lead to a lot of trader errors that don't occur on higher time frames. If you want to be a scalper you need to have everything about your trading system locked down because you will not get time to second guess anything.
If you let your losers run and don't take profits when you should it can very, very quickly hurt your trading account.
NOTE: If you find you enjoy scalping, but are not having any success, consider practicing with the higher time frames whilst you continue to practice your scalping.
Most scalping is done from the 15 minute charts and below. I personally don't trade below the 15 minute time frame, but this does not mean it cannot be done successfully and the strategies discussed in this lesson apply the same to the smaller time frames.
If you are thinking about using these smaller time frames to make scalping trades make sure you take the following into account;
Forex Pairs / Markets
When trading higher time frames such as the daily charts you can be a little bit more lenient in the markets and Forex pairs you select to watch and make trades in.
When scalping you need to be more specific. If you are trading in markets that have a tendency to make large whips and create gaps it will create extremely dangerous trading conditions.
The best markets when trading smaller time frames are the major currency pairs that are heavily traded and as we will cover below also have smaller spreads such as the EURUSD and AUDUSD.
Spreads / Commissions
When trading higher time frames you are making more pips profit and the spread becomes less of a factor. This also means that markets and Forex pairs that have slightly higher spreads can be traded because their spread will not affect your profit or loss as much.
When trading on small time frames and scalping you will be looking for short, sharp profits that are far smaller in pip size. That will mean that the spreads you pay will have far more of an effect on the overall profits or loss you make.
You need to select pairs that have consistently smaller spreads, once again like the major Forex pairs and also make sure you use a broker that is an ECN and offers you small spreads.
Read about ECN Forex brokers here
Stops and Targets
Your stop size and profit targets will be smaller, but if using correct money management, then the actual amount of money you make or lose will still be the same as if you were trading on a daily or 4 hour chart.
Money management is crucial. Make sure you are correctly working out your position size for each trade so you are never overexposed on any one trade.
Read about money management and position sizing
The idea when scalping the Forex markets is to make profits overall. You will have losses, but you need to have a strategy where you bank profits at the end of the week and month.
Depending on what style of trader you are, this may mean having a high win rate where you take smaller profits, but win more. Or, it may mean you aim for bigger winners such as 3:1 risk reward, but have a few more losses.
How to Use Price Action for Scalping
Scalping the markets with price action is very similar to trading with other price action strategies, however; more often than not you will want to be using the fast momentum in your favor and not going against it.
Whilst picking long range reversals can at times come off, they are far harder to master. On the very small time frames trying to pick a market high or low can be very low probability.
Two Quick Price Action Scalping Strategies
#1: Momentum Break and Re-test
The first strategy is a breakout with momentum and quick re-test of the breakout level.
When price makes the quick re-test into the old breakout level we hunt for A+ price action trigger signals to get into the breakout move. The best way to do this is with the first test of support / resistance.
The first step to this strategy is finding a key level on a higher time frame that price is looking to breakout of.
When we notice price breaking out of this level we can quickly move to smaller time frames for potential scalp trades.
Below is an example;
The first chart shows a major resistance level on a 4 hour chart that price is just breaking out of. This is when we would move to smaller time frames to look at the price action.
Chart #1: 4 Hour Time Frame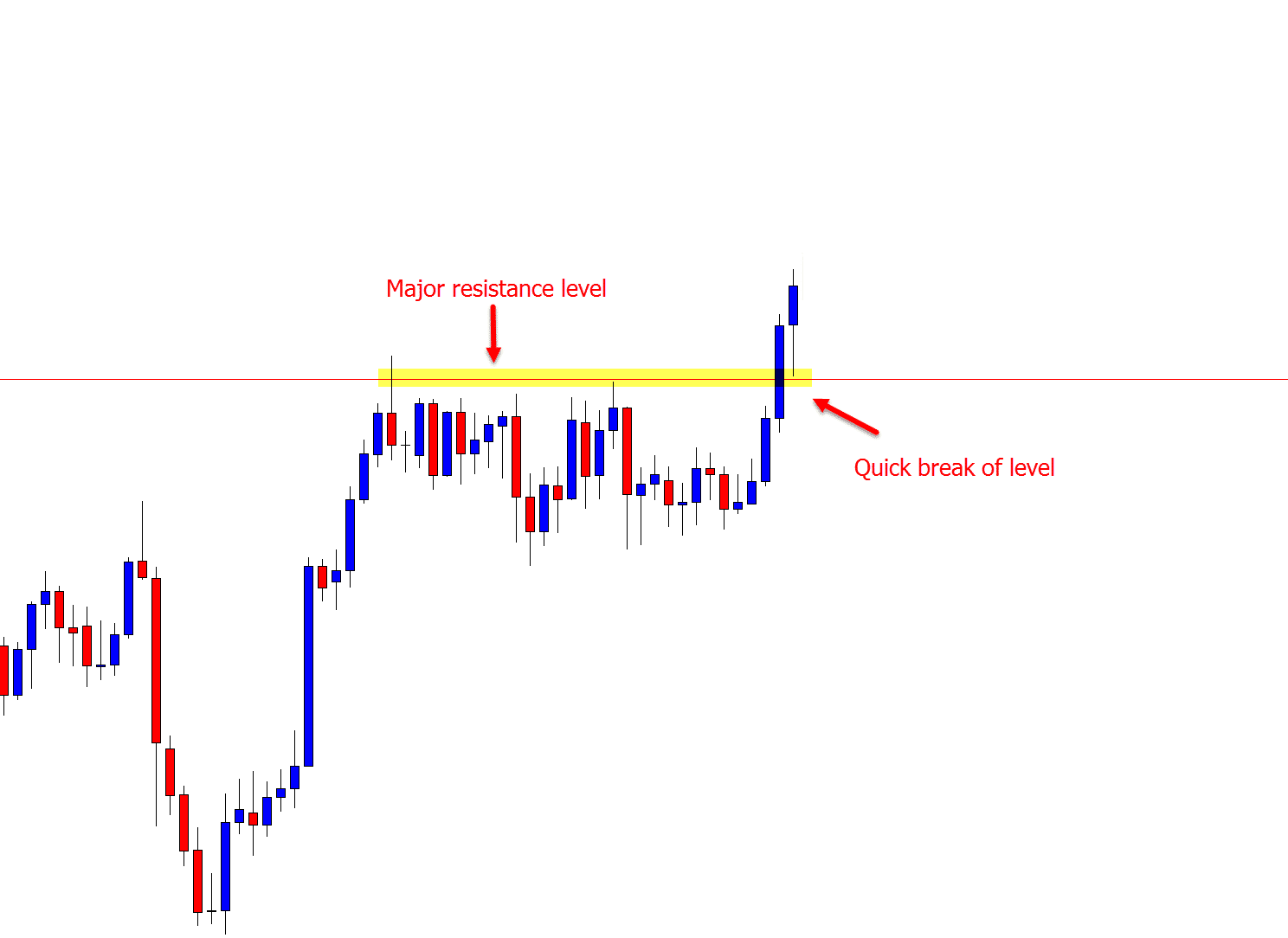 The next chart is the 30 minute time frame showing the same level and showing us that price has broken out and is now making a quick pull-back and re-test into the old resistance and new support.
Chart #2: 30 Minute Time Frame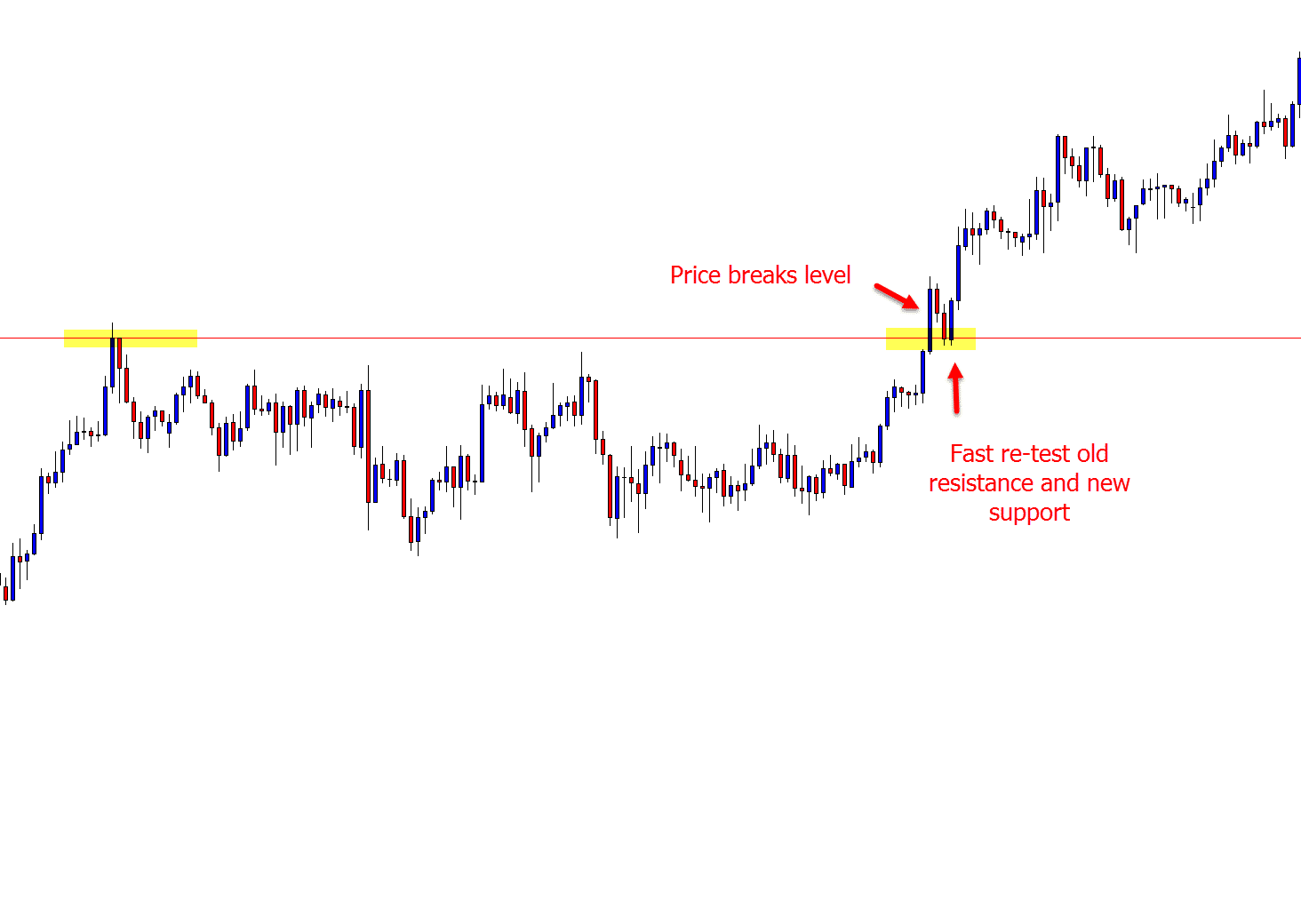 The last chart in this example is the 15 minute time frame where price has rotated back into the same support level and has fired off a bullish 2 bar reversal to get long with the quick breakout move.
Chart #3: 15 Minute Time Frame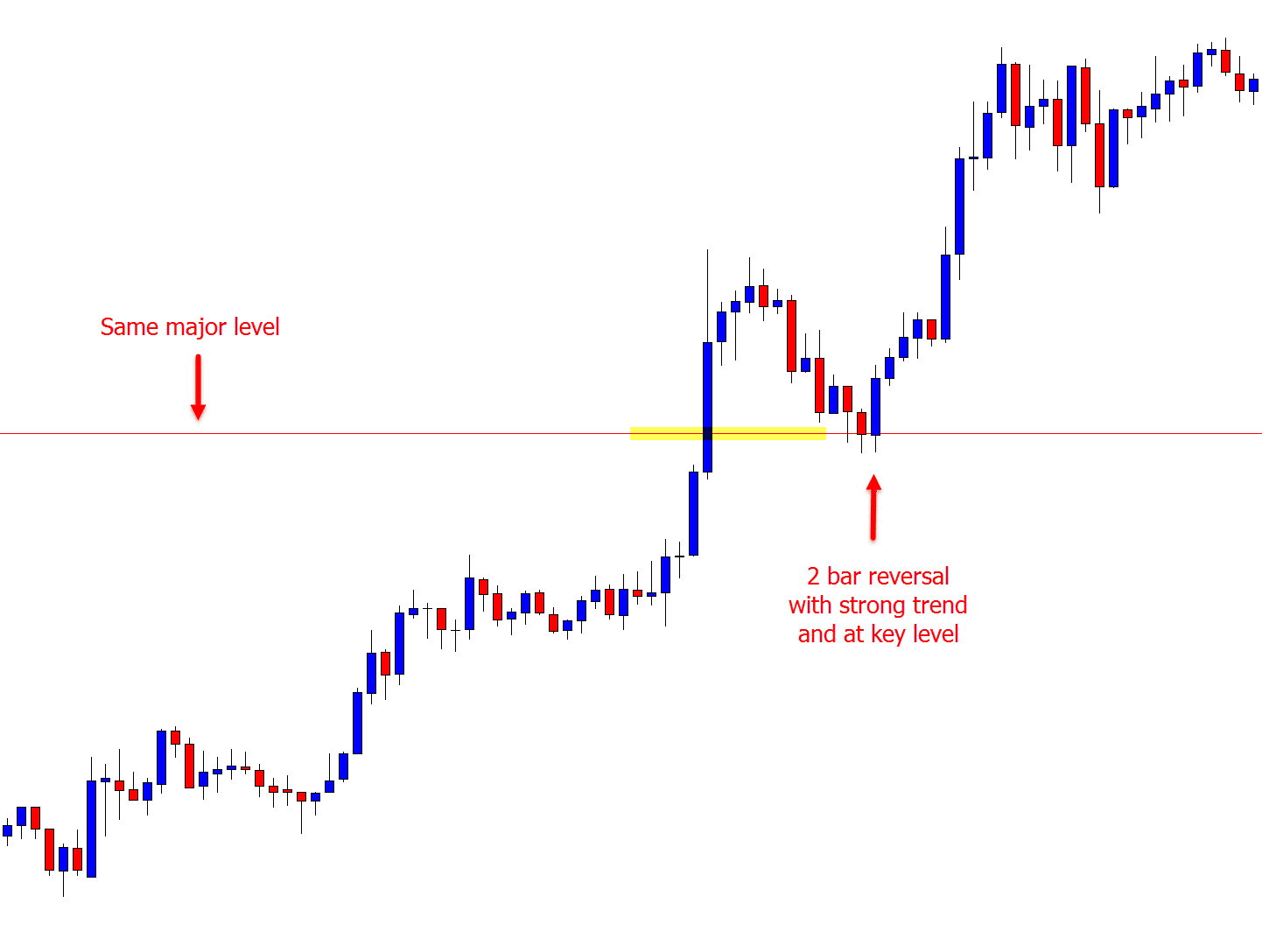 #2: Pull-back Reversal
When trading quick reversals on smaller time frames you still want to make sure that the levels you make your trades from are high quality.
This can be made a lot easier if you mark your levels on higher time frames and then use these levels to hunt scalp trades on the smaller time frames.
An example of this is below;
The first chart shows a major resistance level on a higher time frame where price has repeatedly tested and shown that this level is a proven resistance.
Chart #1: 1 Hour Time Frame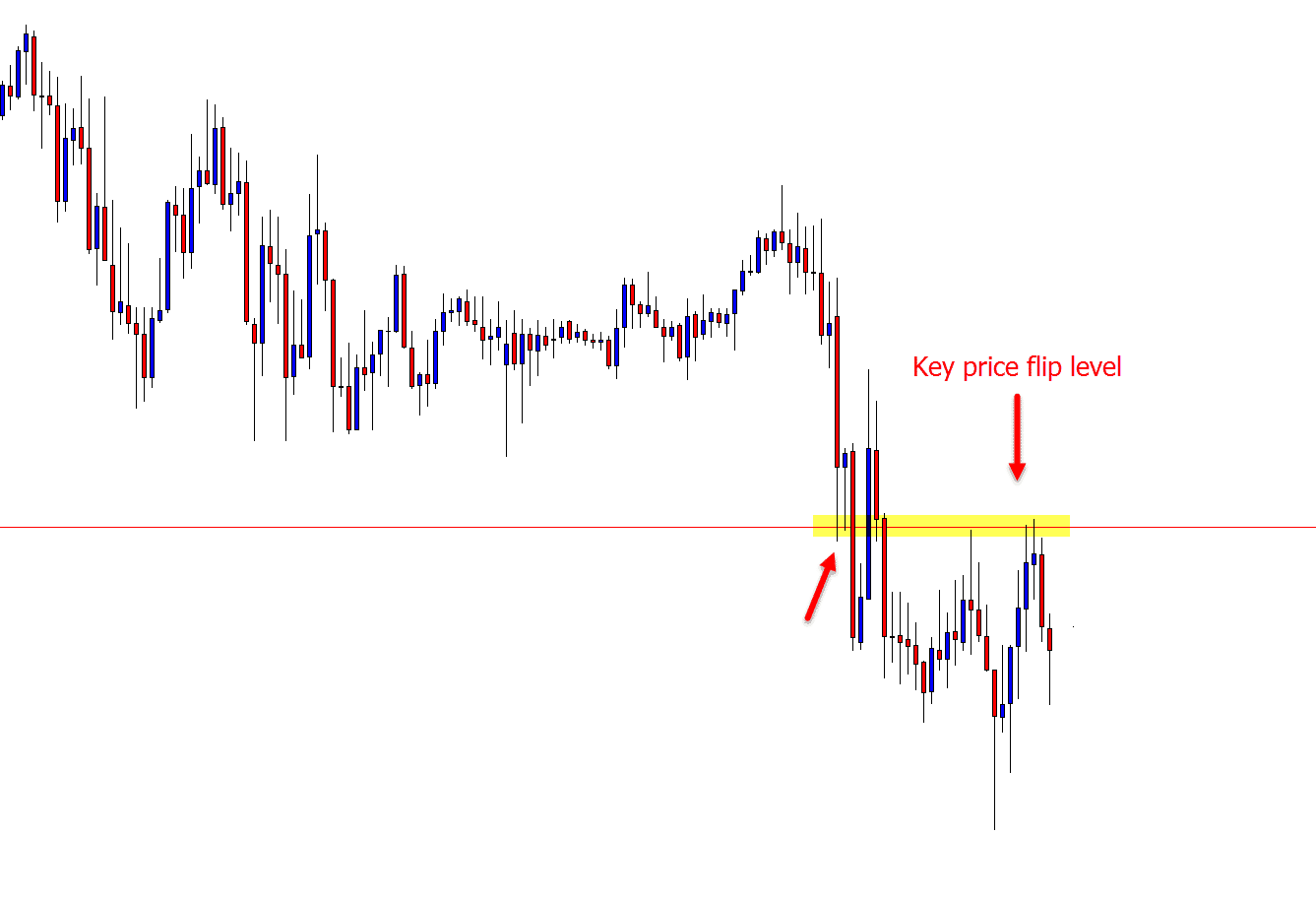 After we mark this level we can then begin watching to see if price makes any further tests and if it does move into smaller time frames to watch for price action trigger entries.
Chart #2: 1 Hour Time Frame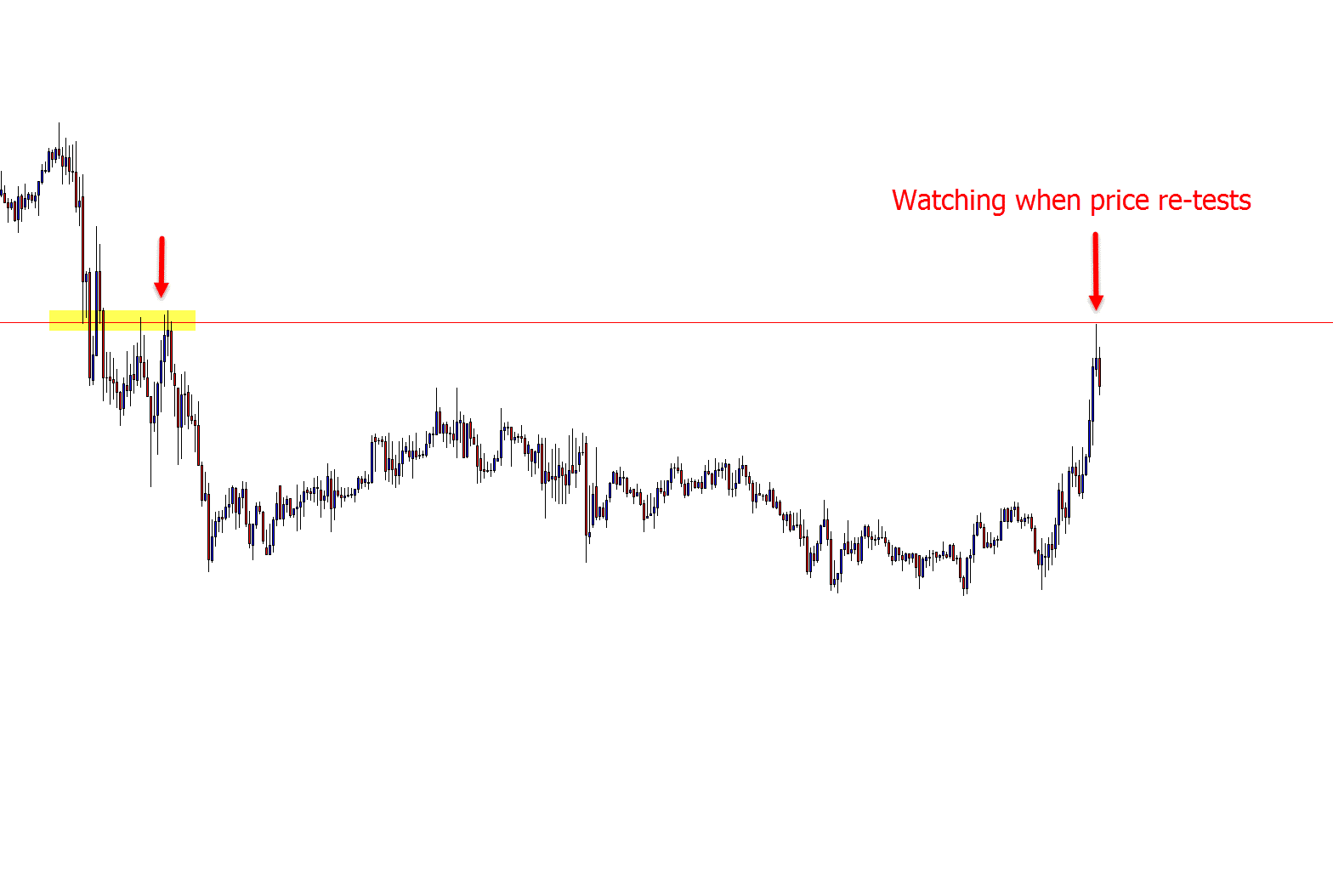 The last chart below is showing price making another test of the same key resistance on a 15 minute time frame and firing off a bearish 2 bar reversal trigger to get short.
Chart #3: 15 Minute Time Frame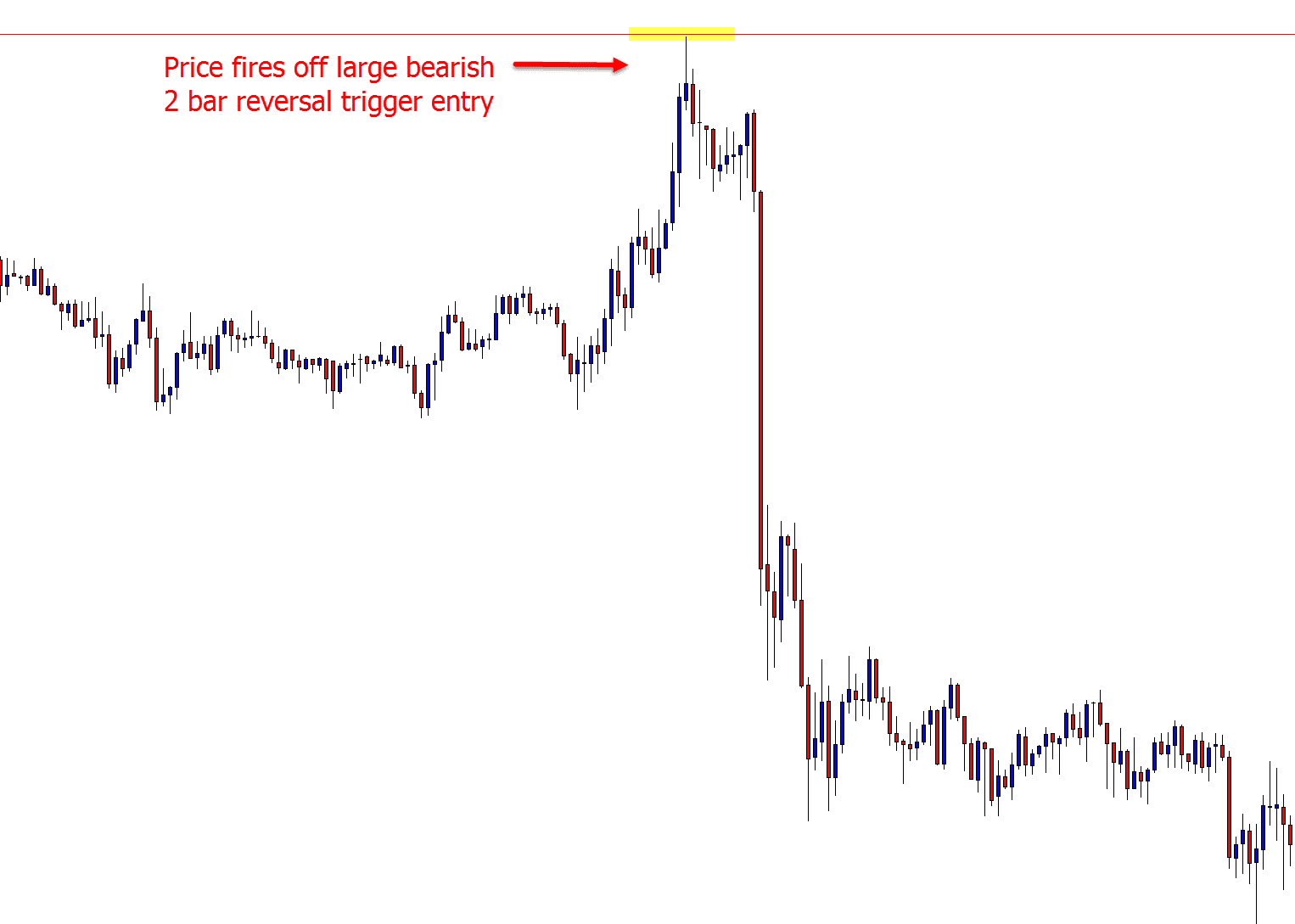 Recap
Trading smaller time frames is fast-paced and you have a lot less time to make quality decisions.
If things begin going wrong, then they can go wrong very quickly which is why we say most traders should start on higher time frames and then work there way lower as they progress.
As with all new strategies make sure you practice the heck out of them on your demo account before ever risking any real money and make sure you are profitable before then risking real cash.
Safe trading,
Johnathon
Please leave your comments and questions in comments section below;