Quant Price Forecast: December 9
The QNTUSD pair is very likely to continue growing and the price is heading towards the $235.000 high value as we are seeing a bullish correction in place. The coin gave a bullish breakout from the $117.727 level, suggesting buyers are making a recovery attempt. Thus, if the crypto's price sustains above the $235.000 high level, the potential rally could surge higher to hit a $400.000 value and beyond.

Key Levels:
Resistance Levels: $200.200, $200.300, $200.400
Support Levels: $115.300, $115.200, $115.100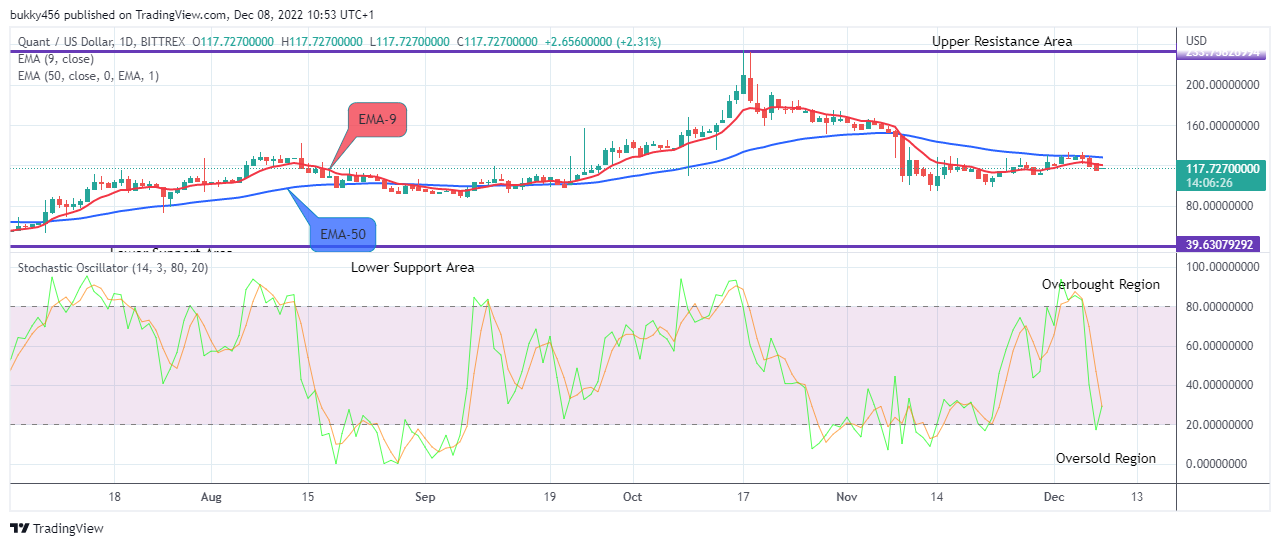 QNTUSD Long-term Trend: Bearish (Daily Chart)
The Quant price is in a bearish trend in its long-term view. The bears are now involved in the order flow, but it seems that the bulls are about to take over and push us higher. The sustained bearish pressure at the $115.071 support value during the previous action has made the crypto's price stay below the supply trend line.

Hence, after completing the lows, the coin price has moved up to a $117.727 high level below the two EMAs as a pullback from the bulls as the daily chart resumes today. This is a result of more concerns from the buy investors.

Therefore should the bulls increase their swagger in the market, the price is poised to pump up above the key resistance level of around $192.689.

Also, the momentum indicator which is pointing up in the oversold region indicates that the price of QNTUSD is in an uptrend and may possibly remain in that direction to hit the $235.000 supply level and beyond soon in the higher time frame.

QNTUSD Short-term Trend: Bearish (4H Chart)
The market price of QNTUSD is currently trading below the resistance trend lines in the medium-term outlook. This is due to the inflow from the short traders. The crypto has interference with the sell traders in the previous action and has dropped the price to a low of $115.217 value.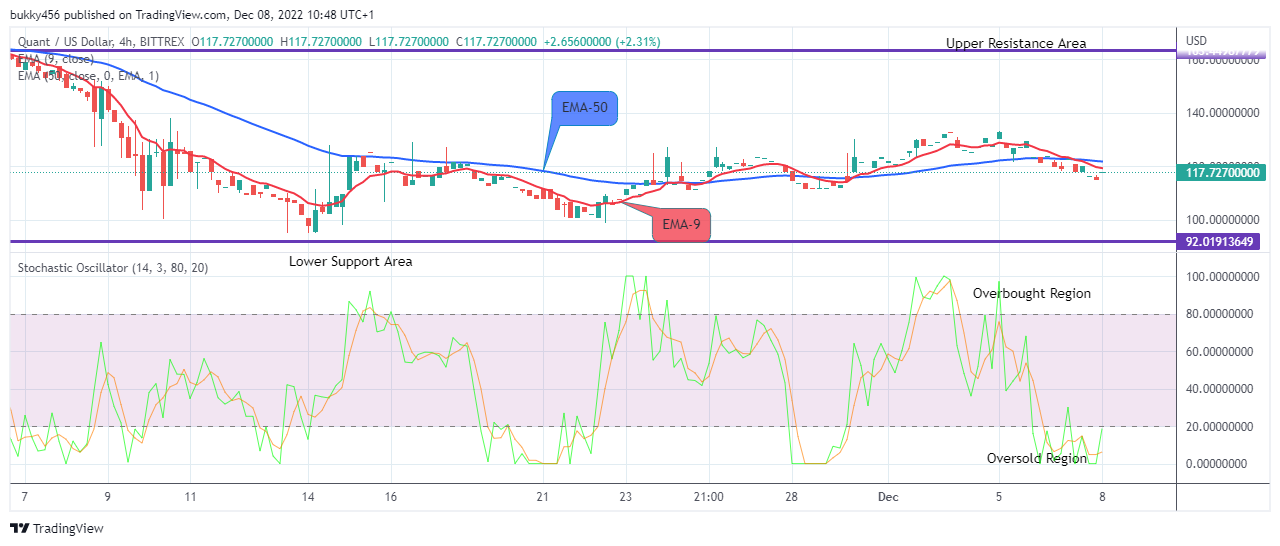 The bulls made a corrective rally up to a $117.727 supply trend line slightly below the moving averages shortly after the 4-hourly session opens today. This is an indication that the bulls are making an attempt to push the coin price to the upside and may possibly rise toward the $235.000 resistance mark.

Further, the Quant price is pointing up, indicating an uptrend as shown by the price indicator; it means that the buying pressure will continue. As a result of that, the bullish race might possibly reach the $235.000 resistance level and beyond in the coming days in its medium-term outlook.

Place winning Quant trades with us. Get QNT here