Solana (SOLUSD) Price Forecast: November 21
SOLUSD pair is back in the green again as bulls push to reclaim the $67.13 resistance and hold recovery opportunity with a bullish reversal pattern. The coin may likely bounce up to the $70.00 supply level as it faces the upper channel. However, the potential breakout from the immediate resistance of $62.00 will give additional confirmation for bullish recovery, if the bulls could increase their efforts in the market.

Key Levels:
Resistance Levels: $58.00, $59.00, $60.00
Support Levels: $40.00, $39.00, $38.00

SOL (USD) Long-term Trend: Bullish (Daily Chart)
The long-term market value of Solana is moving in a bullish direction which could further bounce up to $70.00 upper resistance level soon. This is clear as we can see the prices trading close to the overhead resistance of the market indicating a strong uptrend.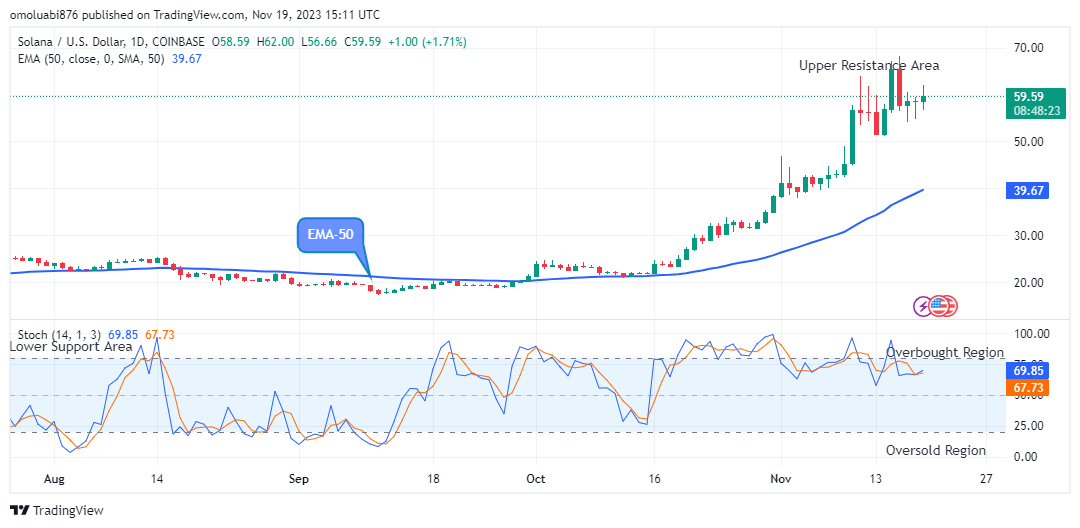 The sustained bullish pressure at a $59.40 high mark during yesterday's session has made it possible for the coin to remain in an uptrend in its recent high.

Today's daily bullish candle at the $62.00 supply value above the moving averages confirms the bulls' dominance in the market. This breakup may possibly accelerate the bullish momentum and extend the ongoing correction to a higher level.

Therefore, a breakout above the previous swing high of $62.00 would give buyers a chance to further bounce up and possibly push the coin price toward the upper resistance area.

Furthermore, if the bulls are able to push harder, the price of SOLUSD may rise even higher.
If this happens, the coin's price may bounce up in the coming days to reach the upper resistance level of $70.00 and beyond in its higher time frame.

SOL (USD) Medium-term Trend: Bullish (4H Chart)
The SOLUSD pair at the moment is also trading in a bullish momentum and the price may bounce up to a $70.00 upper high level soon in its medium-term outlook. This is possible as the bulls are determined to push us higher at this time.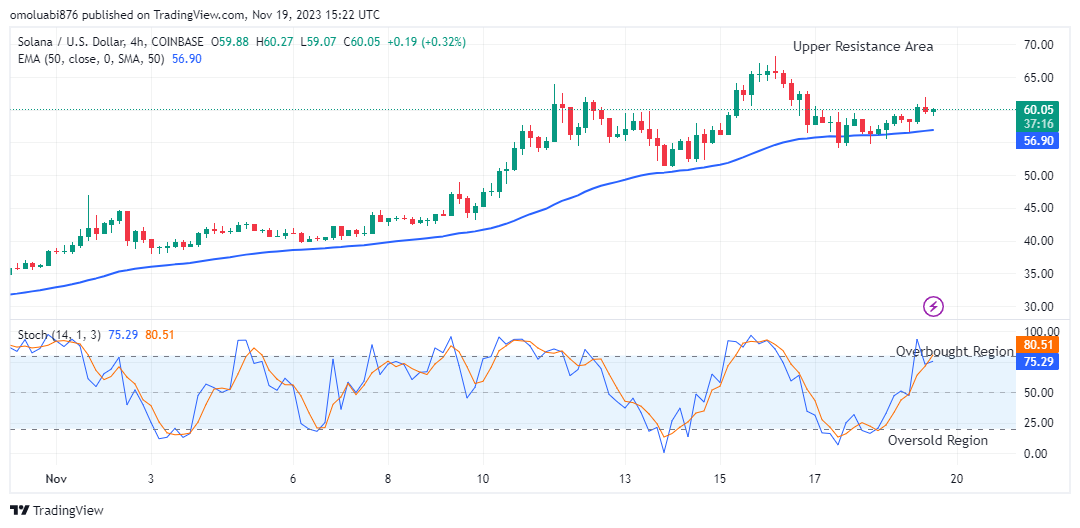 The increase in the momentum by the bulls at the $59.40 supply value during yesterday's session has enabled the Solana price to stay strong above the resistance lines in its recent high.

The coin price on the 4-hour chart today is currently trading at the $60.27 correction level above the EMA-50. This affirms the high bullish impact on the crypto. Further, the rising prices reclaimed more confirmation for a bullish recovery.

Hence, should the buying pressure persist, and the bulls close the 4-hourly chart above the $67.13 previous swing high, the ongoing recovery could bounce up the market price of Solana to remain stable at the upside and stop any further bearish moves.

Additionally, the daily stochastic signals an uptrend, if the bulls could push harder and sustain the coin price above the previous high level at $67.13, the resulting rally may further bounce up to hit the $70.00 upper resistance level in the days ahead in its medium-term perspective.

Buy Solana on eToro