2 Bar Reversal Price Action Trading Guide
The 2 Bar Reversal is similar to the engulfing bar in that they are both reversal price action signals.
The main difference between the 2 Bar Reversal and the Engulfing Bar is the 2 Bar Reversal does not have to fully engulf the previous candle or bar where as the Engulfing Bar does have to engulf at least one previous bar.
The psychology behind the 2 Bar Reversal is quite simple.
For a bearish 2 Bar Reversal the first bar must go up and close near the sessions highs. This makes the rest of the market think that particular pair is breaking out higher, but this is a lie. When the second bar opens it whips back lower and fakes out the market, taking traders stops along the way.
The second bar must then close near the session's lows and preferably below the first bars open.
NOTE: You will often notice that if you combine or blend both of the candles together they will make a pin bar reversal as they have a similar reversal price action order flow. You can use an indicator like the Time Frame Change Indicator for MT4 to do this.
An Example of a Bearish 2 Bar Reversal: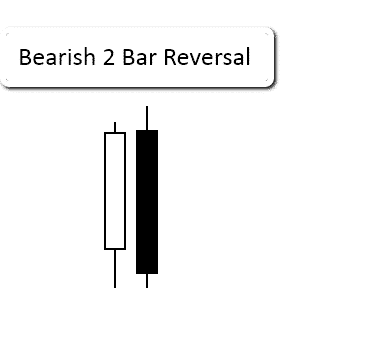 2 Bar Reversals can be found in all markets and all time frames. This does not make all 2 Bar Reversals tradeable however. Not all 2 Bar reversals are created equal.
The very best 2 Bar Reversals can be found when a strong trend is in play and a pullback occurs to a logical value area. An example of this can be found below: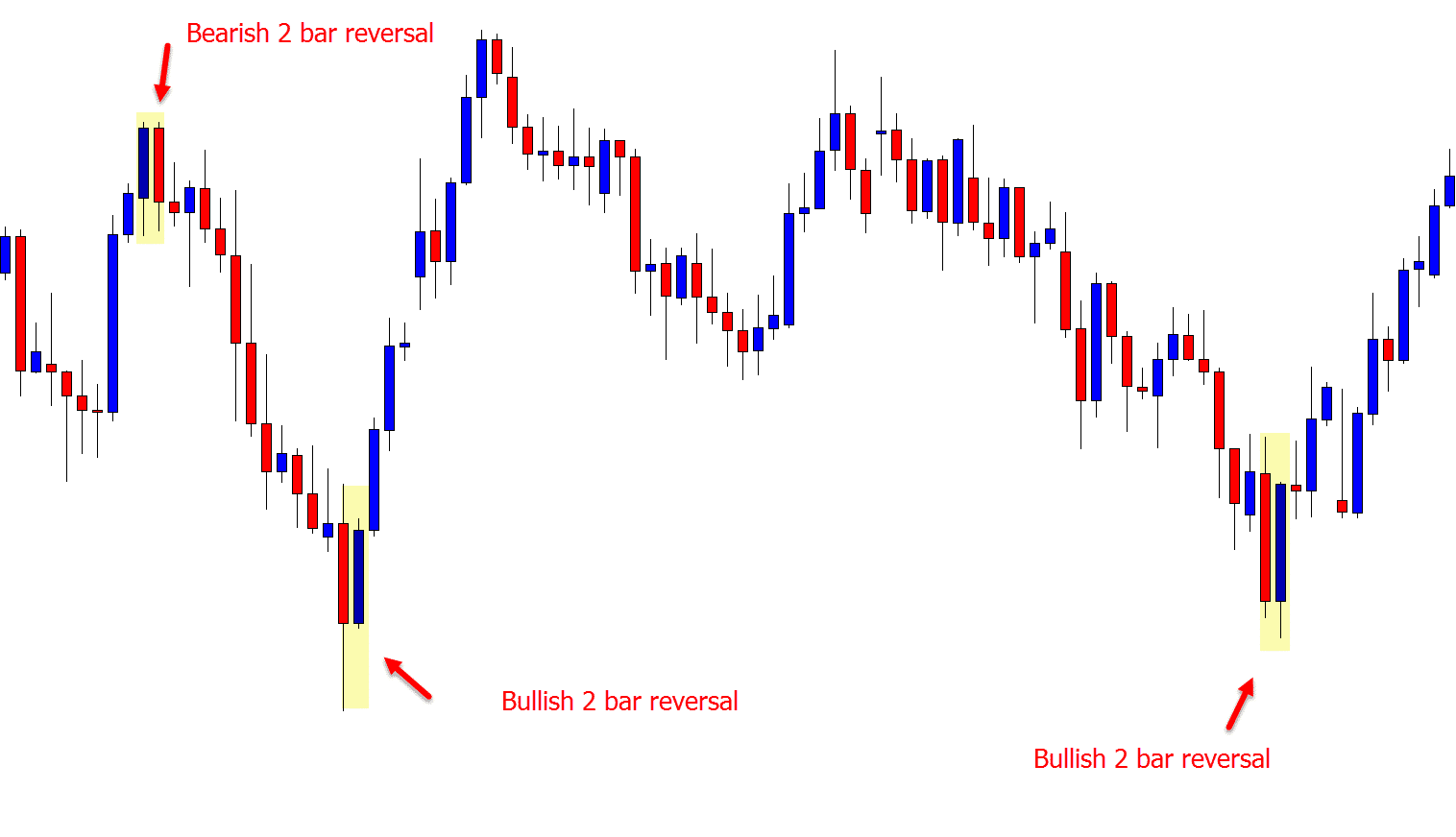 Because 2 Bar Reversals are reversals signals it is critical traders look for them at swing points. When looking to trade short traders must look to trade from swing highs and when looking to go long they must look from swing lows. Failure to follow this rule and to trade 2 Bar Reversals as continuations signals would be a risky move.
Quite often you will notice 2 Bar Reversals will be the catalyst for a large change in the trend direction.
An example of this can be found below. Notice the trend had been moving very strongly up before a very solid Bearish 2 Bar Reversal formed?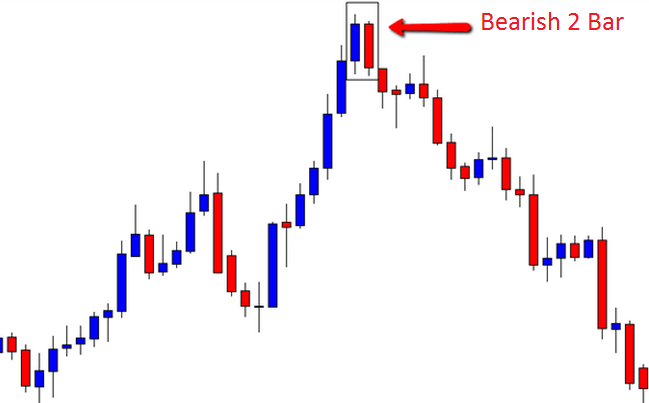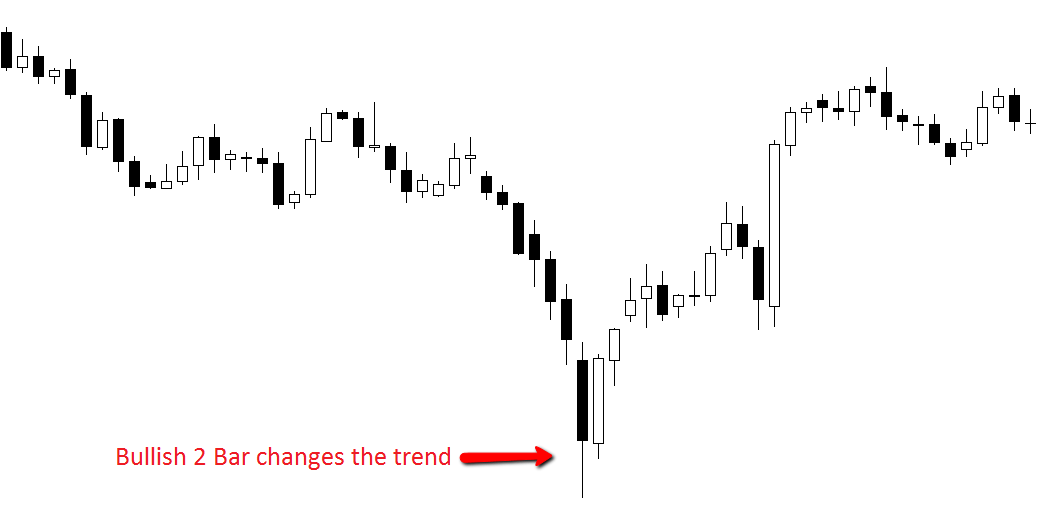 Another Example of a Bearish 2 Bar Reversal From Swing High;

Massive 2 Bar In-line With the Down Trend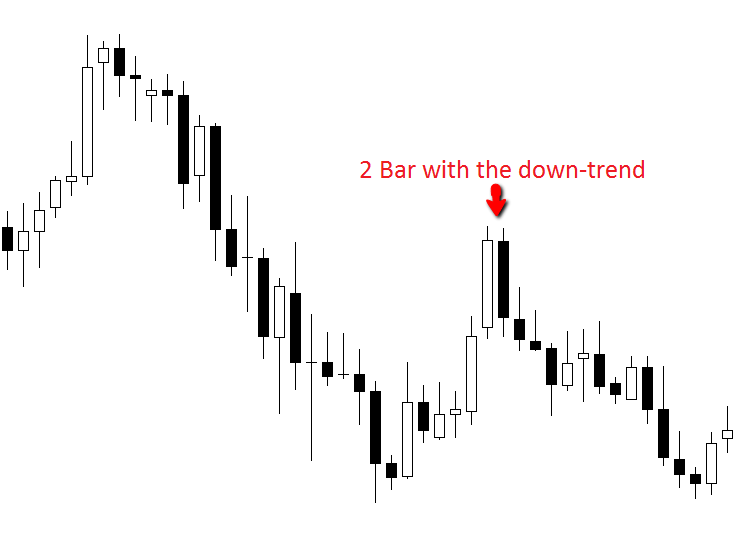 The 2 Bar Reversal is a very easy to identify price action formation for traders to spot on their charts. The next step is for a trader to learn where the best spots on the chart the 2 bar should be played from and then the art of managing the trade correctly once they have been entered.
More information on trade management can be found in the Price Action Guide.
Lastly
Before trading the 2 Bar Reversal on a live account traders are advised to first perfect their method on a demo account. There is no reason to lose money whilst learning in Forex. Traders should first prove to themselves that they can make money consistently for a period of a minimum of 3 months before attempting trading live.
You can read about how these setups should be played in live time in our markets trade setups & commentary, that we release each week after here: Forex trade Setups & Market Commentary