Weekly Price Action Trade Ideas – 1st to 5th of Feb 2021
Markets Discussed in This Week's Trade Ideas: USDJPY, GBPJPY, AUDCAD, CADJPY.
Note: We Use Correct 'New York Close 5 Day Charts' – You can read about why we use these and how to download the correct free charts at Correct Free New York Close Demo Charts
USDJPY Daily Chart
Price Flip Support Looks the Key
At the end of last week price slammed higher and through the key daily chart resistance on this pair.
As the daily chart shows below, this level has been an important level in recent months holding as both a proven support and resistance level.
We could once again look for this level to be a key level if price can move back lower. If we can see a new test of this level it could act as a price flip support level and it could be a good area to hunt for new long trades.
Daily Chart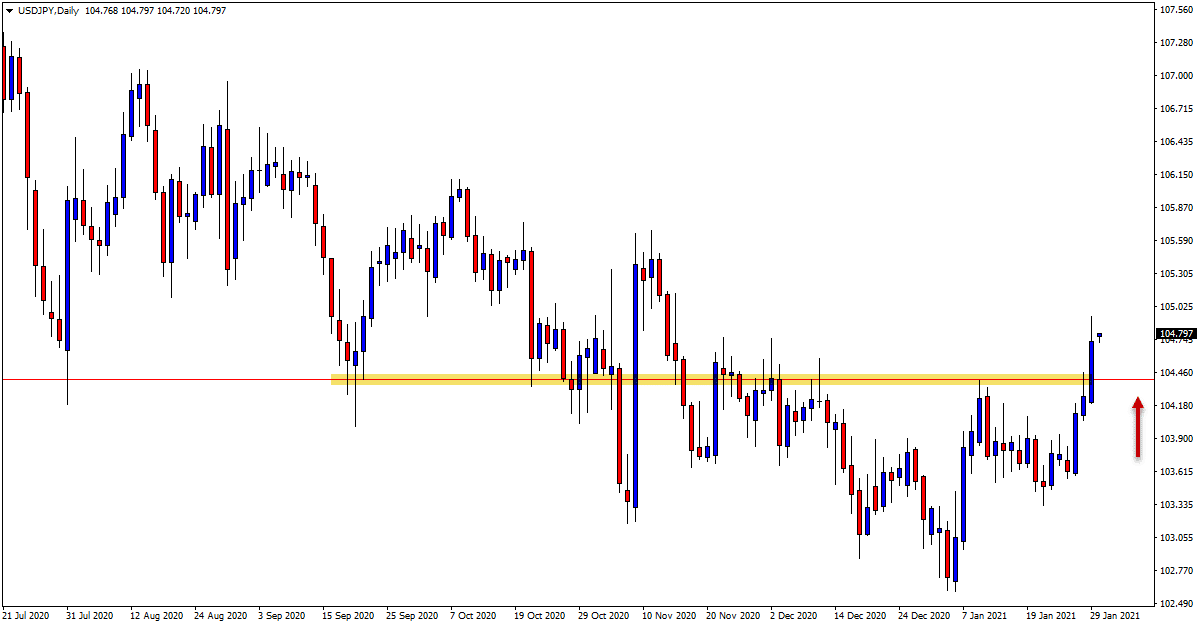 GBPJPY Daily Chart
Will Price Retrace Into Support?
Since September of last year this pair has been in a steady trend higher.
Price has now continued on with this trend and broken out of the daily chart resistance level.
Looking to trade inline with this trend looks the best play whilst it holds.
If price can rotate lower back into the old resistance and new support level it could be a solid level to look for long trades.
Daily Chart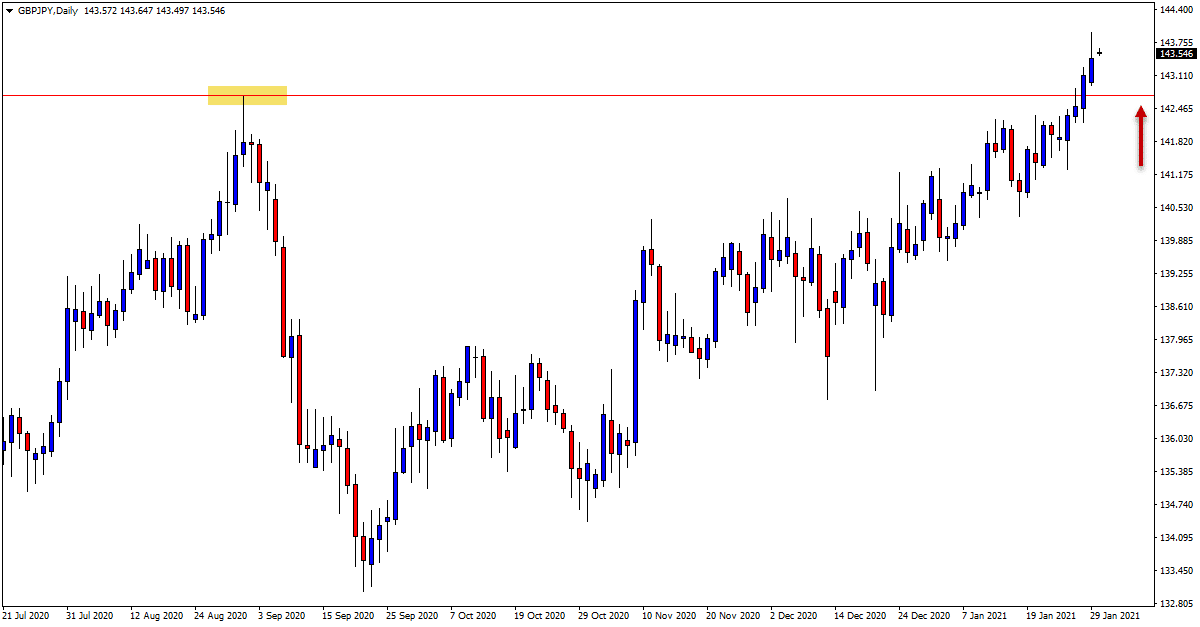 AUDCAD Daily Chart
This pair is currently attempting to make a new reversal back lower on the higher time frames.
As the daily chart below shows, price broke through the key support level at the end of last week.
This level looks crucial in the coming sessions. If we are going to see any sort of extended move and reversal lower, then this level is going to have to hold as a new price flip resistance level.
Daily Chart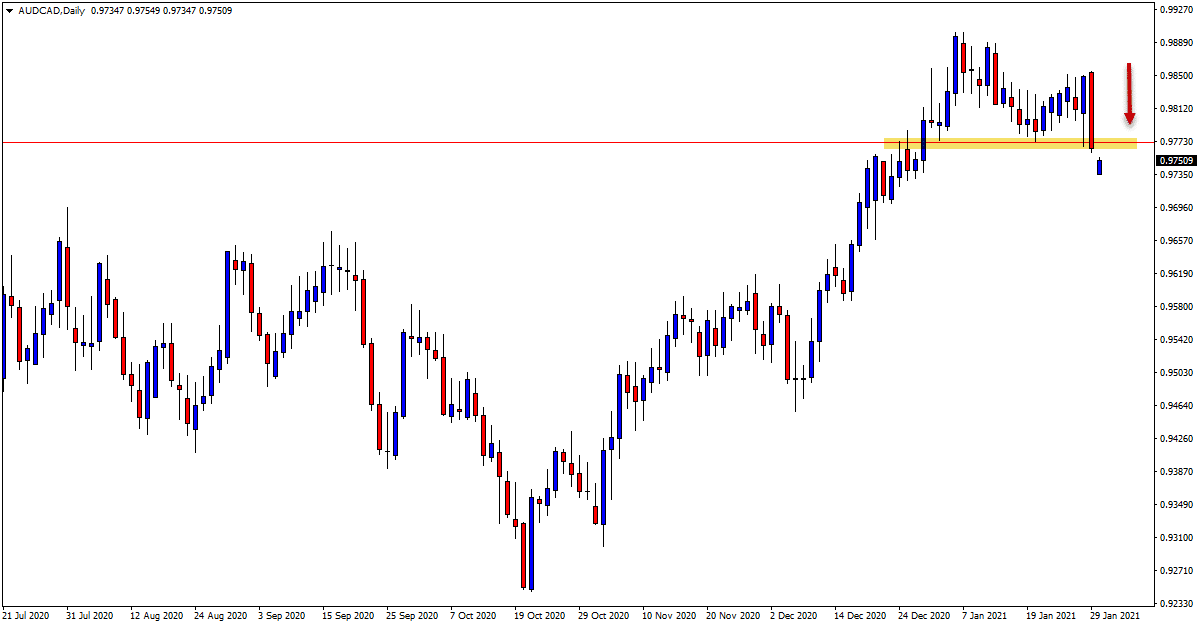 CADJPY Daily Chart
Watching for Breakout Higher
A potential breakout higher is building on the higher time frames of this pair.
Price in recent times has attempted to break the daily chart resistance on multiple occasions, but so far has been unable to make a breakout.
This could change in the coming sessions and the breakout could come with some strong momentum.
This is definitely a pair to keep a close eye on in the coming sessions for potential long trades.
Daily Chart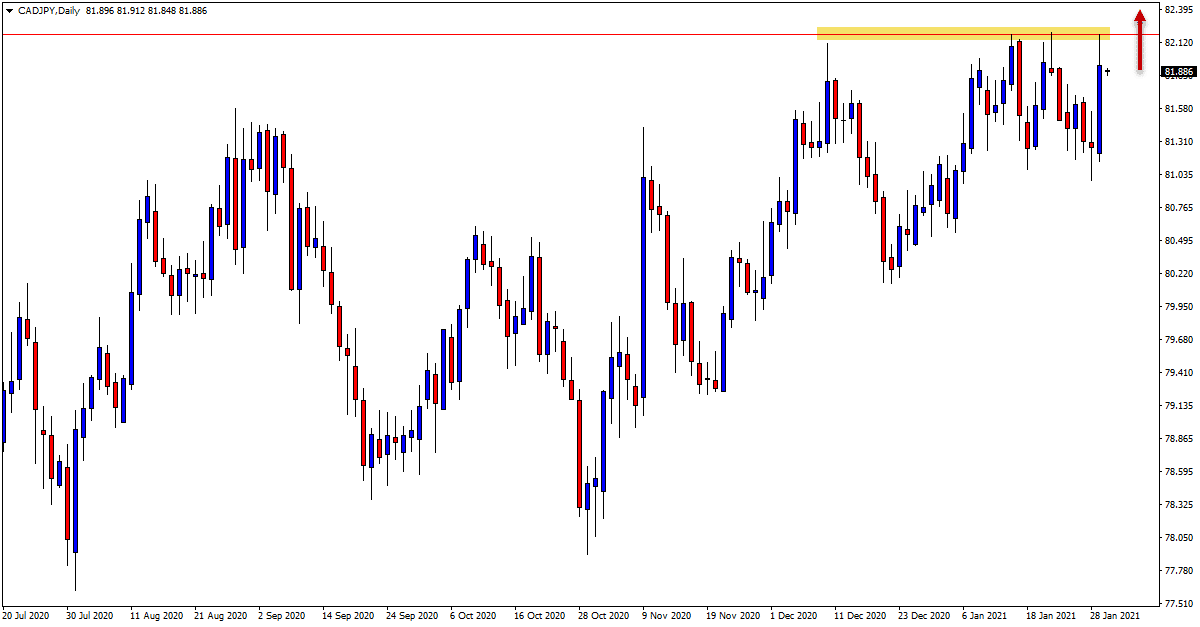 Trade Ideas Note: All views, discussions and posts in the 'charts in focus trade ideas' are the view of Forex School Online and are not recommendations or trading advice. All posts are general in nature and are not advice to buy or sell.
Note: We Use Correct 'New York Close 5 Day Charts' – You can read about why we use these and how to download the correct free charts at Correct Free New York Close Demo Charts
Please leave questions or comments in the comments section below;