Weekly Price Action Trade Ideas – 4th to 8th Jan 2021
Markets Discussed in This Week's Trade Ideas: GBPUSD, GOLD, AUDSGD and EURJPY.
Note: We Use Correct 'New York Close 5 Day Charts' – You can read about why we use these and how to download the correct free charts at Correct Free New York Close Demo Charts
EURJPY Daily Chart
Price Stuck in Sideways Range
Price on the daily chart of the EURJPY is severely constricted and sideways.
As the daily chart shows, price has been trading within the same tight box for the past month. Whilst price has attempted to breakout higher, it quickly fell back lower and moved back into the range.
Until we get a clean breakout of this area it could be risky to look for trades in this pair whilst price is so sideways.
Daily Chart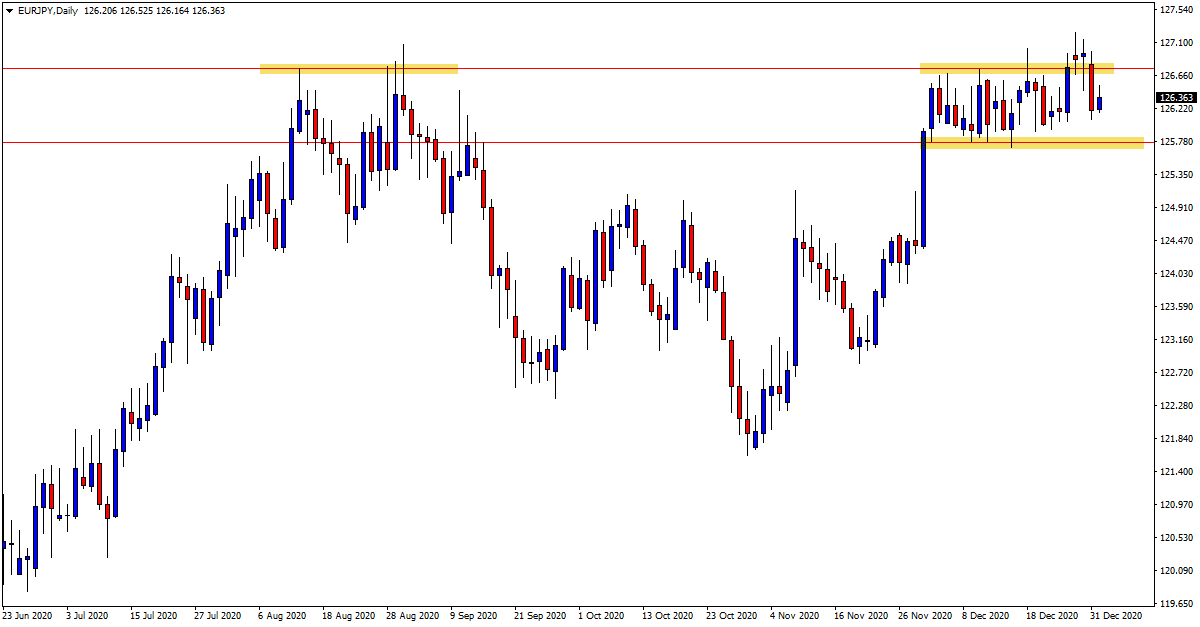 GOLD Daily Chart
Price Trying to Breakout Higher
Price has now broken higher and through an important daily chart resistance in this market.
This level has been both an important daily support and resistance level this year and could now offer potential long trades.
If price can make a quick rotation lower in the coming sessions, this level could hold as a new support level and a level to look for new long trades.
Daily Chart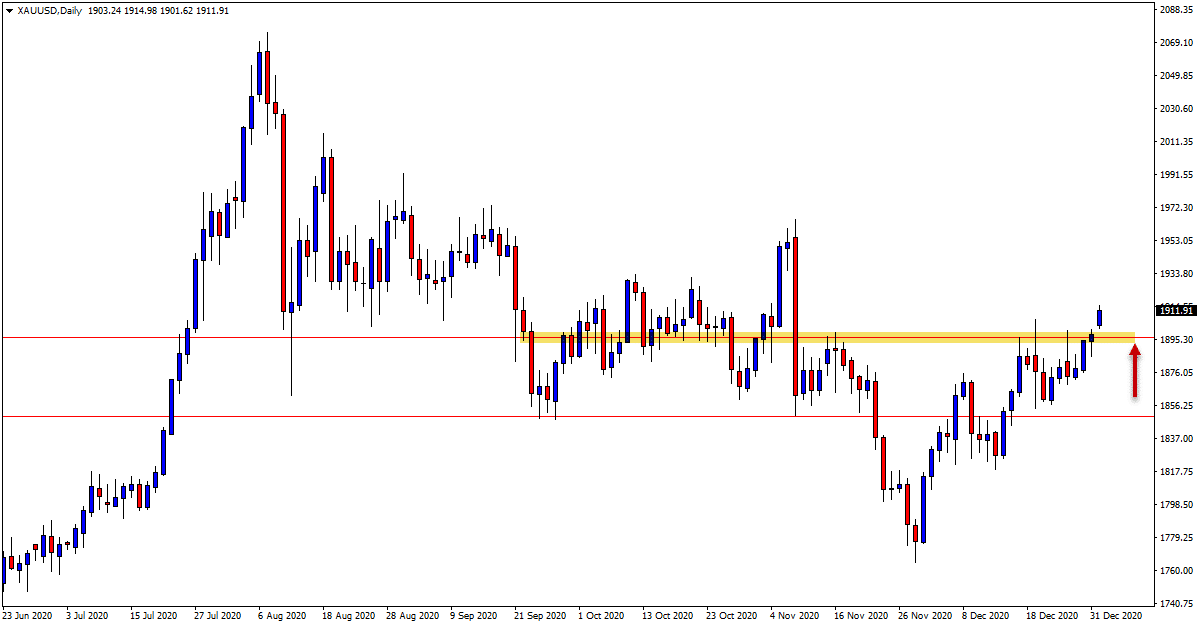 GBPUSD Daily Chart
Whilst price is in a uptrend in this pair, in more recent times price has been choppy and sideways.
This is looking to now change with price busting out higher and through the daily chart resistance level.
This old breakout resistance level could now become a new price flip support level and in the coming sessions offer a solid area to look for new potential long trades.
Daily Chart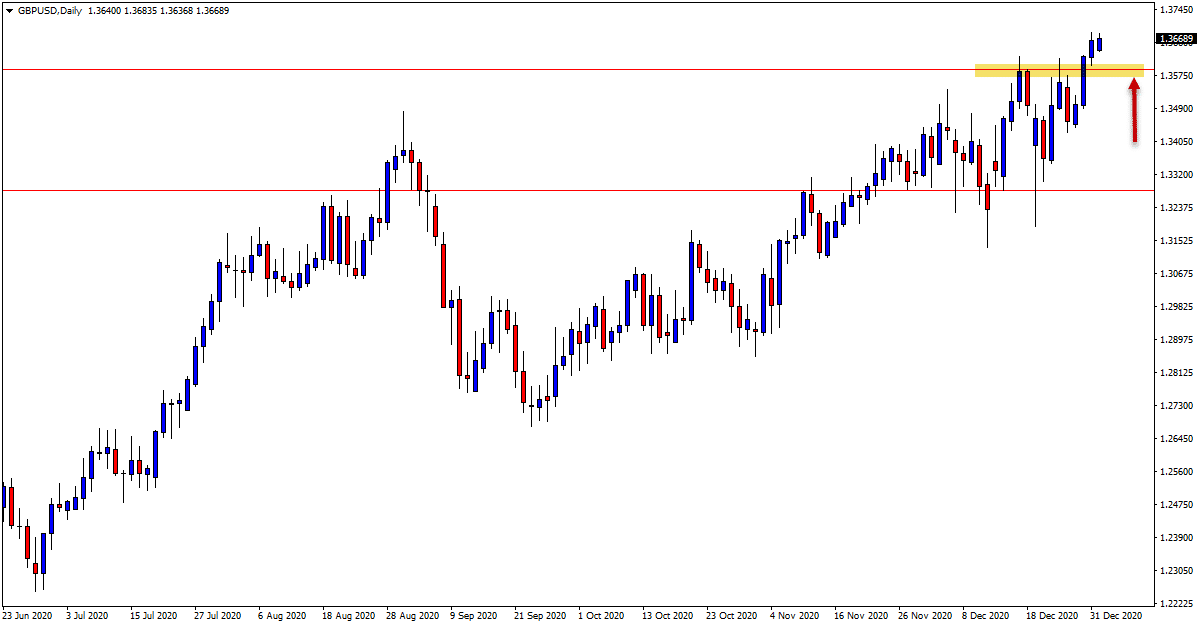 AUDSGD Daily Chart
Can Price Pullback Into Value?
Price on the daily chart of the AUDSGD has formed a large daily chart bearish pin bar reversal.
This pin bar reversal is against what has been a very strong trend higher in recent times, but it could send price back lower.
If we can see price rotate back lower and into the near term support level, then it could provide the opportunity to look for new long trades.
Long trades at this daily support level would be inline with the trend higher and at a major daily support level.
Daily Chart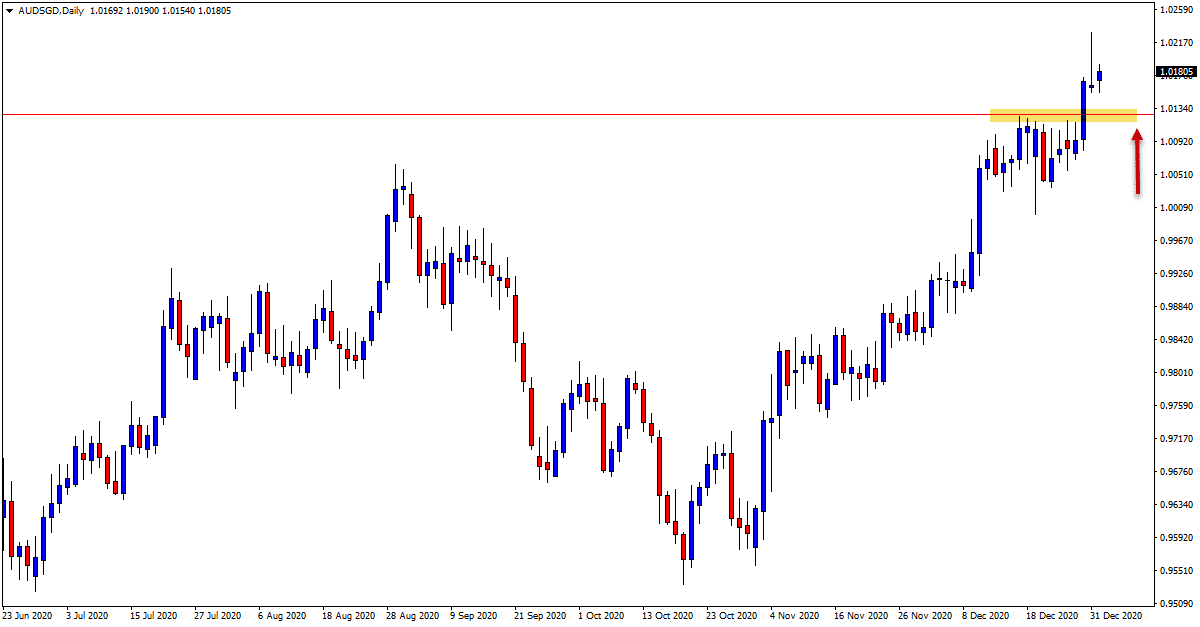 Trade Ideas Note: All views, discussions and posts in the 'charts in focus trade ideas' are the view of Forex School Online and are not recommendations or trading advice. All posts are general in nature and are not advice to buy or sell.
Note: We Use Correct 'New York Close 5 Day Charts' – You can read about why we use these and how to download the correct free charts at Correct Free New York Close Demo Charts
Please leave questions or comments in the comments section below;